Pimento Cheese, Red Pepper Jelly & More Recipes from Lockbox in Lexington, KY
Ask anyone where to shop right now in Lexington, KY, and they'll direct you to our brand new Draper James boutique (it's now open!).
Ask where to eat, and you'll surely be pointed toward Lockbox. Located inside the buzzy 21c Museum Hotel in the heart of downtown Lexington, Lockbox boasts a sophisticated menu crafted from locally sourced ingredients and inspired by dishes native to the Bluegrass region.
Alongside the cuisine, Lockbox—like the 21c Museum Hotel itself—features rotating exhibitions and original contemporary artwork. The restaurant can also be counted on for all sorts of special occasion celebrations. Case in point: Mother's Day brunch. Not only are brunch hours extended from 9:30 a.m. to 3:00 p.m. this Sunday, but there will also be all sorts of special dishes to indulge in. "We're here to let moms come out, relax, and be catered to," says executive chef Jonathan Searle.
We asked Lockbox chef Jonathan to share a favorite Mother's Day recipe with us. His pick: a jar plate with pimento cheese, pepper jam, and chicken liver mousse with homemade saltines, buttermilk biscuits, and pickled vegetables.
He says: "This is a staple on our menu. The inspiration came from my mom and the Tuesday morning Bible studies she would host when I was a kid. All the ladies would get together in the morning and throw together this potluck of dips, smears, and crackers to snack on as they shared together. I have fond memories of those mornings with the tasty snacks scattered around the house and the buzz of community among friends. The pepper jelly and cream cheese were there. The pickles. All the snack crackers and cheeses. To this day these are some of my favorite things to snack on with friends." Read on for more from Jonathan and find his recipes for red pepper jam, pimento cheese, and buttermilk biscuits below.
How is this jar plate quintessentially "Southern"? 
I think the table draws fellowship and community. People gathering and telling stories as they smear large piles of pimento cheese onto saltine crackers. Munching between shared laughs around the table. That sense of hospitality has a close connection to Southern culture.
How would you serve it?
Simple. No fuss. Jarred up, piled high with bread and butter pickles from a quality grocery store and whatever other vegetables came into the kitchen suited for pickling, stacks of crackers (pick your favorite brand of saltine crackers), and knives for smearin'.
For folks spending a Mother's Day weekend (or any spring weekend) in Lexington, what are some of your "must-see" spots? 
I wouldn't call myself a self-promoter generally, but I really think the museum at 21c [the museum located inside of the 21c Hotel] and Lockbox are a must stop. The art is painstakingly curated; the content is thought-provoking; and the space itself is just really lovely. The opportunity to grab a drink, take in the museum, and then eat a carefully and locally sourced meal all in the same place is a no-brainer. Next I would say you've got to eat some Mexican food in Lexington. There are some great places on the west side of town. My favorite is Tortilleria y Taqueria Ramirez.
They make their tortillas in-house, and it's probably the best 'mission-style' burrito I've come across over the years. If there are any races going, you have to make it out to Keeneland. The track and surrounding grounds are simply beautiful. Lastly, a spring day drive out to one of the bourbon distilleries outside of Lexington is one of my favorite day-off forms of relaxation. Make sure to take the back roads on a sunny day and not be in a hurry. Take in the beauty surrounding Lexington, sip some great juice (there is no shortage of that), and drive back into town for dinner and drinks. That's one hell of a day.
What do you love about the restaurant and food scene in Lexington now?
I love how it's been growing up so much in the last several years. I love the potential the future holds. It's a place where you get excited to think about how the city and communities surrounding downtown are growing and what that means for the professionals in the food scene.
Established names are putting out fresh new products, and so many young kids are putting themselves out there right now. There is also an influx (myself included) of chefs who are transplanting to Lexington to invest our future in this beautiful city.
Anything personal you want to add about Mother's Day?
My mom was great growing up. Stern but kind. She didn't let my sister and me get out of line. She was also very nurturing, and I give her a lot of credit for why I do what I do today.
I think almost more important than the food we cook is the nurturing and hospitality aspect of what's going on when someone sits down in our dining room. A day like Mother's Day just gives you a little more sentimental fire power to take care of your guests the best that you can.
You grew up in Ohio, but moved to eastern Kentucky at the age of 19. Favorite things about the South?
The hospitality. Also, fried chicken and fish.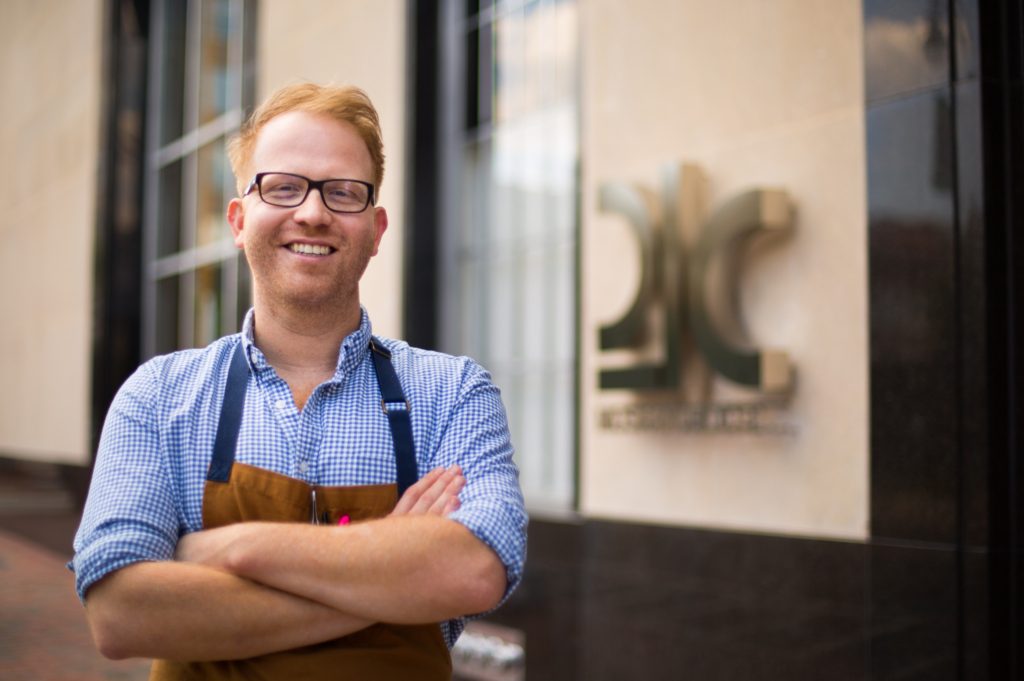 Lockbox chef Jonathan Searle.
Recipes from Lockbox in Lexington, KY
Pimento Cheese
Ingredients
2 pounds cream cheese
1.6 pounds shredded sharp cheddar cheese (we use 2 year Tillamook sharp cheddar)
3 each roasted red bell peppers (peeled, seeded, and small diced)
½ teaspoon Tabasco sauce
1½ tablespoons kosher salt
1 cup Duke's mayonnaise (if you can't find Duke's at your grocery store, Hellmann's will do)
⅓  sweet yellow onion, grated
½ teaspoon fresh lemon juice
⅓ tablespoon sweet paprika
⅓ tablespoon hot paprika
⅓ tablespoon Crystal's hot sauce (or use your own substitution)
½ clove garlic, finely grated
1 tablespoon fresh thyme, finely chopped
Directions
Place all ingredients except for half of the cheddar in a stand mixer and, using the paddle attachment, mix on the "1" setting. Once the ingredients start to combine, increase to "3" or "4" and mix for 20 seconds longer or until all ingredients are well blended. Turn the mixture out into a large mixing bowl. With gloved hands, fold in the remaining shredded cheddar cheese. Serve in your favorite serving dish.
Chef's note: This recipe is all about the cheese. Make sure to pick a high-quality, sharp cheddar. Also, roast your own fresh peppers. The canned peppers just don't taste the same. Feel free to adjust the lemon juice, salt, and hot sauce to your liking.
Red Pepper Jam
Ingredients
3 pounds red bell peppers
1½ tablespoon red chili flakes
1 ounce apple pectin
6½ cups granulated sugar
1 ounce butter
1¼ teaspoon salt
1½ cups apple cider vinegar
Directions
Seed and core bell peppers and cut into pieces. Blend bell peppers and chili flakes in blender until smooth. Mix pectin with one cup of sugar and add to the purée. Bring purée to a simmer in a medium saucepan over medium low heat and add remaining ingredients. Boil vigorously for 8 minutes. Pour into shallow container and allow to cool for several hours. Enjoy with soft cheese, salty crackers, and good company.
Buttermilk Biscuits
Yields 15 small biscuits
Ingredients
2 cups self-rising flour
½ teaspoon kosher salt
1 tablespoon light brown sugar
1 cup buttermilk
¼ cup heavy cream
6 tablespoons butter
2 tablespoons Crisco
Directions
Pre-heat oven to 350°F. Grate butter on coarse side of grater and put butter in the freezer along with the Crisco. Mix all dry ingredients together in a bowl. Mix cream and buttermilk in separate bowl. Once butter is very cold, combine it with the dry ingredients with hands until a course meal is made. Add the cold dairy to the mixture and fold until just combined. Roll out dough on a floured clean surface and cut biscuits with a ring mold cutter. Lay out on sheet trays 2 inches apart. Bake for 8 minutes and rotate set timer for 8 more minutes. Once out of the oven brush with melted butter.
Save
Save
Save
Save
Save
Save
Save
Save
Save
Save
Save