March 21, 2020 • RECIPE
Reese's Birthday Cake: Espresso Buttermilk Cake with Salted Caramel Frosting
Happy birthday, Reese! This year's celebration is magnolia filled and sweet as ever. Our gift to Reese, a limited-edition birthday bag, is a classic bucket bag with special details, including a charming (and removable) magnolia key fob.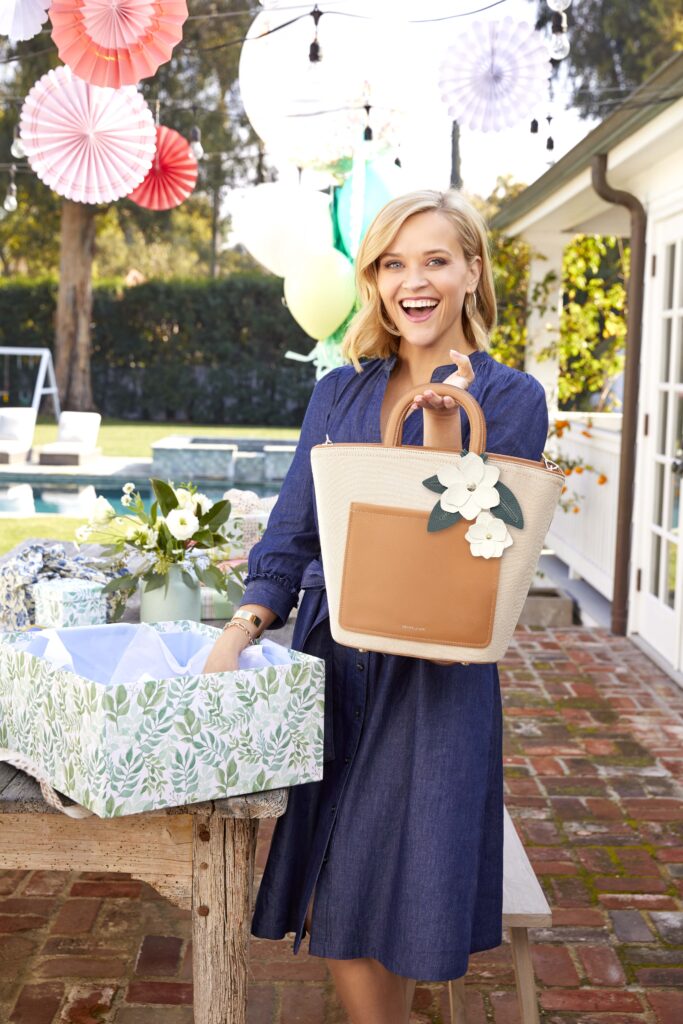 Sarah Epperson Loveless, who works in Southern Living's test kitchen, is the brains and talent behind the gorgeous magnolias you may have seen on the cover of the magazine last December; as soon as we saw those magnolias, we knew she was the perfect person to create a birthday cake inspired by Reese's birthday bag.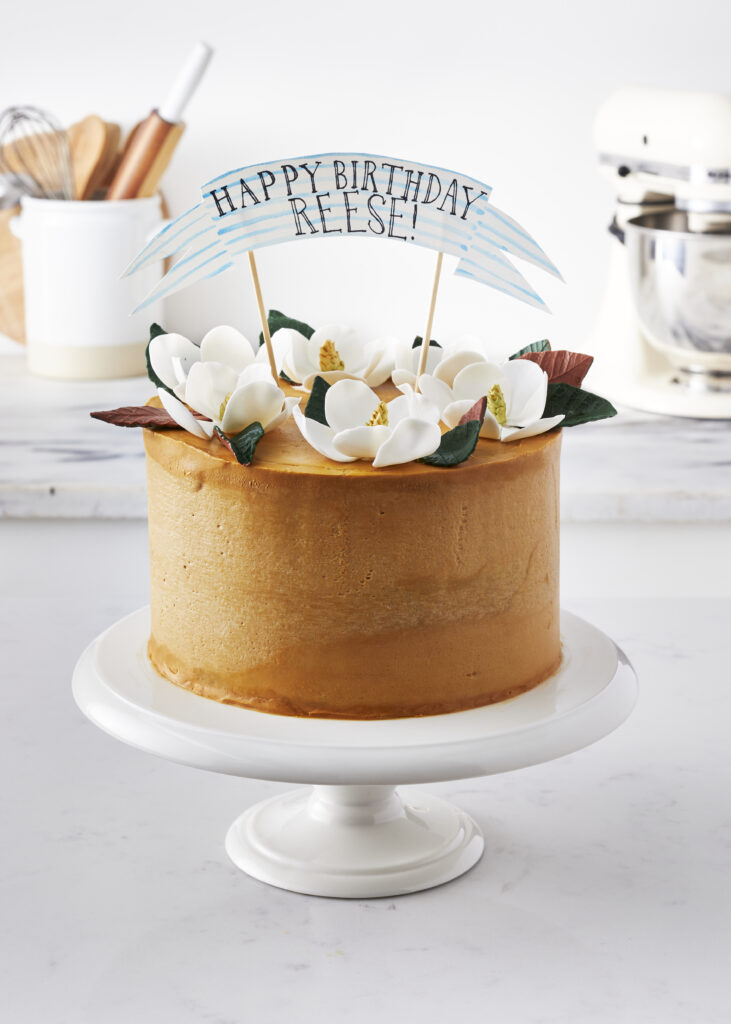 Hear from Sarah and get the recipe for her Espresso Buttermilk Cake with Salted Caramel Frosting below.
Tell us about this recipe.
This recipe is Southern to its core! Buttermilk and caramel are prized ingredients in the South. Though the debate remains over how to pronounce caramel, one thing we can all agree on is that it belongs on a cake! The cake layers are infused with a light touch of espresso swirled into the buttermilk, because I know Reese loves her some coffee! Last but not least, the magnolia flowers. In 2019, I spend about five months developing magnolia gum paste flowers for the December cover of Southern Living magazine. When I saw Reese's birthday purse with the magnolia keychain, I was excited to revisit the Southern-most flower!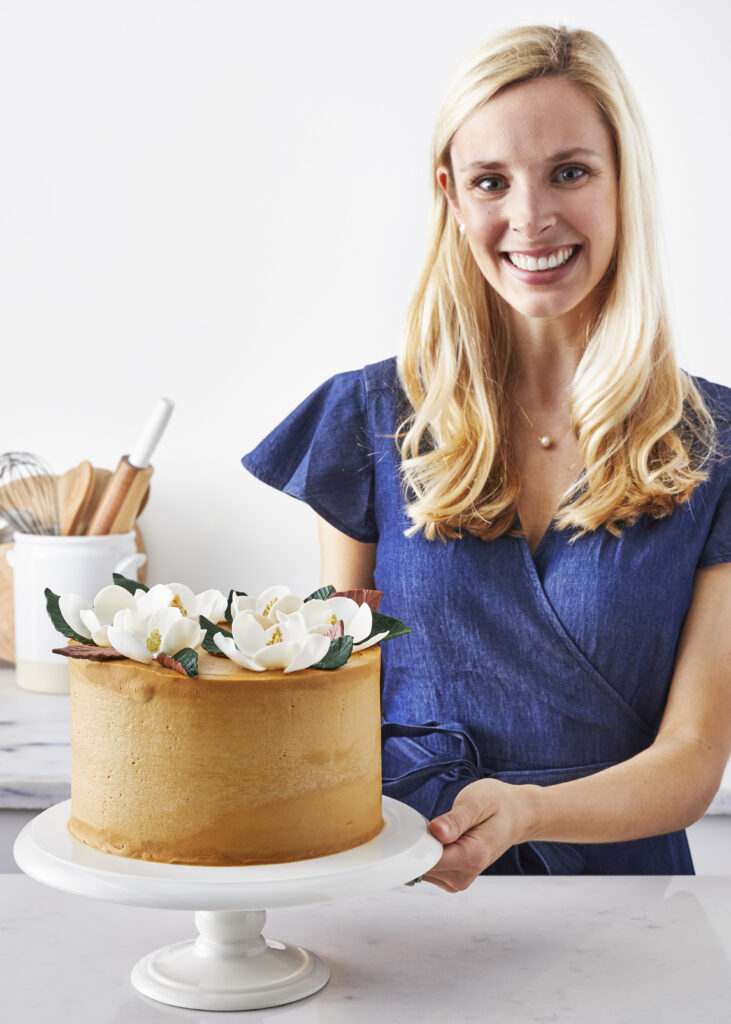 When did you first start baking and decorating cakes?
I grew up baking with my mother and grandmother and really discovered my passion for baking at a young age. My mom would let me experiment with new recipes almost every day after school, and she was always so patient, even when recipes failed! It wasn't until college at Auburn University that I began to sharpen my cake baking and decorating skills. I would make a cake for every birthday party for every friend, and next thing I knew, I was baking more than studying! My sister, Elisabeth (of Elisabeth and Butter), has always been my baking inspiration and constant encourager, and we love to learn from each other's mistakes and celebrate each other's victories!
What was your initial thought process when deciding how to bake and decorate Reese's birthday cake?
First and foremost, it has to taste GOOD! A cake can look stunning, but does it taste yummy? This recipe has been developed to be soft, sweet, salty, and simple. I wanted the cake to look approachable but also classy, like all things Draper James.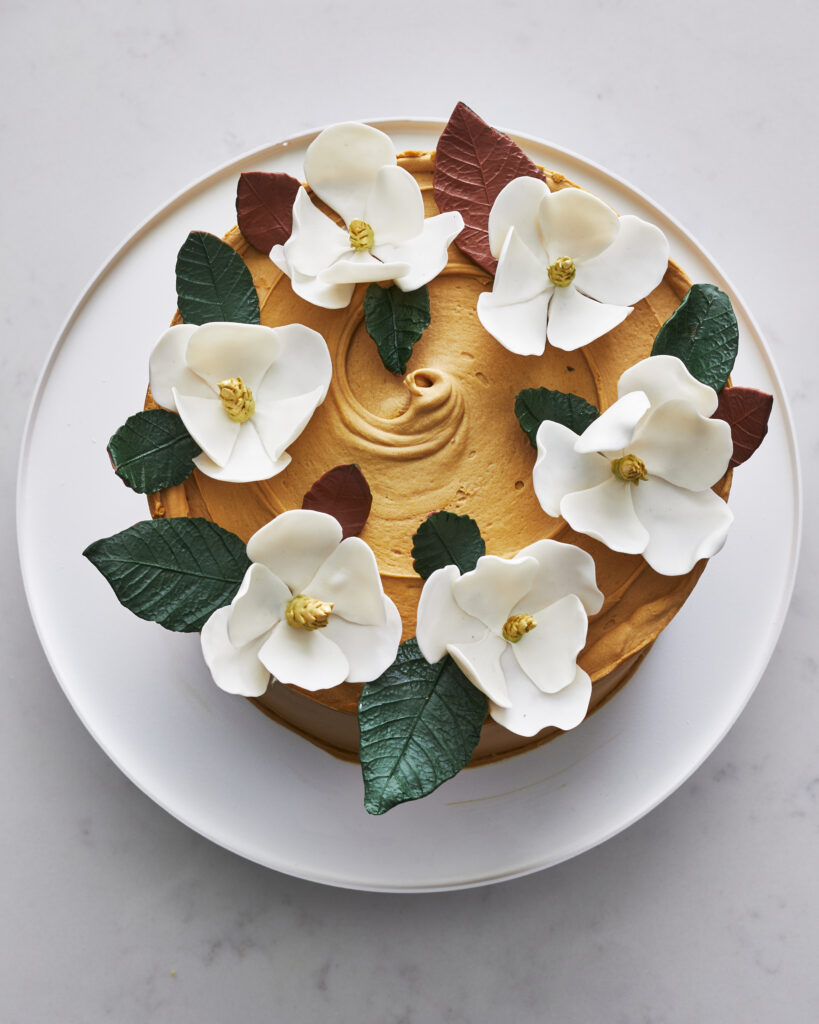 What's your best tip for decorating a birthday cake like this one?
Caramel frosting has a bad rap for being hard to frost, as it hardens quickly and becomes difficult to spread. My best advice for this cake would be to work quickly, but carefully, and to have a cup of hot water next to you, so you can dip your offset spatula in the water to keep the frosting warm while you frost your cake!
Favorite Reese TV show or movie, and why?
Born and raised in Alabama, it should come as no surprise that my favorite movie is Sweet Home Alabama! I, too, have always dreamed of moving to New York and living the big city life, but like Reese's character's realization, you can take the girl out of the South, but you can't take the South out of the girl.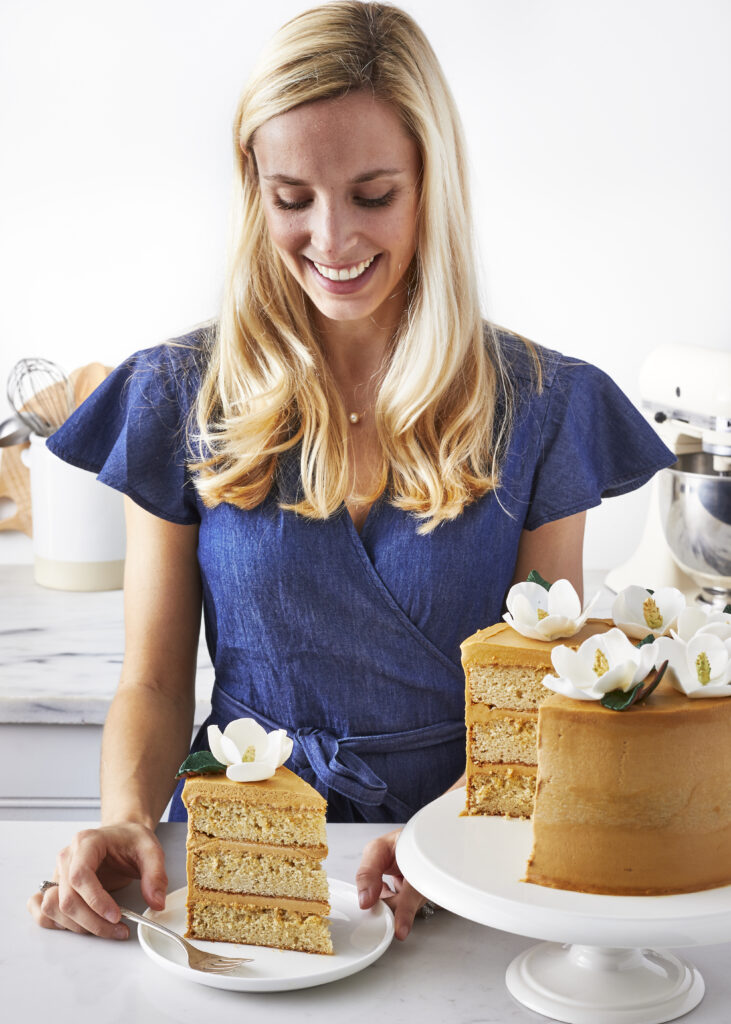 Reese's Birthday Cake by Southern Living's Sarah Epperson Loveless
Espresso Buttermilk Cake with Salted Caramel Frosting
Espresso Buttermilk Cake
1 1/2 cups salted butter, softened (3 sticks)
2 1/4 cups granulated sugar
8 large egg whites, at room temperature
1 tsp. vanilla extract
3 cups cake flour
2 tsp. baking powder
½ tsp. baking soda
1 tsp. salt
1 ½ cups whole buttermilk
2 tsp. espresso powder
Salted Caramel Frosting
1 ½ granulated sugar
2 cups butter
¼ cup milk
5 cups powdered sugar
Gum Paste Magnolias recipe on SouthernLiving.com
Prepare the Cake Layers:
Preheat oven to 350°F. Lightly grease 3 (8-inch) round cake pans with cooking spray. Line bottoms of pans with parchment paper rounds, and spray paper. In the bowl of an electric stand mixer fitted with paddle attachment, beat butter and sugar until light and fluffy, about 1 minute. With mixer running on low speed, add egg whites, 1 at a time, stopping to scrape down sides as needed. Add vanilla extract, beating on low speed just until combined.
Whisk together flour, baking powder, baking soda and salt in a bowl. In a 2-cup measuring cup, combine buttermilk and espresso powder, stirring to dissolve powder. Gradually add flour mixture to egg mixture, alternating with buttermilk, in 3 parts, beginning and ending with flour mixture. Beat until blended after each addition. Divide batter evenly among prepared pans.
Bake in preheated oven until a wooden pick inserted in center comes out clean and edges begin to pull away from pans, 24 to 26 minutes.
Cool cakelLayers in pans on wire racks 15 minutes. Invert onto wire racks, remove pans, and cool completely before frosting, 30 minutes. (Alternatively, wrap in plastic wrap, and freeze 2 hours or refrigerate 4 to 6 hours before frosting.)
For the Salted Caramel Frosting:
In 2-quart heavy saucepan, heat granulated sugar over medium-low heat 6 to 8 minutes, stirring constantly with wooden spoon and watching carefully, until sugar begins to melt. As sugar begins to melt, stir with wooden spoon until sugar is melted and golden brown. (Sugar becomes very hot and could melt a plastic spoon.)
Remove from heat; carefully stir in butter and 1 tablespoon of the milk (mixture will become lumpy). Return to medium-low heat, stirring constantly, until mixture is smooth. Cool for 5 minutes.
Add powdered sugar to caramel mixture; beat with electric mixer on low speed until well combined. Add milk, mixing until frosting is glossy and spreadable. If necessary, add up to 2 tablespoons more milk.
Place one cake layer on a serving plate or cake stand. Spread about 1 cup frosting on top of layer, spreading all the way to the edges. Top with second cake layer, and repeat process. Top with third layer, and spread remaining frosting on top of the cake and around the sides, using an offset spatula. (Dipping your offset spatula in warm water before spreading frosting helps achieve a smooth frosting.) Top with magnolia flowers, and serve.
Happy birthday, Reese!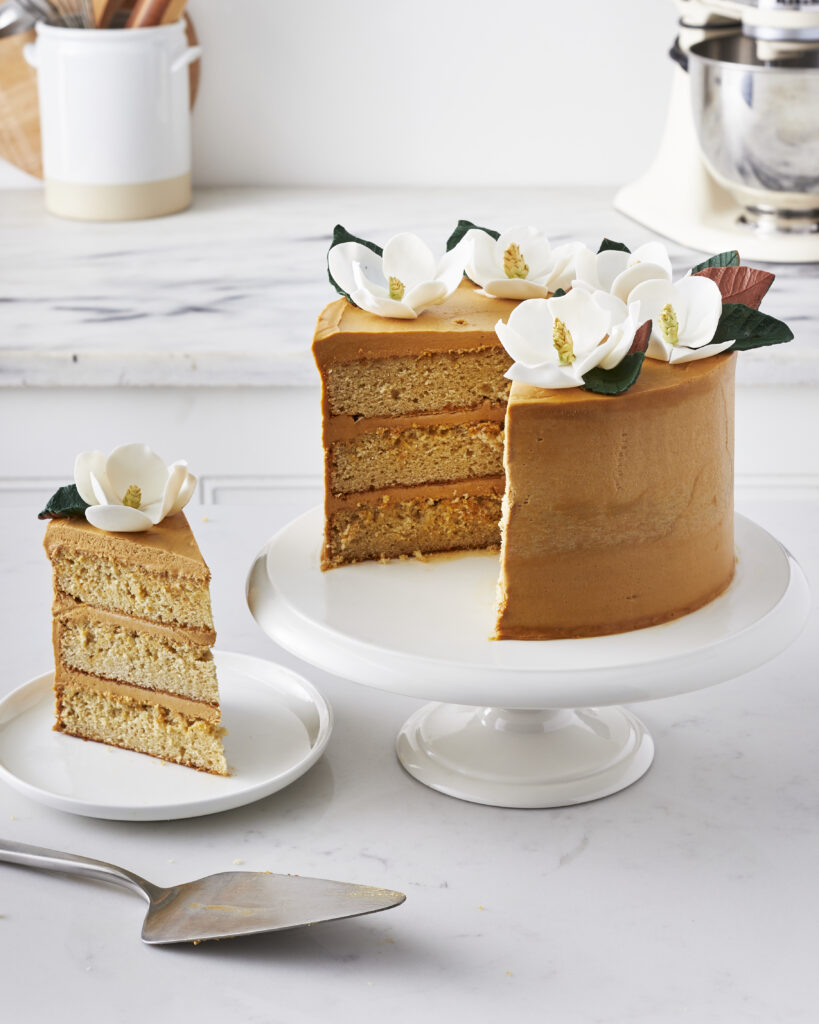 Photos by Caitlin Bensel
Styling by Sarah Elizabeth Cleveland