Hello, Sugar: A Decadent Southern Pecan Pie Bar Recipe from Best Friends for Frosting
Melissa Johnson of the lifestyle website Best Friends for Frosting just gets us.
She gets that the holidays should be merry and bright. She gets that it's all about presentation.
And she gets that Southern Pecan Pie Bars are a staple dessert this time of the year.
Keep reading to grab her recipe, and see how she styled some of our "merriest" pieces this season.
Tell us about this recipe.
I am obsessed with ALL things pecan and caramel. We did a unique twist on traditional pecan bars and added chocolate to make them rich and decadent.
I wrapped each bar individually in parchment paper and tied it with a ribbon. These make the perfect gift or handheld dessert to eat right from the plate!
What is it about pecan pie desserts that makes them so uniquely Southern?
Pecan everything screams Southern. Even though I am from California, I have several friends from the South who tease me that I am secretly Southern because I am so "cheery and warm".  😉
What's your favorite Christmas tradition?
Every year we all jump in the the car with eggnog and hot chocolate in hand to look at Christmas lights around some of our favorite neighborhoods. We play Christmas music and drive around for about 1 1/2 hours.
What's your pro-tip for avoiding baking/cooking stress during the holiday season?
Make as much as possible in advance… especially when it comes to cookie dough. Don't be afraid to make your dough and freeze it weeks ahead of time.
What's your favorite thing (besides these bars) that you eat over the holiday season?
I am an absolute sucker for ALL holiday bites. I have a list as long as Rapunzel's hair. 😉
Pecan pie (of course), Cranberry Bliss Bars, pumpkin everything (totally one of those girls), Peppermint White Mochas, hot chocolate, cranberry everything (including in my turkey sandwich), apple cider, eggnog (and anything else that taste like eggnog).
Recipe for Southern Pecan Pie Bars
CRUST
1/3 cup sugar
1 3/4 cups all-purpose flour
3/4 cup butter, softened
FILLING
3/4 cups dark corn syrup
1/4 cups maple syrup
2/3 cup firmly packed brown sugar
1 1/4 cup semi sweet chocolate chips
4 large eggs
6 tablespoons all-purpose flour
2 teaspoons vanilla
1 teaspoon salt
1 1/2 cups coarsely chopped pecans
Directions
Heat oven to 350°F.
Mix sugar, flour, and butter together in a bowl at medium speed until mixture resembles coarse crumbs.
Press crust mixture evenly onto bottom of greased 13×9-inch baking pan. Bake 18-22 minutes.
Mix all filling ingredients except 1 1/2 cups pecans in bowl, then stir in pecans.
Spread over partially baked crust.
Bake an additional 30-35 minutes.
Cool completely; refrigerate, cut into bars, and serve.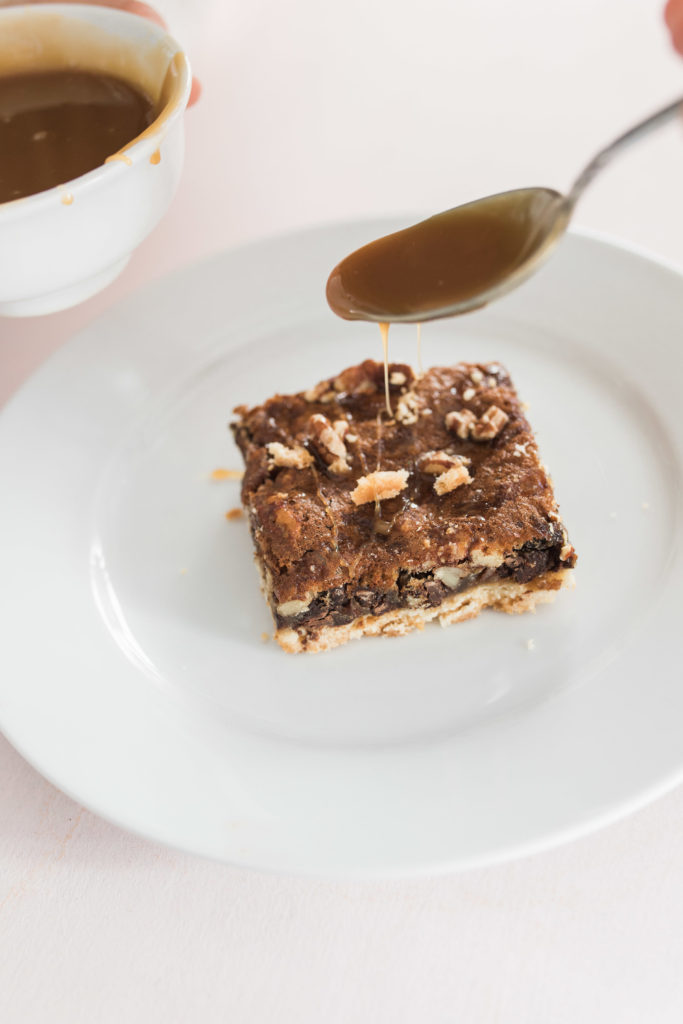 Photography by Ashley Baumgartner and styling by Kim Alcala