Style in the City: Krista Robertson of Covering the Bases on NYC vs. Southern Fashion
In anticipation of our just-opened Draper James boutique in Lexington, KY (come check us out!), we've been devouring Kentucky-based blogs and Instagrams in an effort to soak in the style of the Bluegrass region.
Little did we know that one of our favorite Kentucky social media mavens would turn out to be based in NYC.
Krista Robertson lives in Manhattan and works in social media for Major League Baseball. A proud University of Kentucky graduate, she pens her blog—aptly titled Covering the Bases—as a love letter to New York City from a native Southerner, not to mention a Kentucky Wildcat through and through.
See how Krista styled our Draper James Cherry Orchard Ruffle Shirtdress in New York City, and learn how she'd change it up on a trip below the Mason-Dixon line.
Where did you grow up?
A little bit of all over. I was born in California, but moved to Dallas when I was a year old and stayed there until I was 12. Then we moved to Chicago, and I went to high school there, and then off to Lexington, KY for college (which I loved!), and now I live in New York City. I definitely consider myself a Southerner, though!
Love it! Why's that?
I consider myself a Southerner because the traits have stayed with me no matter which state I live in: I always reach first for a dress; I love ranch on everything; I believe in the power of a red lip; and I can always spot and appreciate good manners.
You went to college at the University of Kentucky. What was the style like there?
I loved that the style was so preppy and classic. It really helped me refine my taste and realize that classic pieces are the best pieces to own. I also got more in touch with my feminine side. I'm all about wearing dresses and skirts as much as possible. Girls on campus would dress up to class and to tailgates, so I think that helped fuel my girly side!
How would you compare New York City style to Kentucky style?
Whereas in Kentucky, the style is almost universally polished, I feel like in the City you can get away with wearing anything. There are so many people here from all over and with all different styles. This is one of my favorite things about the city—no one conforms to one norm here, and you can get away with just about anything, fashion-wise! But of course I bring the Southern style to the big city, so it's all the same for me!
What drew you to this Draper James Cherry Orchard Ruffle Shirtdress, and how did you style it for NYC?
I love shirtdresses. In my mind they are the perfect type of dress—you can wear them to brunch with friends, or to work, or even home for a quick weekend with the family. Shirtdresses are always my go-to! For NYC, I would make sure to style the dress with comfortable shoes—that is key! With all the walking you do here, you want to make sure you are taking care of your feet. Flats or flat sandals work well and are comfortable. I'd wear a crossbody bag and some fun retro sunglasses.
How would you change it up for the South?
I would keep this look exactly the same, but trade out the cross-body bag for a wicker bag, and I'd wear a brighter red lip to match the cherries!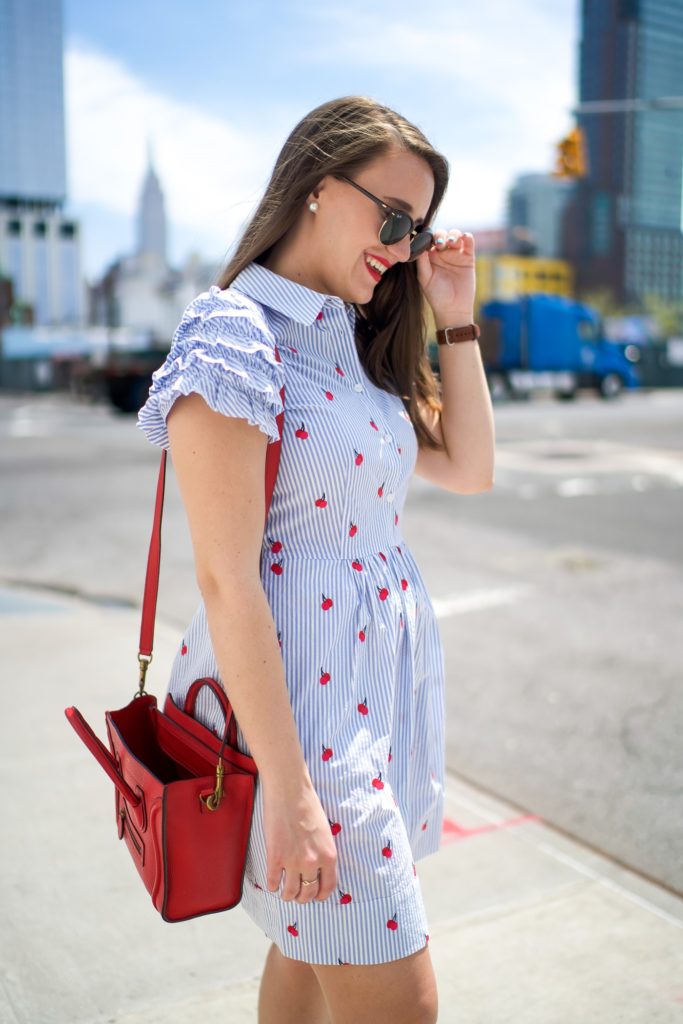 What do you miss most about Lexington in the springtime?
Keeneland by far. There was nothing better than getting dressed up on the weekends and spending time at the track. Win or lose, it's always fun to be with friends and sip on some Bloody Marys.
Three favorite spots in Lexington?
Keeneland during the season, Tin Roof for a fun night with friends, and Rupp Arena for a U.K. game!
Favorite "Southernism"?
One that I live by: "If it doesn't move, monogram it!"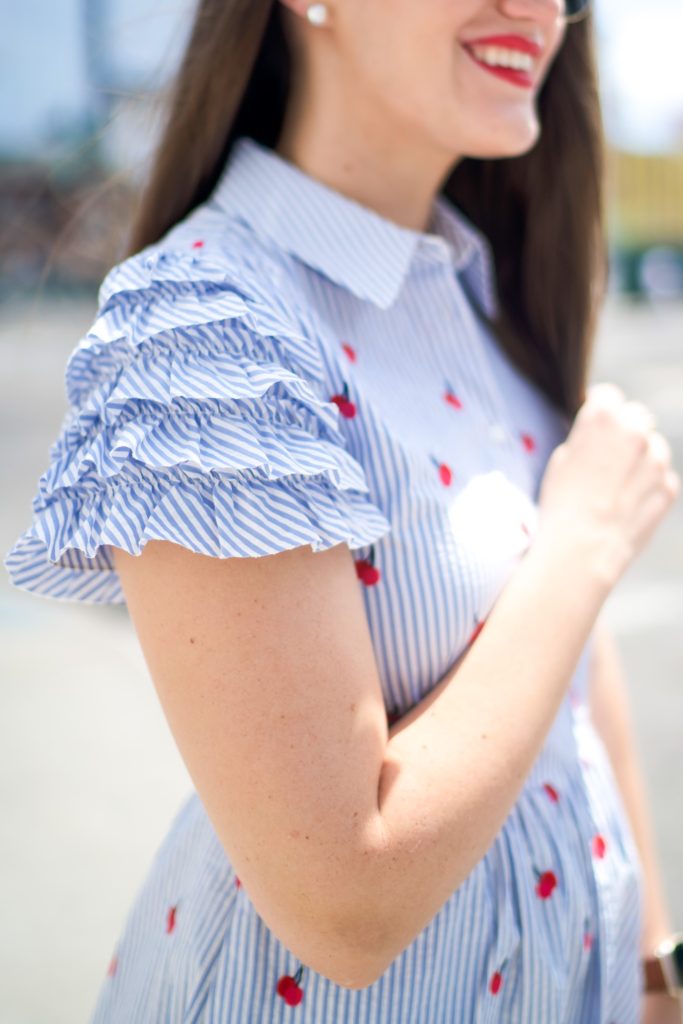 Save
Save
Save
Save