Our Southern Road Trip: Meet Oxford's Ryan O'Connor, Head Cheer Coach at Ole Miss
Welcome to the Draper James Southern Road Trip! This fall, we're "road tripping" through some of our favorite Southern cities. At each stop, we'll share a look inspired by the city and introduce you to a fascinating woman who represents the heart and soul of her home.
After making our first stop in Atlanta, we journeyed to Oxford, Mississippi, home to passionate football fans and Ryan O'Connor, the Head Cheer Coach at the University of Mississippi.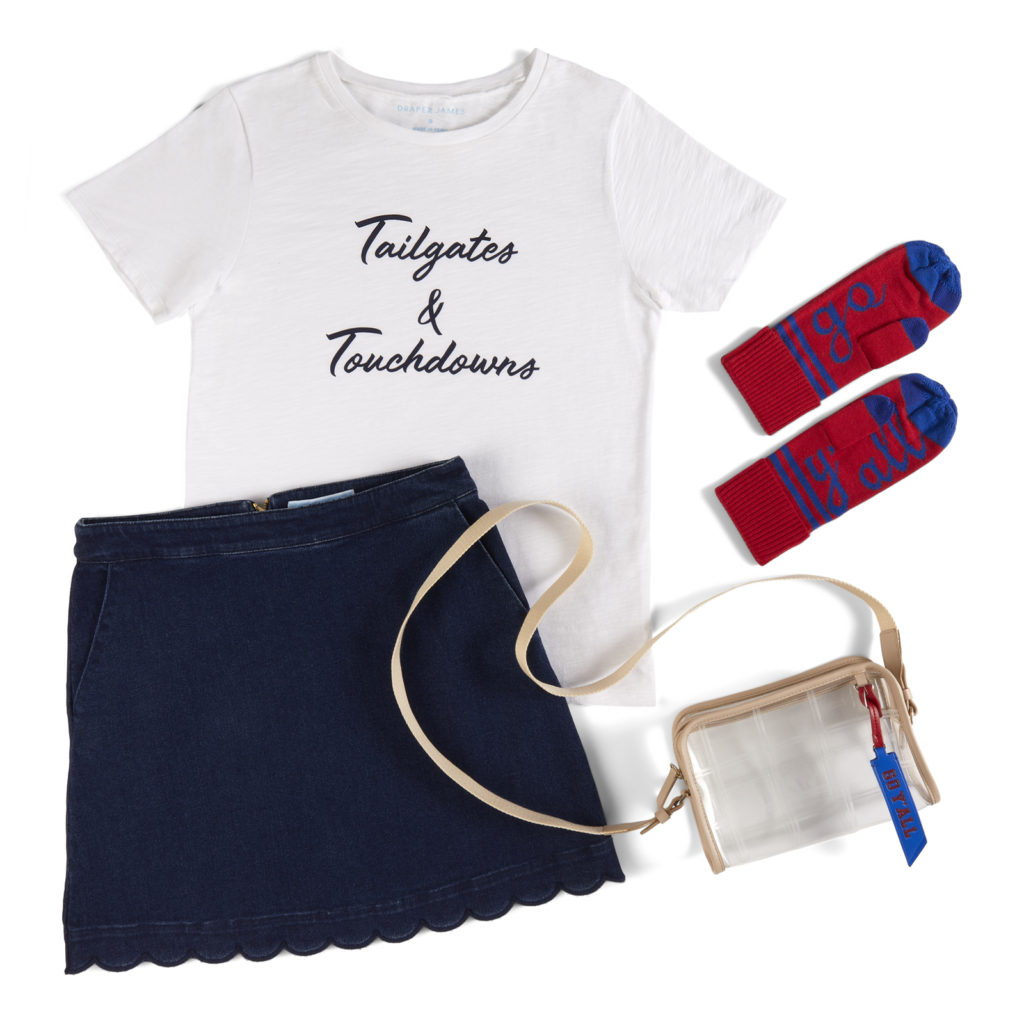 Below, you'll meet Ryan, a Lexington, Kentucky native who decided to make the move to Oxford to coach not one, but two different teams (plus the mascot program!) at Ole Miss.
Tell us about yourself.
I'm the Head Cheer Coach at the University of Mississippi in Oxford, Mississippi. I have been involved in cheerleading my whole life! I grew up in Lexington, Kentucky, where my mom is one of the most decorated high school cheerleading coaches in the country, and I cheered for the University of Kentucky and the University of Alabama.
I am a wife to Kyle and a mom to my son Michael, two dogs, and one cat. We are all packed into our little house, but I wouldn't change a thing!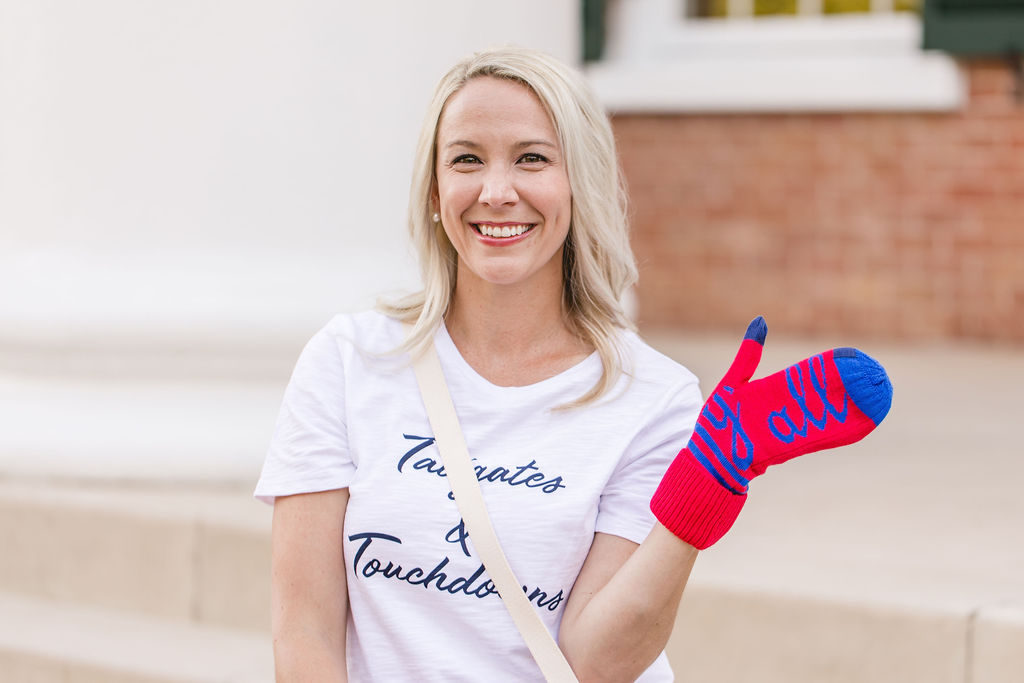 What brought you to Oxford?
My job brought us to Oxford a little over two years ago, and my students are what keeps us here! They're so passionate about Ole Miss, so it's made it easy to love what they love! I love working at a school that people grow up dreaming of going to; there is so much pride for Ole Miss, and it keeps me motivated to figure out how to make the experience better for my students, our fans and the community.
Oxford is also where we started our family! I interviewed for this job just two weeks after getting married, and my son was born here! Oxford will always have a special place in my heart.
What's your all-time favorite part of football season?
I have the BEST seat in the house for football games, and I love feeling a part of something bigger than myself. We have the best tailgating scene in the country with the Grove! I have been to many football games across the country, but no one has an experience quite like the Grove.
I love that my athletes get a chance to perform in the middle of everything happening in the Grove before kickoff. It's a great chance for them to be up close with fans and to show off their skills!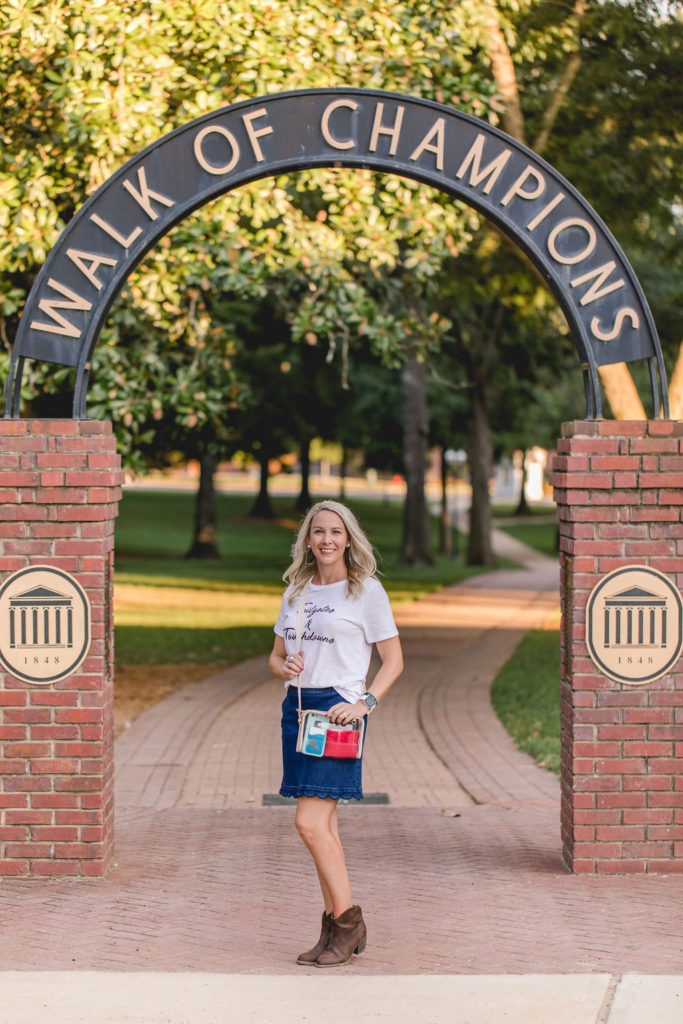 Describe your personal style in 3 words.
Athletic, casual, comfortable. I work in athletics, so I'm always on the move! Comfort is a MUST for long days on the football field or at a camp.
What are the 3 items you always keep in your bag at football games?
I never go anywhere without my phone–especially at a game because I use it for social media for our team! Chapstick: I am addicted. I never go ANYWHERE without it! Water bottle: I got used to drinking a lot of water while I was pregnant, and I have kept up that same thing these last few months.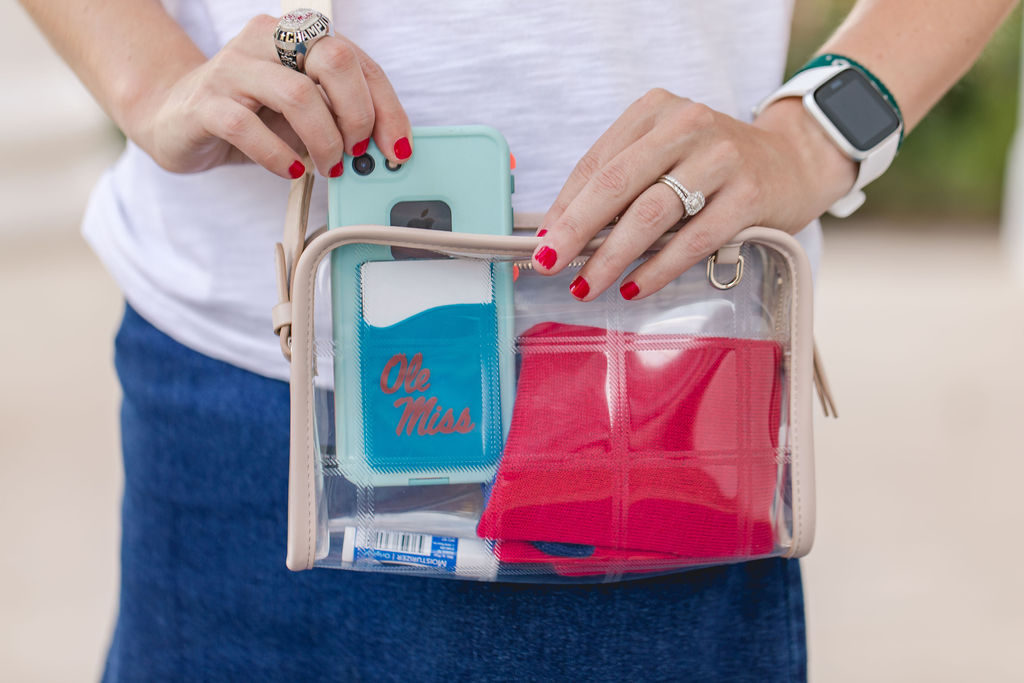 Describe your typical work day with the cheer squad.
I coach two cheerleading teams at Ole Miss: the Co-Ed team and the All-Girl team, and I'm in charge of Tony's Team (the mascot program). We have 6 am workouts followed by two hours of practice for each team (4 hours for me) and an hour practice for Tony's team.
I spend most of my day in the gym preparing our teams for whichever game day is coming up that week. The fall is our busiest season because all three of our sports overlap! We might have a basketball game on Friday night, football on Saturday, and volleyball on Sunday during a weekend in November. When I'm not leading a practice, I can be found in a meeting about gameday or in my office working on new ideas for our teams.
What's the thing you miss the most (besides family or friends) when you're away from Oxford?
Being on campus with my teams! Ole Miss is the most beautiful campus. I love running through campus or down through the Square. During the holidays, the Square is definitely my favorite place to visit because of the lights. Our city does a great job!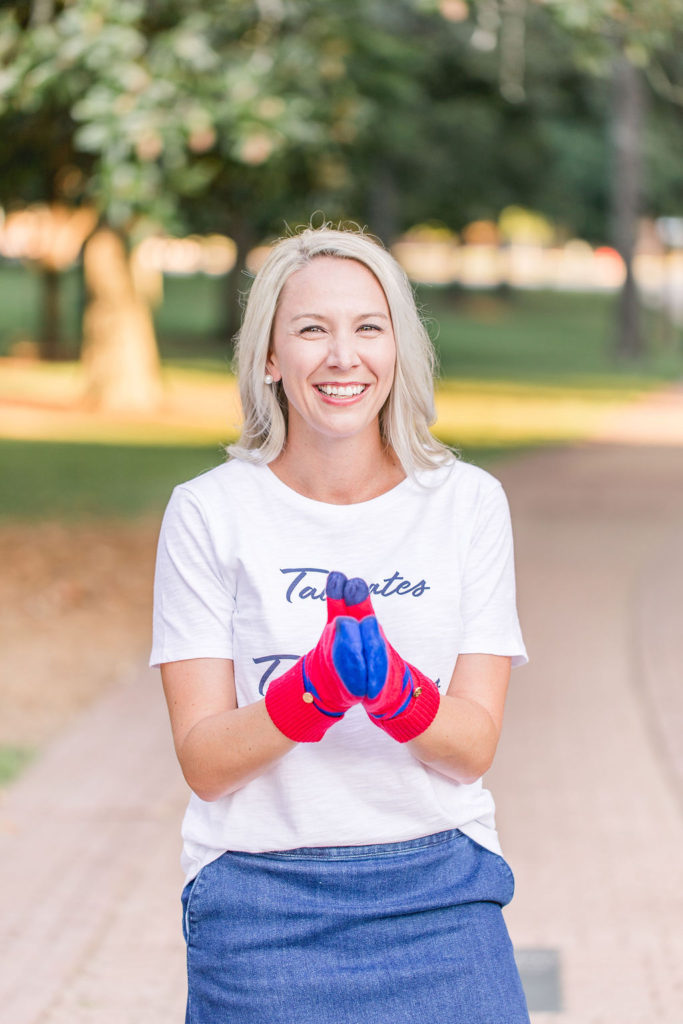 Best place to grab coffee in Oxford?
Cabin 82 is a great place to sit and have coffee because it is a part of the Graduate Hotel. I also love Uptown Coffee on the Square.
Best brunch in Oxford?
I love Ravine! It is a hidden little spot in between my house and campus.
Best date spot in Oxford?
My husband and I love Lenora's and Southern Craft Stove & Tap. Those are definitely our date night spots; eating is one of our favorite things to do together!
Overall, what's your favorite thing about living in Oxford?
My favorite thing about living in Oxford is my job. They are my family here. They give me purpose, they teach me about myself, and they keep me motivated. Ole Miss is a great place to work, and it's a perfect little college town to raise my family in!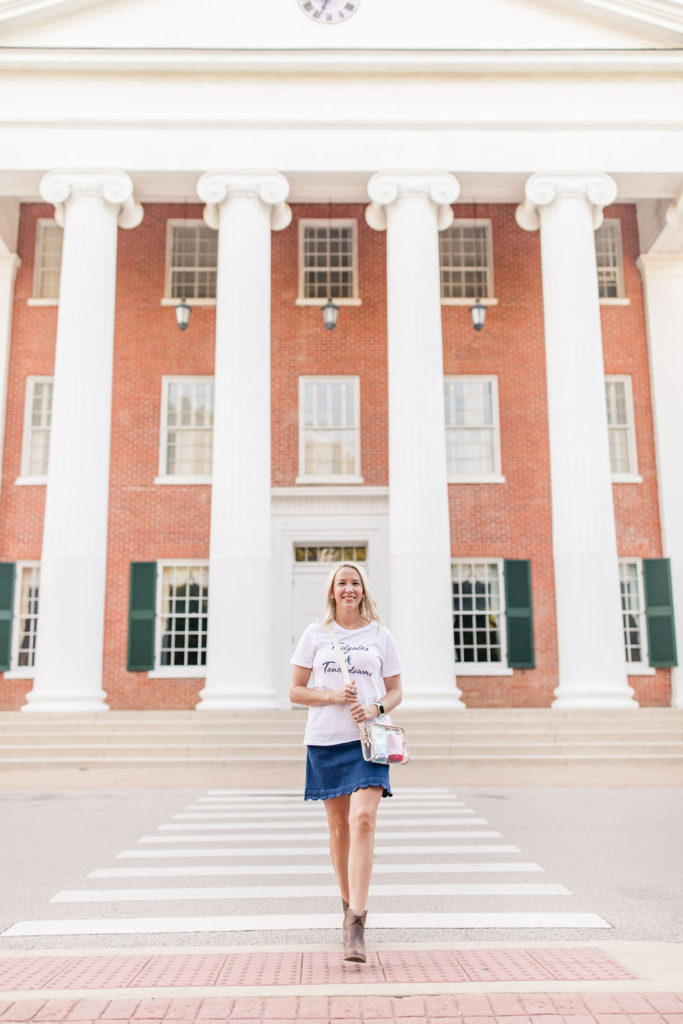 Photos by Lindsey Meisenheimer