Our Southern Road Trip: Meet Atlanta's Christa David, Artist and Entrepreneur
Welcome to the Draper James Southern Road Trip! This fall, we're "road tripping" through some of our favorite Southern cities. At each stop, we'll share a look inspired by the city and introduce you to a fascinating woman who represents the heart and soul of her home.
Our first stop is Atlanta, Georgia, home to a Draper James store and artist and entrepreneur, Christa David.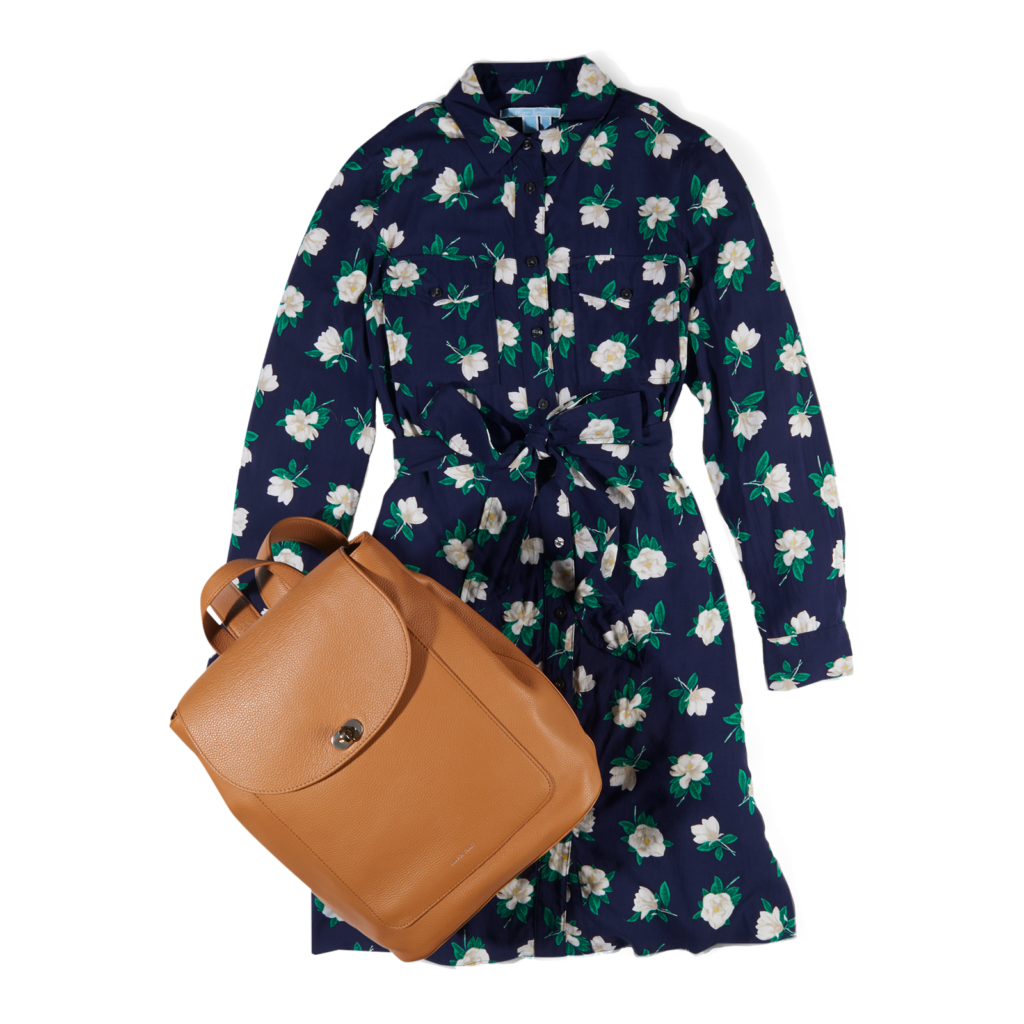 Below, you'll meet Christa, a talented fine artist who decided to make the move from New York to Atlanta, a city where she's able to build and grow both her art and her new business.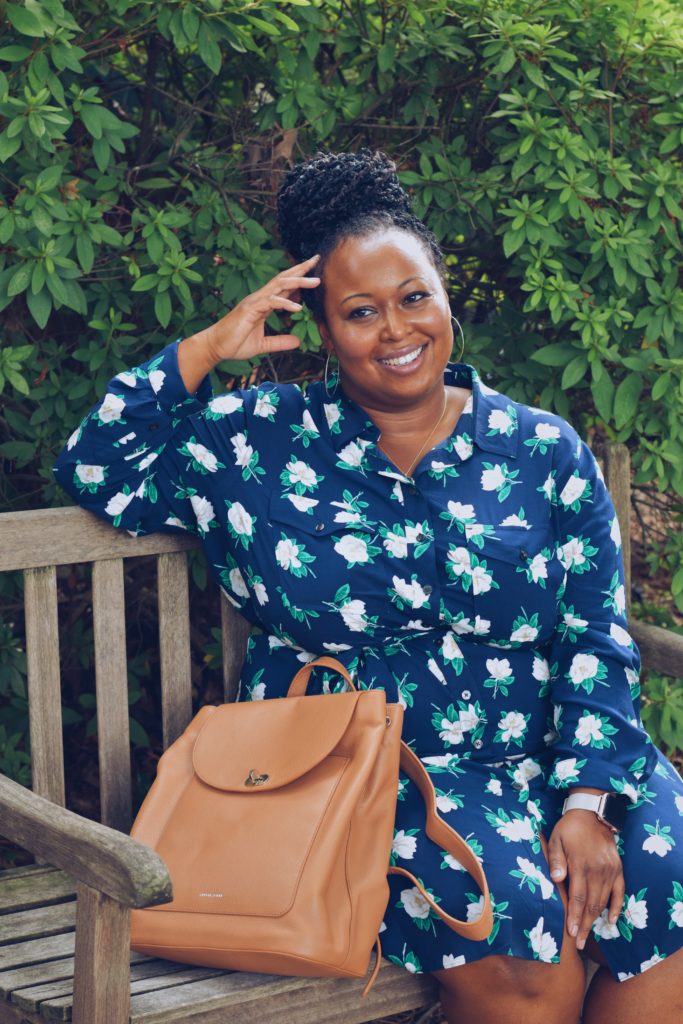 Tell us about yourself.
I'm Christa David, an artist and new tech-startup founder now living and working in Atlanta. Three years ago, my life was very different. I was living in New York City and working as a public health researcher specializing in equity research and evaluating public health programs that impact the lives of New Yorkers living in historically disinvested neighborhoods.
Today, I still do this important work, but in ways that support my primary work as a professional fine artist. When I'm not consulting as a public health researcher for the City of New York and other private local and global foundations, I am in my home studio making art and creating content that nurtures my growing collector base and that gets and keeps me on the radar of art dealers and gallerists.

Using materials sourced from historical archives, vintage and contemporary magazines and newspapers, I cut and compose mostly intimate-sized narrative collages that describe my thoughts about the stories I've heard and told about myself and others. My abstract paintings combine color and expressive brushwork work to communicate my feelings about these same stories. Each discipline allows me to tackle the same idea but from different starting points; my collages show me what I think and my paintings show me how I feel.
I'm also dipping my toe in the tech-startup world with my newest venture called checkALMA.com, an online marketplace for artists and makers to buy, sell, and trade all the things they need to create their best work and live their best lives. checkALMA just launched on August 2, and I'm excited and nervous to see where it goes.
What brought you to Atlanta?
New York City is a wonderful place to live and work, but it's also a very expensive place to live and work. After quitting my day job and seeing my savings dwindle quickly, I decided to move South to a more affordable city that also has a thriving art scene. Atlanta checked most of the boxes. So here I am, and so far, so great.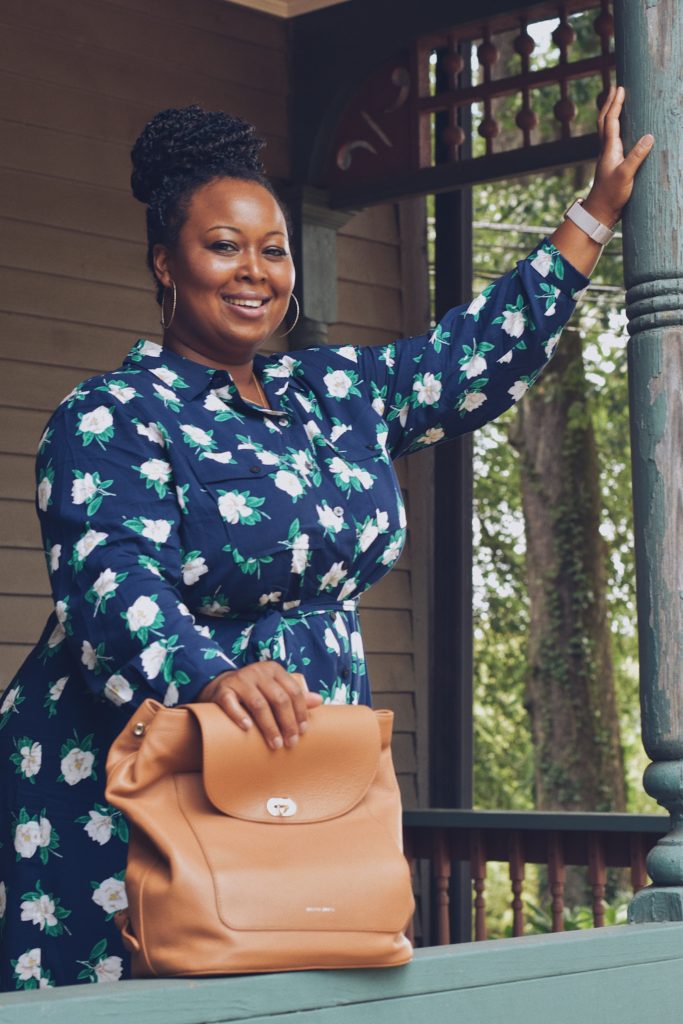 Describe Atlanta's style.
Atlanta is a city of many cities. Each neighborhood has a totally different vibe that can be hard to pin down, but a year-and-a-half in, I would describe Atlanta's style as refined boheme having equal parts of Southern charm and laid-back grittiness.
Describe your personal style in 3 words.
My embrace of minimalism is affecting everything in my life right now, including my style. But in three words my personal style is: bohemian, classic, and edgy.
What are the 3 items you always keep in your bag?
A notebook, a pen, and lip gloss.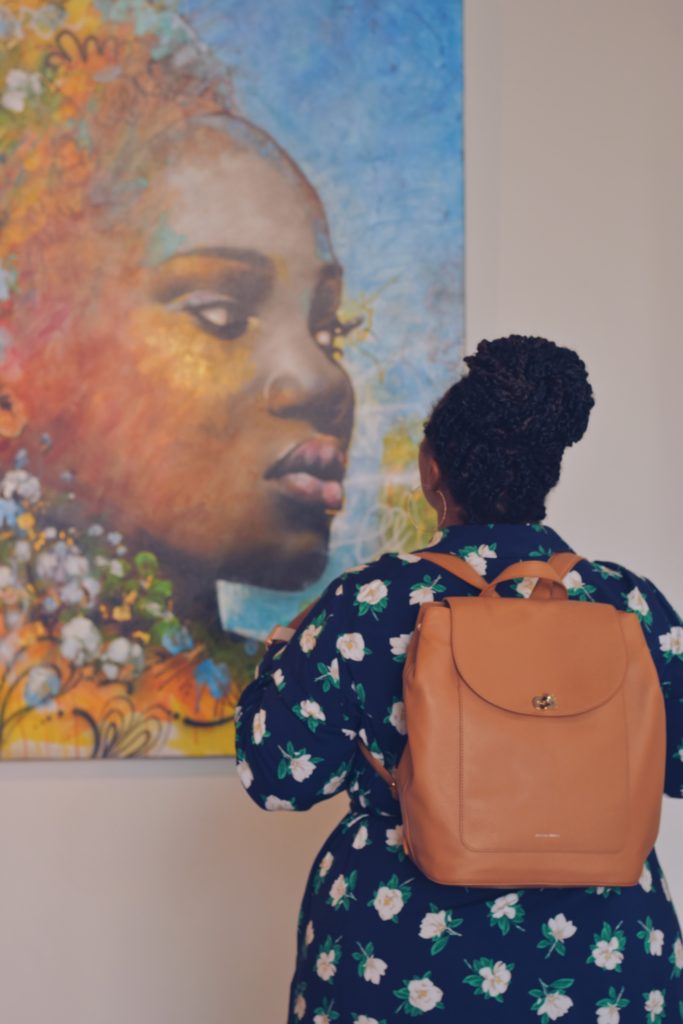 Describe your typical work day.
My day has two phases: during coffee (d.c) and after coffee (a.c). I start my day with coffee, pour-over coffee, to be exact, and by some wonderful fluke several hundred people show up every morning in my Instagram Stories to watch me make coffee a.k.a. "Let it Bloom." It started out as something I did to feel less lonely as I started my new life as full-time artist working for myself. This little morning ritual has turned out to be the best part of my day and allows me to both give and receive to an incredible growing community of humans who crave ritual and slow living like me.
After coffee, I meditate for 20 minutes, check my written to-do list, and then begin the day. Every day is slightly different, but each day I aim to make art or at least complete something that supports me in making art (researching topics, writing, and cutting images out of magazines and books) followed by creating content for Christa David Studio and now checkALMA. Fridays are special. I call them Freedom Fridays. I do whatever the heck I want, which may be grabbing coffee with a friend, heading to the High Museum, or nothing at all.
What's the thing you miss the most when you're away from Atlanta?
Atlanta is lush, green, spacious, and quiet. I marvel at the fact that in any one space there are only a handful of people. This is not the case in New York City, where more than 8.4 million people live, work, and play. When I'm in New York, on a hot subway platform waiting for a train that will inevitably be late and packed with hot bodies, I miss Atlanta the most.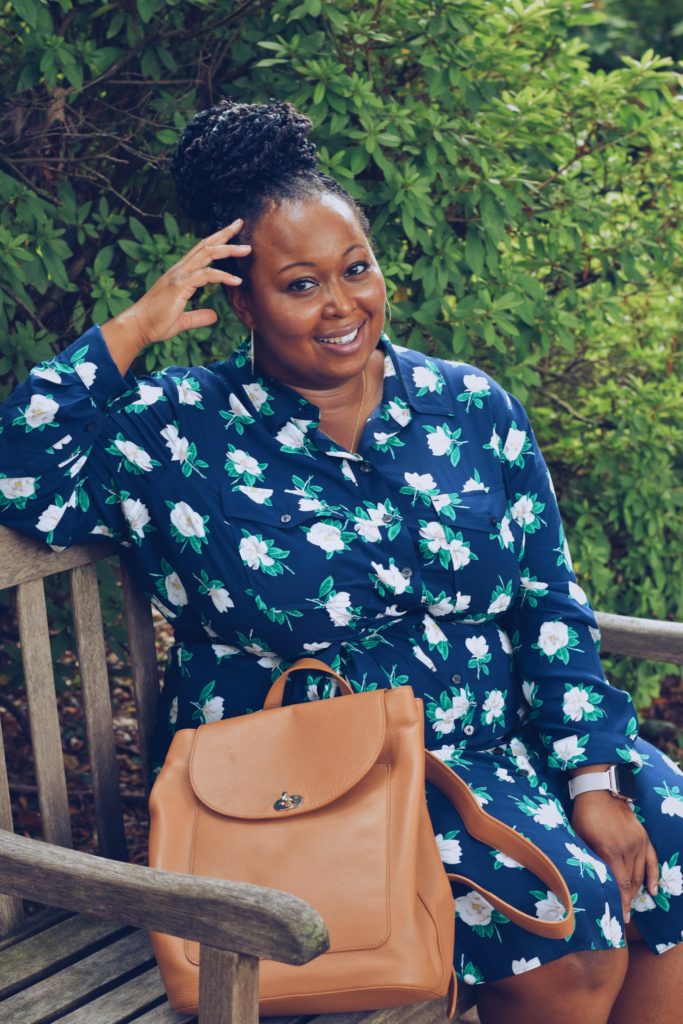 Best place to grab coffee in Atlanta?
I'm a big fan of my own pour-over coffee made at home, but when I need to get out I always find myself at Revelator Coffee. It's a beautiful space with lots of natural light pouring into the giant windows, friendly baristas, and pretty good coffee.
Best brunch in Atlanta?
My new favorite place to have Sunday brunch is Callie's Hot Little Biscuit in the Virginia-Highland neighborhood. Hands-down the BEST biscuits I've ever tasted.
Best date spot in Atlanta?
Date, what is a date? HA. Seriously, I'm newly single and living in a new city. I spend my evenings exploring the city solo or with a couple of my friends. If I were asked out on a first or second date, I would love to take in the Atlanta skyline at dusk, have a good cocktail, and laugh a LOT. I'm pretty sure one could get all of that from visiting The Roof of Ponce City Market. The city views are gorgeous, there is a cute bar, outdoor games, and a big movie screen for viewing all the cheesy 80s movies.
Overall, what's your favorite thing about living in Atlanta?
The weather and the possibility of financial freedom. Yes, it's currently 97 degrees and steamy, but my skin and hair love this weather. Also, Atlanta, relative to New York City, is a way more affordable city to live. Atlanta affords me the freedom, space, and financial flexibility to build and nurture my art studio practice, my art business, and my new tech startup. I have room to dream BIG in Atlanta while still paying my rent, eliminating debt, traveling the world, and eating well, like 100 percent organic, wild and grass fed well.
What's the one "tourist" attraction visitors to Atlanta shouldn't miss?
I am the worst tourist. I avoid all the "must-do and must-see" lists everywhere I visit. Just put on something that makes you feel good, add some comfy shoes, and go. If something catches your eye while driving, stop the car, park, and explore. Breathe in the fresh air, eat all the food, listen to all the live music, see all the art (buy the art!).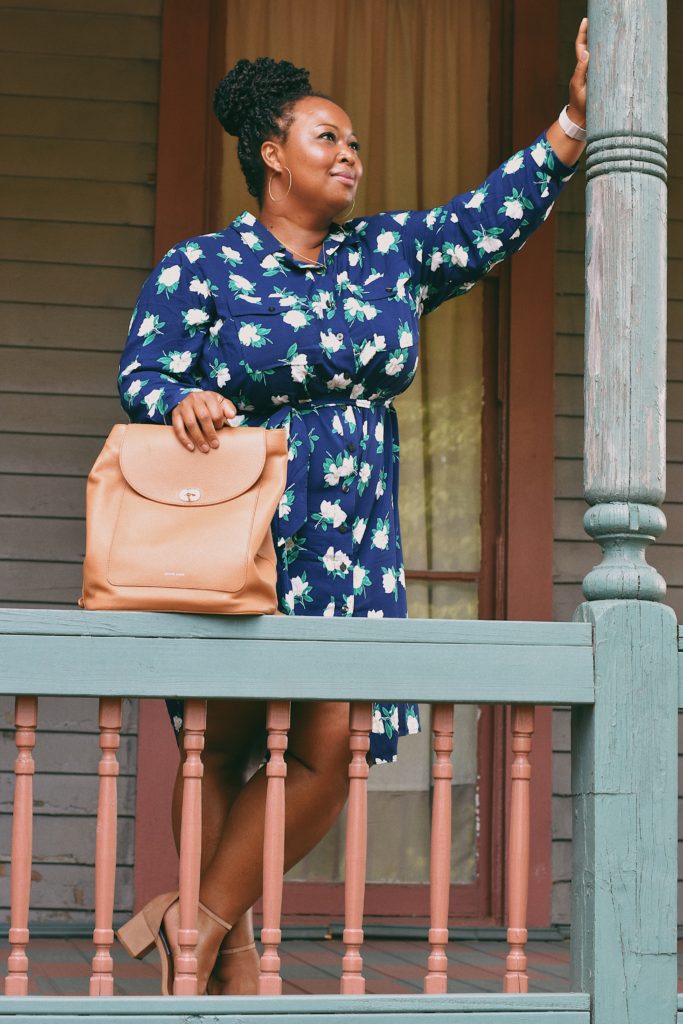 See more of Christa's work here, and follow along on our Southern Road Trip at @draperjames on Instagram.
All photos by Victoria P. Allen.