Kate Wood's Espresso Toffee Chocolate Chip Cookies
As the season changes from late summer to fall, there are many things to look forward to. The leaves changing, apple picking, pumpkins patches, and football. Especially football.
And no matter the team you're rooting for, we can all agree on one thing: The food can make or break a good tailgate.
So when we decided to feature a tailgate and fall-friendly dessert recipe on the Love, Reese blog, we turned to Alabama resident Kate Wood of Wood and Spoon.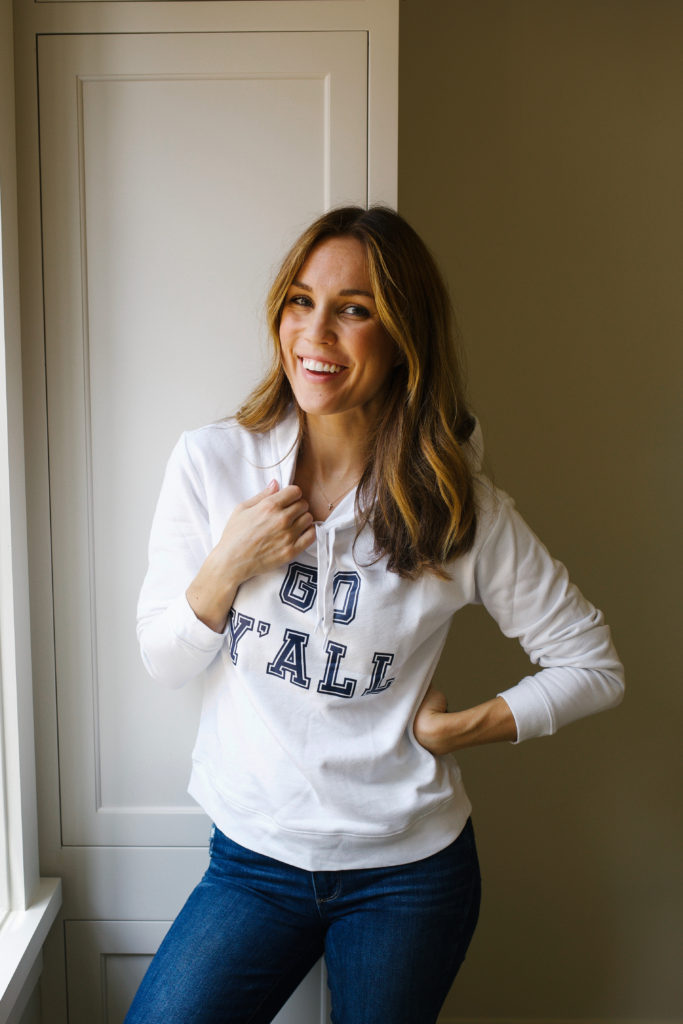 Kate shares her recipe for Espresso Toffee Chocolate Chip Cookies, which can easily be transported and snacked on before, during, and after football games this season.
Tell us about this recipe.
These Espresso Toffee Chocolate Chip Cookies are like the cool, sophisticated older sister to a traditional chocolate chip cookie. We've taken the appeal of a classic chocolate chipper and added a bit of espresso powder and toffee bits which provide tons of flavor and texture.
The result is a chewy, gooey-centered cookie with hints of caramel flavors and loads of dark chocolate throughout. With a smidge of sprinkled sea salt, these simple treats feel elevated and approachable all at the same time.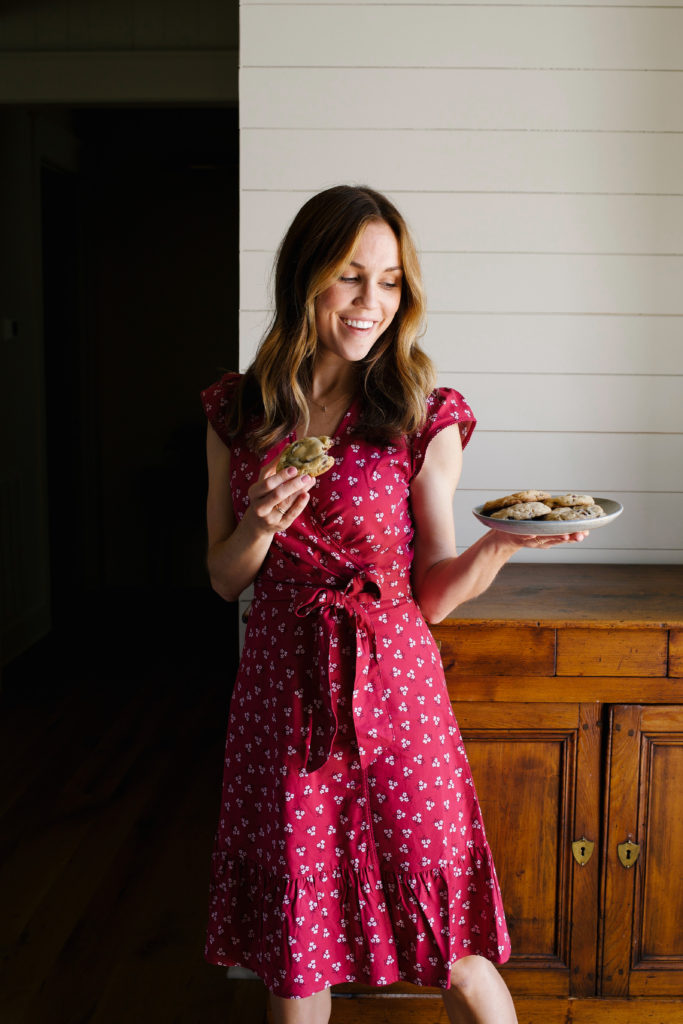 Why is it perfect for the fall and tailgating season?
Is there a person in the world who doesn't love chocolate chip cookies? No way! Everyone goes nuts for the treats they feel comfortable with, and the added extra touches to these cookies make them a dessert that will intrigue everyone under the tailgate tent. The added toffee and coffee flavors add a cozy feel to an otherwise simple cookie and makes them a great option as the seasons change.
Bonus? These cookies travel well and taste great at any temperature, which means they'll be fresh and delicious all game long.
Describe the recipe in 3 words.
Coffee. Caramel. Crazy-Good. (Sorry, that was four words)
What drew you to the Floral Wrap Flounce Dress?
The berry color and pattern takes that current '90s floral trend and gussies it up in a ladylike fashion. The silhouette of this wrap floral dress is extremely flattering, and I love that I can adjust and cinch the dress at the waist according to my comfort. Although I typically wear this as a daytime dress, I think it could easily be sassed up for nighttime with a cute jacket and booties.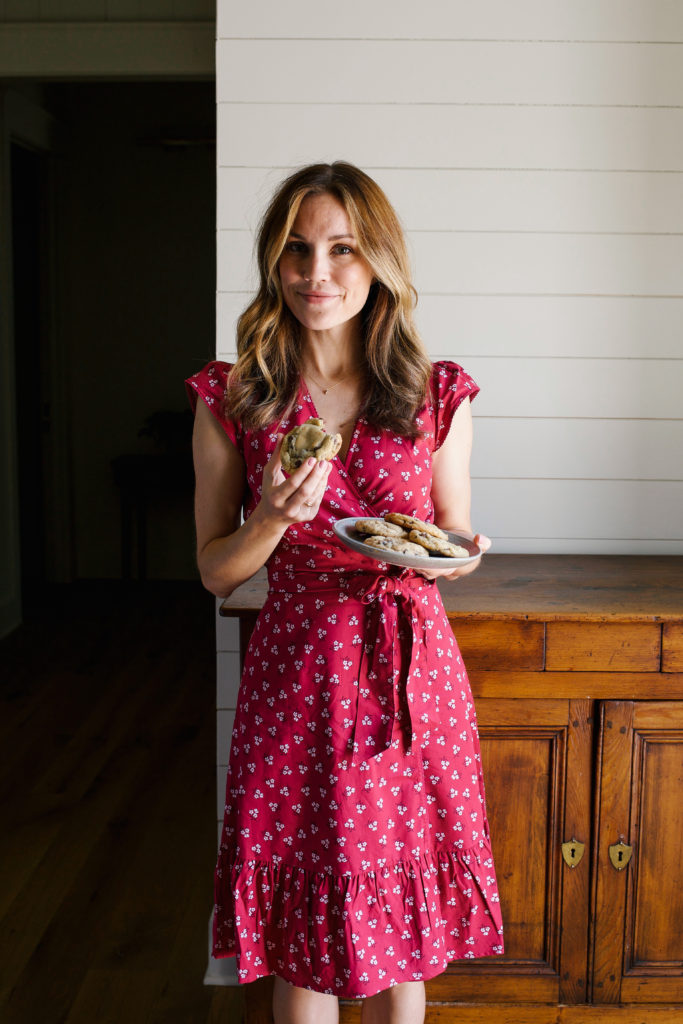 Do you have any favorite tailgating traditions?
Well, obviously, it's the food! I'm 100 percent into the tailgate for the snacks. I love to make those little hot ham sandwiches to share, but my favorite treat is the brown butter rice krispie treats that my best friend always brings.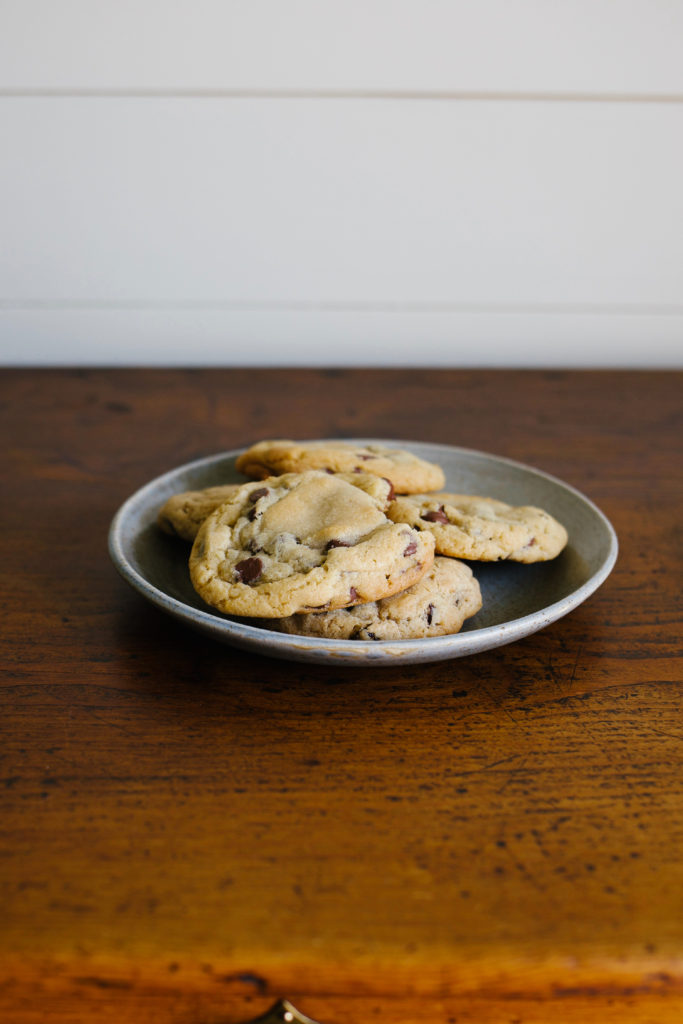 Toffee Espresso Chocolate Chip Cookies
Makes about 30 cookies
Ingredients
1 cup (230 gm) unsalted butter, at cool room temperature
1-1/2 cups (300 gm) brown sugar packed
3/4 cup (150 gm) sugar
1-1/2 tablespoons espresso powder
2 large eggs
2 teaspoons vanilla extract
3 cups (400 gm) all-purpose flour
1 teaspoon baking soda
1 teaspoon baking powder
½ teaspoon salt
10 ounces dark chocolate, roughly chopped
1 cup toffee bits
Sea salt, for sprinkling
Directions
Preheat the oven to 350 degrees.
In a large bowl or the bowl of a stand mixer, cream together the butter, brown sugar, sugar, and espresso powder on medium speed until smooth about a minute.
Add the eggs and vanilla extract and stir to combine.
Scrape the sides of the bowl and add the flour, baking soda, baking powder, and salt.
Stir until barely combined and then add the dark chocolate and toffee. Stir to combine.
Refrigerate the dough for 30 minutes if it is really soft or shiny.
Scoop medium-sized rounds of dough (I use a medium cookie scoop) two inches apart on a large baking sheet rimmed with parchment paper.
Bake in the preheated oven for 11-12 minutes or until the edges of the cookie are starting to golden.
Allow to cool briefly before serving.