Father's Day Fried Chicken with Chef Nathan Duensing & His Boys
Nathan Duensing credits his love of food and cooking to the men in his family—to his grandfather, a farmer and avid gardener, who loved to show off the extravagant meals he cooked; and to his father, who taught a young Nathan to forage, hunt, and preserve food.
It seemed fitting, then, for us to partner with Nathan on a special post for Father's Day. Nathan is the Executive Chef at the Thompson Nashville, where he oversees the hotel's acclaimed trio of restaurants—Marsh House, L.A. Jackson, and Killebrew—for John Besh's BRG restaurant group.
The father of Noah, 6, and Hayden, 3, modeled our Collared Greens x Draper James ties with his young boys in these adorable photos; shared his recipe for Korean Chicken & Waffles (below); and shared some thoughts on his favorite Dad's Day traditions.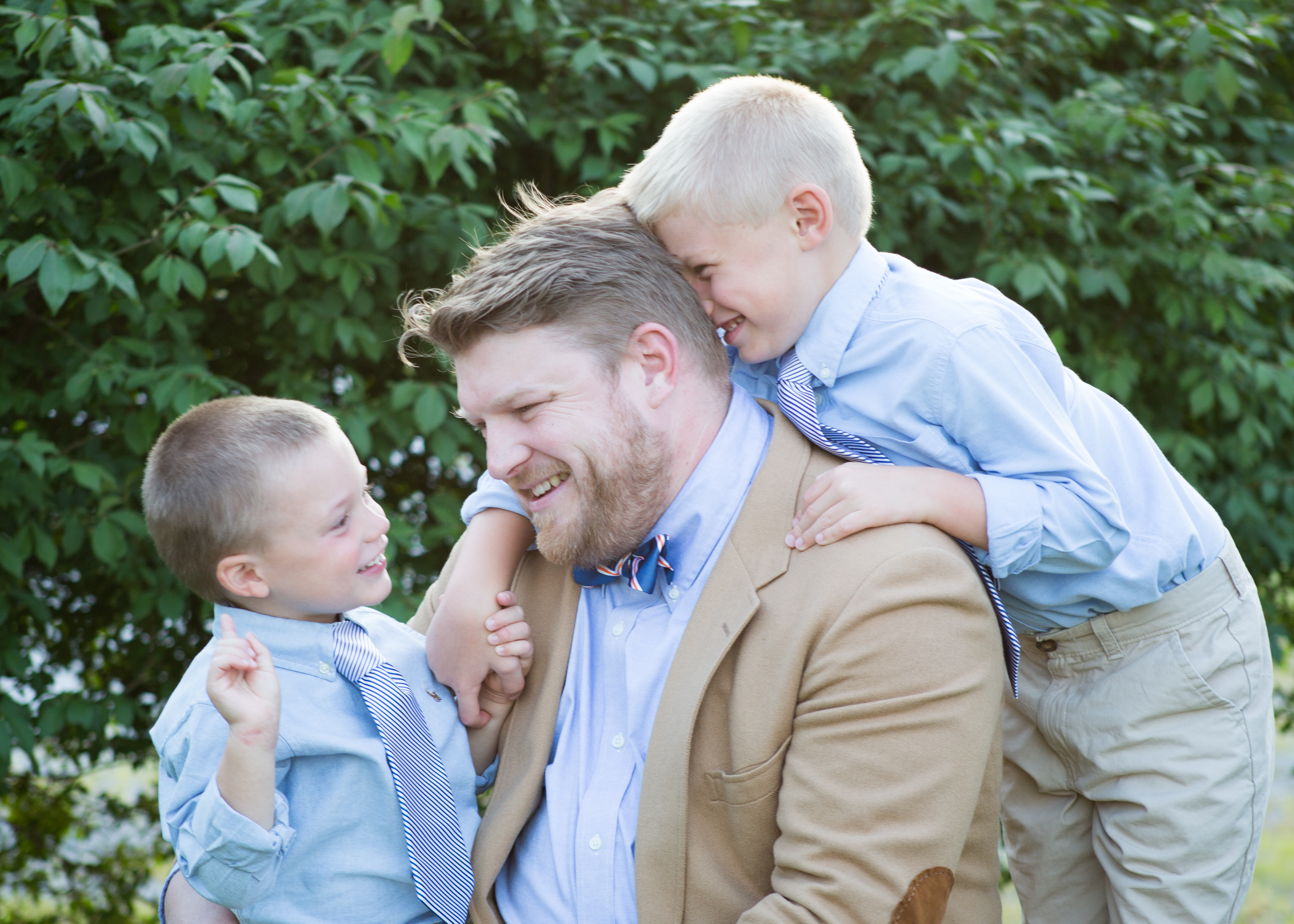 Happy Father's Day! How will you be celebrating as a family this year? Any favorite traditions?
Thank you! This year is a bit hectic because we just built a new house, and we will be moving in over the weekend, but we will make time to be at one of my favorite places: the lake! The great thing about the new house is that it is really close to the lake, so we will go and fish, skip rocks, and walk a few nature trails close by. When we get back home, it's all about time on the patio drinking a cold beer and grilling some steaks for the family. When I was a child, we would always go to my grandpa's house and spend all day at his lake for Father's Day. It was a day filled with swimming, fishing, and hanging out with Pops, while he enjoyed a relaxing day for a change. It is probably why I always gravitate to a body of water for special occasions.
Anything special going on at Marsh House for Father's Day?
We will do a steak and eggs special on Father's Day brunch along with our entire brunch menu, including the raw bar.
What are some of your favorite things to do in Nashville with your boys?
We love going to the local state parks and walking nature trails, fishing at the local lakes, and catching Sounds baseball games. Both of my boys are full of energy, so getting out and exploring in the woods is a great way for them to burn some of that off. They are at such a fun age right now because they are so fascinated with all the new things they find exploring.
Do your boys like to cook? What do you make together?
They both love to be in the kitchen. Anytime we are fixing something, our youngest, Hayden, asks: "Are we making cookies?" They both have their own step stools and spend most of the time moving their stools from one spot to another in the kitchen so they can be close to the action. Anything they can measure out the ingredients to and then mix up is a favorite. Pancakes, brownies, cookies—you name it, they love it.
Tell us about this recipe for Korean Chicken with Waffles from Marsh House.
Our Korean Chicken with Waffles is the perfect balance of savory and sweet. The chicken is tempura fried with a ginger hoisin sauce. It's a great dish to enjoy during brunch.
Your favorite Southernism?
"Yonder!" It reminds me of weekends spent at my grandma's house. It was one of her favorite words. What's funny was everywhere was yonder, but we somehow always knew where she meant.
Marsh House Korean Chicken with Waffles
courtesy of Nathan Duensing, Executive Chef at Thompson Nashville
Ingredients
2 6oz boneless skinless chicken Breasts (pounded thin)
your favorite waffles
For the Korean glaze
2 cups Hoisin
½ cup rice wine vinegar
¼ cup sambal
¼ cup ginger, grated
½ cup garlic, grated
1 ½ cup brown sugar
¼ cup soy
For tempura batter for chicken
1 ½ cup all-purpose flour
1 cup rice flour
2 teaspoon salt
1 tablespoon baking soda
3 cups soda water
Directions
Preheat a fryer to 350°F.
Begin by making the Korean glaze for the chicken. Grate the ginger and the garlic on a microplane, then combine with all other ingredients in a mixing bowl. Mix until all ingredients are well combined.
For the tempura batter combine and sift all dry ingredients together, to ensure equal distribution. With a wooden spoon mix the soda water slowly into the dry ingredients. The less you agitate this batter, the better. Make sure all ingredients are fully dissolved into the soda water.
To fry the chicken, start by dredging it in cornstarch. Then coat the chicken with tempura by dipping it into the batter. Put the chicken from the batter directly into the fryer. Fry the chicken until the internal temperature reaches 165 degrees, and the batter has become golden brown and crispy.
Toss the fried chicken breast in the glaze. Serve with waffles!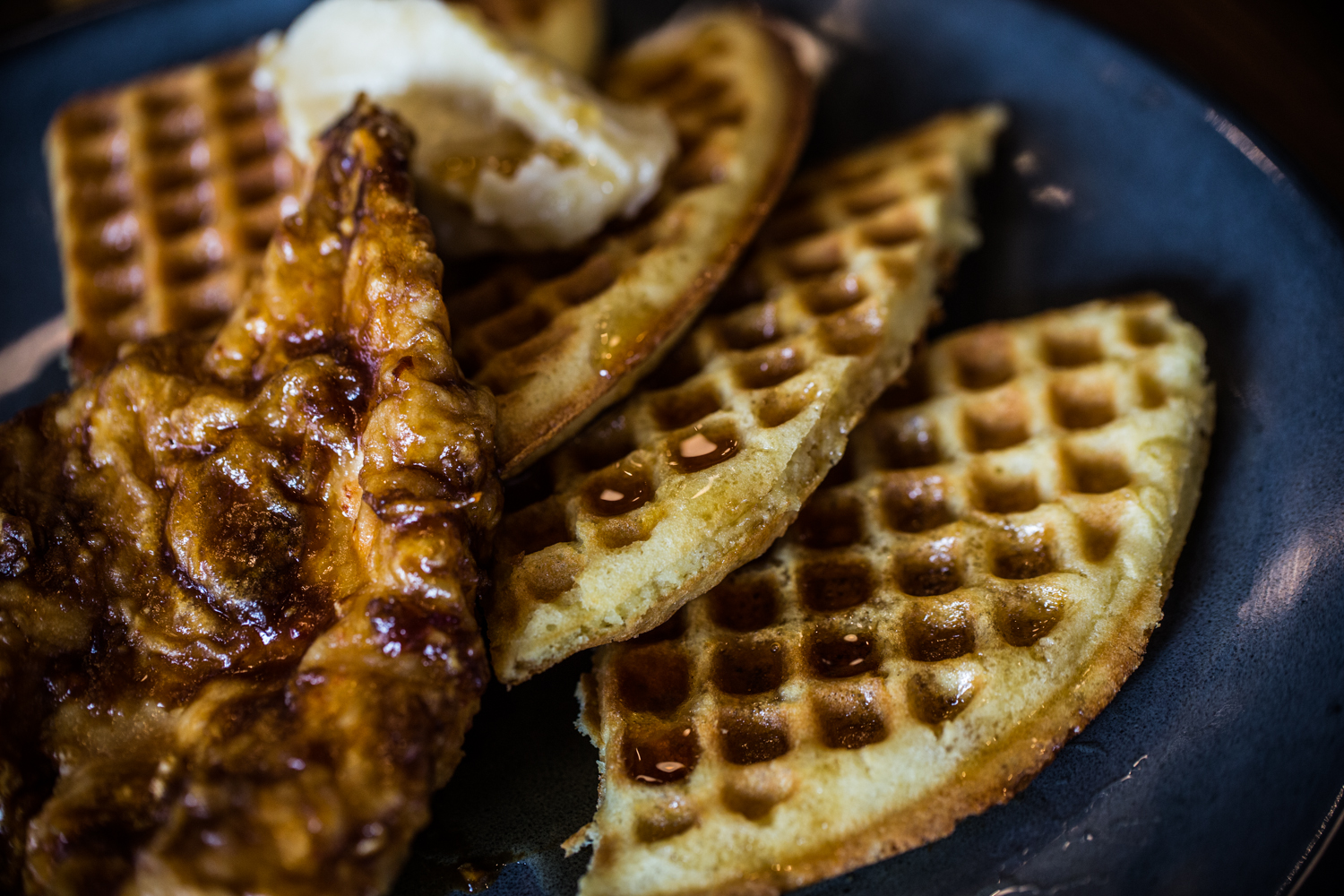 Save
Save
Save
Save