July 10, 2017 • RECIPE
Hello, Sugar: Elisabeth & Butter's Super Easy Mini Blackberry Cobbler Recipe
When the calendar flips to July and you can't escape the suffocating summer heat, that means it's full-blown blackberry season, and you'll be able to find fresh blackberries at your local farmers' market or just about any grocery store.
The best thing about blackberry season, however, is the desserts you can make with these sweet bundles of goodness! Since they're fruit, you can just tell yourself it's healthy (no matter how much butter the recipe calls for).
Elisabeth Epperson of the blog Elisabeth & Butter, a self-proclaimed "lover of baking and butter," is a gal after our own heart. Born and raised in Montgomery, Alabama, the 23-year-old started her baking career at an early age.
She tells Draper James,
"I realized this hobby of mine was slowly turning into a business when people started ordering my cookies for parties and events, and after that I never looked back. I find comfort in the kitchen and I started my blog, Elisabeth & Butter, so others could feel the exact same way. I am loving running my blog along with teaching baking classes, selling desserts and planning my wedding that is coming up in October!"
We're so glad Elisabeth continued her baking because the Mini Blackberry Cobber recipe she shared with us is out of this world — and our new go-to dessert all summer long.
Keep reading to learn more about Elisabeth's hobby-turned-business, and get her delicious (and super easy!) Mini Blackberry Cobbler recipe below.
Tell us about this recipe.
In the summer nights, my family and I love to sit outside for dinner. Blackberries are in season, and what's better than cobbler and ice cream? I knew this recipe would be a crowd-pleaser, especially because these cobblers can be whipped up in under 45 minutes with just a few simple ingredients.
What's the best way to serve these Mini Blackberry Cobblers?
The best way to serve these cobblers is to make them in small ramekins and scoop ice cream right on top of each one. This makes for a fun presentation, and it's easy to serve to your guests.
Are there any alternatives to this recipe?
You can make this same recipe in a 8×8 baking dish if you want to serve a bit of a larger crowd.
Would you ever switch out the blackberries for another fruit?
You can definitely swap the blackberries for blueberries, peaches, or even a mix of them all. This is a very versatile recipe and can be changed any way you like.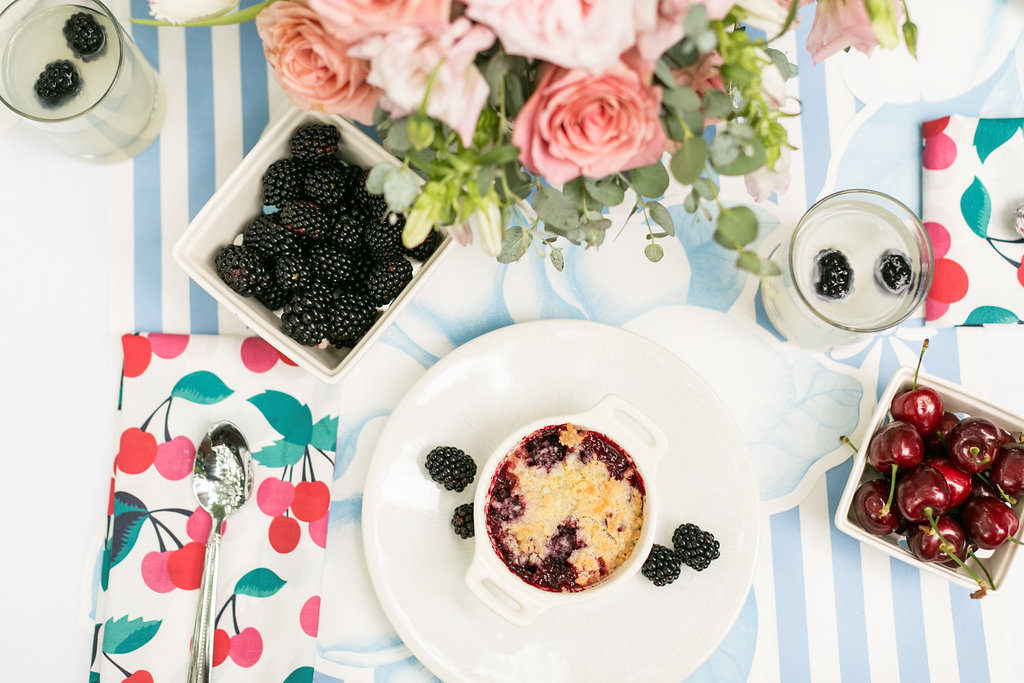 What's your favorite "Southernism"?
"Y'all come in!" I love how welcoming people in the South are. Southern hospitality is unlike anything else, and I can't imagine growing up without it!
Is there anything that makes this recipe uniquely or specifically Southern?
Cobblers are uniquely Southern, especially when drizzled with melted butter before baking. Summers in the South are very hot, so cooling this delicious dessert down with a scoop of vanilla ice cream makes these even better!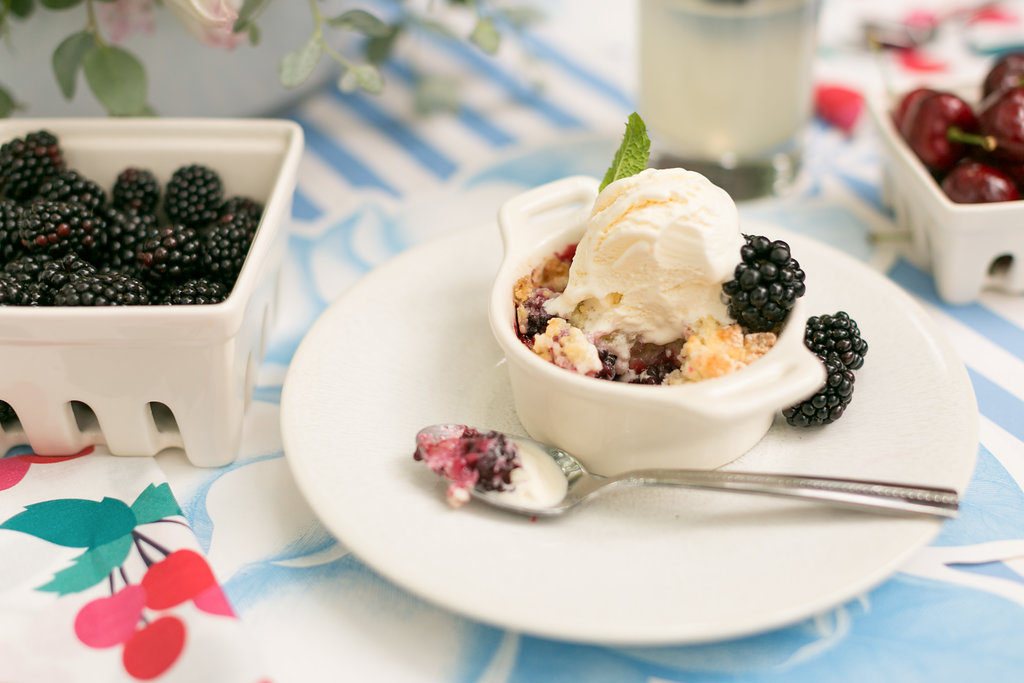 Recipe for Elisabeth & Butter's Mini Blackberry Cobblers
Yields 6 small cobblers
Ingredients:
3 cups fresh blackberries
1 tablespoon fresh lemon juice
1 large egg
1 cup granulated sugar
1 cup all-purpose flour
6 tablespoons salted butter, melted
Vanilla ice cream for serving
Fresh mint sprig for garnish
Extra blackberries for garnish
Directions:
Preheat oven to 375 degrees, and grease 6 small baking dishes or ramekins.
Divide the blackberries between the ramekins, and evenly drizzle lemon juice on top of them all.
In a medium sized bowl, stir together egg, sugar, and flour until it resembles course meal. Sprinkle over the blackberries.
Drizzle melted butter over the topping and bake for 20-30 minutes, or until lightly browned. Placing ramekins on a baking sheet will make transferring to and from the oven easier.
Let sit 10 minutes before serving, and serve with ice cream and garnish with fresh mint and blackberries if desired.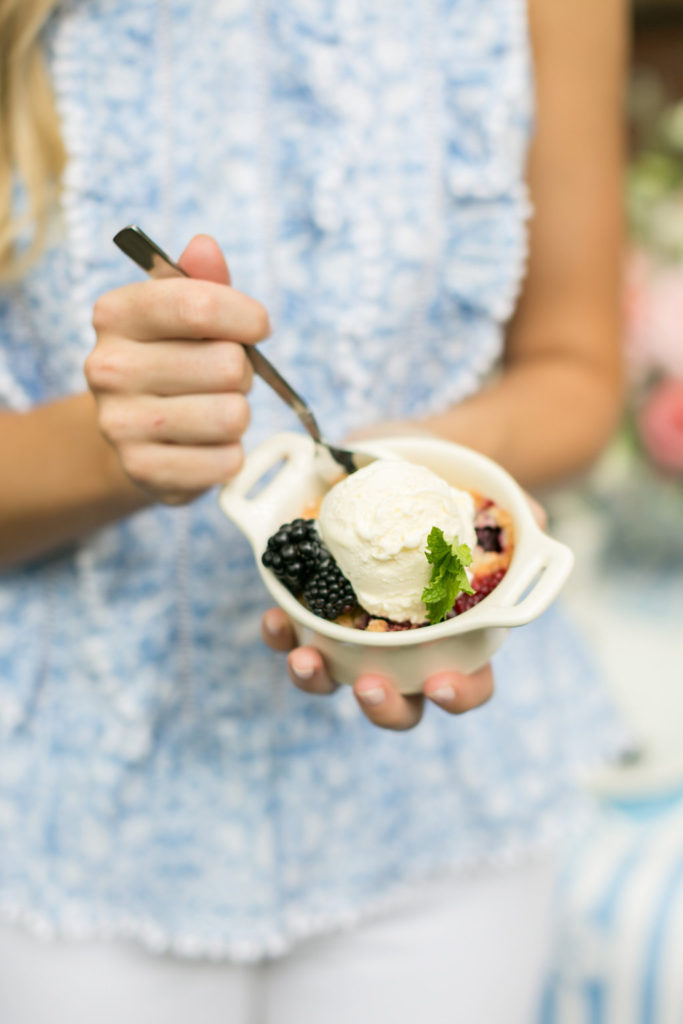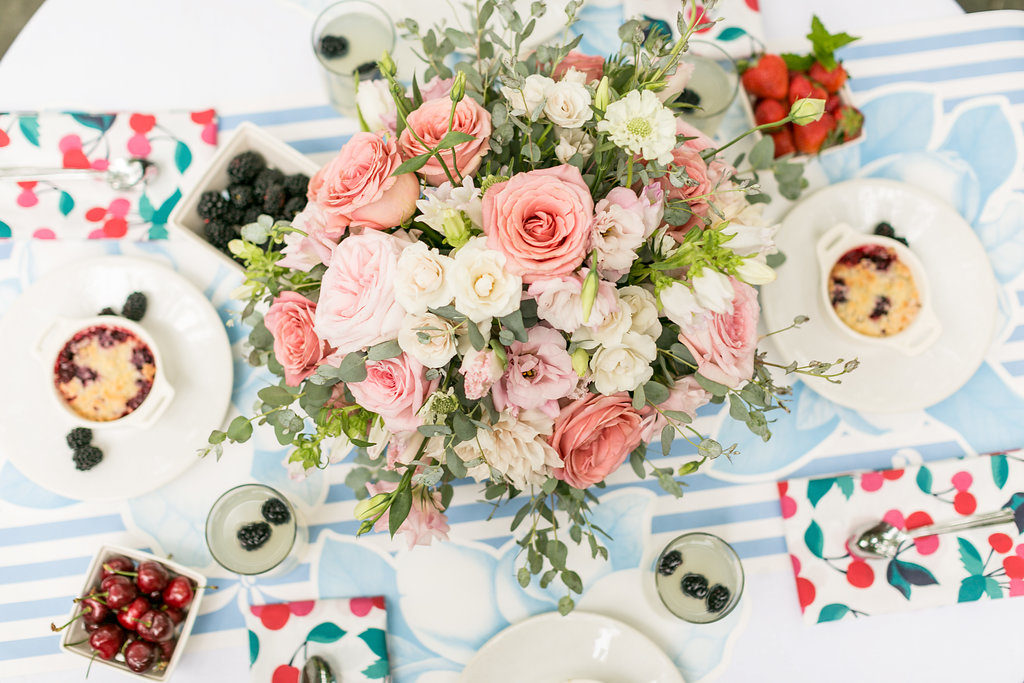 Photography: Brooke Glassford of Colorbox Photography
Florals: Southern Posies
Plates: Parish
Earrings: @byviviandrew