Style School: Collins Tuohy Smith on Dressing for Game Day
You may know Collins Tuohy as the little sister in The Blind Side, the bestselling book turned Hollywood blockbuster chronicling her adopted brother Michael Oher's story of football stardom. So it will surprise you not at all that football continues to play a central role in Collins' life.
Now known as Collins Tuohy Smith, Collins is a co-owner of Whimsy Cookie Company, a blogger at Collins Closets, and is on the board of her family's Making It Happen Foundation. But she lives for football season. Collins spends the fall jettisoning from Memphis—where she lives with her husband, Cannon—to follow football (and work and speak) all over the country. Her younger brother SJ plays college football at SMU; her older brother Michael plays for the Panthers; and her husband coaches high school football and does stunt work in movies.
Here, the former varsity cheerleader at Ole Miss takes us back to campus to model tailgate style in our new Draper James Tailgate Collection.
What drew you to the Draper James pieces you wore?
Their ability to stand on their own. They are all the focus of an outfit. I could pair each of them with 10 different items, but the piece would still remain the focus.
Can you share three ground rules for dressing for the game?
1. Wear your team's colors proudly!
2. Make sure to dress appropriately for the weather; be prepared for it to change throughout the day and into the evening.
3. Wear comfortable shoes because you will have places to go and people to see!
You were a cheerleader at Ole Miss. What did you love about seeing the game from the sidelines?
There is nothing like watching the game from the sidelines. You can hear and see everything up close and personal. Instead of being a part of the crowd, you are leading it. To hear 65,000 people say, "WE ARE!" on one side and, "OLE MISS!" on the other because you are holding a four-foot sign asking them to is a crazy feeling.
How about the tailgate?
My family has tailgated in the same spot on campus at Ole Miss for close to 30 years. My grandmother would back her car up during the early 80's when my mom cheered and my dad played basketball. They would literally tailgate out of her trunk. We have come a long way since then! We now have four tents, eight tables, 40 chairs, and a TV. Only thing that hasn't changed is my grandmother's caramel cake, which is and always will be a favorite amongst the families we tailgate with.
Favorite traditions?
My favorite tradition on game day at Ole Miss actually happens during tailgating. Two hours before the game, the players pull up to the Walk of Champions, get off the bus, and walk down the brick road all the way across campus to the stadium. Thousands of people line the walkway to cheer them on. They start at the beginning with a tunnel formed by the cheerleaders and band. I can remember my mom and dad walking me over there when I was little in my replica cheerleading uniform. I will never forget the first home game I cheered at. I was sitting on my cheerleading partner's shoulders looking out at people in every direction. I glanced down, and there was a little girl in her replica uniform. I remember thinking, "Wow, I used to be her and now I'm here!" It was a chilling experience!
Football has been a part of your family for your whole life. What does that mean to you?
It's important to be there, win or lose. Whether its college or professional sports, when my brothers or husband come out of a game in Boston, or Buffalo, or even Birmingham, it's just nice to have someone there to tell you, "Hey, you did a great job today!" They are always so thankful when they see me waiting outside of that locker room, so I know how important it is for me to be there!
Where did you shoot these photos and what's that yummy-looking drink?
These photos were taken in the football stadium at Ole Miss, in the Grove [the legendary tailgate area at Ole Miss] at a picnic table, and on the Walk of Champions, which is in the Grove as well. The drink is water with Crystal Light—ha! But on game day, you can bet your bottom dollar that folks would be adding a little something special to that mixture!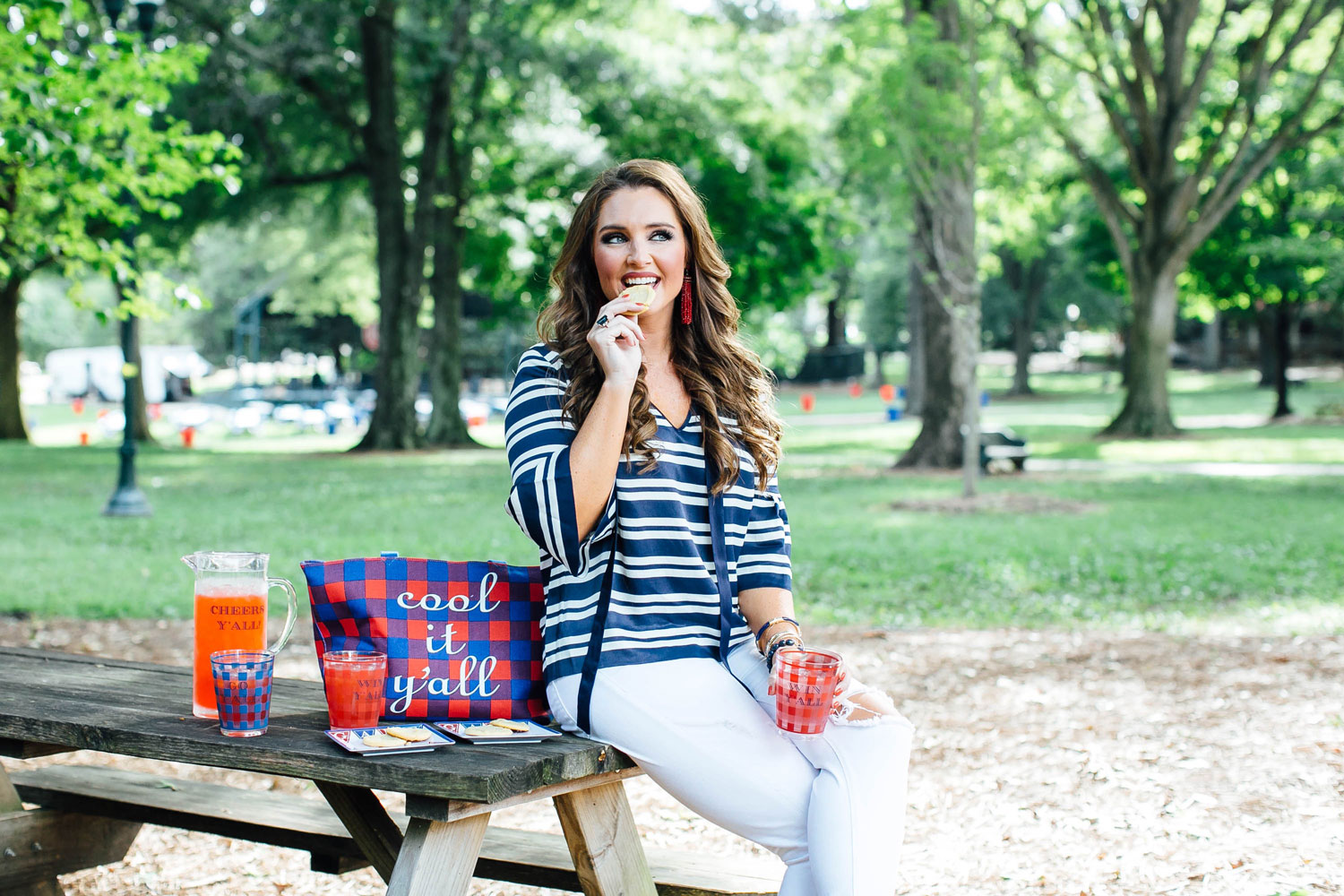 What football-related plans are you looking forward to at the start of this season?
I honestly couldn't even answer this question without laughing! I have to color coordinate my calendar because I have so many football schedules I'm keeping up with right now. This will sound crazy but just to describe one weekend: Thursday I will go to a SMU game in Dallas to watch SJ. Friday I will go to Cannon's game to watch him coach. Saturday morning I will go to the Memphis game (where Cannon played). Saturday night, I'll go to the Ole Miss game. Sunday I'll head to Charlotte to watch Michael play. . . And that's a pretty typical weekend. So I guess you could say I'm just looking forward to a fun and crazy fall filled with a lot of football!
Save
Save