Tailgating Recipes from Callie's Hot Little Biscuit
To honor the launch of our Draper James Tailgate Collection, Carrie Morey, founder of beloved biscuit restaurant Callie's Hot Little Biscuits, made up a game day menu just for us: a Cast Iron Pimento & Chorizo Dip, Biscuit Delights sandwiches using biscuits from Callie's (order them online here), boiled peanuts, and Briny Hounds, a vodka and grapefruit cocktail with mint simple syrup and a sweet and spicy rim.
"Tailgate food to me is all about delicious food that can be eaten while standing around," says Carrie, whose grab-and-go biscuit sandwiches may just make her the reigning queen of "no utensils necessary" grub. "A tailgate menu shouldn't be fussy, but it should be hearty, as you need it to soak up all those libations. You also want your table to look great because friends are stopping by all day, and they are checking out everyone else's table. Whether you are tailgating at the game or in your own home and hosting friends, delicious and hearty food that can be displayed for a long time is the key!"
Click here to learn more from Carrie, a proud University of South Carolina grad. And read on for recipes from the menu she made just for us.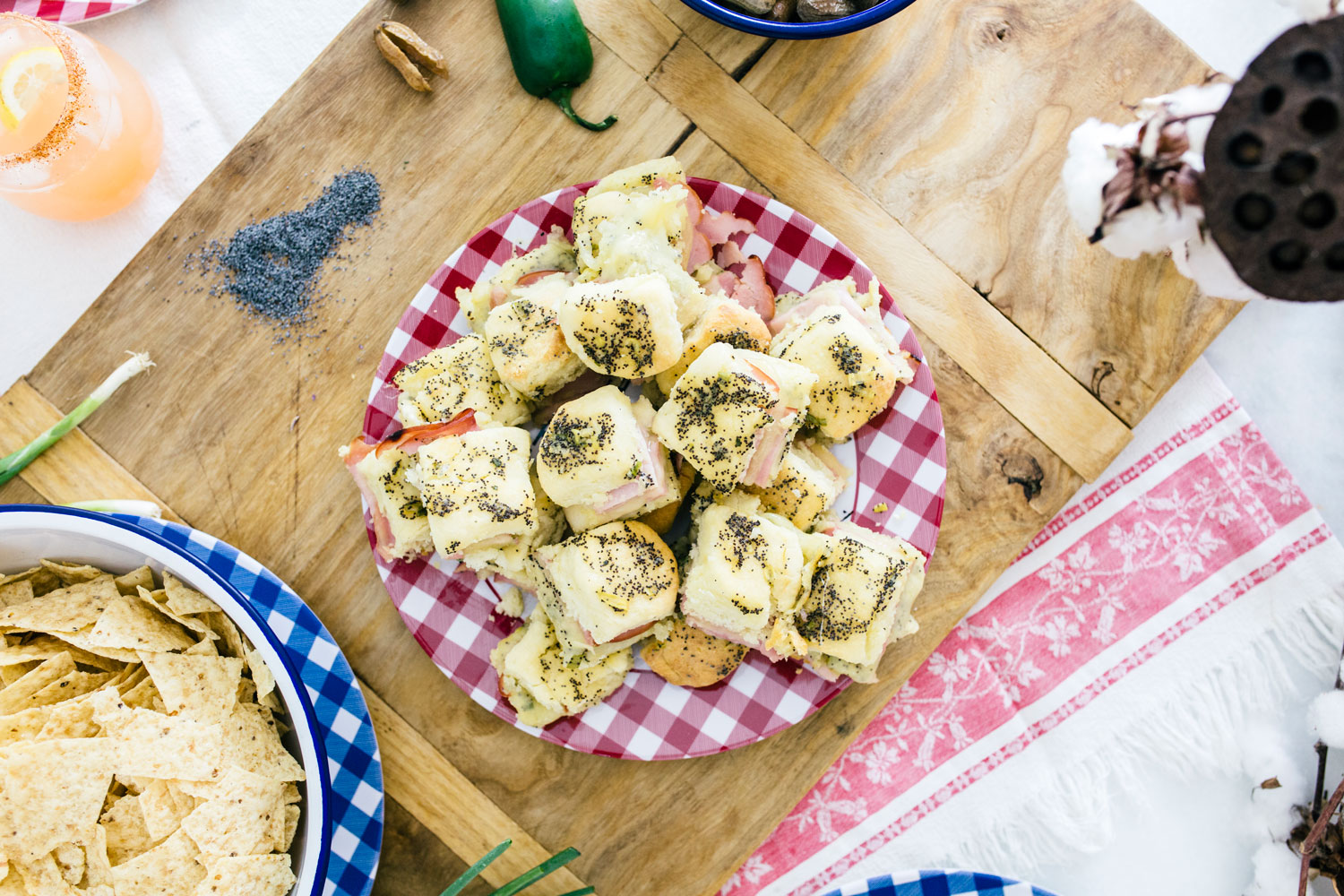 Carrie's Biscuit Delights Recipe

3 dozen of your favorite buttermilk biscuits, thawed (link to Callie's Biscuits Shop)
2 sticks salted butter, softened
3 tablespoons dijon mustard
3 tablespoons poppy seeds
2 teaspoon Worcestershire sauce
3 green onions, minced
1 tablespoon honey (link to Callie's Biscuits Shop)
1 pound Swiss cheese, medium sliced
1 pound of your favorite smoked ham, medium sliced (link to Callie's Biscuits Shop)
Preheat oven to 400°F. Cream together the butter, mustard, poppy seeds, onions, honey and Worcestershire sauce. Slice biscuits down the middle and spread the butter mixture in the middle and liberally on the tops. Place cheese and ham in the center and place the tops back on. Carrie use stwo slices for every six biscuits. Wrap the biscuits completely in foil and place on a sheet pan. Bake for 12-15 minutes.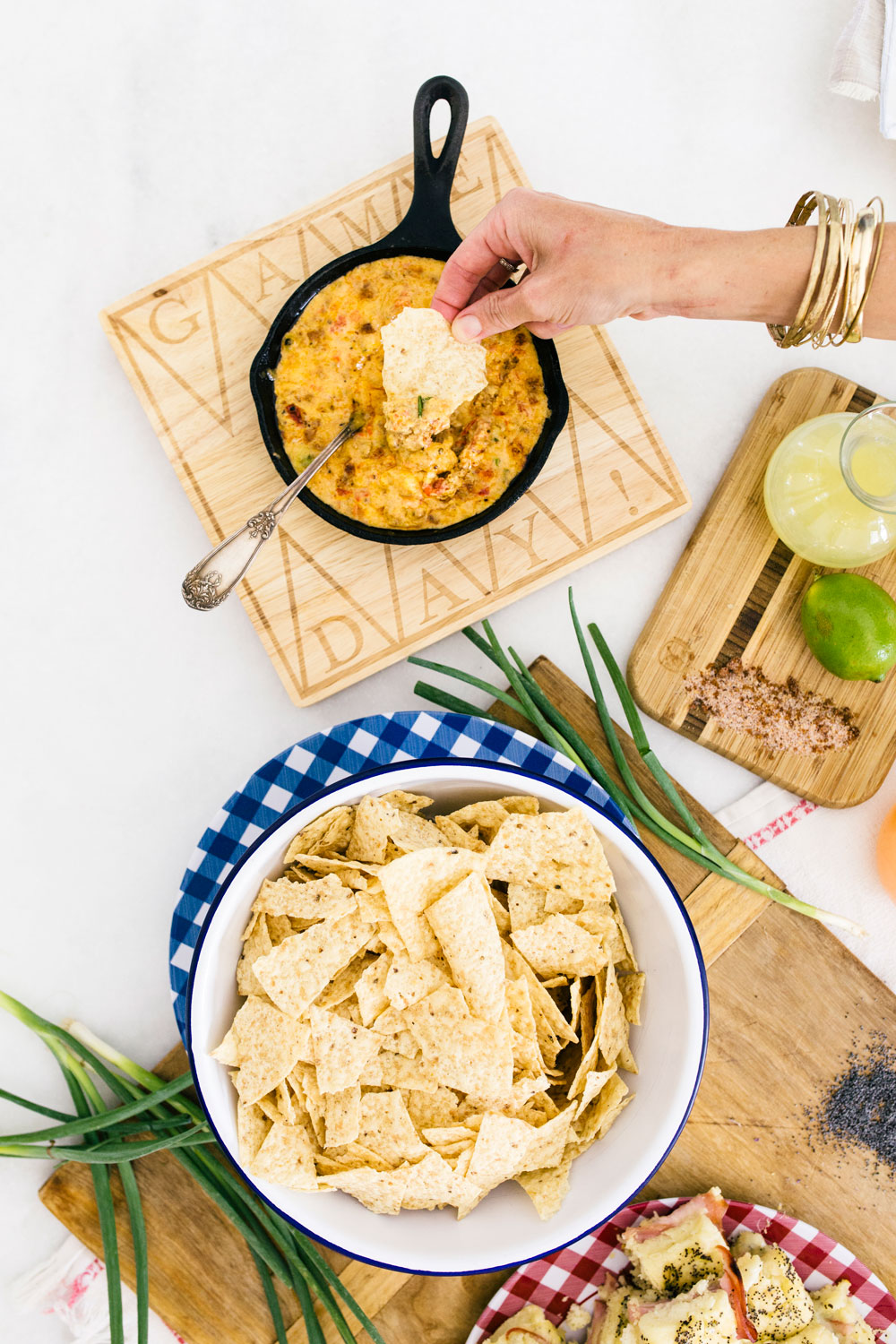 Cast Iron Pimento Cheese Chorizo Dip
1 pound of your favorite pimento cheese (link to Callie's Biscuits Shop)
¼ pound chorizo Mexican sausage, crumbled and cooked
3 green onions, chopped
1 pound tomatoes, drained, peeled and chopped
1 tablespoon of your favorite hot sauce (link to Callie's Biscuits Shop)
1 teaspoon cayenne pepper
Preheat oven to 350°F.. Mix all of the ingredients together and put into a 9-inch cast iron skillet. Place in preheated oven and bake for 15 minutes or until bubbly. Serve with tortilla chips.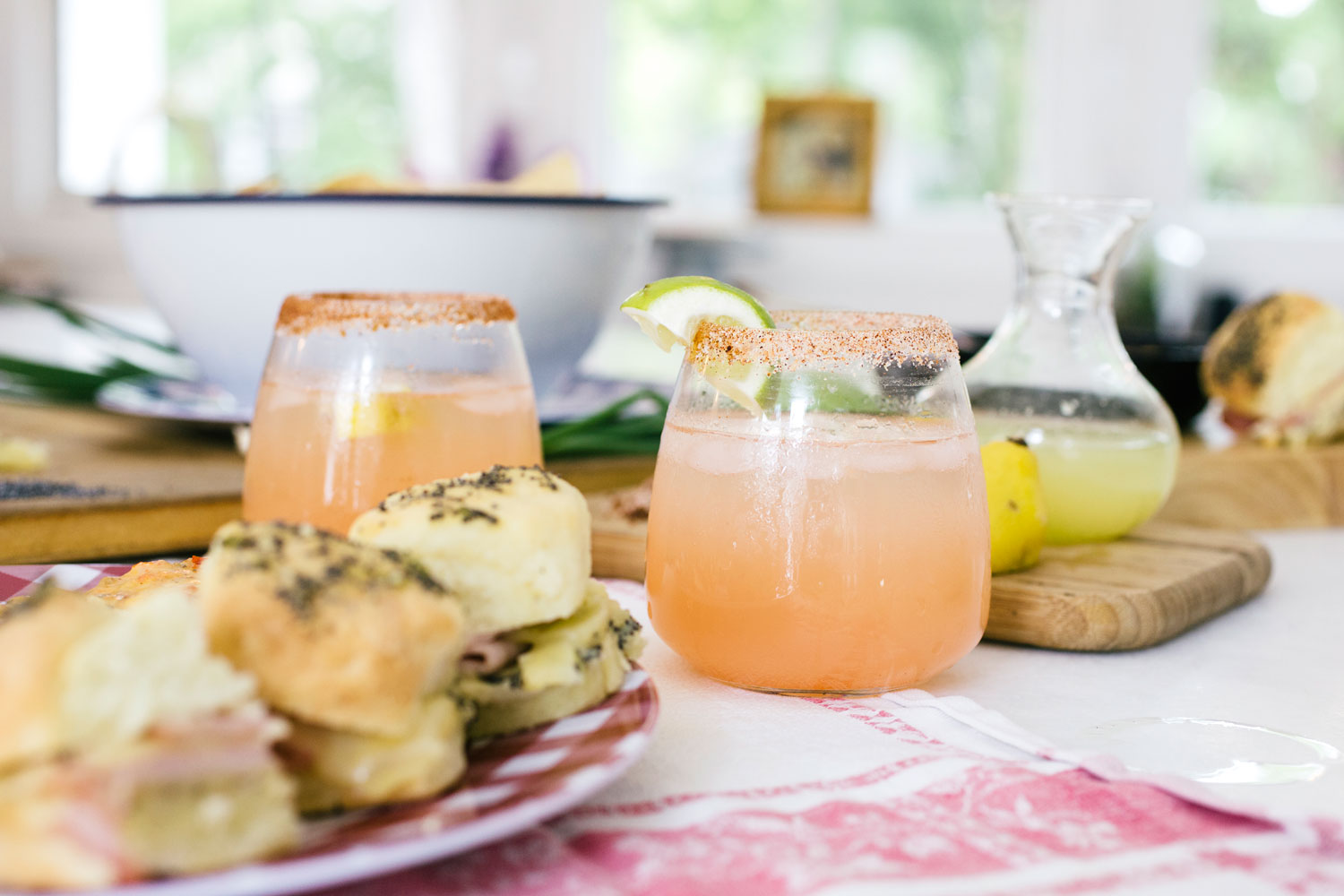 Briny Hounds
⅓ cup freshly squeezed grapefruit juice
⅛ cup freshly squeezed lemon juice
⅓ cup soda water
1 jigger vodka
1 tablespoon mint simple syrup (see recipe below)
Sweet and Spicy Rim Mixture (see recipe below)
Sliced lime wedges
Fill glass with ice and combine all ingredients. Use a second glass to mix by transferring all ingredients and ice into the second glass. Rim the edge of the first glass with a lime wedge, then dip into the spicy rum mixture. Pour the drink back into the glass and serve.
Mint Simple Syrup for Briny Hounds

1 cup sugar
1 cup water
½ cup torn mint leaves
Zest of half a lime
Place all ingredients into a saucepan and bring to a simmer over medium heat. Stir for a few minutes until dissolved and then take off the heat. Store in a mason jar in the fridge and use for 1 week.
Sweet and Spicy Rim Mixture for Briny Hounds

4 tablespoons sugar
4 teaspoons fine sea salt
1.5 teaspoon ground cayenne
1 teaspoon smoked paprika
Save