Tailgate Tastes: Callie's Hot Little Biscuit
Well, butter our biscuits—it's tailgating season! And what better to pair with our new Draper James Tailgate Collection than some seriously great-tasting game day grub? Here to kick off our Tailgate Tastes series on the Love, Reese blog is Carrie Morey, founder of Callie's Charleston Biscuits and Callie's Hot Little Biscuit, the beloved grab-and-go biscuit sandwich restaurants in Charleston and Atlanta.
A University of South Carolina grad who has been dutifully attending games since the age of five, Carey believes strongly in the "no utensils necessary" value of a tailgate menu. Fortunately, her famous biscuit sandwiches make for a delicious meal.
Read on for more of Carrie's tailgating and entertaining tips, and click here for recipes from the spread she made just for us.
Tell us about the tradition of tailgating in the South.
Tailgating is a huge part of the football "religion" here in the South. I don't remember a fall weekend without tailgating. Weddings are planned around football schedules, along with every other social engagement.
What are your favorite football memories?

Since the time I was about five, I remember driving up to Columbia with my father (who played football at USC) on what seemed like every weekend to watch the game. We always dressed up. I don't mean in costume; we dressed like we were going to church. It was taken very seriously. Your dress and drinks had to be on point!
Then and now, people meander along the parking lots where fans have paid big bucks to own parking spaces for tailgating. The planning that goes into a weekend football tailgate is not taken lightly. My favorite childhood memory is probably the time—and we did this more than once—when we rented an RV to drive to Columbia, 100 miles away, and we bought a stuffed animal tiger to drag along the back of the RV to show our support for the USC Gamecocks over the Clemson Tigers!
We love Callie's. We love the menu you shared with us (find the recipes here), and we love your cookbook, which we sell in our Nashville store and on our website. What are additional recipes from Callie's Biscuits and Southern Traditions that we might make for a tailgate? 
Boiled peanuts are a favorite and go perfectly with beer and the whole tailgating theme. You can grab a handful, and they are so salty and delicious! I also love the salami crisps because they are made ahead of time and are a tastier option than potato chips.
You wore our Denim Wrap Skirt and Honky Tonk Flutter Top in these pictures. What drew you to these items and what makes them right for tailgate season?
In the South, it's hot up until the final games of the season, and you need something that will keep you cool. This jean skirt is perfect for that, and the top dresses it all up yet still has a great airy fabric!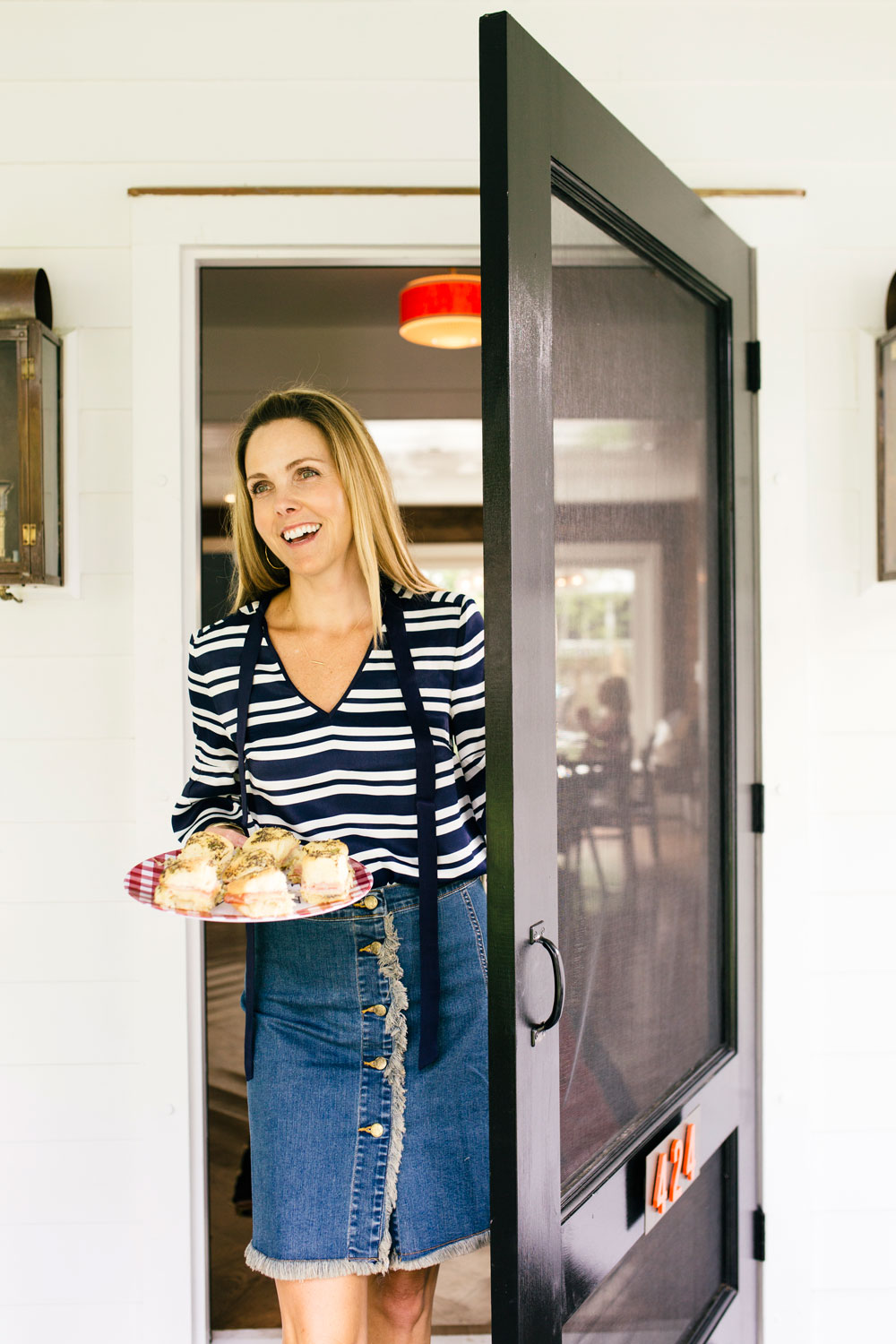 Save
Save
Save
Save
Save
Save
Save