Home for the Holidays: Kate Wood's Vegan White Chocolate Peppermint Cookies
Christmas cookies are one of our favorite traditions this time of year. There's something so wholesome and nostalgic about mixing, rolling, cutting, and decorating these sweet treats.
Mom-of-three Kate Wood of the food blog Wood & Spoon knows exactly what we're talking about; baking is not only a part of her everyday life, it's something she shares with her children so they can create memories and their own holiday traditions.
Below, read more from Kate about how she celebrates Christmas in Alabama, and grab her recipe for her picture-perfect and oh-so delicious Vegan White Chocolate Peppermint Cookies.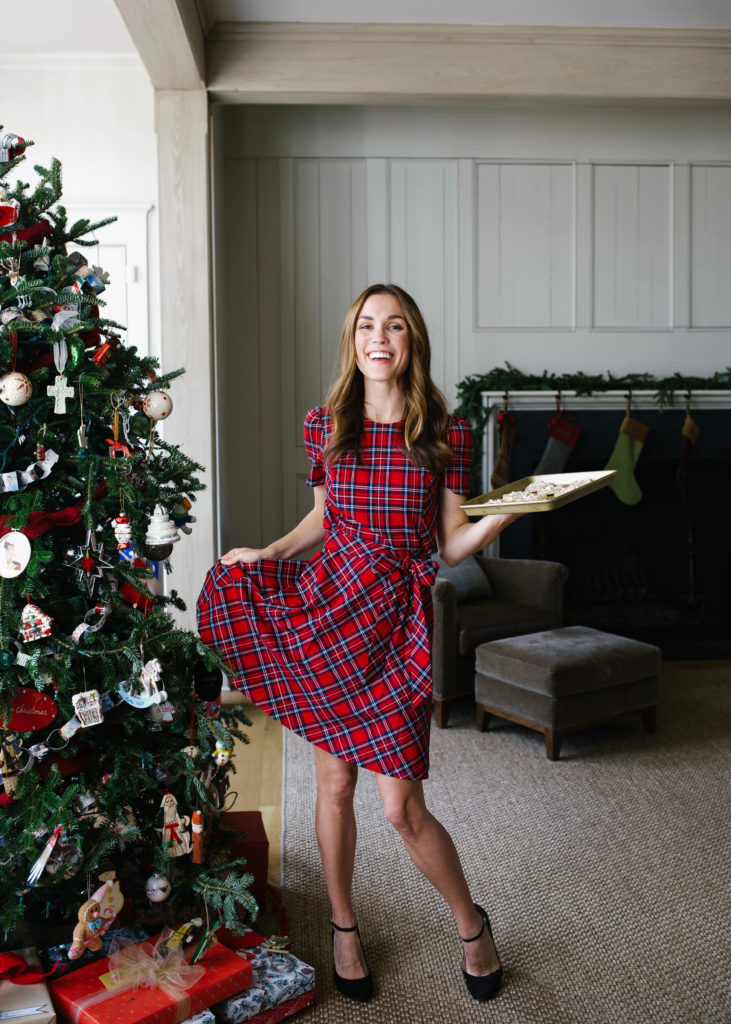 Tell us about this recipe.
I'm always a fan of combining chocolate with mint, but somehow white chocolate with peppermint just feels extra festive this time of year. These cookies are a great option for holiday parties because they're make-ahead, completely vegan, and look really pretty on a Christmas plate.
The cookies wind up being soft and chewy with little crunchy bits of peppermint throughout, and you better believe they taste killer with a cup of coffee, too.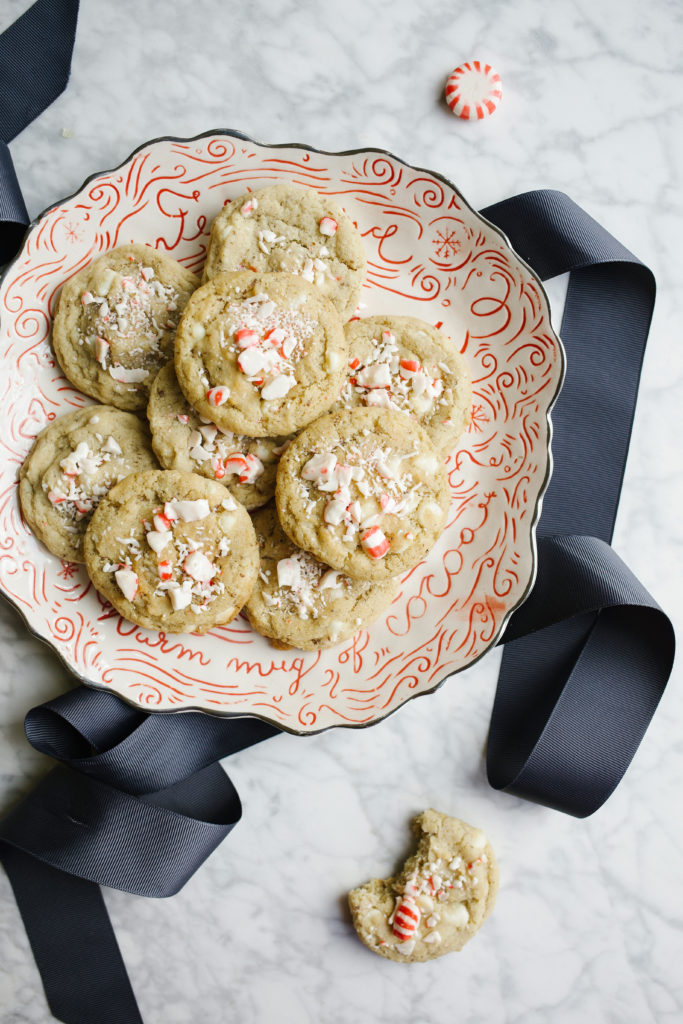 What's your favorite holiday tradition?
Now that I'm a mom of three, Christmas has taken on a completely different form in our home. We make gingerbread houses and drink out of reindeer mugs and drive extra slow through neighborhoods to get a glimpse of all the lights. It's like I'm getting to feel the magic all over again! 
One extra yummy tradition I always look forward to is Christmas morning coffee cake. It's my Mimi's recipe that we've been enjoying it for years, but we recently started decorating the top with candles to sing "Happy Birthday" to Jesus. My kids love another reason for celebration, and it's also a subtle nod reminder for them that the day is not all about presents.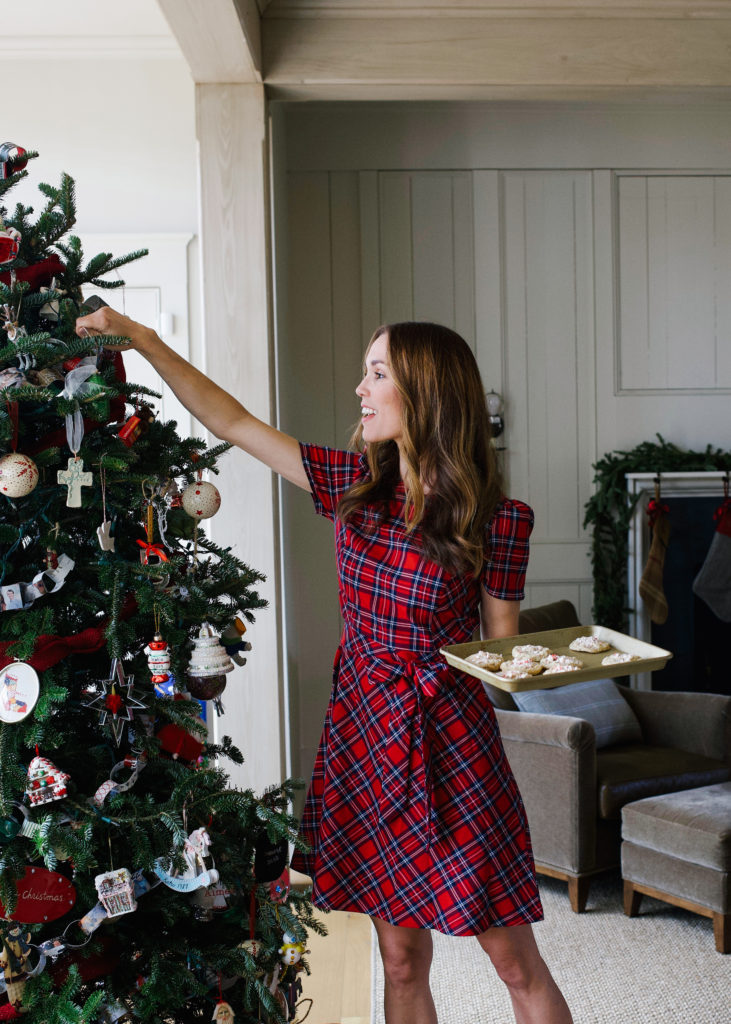 Best thing about celebrating the holidays in the South?
The parties, y'all! My friends are some of the best hosts I know, and it's about all we can do to not book up every weekend with a cocktail party here, a tacky sweater party there, or a dinner at so-and-so's house whenever. 
The South is all about community and hospitality, and at Christmas that same spirit lives on… just with a few extra lights and wreaths.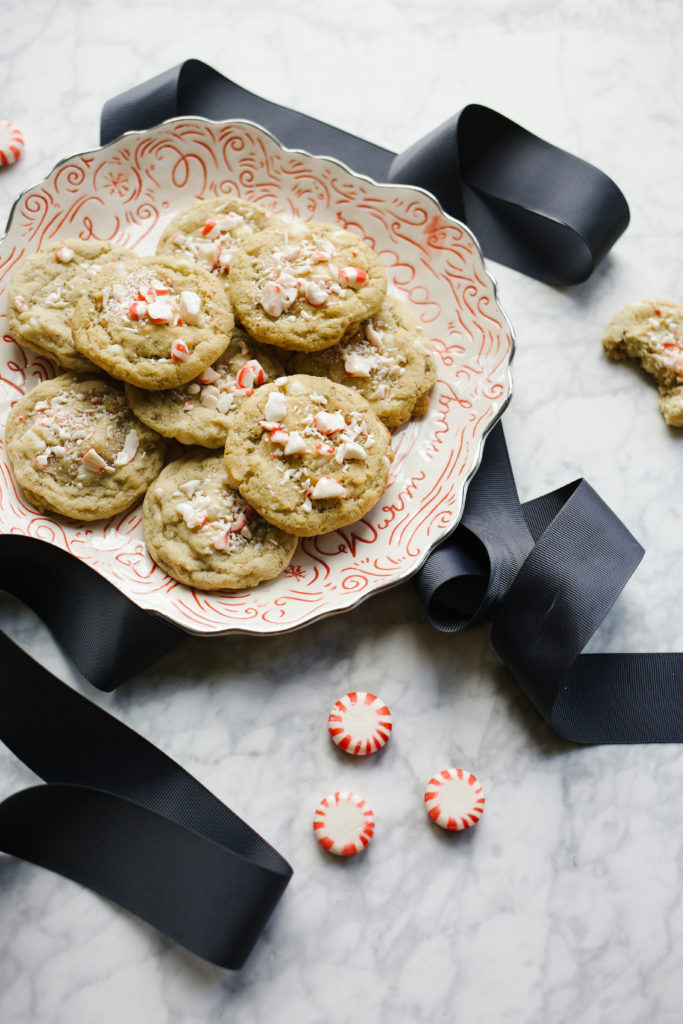 Vegan White Chocolate Peppermint Cookies
Makes 16 Cookies
Ingredients
1 tablespoon flaxseed meal
3 tablespoons water
1/3 cup (80 gm) coconut oil, firm not liquid
6 tablespoons organic brown sugar
6 tablespoons organic cane sugar
1 teaspoons vanilla extract
1/8 teaspoon peppermint extract
1-1/4 cups plus 2 tablespoons (180 gm) all-purpose flour
1/2 teaspoon baking soda
½ teaspoon baking powder
¼ teaspoon salt
¾ cup vegan white chocolate chips
½ cup crushed vegan peppermint candies, if desired
Directions
Preheat the oven to 350 degrees and prepare one or two large baking sheets with a sheet of parchment paper.
Combine the flaxseed meal and water in a small bowl and set aside for at least five minutes.
In a large mixing bowl, combine the coconut oil, cane sugar, brown sugar, and vanilla, beating on medium speed just until combined, about 30 seconds.
Add the flaxseed mixture and beat just to combine.
Add the flour, soda, baking powder, and salt and stir just to combine.
Add the white chocolate and stir to combine.
Scoop out small balls (I use a medium cookie scoop) of dough and place them two inches apart on the prepared baking sheets.
Bake in the preheated oven about 9 minutes or until the cookies have set around the edges.
Quickly remove the sheet pan from the oven and sprinkle the tops of each generously with crushed peppermint candies.
Return to the oven for one more minute or until set and allow to cool completely before enjoying.