Home for the Holidays: Best-Ever Brownies with Southern Living's Ivy Odom
Ivy Odom, Georgia native and host of Southern Living's Instagram TV series "Hey Y'all," is an expert when it comes to holiday entertaining. Followers of the popular series know she's always prepared with a recipe, a quick tip or two, and a breadth of Southern lifestyle knowledge – all done with a smile.
Below, Ivy shares her recipe for Best-Ever Brownies, a sweet treat she calls "the one." If you're looking for a crowd-pleasing dessert and a few tricks to entertaining during the holiday season, keep reading.
Not a brownie person? Discover more dessert recipes here.
Tell us about this recipe.
I am a huge brownie fan. But if I'm being honest, I've never met a homemade version that could stand up to my favorite box mix. Since most from-scratch recipes tend to be cakey and dry, I set out to develop a recipe for the ultimate fudgy, chewy brownie. (If you're on team cakey brownie, you don't deserve this recipe.)
Unlike box mixes, this recipe yields two pans of gooey chocolate perfection, so you can make one for a holiday party and give the other to a friend in a pretty pan! A lot of people like nuts in their brownies. I don't, I think it's an abomination. If you do prefer a stir-in, walnuts or chocolate mints are good options. Don't skimp on the chocolate chips in the batter- paired with a flaky salt top, this is my favorite way to serve them.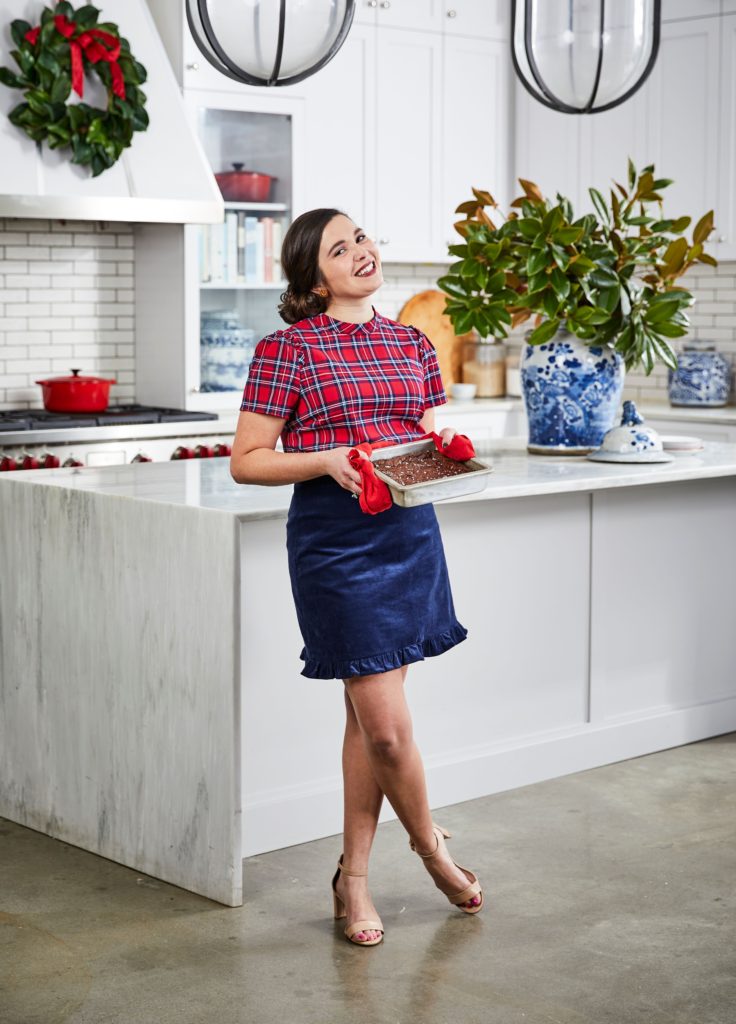 What's your favorite holiday tradition?
My hometown of Moultrie, Georgia is beautiful at Christmastime. Our courthouse sits in the middle of the town square with lights strung from the top of the clocktower that go all the way around the square for two blocks. Every year on Thanksgiving night, the entire town meets at the Courthouse to ring in the holiday season. We collectively count down the lights turning on- like the NYE ball drop, but way cuter. In a town where everyone knows everyone, this gathering is so special. And for me, it's not Christmas without it.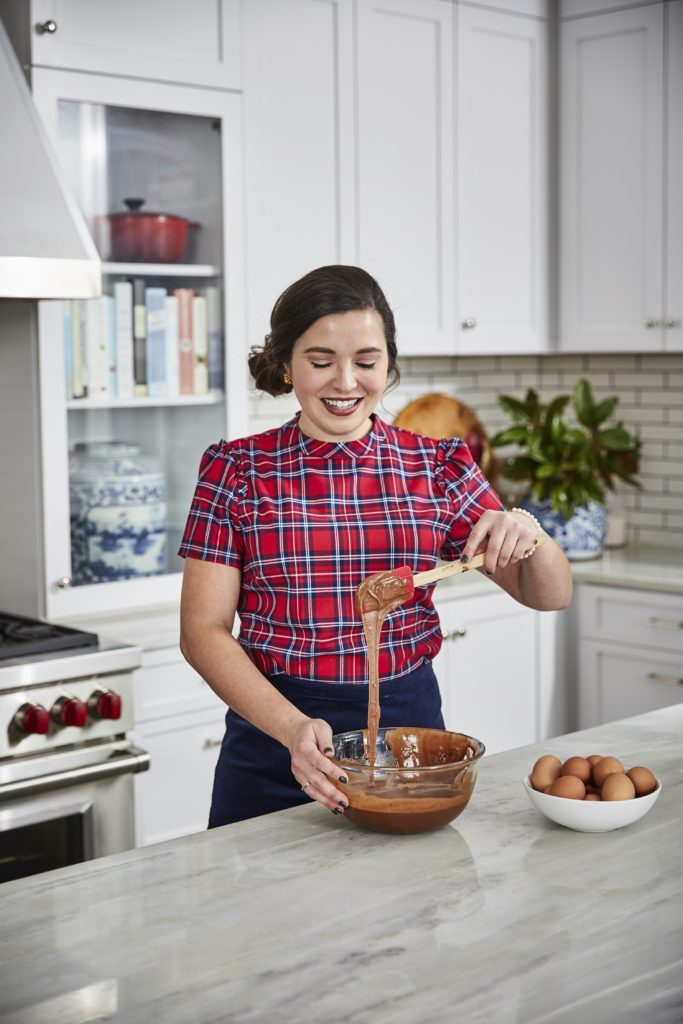 What are your two best tips for keeping things running smoothly while entertaining during holidays?
You never know when unexpected guests are going to drop by during the holidays. That's the great thing about Southern hospitality: We're always ready for company. I keep an arsenal of staples in my fridge and pantry for this reason: assorted cheeses, meats, jams, and crackers make for an easy charcuterie board. I also have a cabinet full of pretty paper products and fancy paper napkins to make for easy clean up during these impromptu visits.
You won't always be the hostess, so be sure to keep a small stock of hostess gifts wrapped and ready to go! Spend an hour at the beginning of the season wrapping gifts to make it easier the day of the party. These even work for those impromptu drop-ins I mentioned above.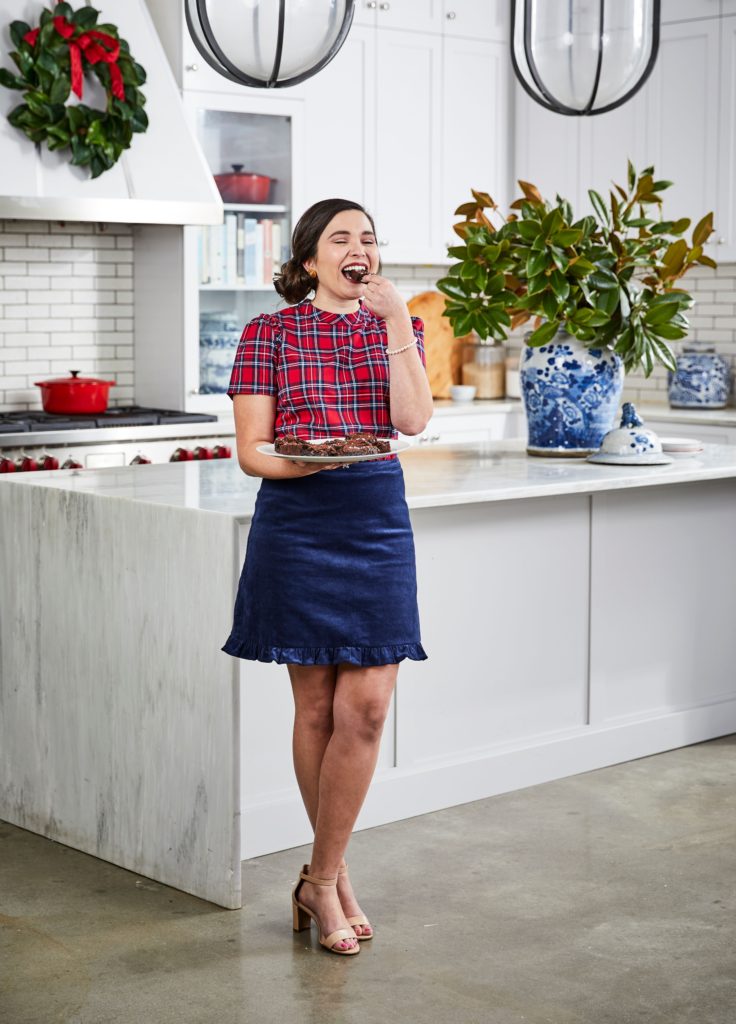 What's your overall favorite thing about the holiday season in the South?
Below the Mason-Dixon, the holidays are the same as everywhere else. Food, family, and traditions define this season no matter where you are. But here, these three things are marked by the standard of Southern hospitality. You're always greeted as if you were family, and every place you go feels like home.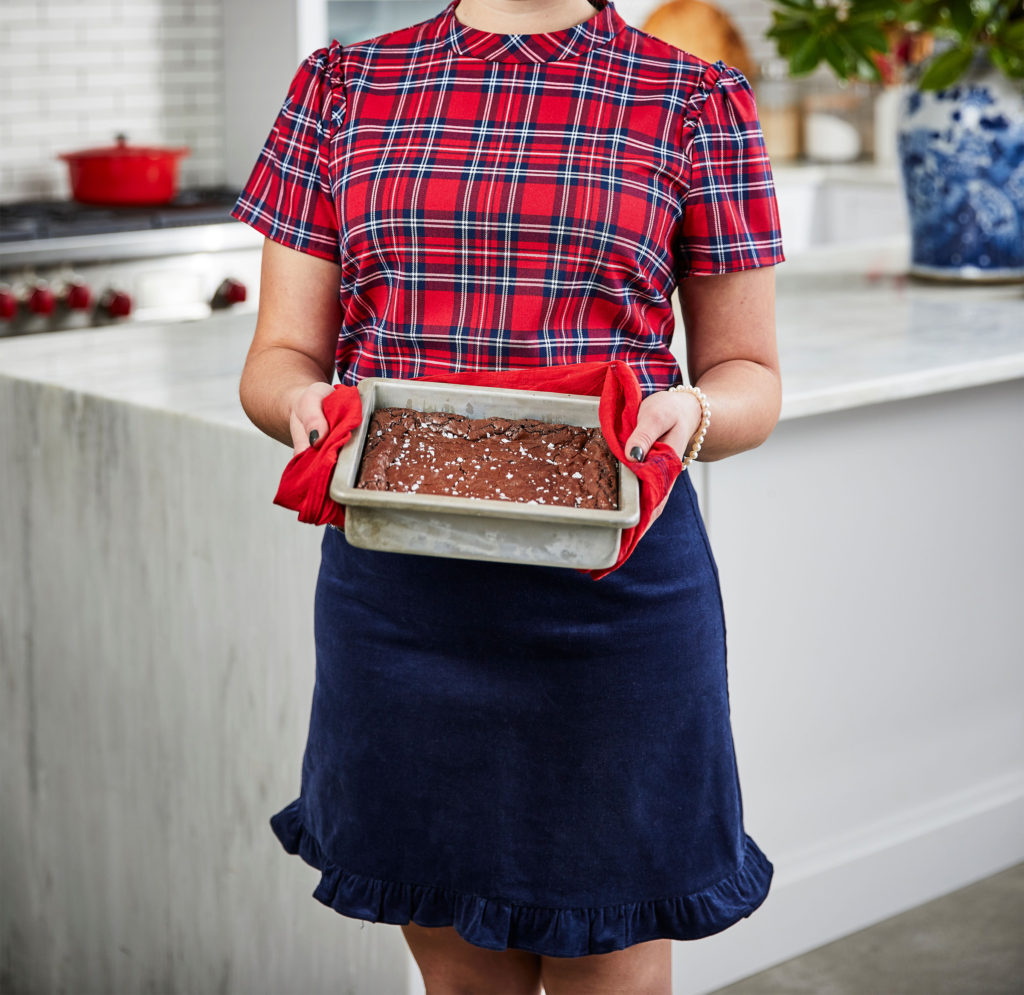 Ivy Odom's Best-Ever Brownies, as featured on Southern Living
Ingredients
1 cup butter
1 1/2 (4-oz.) semisweet chocolate baking bars, chopped (6 oz.)
2 1/2 teaspoons vanilla extract
1 1/4 cups all-purpose flour
1 cup Dutch-process cocoa
1 1/4 teaspoons kosher salt
1 2/3 cups granulated sugar
1 cup packed light brown sugar
3 large eggs
1 large egg yolk
Directions
Preheat oven to 350°F. Line 2 (8-inch-square) baking pans with parchment paper, leaving a 2-inch overhang on all sides to easily lift brownies out of pans.
Place butter in a microwavable bowl, and heat on HIGH in 30-second intervals, stirring after each, until melted (about 1 minute total). Stir in chocolate until melted; stir in vanilla, and set aside.
Stir together flour, cocoa, and salt in a large bowl; set aside.
Place granulated sugar, brown sugar, eggs, and yolk in a large bowl. Beat with an electric mixer on high speed until pale and thick, about 1 1/2 to 2 minutes. Stir in melted chocolate mixture. Using a rubber spatula, gently fold in flour mixture. (Batter will be very thick.) Fold in stir-ins (below), if desired. Divide batter evenly between prepared pans.
Bake in preheated oven until a wooden pick inserted in center of each pan comes out with a few moist crumbs and tops are set and shiny, 25 to 28 minutes. Remove from oven, and cool completely in pans on wire racks, 1 hour. Use parchment handles to lift cooled brownies from pans; cut and serve.
Chef's Notes
STIR-IN SURPRISES
Chocolate Chunk-Sea Salt
Add 1 1/4 cups semisweet chocolate chunks; garnish with 1 1/2 tsp. flaky sea salt.
Toasted Nut
Add 1 cup chopped toasted walnuts or pecans.
Chocolate-mint
Add 1/2 cup chopped thin crème de menthe chocolate mints (such as Andes) and 1/2 cup semisweet chocolate chips.
All photos by Victor Protasio; prop styling by Heather Chadduck Hillegas