Home for the Holidays: A Layered Carrot Cake Recipe from Caroline's Cakes
If you've been to a Southern holiday party, you've probably had a bite of a seven-layer caramel cake, and it very well could have been from Caroline's Cakes in Spartanburg, South Carolina.
The late Caroline Ragsdale Reutter started her famous cake company nearly 40 years ago, and since her death, her son, Richard, and his wife, Cole, have continued to grow the business. Below, Cole talks cake baking, family holiday traditions, and shares the Carrot Cake recipe from Caroline's Cakes.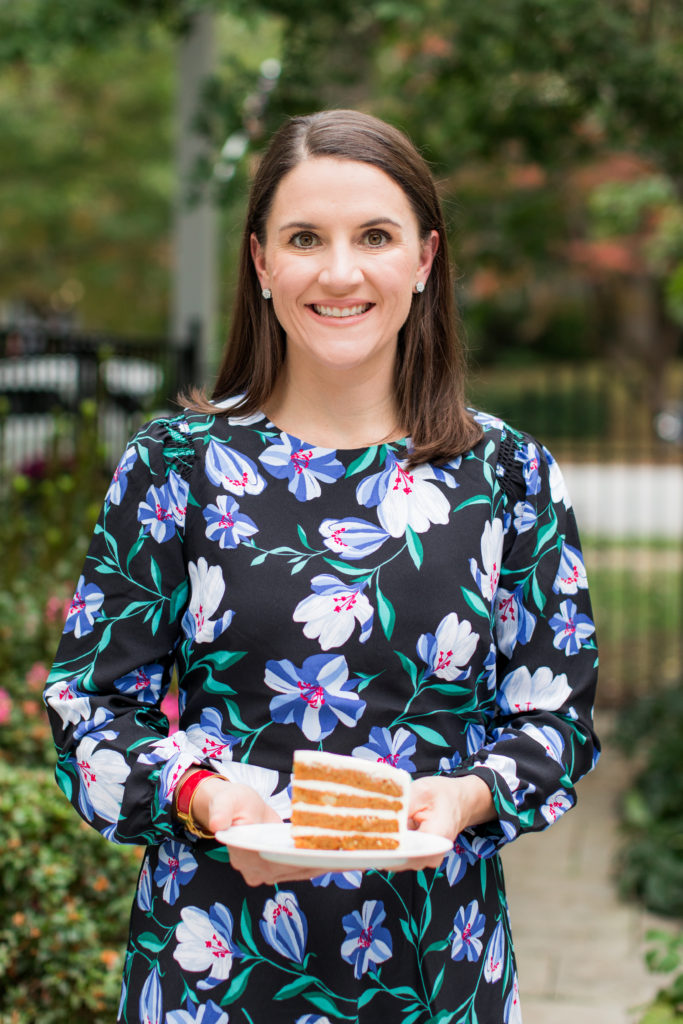 What's your family's favorite holiday tradition?
We always gather at my parent's horse farm in Campobello, South Carolina on Christmas Eve for oyster shucking and a casual dinner with our family and friends. It's a family tradition that started shortly after Richard and I were married, and it's a lovely way to relax by the fire and enjoy spending time with one another. The holiday season is so much fun at the bakery (but it is exhausting, too!), so it's nice for us to just relax and enjoy our family!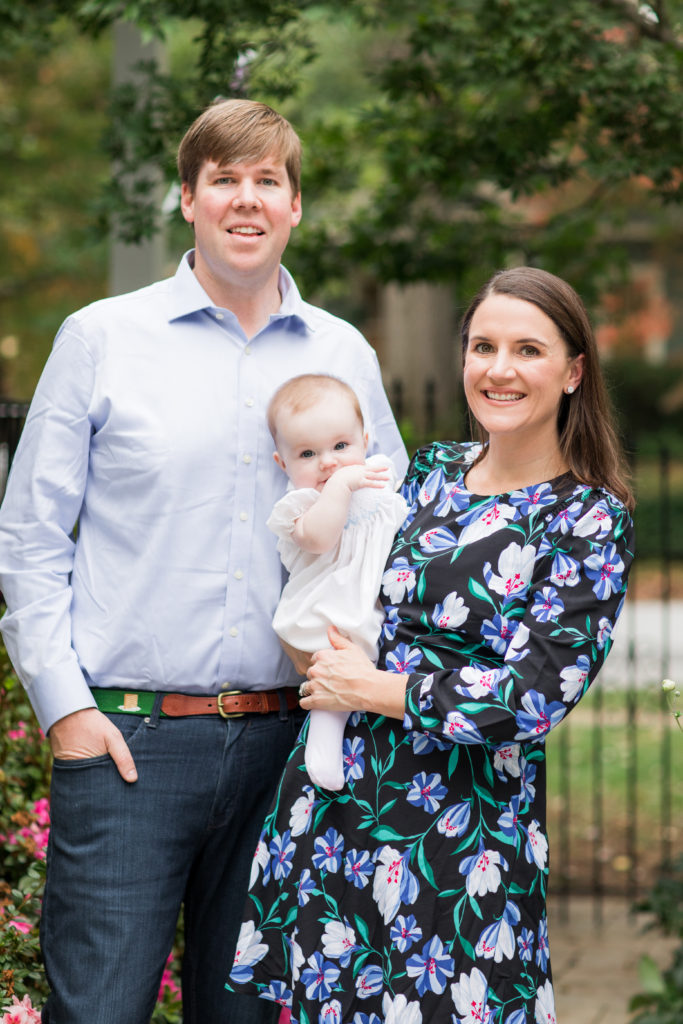 Describe the carrot cake in three words.
Delicious, balanced, elegant!
Best cake baking tip you've learned over the years?
I've had my fair share of mishaps in the kitchen, so I think the best advice I could give is to let Caroline's Cakes take care of your special occasion desserts! While I've brought friends and family homemade desserts over the years, without fail, the crowd favorites are the Caroline's classics like Caramel Cake, Carrot Cake, or Caroline's Cake Bites!
Any baking tip for the Carrot Cake?
Be patient with the process, use high quality ingredients, and don't take shortcuts. Like all good things, this cake is worth the wait. If you want to order the real thing from us, we encourage our customers to allow 3 to 4 hours before serving for the cake for the icing to come to room temperature. After a long wait, it's easy to justify having a second piece!
Do you have any fun plans for the holidays this year?
It's our daughter Caroline's first Christmas, and like everything with a new baby, our plans are largely centered around her schedule! The holiday season is so busy at the bakery… Richard has stories of the Christmas tree going up at Thanksgiving and finally being decorated on Christmas Eve once the bakery has closed and the last of the customer orders have gone out!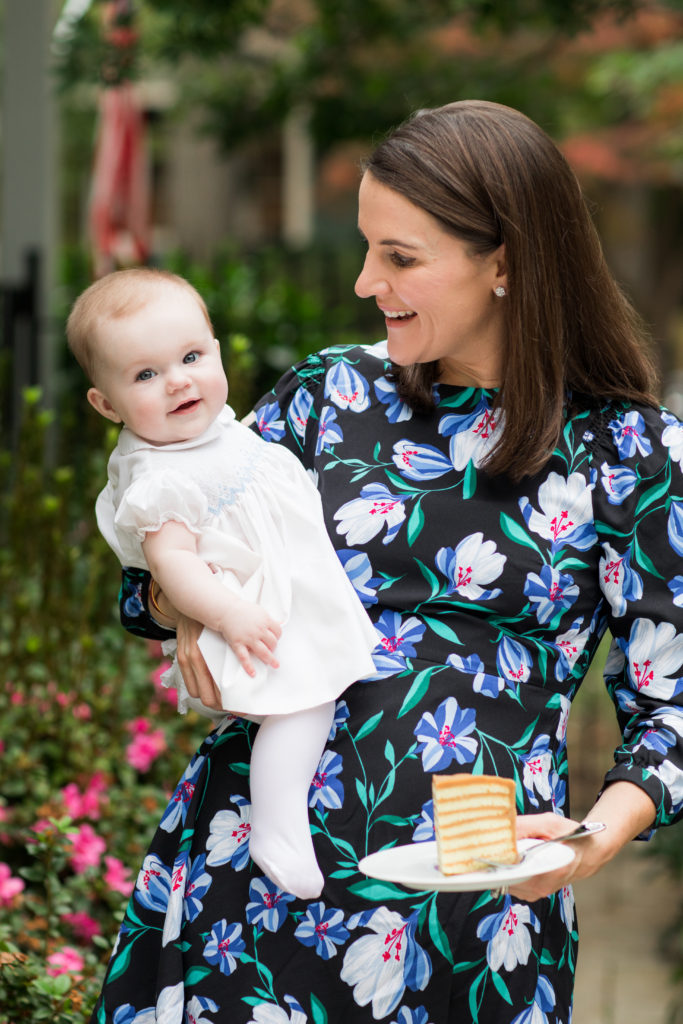 Caroline's Carrot Cake Recipe
Details:
Prep time: 2 hours
Cook time: 33 minutes
Makes one 4-layer cake
Ingredients:
Carrot cake
170 grams brown sugar
170 grams granulated sugar
255 grams all-purpose flour
1 3/4 teaspoons baking soda
1 tablespoon ground cinnamon
3/4 teaspoon kosher salt
6 ounces whole liquid eggs (about 3 large eggs, beaten)
9 ounces canola oil
57 grams golden raisins
1 1/4 pounds shredded fresh carrots
Cream cheese icing
18 ounces cream cheese, room temperature
1 1/2 sticks unsalted butter, room temperature
1 teaspoon pure vanilla extract
170 grams confectioner's sugar
Directions:
Carrot cake
Combine brown sugar and granulated sugar in the bowl of a stand mixer and, with the paddle attachment, stir together.
Add flour, baking soda, cinnamon, and salt and mix to incorporate. Slowly add the whole liquid eggs, then the canola oil.
Add the golden raisins, making sure there are no clumps.
With the mixer running, add the grated carrots, stopping the mixer periodically to scrape the bowl.
Once the ingredients are mixed thoroughly, evenly distribute the batter into two 8-inch round pans and bake in a convection oven at 300°F for 33 to 36 minutes. Set aside to cool.
Cream cheese icing
In a clean mixer bowl with the paddle attachment, start the mixer on speed 2 and begin adding cream cheese in small chunks until all of it is added and creamed.
Increase the mixer to speed 4 and begin adding butter in chunks and mix to incorporate.
Add the vanilla and mix for 30 seconds.
Slowly add the sugar and mix to incorporate.
Mix all ingredients until icing is smooth and there are no lumps, stopping the mixer periodically to scrape the sides.
To assemble the cake, split each layer in half to create four thin layers. Place one layer on a cake stand, cover the top with cream cheese icing, then place another layer over it and repeat until all four layers are stacked with icing in between them. Finally, ice the entire outside of the cake, slice, and serve.