Home for the Holidays: A Family Recipe for Apple Pear Pie
An affinity for baking and entertaining certainly runs in this family. Jessica Frappampina of the blog Frapps and Frills and her mother, Sheri, know the joy in creating sweet treats and memories in the kitchen, and sharing them with others. The mom-daughter duo recently spent some time at the Double Oaks Bed & Breakfast in Greensboro, North Carolina, where they whipped up a holiday specialty to share with us: Apple Pear Pie.
Below, Jessica and Sheri — wearing dresses from the Draper James Holiday Collection — share their family recipe and what they love most about Christmas in the South.
Tell us about this recipe. 
Jessica: This Apple Pear Pie is a complete classic this time of year, but with a modern twist because of the added pears, cream cheese, and scrumptious Nilla Wafer crumble topping. It's something my mom has been making for years around Christmas time, so it was super nostalgic and fun to learn how to make it with her this year! 
What drew each of you to these dresses?
Jessica: The classic red plaid and the little bow detail completely stole my heart as soon as I saw this dress! I loved that there was such a festive holiday option with short sleeves, as we all know, sometimes in the South, you never know exactly what the temperatures may be!
Sheri: I loved the unexpected combinations of the red and pink and the feminine print of the flowers on the Floral Midi Dress!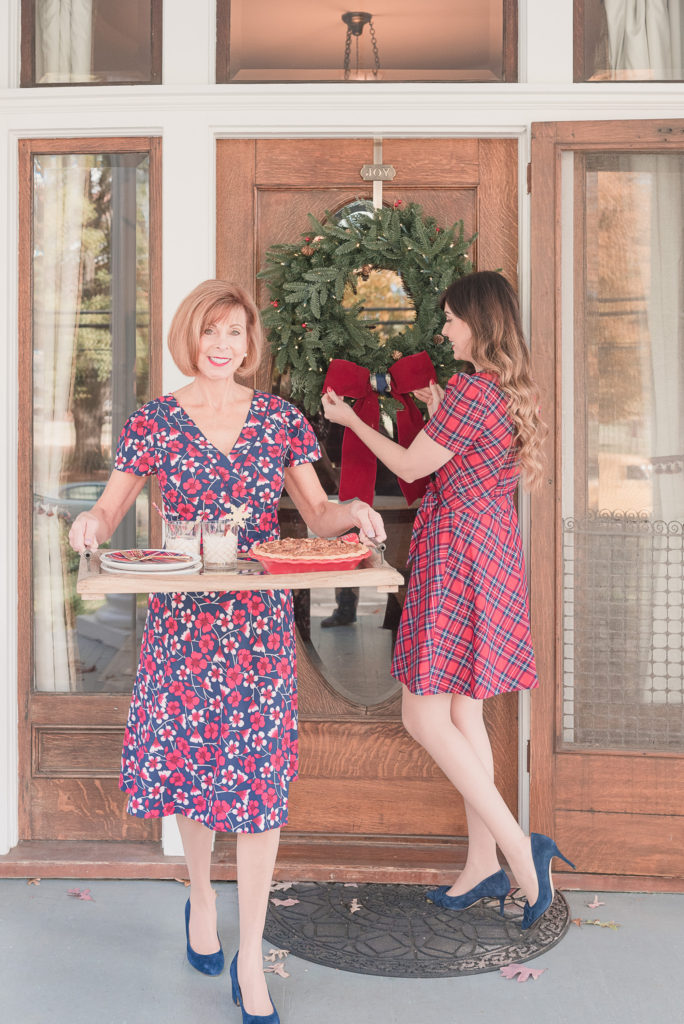 Best thing about celebrating the holidays in the South?
Jessica: We love and appreciate tradition and sharing what brings us joy with everyone around us. Everything from the Christmas spirit, to the decorations, to the menu is done to the nines, but we never forget what's most important: being together and celebrating the true meaning of the season.
Sheri: The best thing about celebrating Christmas in the South would be… that's a tough one because I would like cold weather and snow for Christmas! So I guess it would be Southern hospitality, which actually takes place all year long!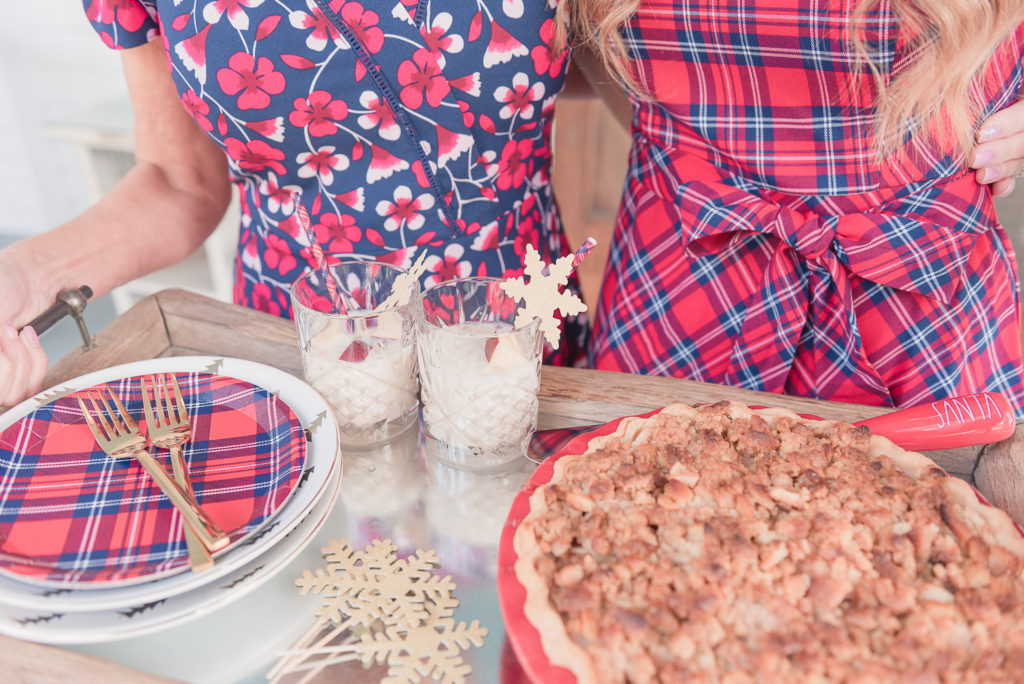 Mom's Apple Pear Pie Recipe
Ingredients:
Nilla Wafers, 48 crushed; one box will have more than you need
1/4 cup light brown sugar, firmly packed
9 tbsp unsalted butter, melted
1 refrigerated pie crust
3 oz. Philadelphia Cream Cheese, softened
3 large baking apples, peeled and sliced (we like Granny Smith and Honey Crisp)
2 pears, peeled and sliced
1/3 cup granulated sugar
1/4 cup flour
1/2 tsp ground cinnamon
Directions:
Preheat oven to 375 degrees.
Crush the wafers in a gallon ziplock bag using the bottom of a glass or rolling pin.
Mix your wafer crumbs, brown sugar, and melted butter until well blended and set aside.
Roll out your pie crust into a 9-inch pie plate.
Spread the cream cheese onto the bottom of the crust, then sprinkle with half of the wafer crumb mixture.
Combine your peeled and sliced fruit in a large bowl with the granulated sugar, flour, and cinnamon, tossing to coat.
Spoon fruit mixture over crumb layer in the pie crust.
Sprinkle with remaining crumb mixture to lightly cover the entire top.
Bake 35 minutes or until fruit is tender and crust is lightly browned, covering loosely with foil after 25 minutes (prevents the crust from over-browning).
Cool on a wire rack.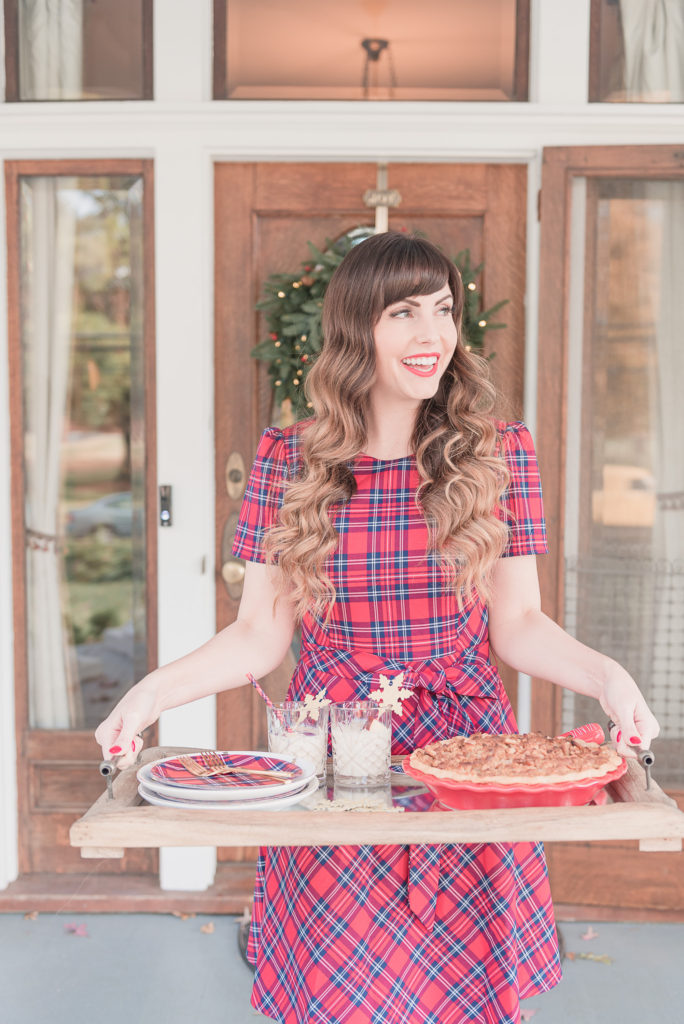 Location: Double Oaks Bed and Breakfast
Photos by Rachel McConoughey Photography