Home for the Holidays: Pie Bar's Chocolate Peppermint Cream Pie
Earlier this year, we introduced you to Lauren Bolden, owner of Pie Bar in Woodstock, Georgia. We were so in love with her Marbled Coconut and Chocolate Custard Pie, we couldn't let 2019 go by without one more recipe.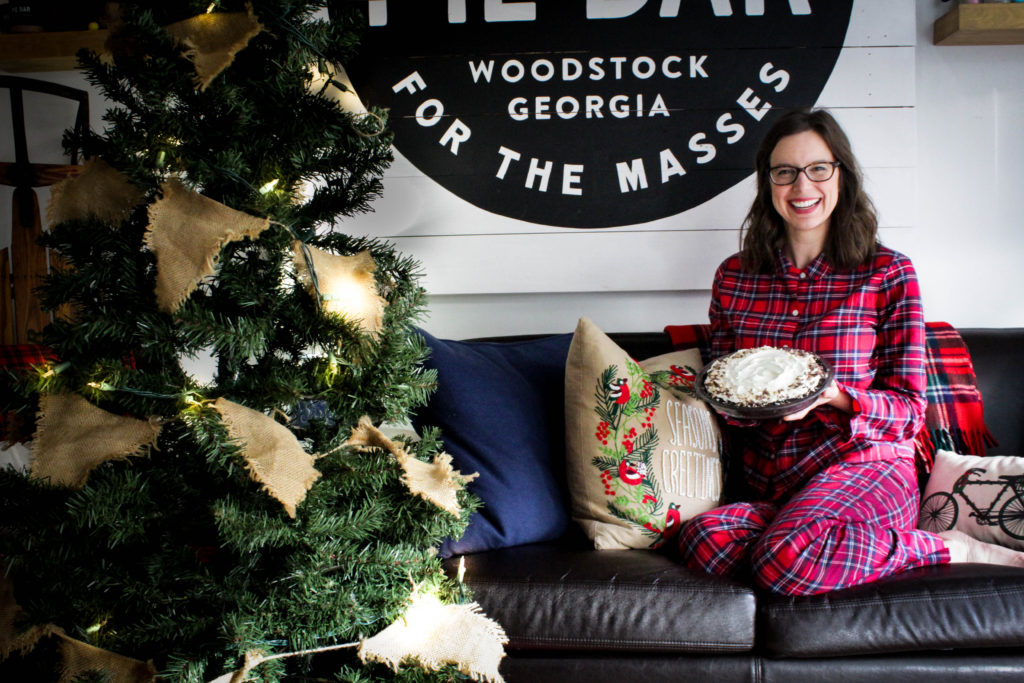 Today, Lauren shares an equally scrumptious delight: Chocolate Peppermint Cream Pie. It's the type of dessert that will both please and impress every person on this year's family holiday party (yes, even your aunt who swears her homemade pies can't be topped).
Get the recipe below.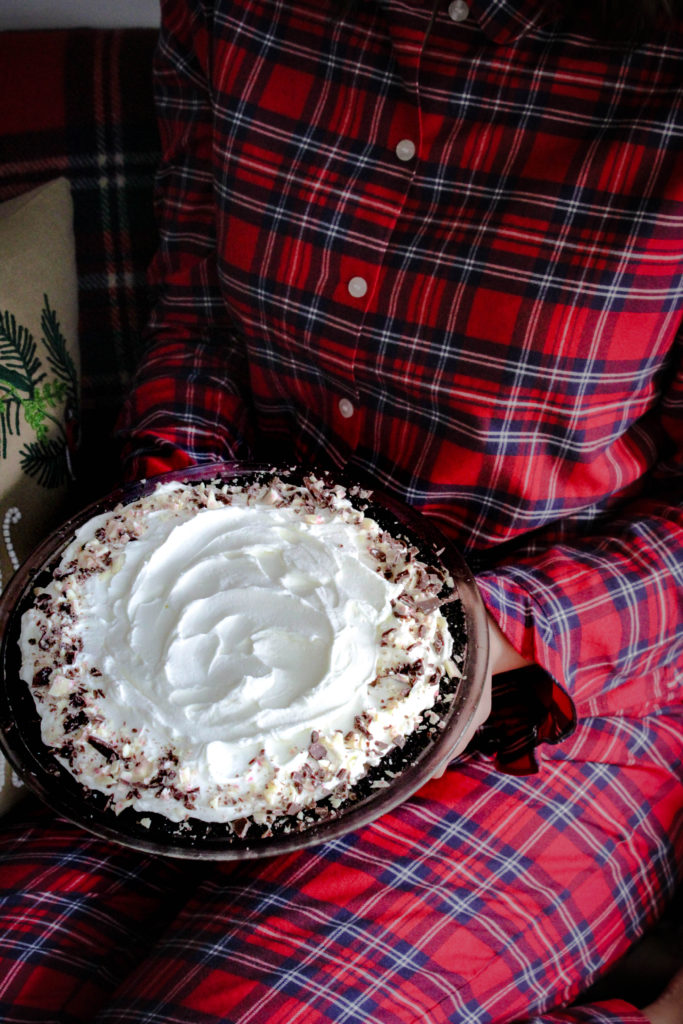 Pie Bar's Chocolate Peppermint Cream Pie
Ingredients
Chocolate Cookie Crust
16 chocolate sandwich cookies, Oreo preferred
2 peppermint bark squares, Ghirardelli preferred
2 tablespoons unsalted nutter, melted
Chocolate Pastry Cream Filling
2 1/2 cups whole milk
1/2 cup heavy cream
3 large egg yolks, lightly beaten
3/4 cup sugar
4 tablespoons cornstarch
1/4 teaspoon salt
1/2 cup semi-sweet chocolate chips
1/2 cup bittersweet chocolate chips
1 teaspoon vanilla extract
2 tablespoons unsalted butter
Peppermint Whipped Cream Topping
2 cups heavy whipping cream
2 teaspoons peppermint extract
6 tablespoons confectioners' sugar
Directions
Chocolate Cookie Crust
*This can be done by hand or in a food processor.
Add chocolate sandwich cookies and peppermint bark squares to the food processor. Pulse until fine.
Tip: The finer you can make the mixture, the easier it will be to put into your pie dish.
Add melted butter. Pulse until combined.
Spray standard 9" pie dish with non-stick cooking spray. Pour the cookie crumbles into the bottom of the pie pan.
Using the flat bottom of a 1/2 cup measuring spoon, press the cookie crumbles up the side of the pan and completely cover the bottom.
Place the cookie crust in the freezer to set.
Directions for Chocolate Pastry Cream
Tip: This can be done up to 3 days in advance. It needs a minimum of 4 hours to cool and thicken.
Combine milk, heavy cream, and egg yolks in a medium bowl. Stir to combine.
Combine sugar, cornstarch, and salt in a small bowl. Stir to combine.
Combine semi-sweet and bittersweet chocolate chips in a large bowl. Set aside.
Pour the wet ingredients (milk, heavy cream, egg yolks) over the dry ingredients (sugar, cornstarch, salt) and whisk together.
Pour the combined mixture into a medium sauce pot over medium heat.
Continue to whisk while the mixture begins to warm up and slowly thicken.
After 4-8 minutes of continuous whisking (to prevent the bottom from burning), the mixture will begin to boil. Once it begins to boil, set a timer for 30 seconds.
Continue to whisk the thickening pasty cream until the timer goes off.
Tip: You are going to want to stop stirring, but don't! This will help prevent burning. Also, wear an oven mitt to protect your hand from pastry cream popping up and burning you!
Remove the pastry cream from the heat and strain through a fine mesh sieve over the chocolate.
Add the butter and vanilla. Stir until the butter and chocolates are completely melted and vanilla is mixed throughout.
Remove your cookie crust from the freezer and pour the Chocolate Pastry Cream directly into the cookie crust.
Place plastic wrap directly in contact with the pastry cream to prevent a film from forming. Place in the refrigerator to cool and set for a minimum of 4 hours (overnight is even better).
Whipped Cream Topping
Tip: Make this right before topping your cooled and set pie.
Combine the heavy whipping cream, peppermint extract, and confectioners' sugar in a stand mixer.
Whip on high until fluffy and voluminous (approximately 2 minutes).
Assembly
Remove the cooled and set pie from the refrigerator. Remove plastic wrap.
Top with freshly made peppermint whipped cream.
Chop up additional peppermint bark squares and sprinkle over whipped cream.
Serve and enjoy! This pie will last in the refrigerator up to 3 days.