How to Make Emily Hutchinson's Buttercream Frosting Magnolia Flowers
Emily Hutchinson is a master cookie decorator, author, and creator of The Hutch Oven. Known for her buttercream frosted flower cookies, the baker whipped up a batch of cookies decorated with magnolia flowers just for us!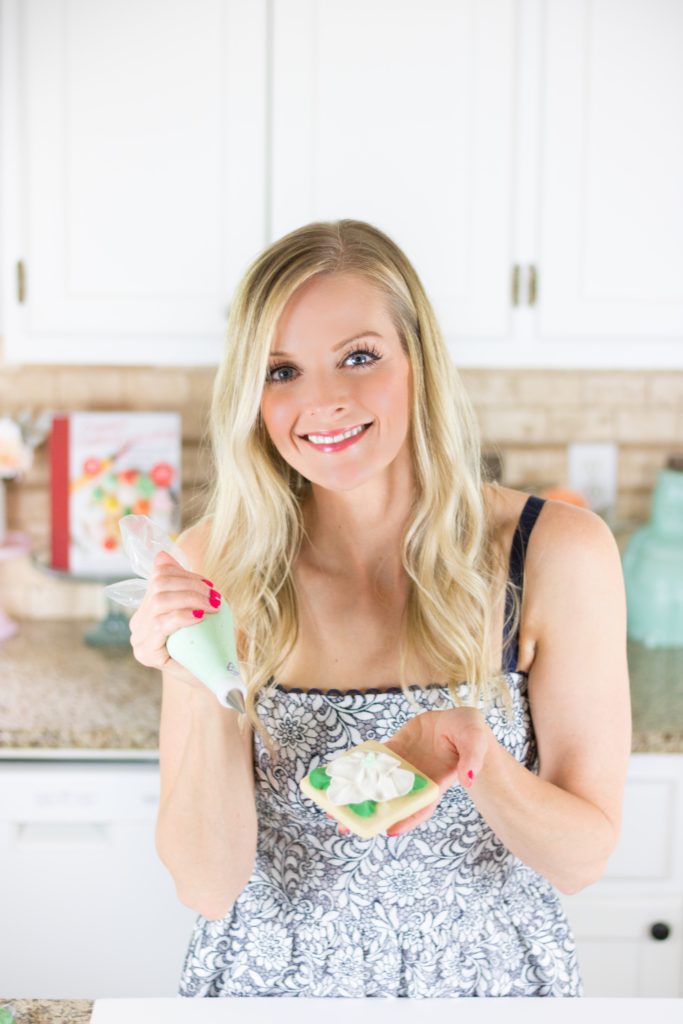 You will need 24 square cookies and a batch of her buttercream frosting, which she uses so the cookies can be gently stacked on a dessert table once they're completed; recipe below. While you can use your favorite sugar cookie recipe, Emily's secret recipe will be released in her book, Creative Cookie Decorating, on October 15.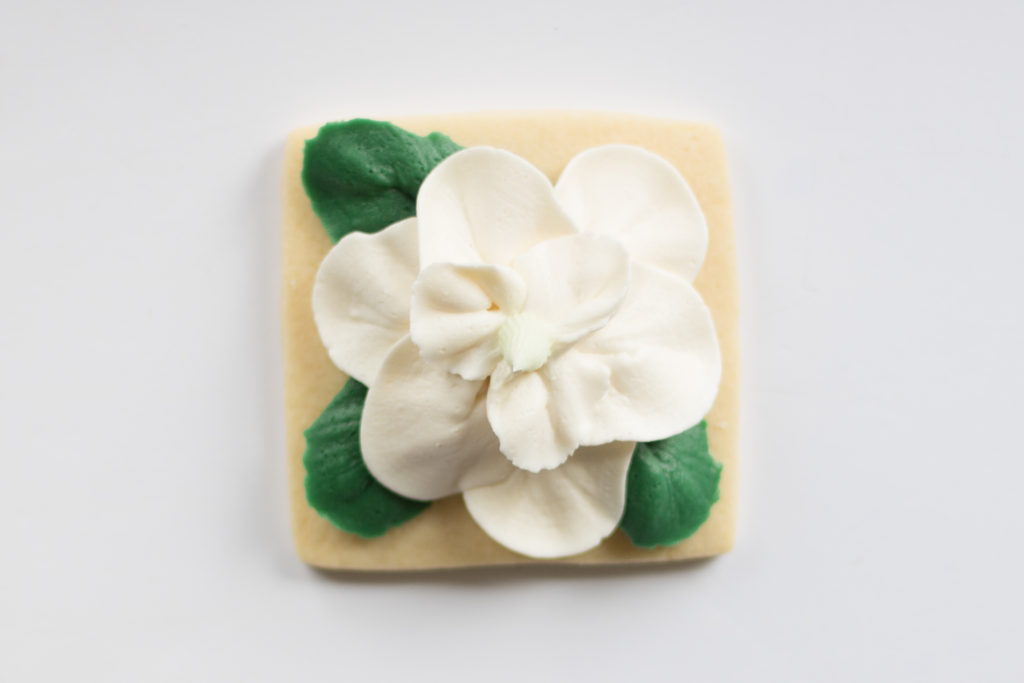 Crusting American Buttercream Recipe 
Ingredients 
1 cup salted sweet cream butter, room temperature  
1 cup Crisco shortening, room temperature 
2 teaspoons vanilla extract
9 cups confectioners' sugar 
3 tablespoons heavy cream or milk
Instructions 
Cream your butter and shortening until well incorporated. Both must be at room temperature to prevent clumping.
Once creamed, add in your vanilla. Mix again for 1 minute.
Sift your powdered sugar to make sure there are no clumps and add it in to the creamed mix.
Place a towel over your mixer to prevent a powdered sugar storm.
Once mixed, slowly add in your heavy cream or milk, 1 tablespoon at a time (you can always add more but you can't take it out). Continue to add more milk or heavy cream than the recipe states if it's too thick.
Mix until smooth, about 1 minute on medium to high speed. Be sure not to overwhip your buttercream. DON'T panic—you won't ruin it if it whips longer but the buttercream needs to be nice and smooth. Store unused buttercream in an airtight container in the fridge for up to a week or freeze for up to three months. 
Now that you have your frosting, it's time to decorate.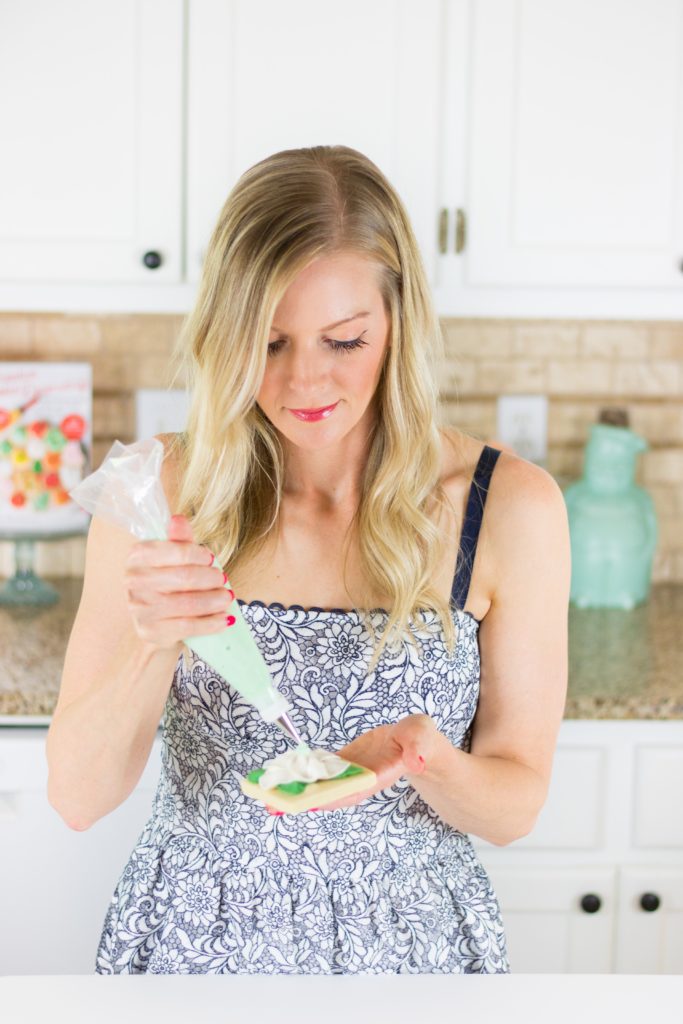 How to Decorate Your Magnolia Flower Cookie 
You will need:
Square cookies and buttercream frosting
Green and white food coloring
Frosting tips you will need: 125, 123, 363, 104, and 2  
Instructions 
Start with green buttercream and tip 125. Hold with the wide side of the tip facing towards you and the skinny end facing away from you. Start piping up with the same amount of pressure, slow down at the top, and slowly pipe back to create first leaf. Make a total of 3 leaves for the base.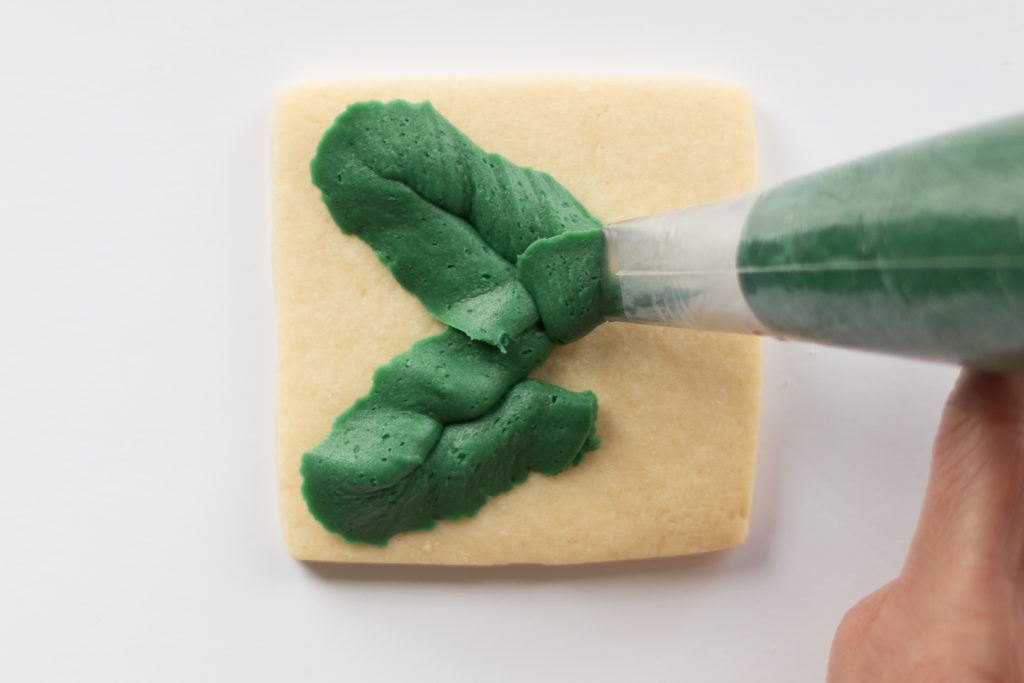 Use petal tip 123 with the white buttercream. With the skinny side of the tip facing away from you at a 45-degree angle, pipe first petal up, around, and down. Pipe 3 total petals for the flower base, so spread accordingly.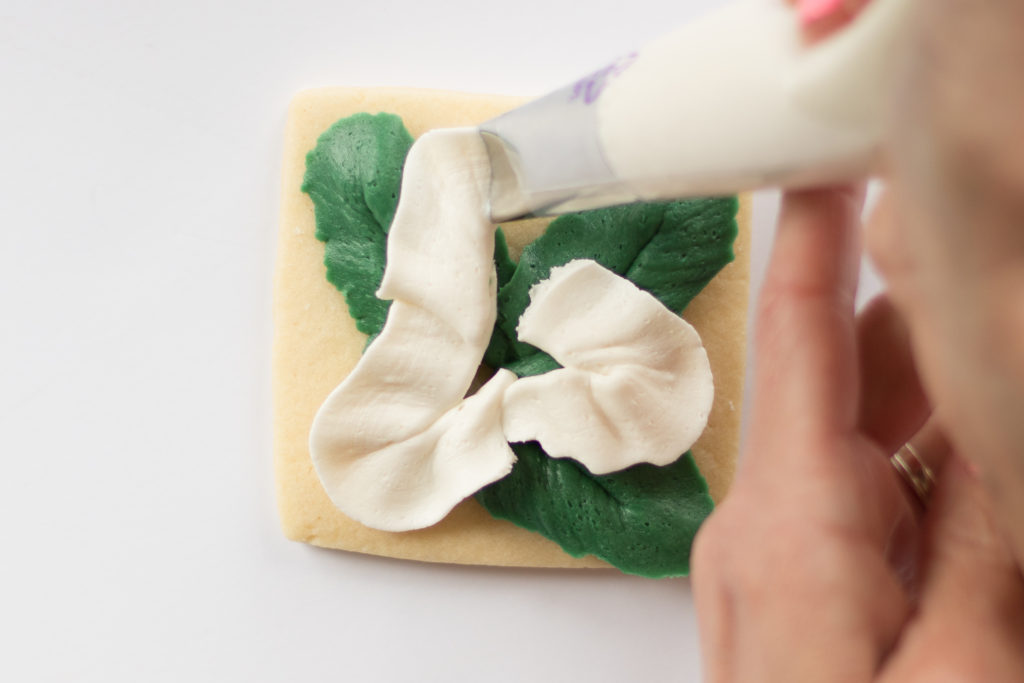 For the second layer of petals, make them small and pipe them offset so each goes in between. Use 104 to pipe the third and smallest of the three petals.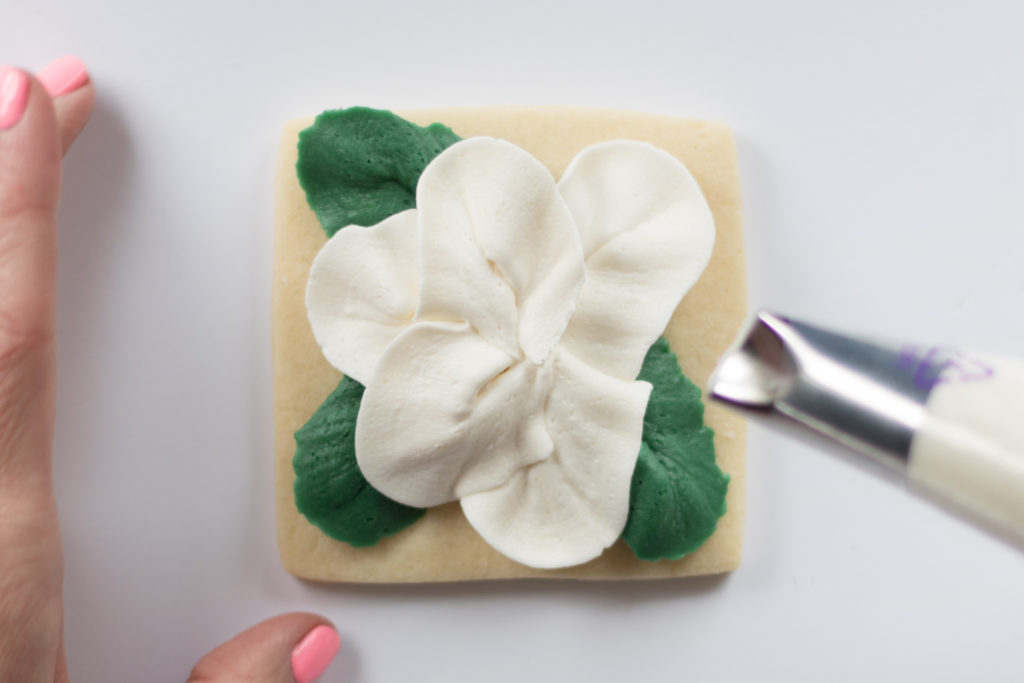 Use light green buttercream and tip 363 to pipe the stamen in the center of the flower. 
Use tip 2 to pipe tiny carpels that look like dots to complete your Magnolia flower.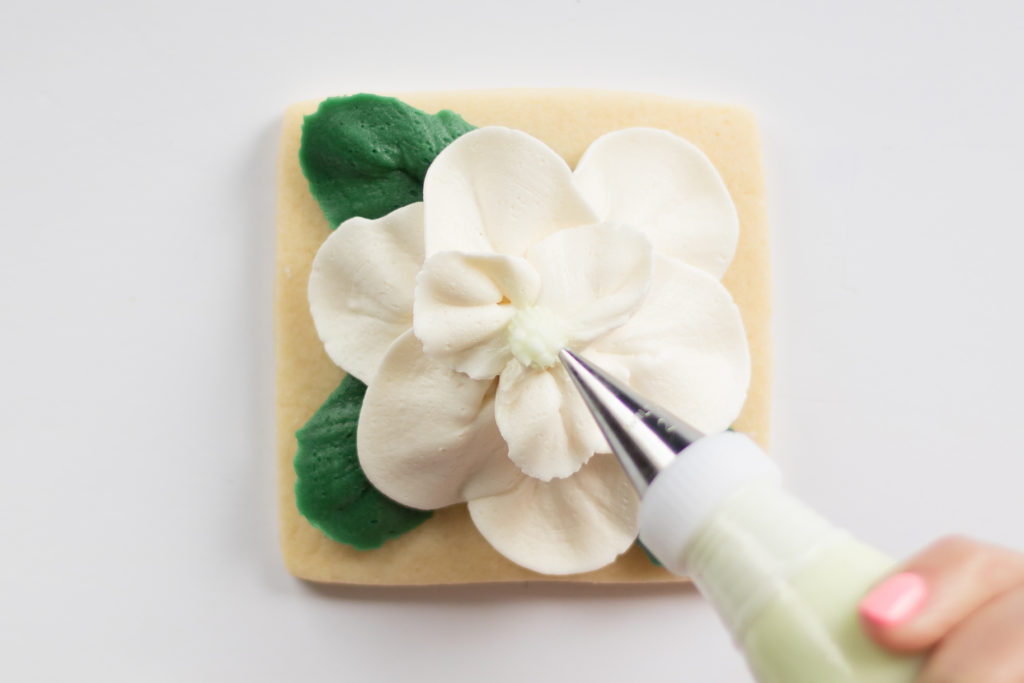 When you are finished, allow 8 hours or overnight to let the cookies form a crust so they can be gently stacked, or place them on a cookie plate to serve at your next summer party, bridal shower, wedding or evening dinner party.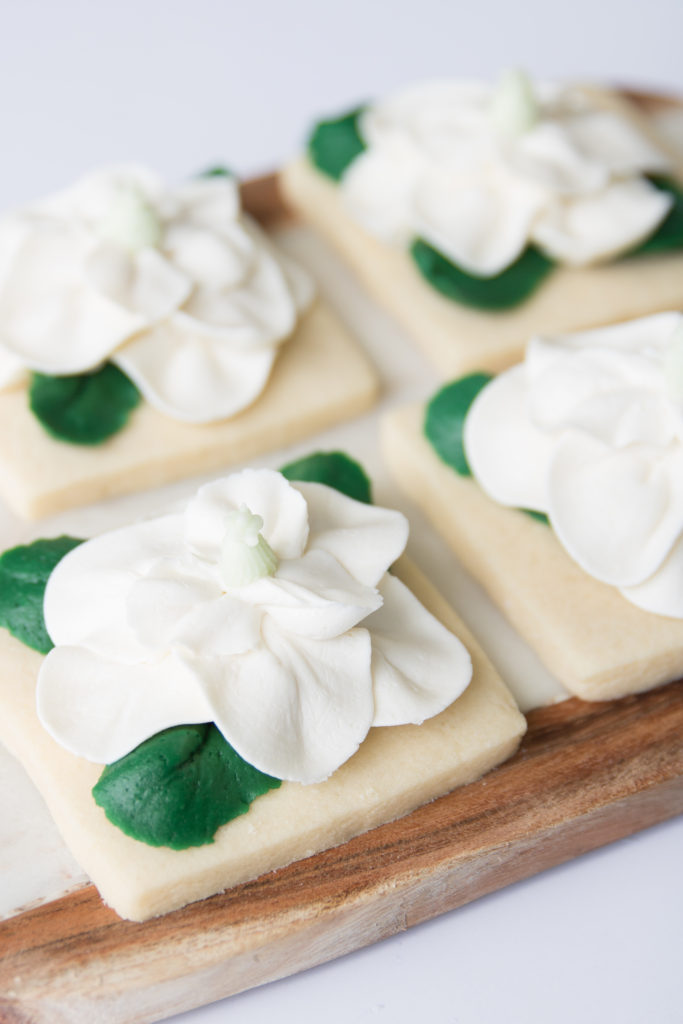 You can pre-order "Creative Cookie Decorating" on Amazon, and find Emily at @the_hutch_oven on Instagram, The Hutch Oven on Facebook and YouTube.