Katie Jacobs's Summer Recipe for Honey Peach Mint Juleps
It's getting hot down South, so we thought y'all might like something refreshing to combat the humidity. And while the Kentucky Derby may be over, we're still in the mood for a Mint Julep. So much so, we even designed two mint julep-inspired bags! Find them here.
But, of course, we can't talk about Mint Juleps without giving our readers a recipe. Luckily, Nashville's Katie Jacobs has a unique spin on the classic Southern drink; her recipe combines peaches along with honey to complement the mint and bourbon.
Hear from Katie and get her recipe below.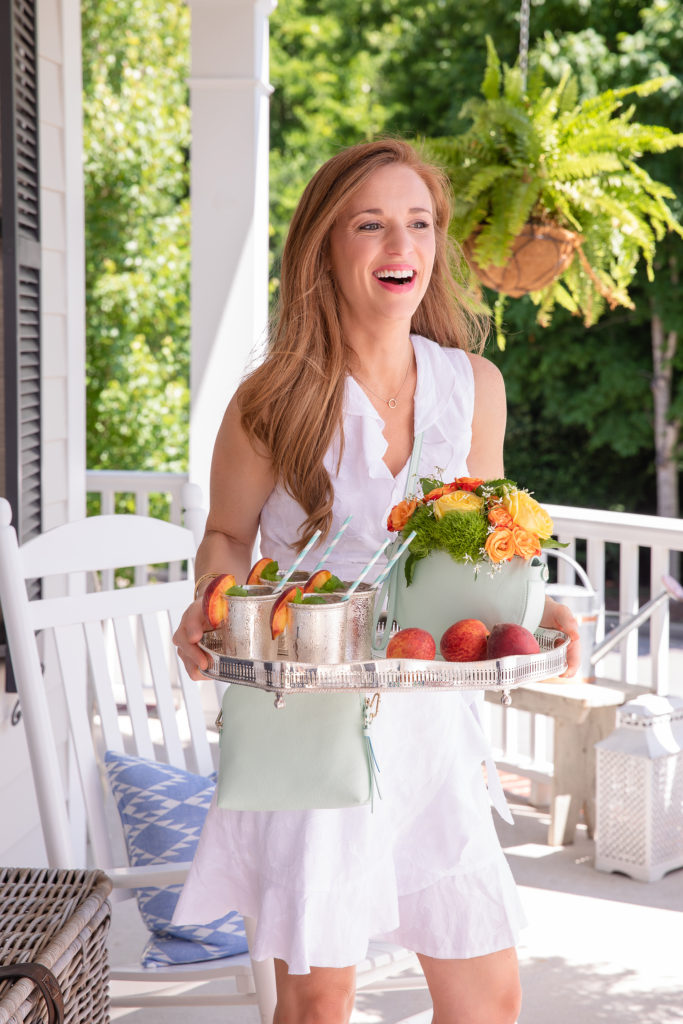 Tell us about your Mint Julep recipe.
Nothing marks the beginning of summer quite like the arrival of peach season. Nashville's own The Peach Truck brings in Georgia's finest, and I pick up my weekly bag of sweet peaches and excitedly work on peach recipes, savoring every last piece of fruit.
This mint julep recipe highlights summer's quintessential flavors: peaches, mint, and honey.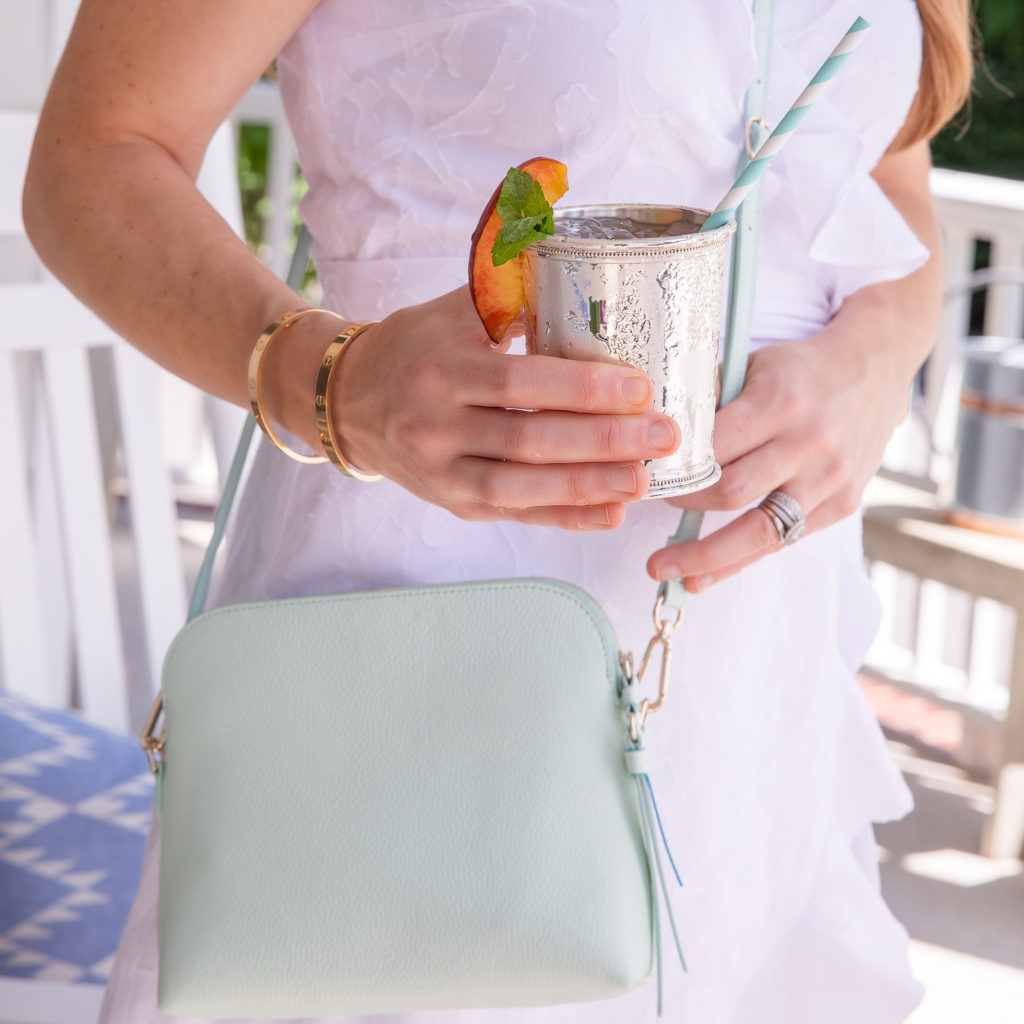 What's your favorite thing to do in Nashville in the summer?
Bobby's Dairy Dip, boat rides at Center Hill Lake, and like every good Southern girl, we blow up (a very classy haha!) baby pool in the backyard and spend most afternoons in the sprinkler.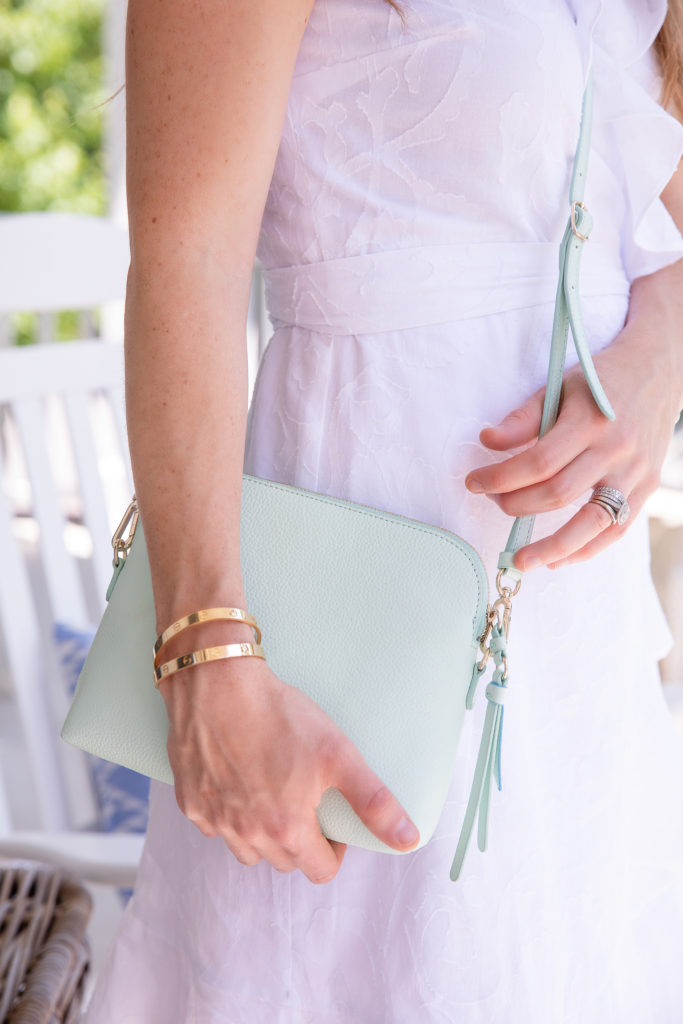 Best tip for surviving the Southern humidity?
I live in breezy sundresses in the summer. The kids eat loads of popsicles at the pool, we grill out light summer fare as often as possible, and of course, enjoy an ice cold cocktail on the front porch swing.
What drew you to this Draper James dress?
I think a wrap dress is universally flattering. White is my go-to summer uniform: crisp, clean, and timeless. The Ruffle Wrap Jacquard Dress is gauzy enough for a beach vacation, structured and conservative enough for church, and a great classic staple that should live in your closet.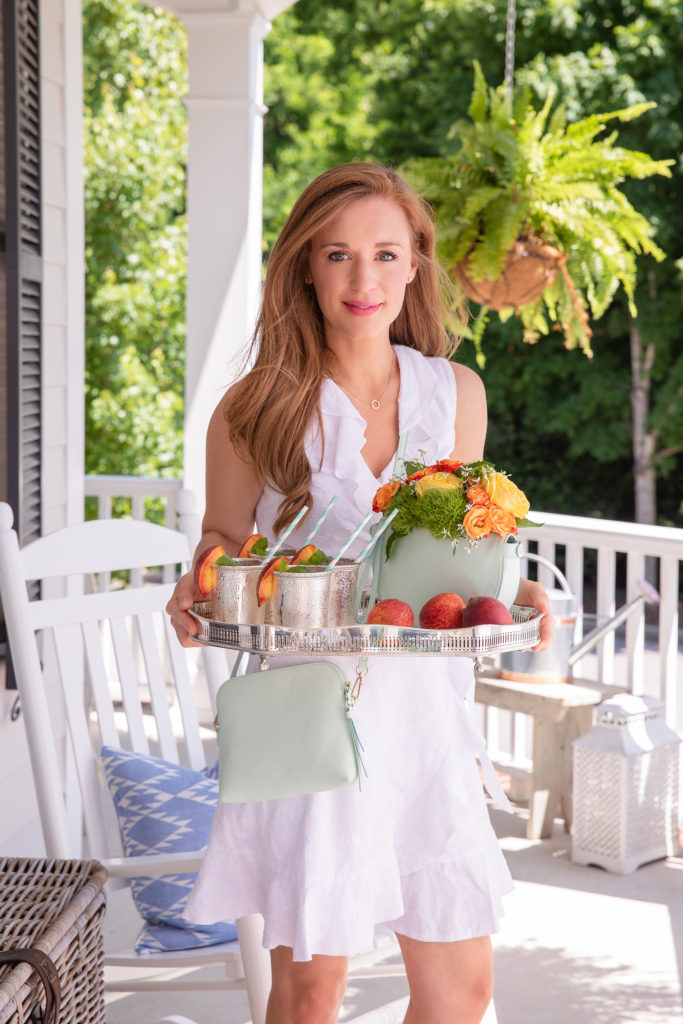 Describe your Mint Julep in 3 words.
Sweet, cold, Southern.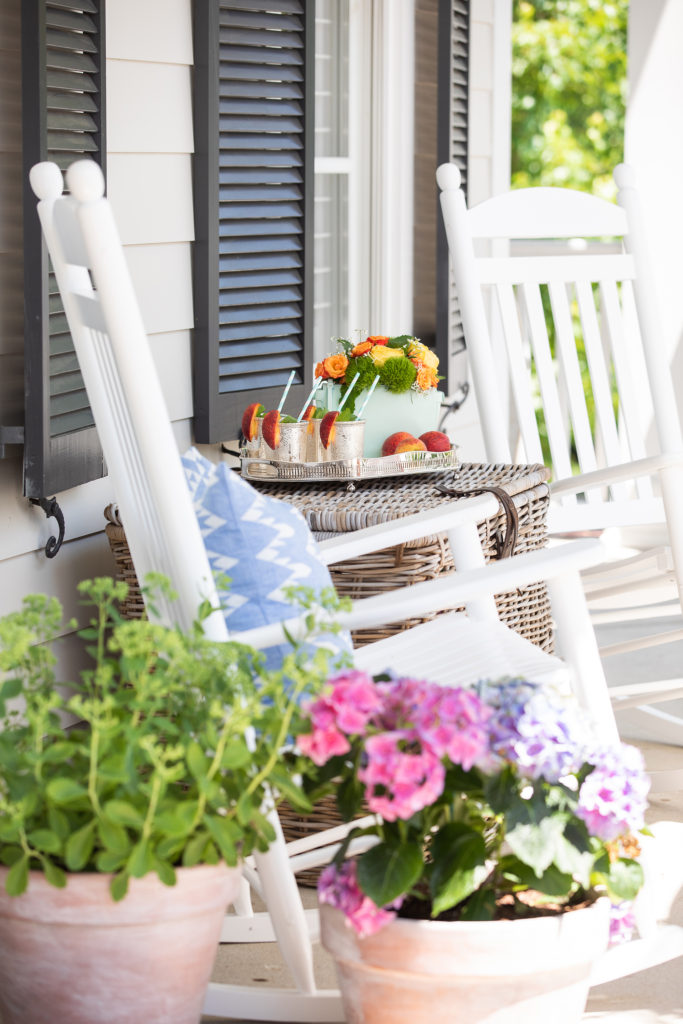 Katie Jacobs's Recipe for Honey Peach Mint Juleps
Makes 1 cocktail
Ingredients
Fresh mint leaves
1/4 oz. peach and mint simple syrup (recipe below)
Crushed or gravel ice
2 1/2 oz. bourbon
Mint and peach slices for garnish
For the Peach and Mint Simple Syrup:
1 peach, sliced
1/2 cup sugar
1/2 cup water
5 sprigs of mint
2 tablespoons Honey
Directions
To make the simple syrup, combine the sliced peach, sugar, water, and mint in a small saucepan and cook until the sugar is melted.
Simmer for 2-3 minutes on low until the peaches are softened. Add the honey and stir until combined.
Remove from heat and mash the peaches well. Strain the mixture through a sieve to remove the peach pulp and mint; set aside to cool.
To make the cocktail, place a few mint leaves and 1/4 ounce of the peach syrup in a julep cup or Old Fashioned glass and gently muddle, working the leaves up the side of the glass.
Loosely pack the glass with ice, then add 2 1/2 oz. bourbon and top with a splash of peach syrup on top. Stir gently.
Garnish with a peach slice and a sprig of mint.
Katie Jacobs is an author, stylist, photographer, graphic designer, and foodie. A fourth-generation Nashvillian, she's been featured in O, The Oprah Magazine, Martha Stewart Living, Southern Living, Nashville Lifestyles, Edible Nashville, and The Scout Guide as well as on Hallmark Channel's "Home & Family." Her first book, So Much to Celebrate, published by Thomas Nelson, is available now.
Photos by Evin Photography