Style School: Holiday Travel Style with Caroline of House of Harper
Travel, especially holiday travel, is stressful.
When you're dealing with heavy traffic, flights delays, and crowded airports, the last thing you want to do is stress about what you're wearing.
You want to be comfortable, and you want to look put-together.
Caroline of the fashion and lifestyle blog House of Harper is an advocate of both, telling Draper James, "Comfort is key when traveling, but that doesn't mean you have to sacrifice style."
And sacrifice style she didn't; Caroline styled our Cable Sweater Cape, one of the best-sellers this season, to create the ultimate holiday travel look.
Keep scrolling to see and read how she styled it, and get her tips for staying sane during the holidays!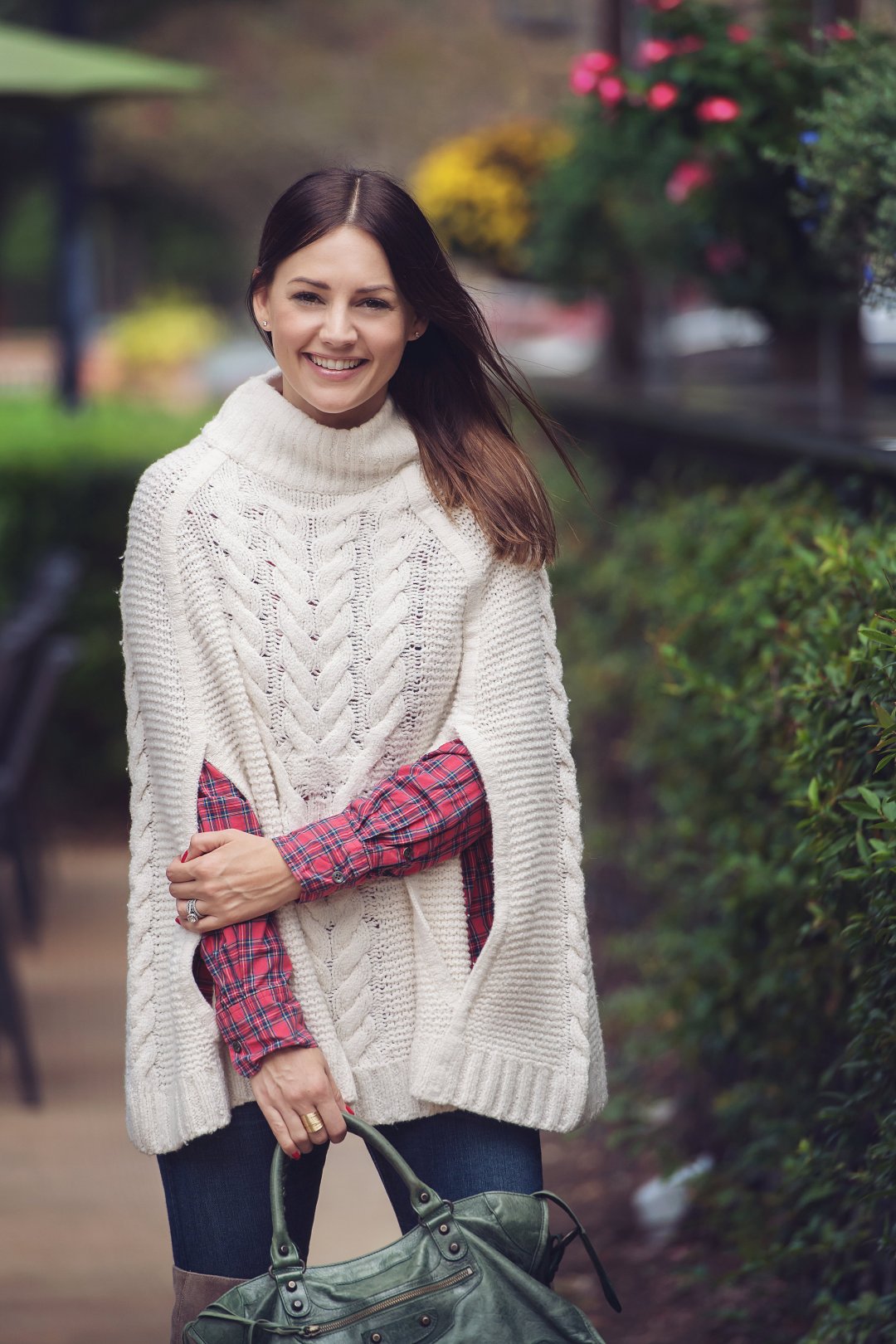 Tell us about how you styled the Sweater Cape.
I layered this cozy sweater cape over a holiday plaid button down and denim for a casual yet chic look. The over-the-knee booties dress the piece up and make it perfect for brunch.
Do you have any travel plans this holiday season?
I live in Houston with my husband and two boys, but we visit my family in my hometown of Corsicana (just south of Dallas) over the holidays.
The boys think it is the ultimate destination because my family lives on land and has horses, cows, and a pond to go fishing.  I call it Camp Harper because my parents have a full schedule of activities for us.
What's your go-to travel outfit?
I opt for comfortable denim and a button down with a cozy travel wrap or cape to layer over the look. In the winter, I wear my boots, which saves me room in my suitcase!
How do you deal with the stress of holiday traveling?
Traveling with two young children can be a handful, but you have to make the most of it and expect things to not go exactly as planned!
I always pack snacks for the family and make sure to have games and movies cued up for the boys. I keep a to-go coffee in hand to keep me alert and sane!
Oh, and I always plan road trips around nap time. 😉
What makes the Cable Sweater Cape the perfect travel accessory?
This cape is the perfect cozy layer to pair with my favorite jeans and relaxed tops, which makes it ideal for traveling.
I also love that it's super comfortable but sophisticated at the same time, my travel style essential! In Texas, the weather can be a bit unpredictable, in the 80s one day, in the 40s the next.
I love that a cape is an easy layering piece to top off an outfit when the temperatures do drop.
What are your three tips on travel style for this holiday season?
Wear your largest coat and boots to save room in your suitcase; opt for a cozy layer that still looks sophisticated (like this sweater cape!); and stick to a color scheme so you can mix and match within your suitcase!