Celebrate Cinco de Mayo with a Margarita Recipe from Austin's Backbeat
We love a good tradition here at Draper James.
Whether that means sippin' Mint Juleps at the Kentucky Derby or having a slice (or two) of King Cake during Mardi Gras, y'all know we're on board.
Cinco de Mayo is no different. So we're celebrating today—on this fifth day of May—by heading down to Backbeat, an Austin, TX-based contemporary cocktail lounge, where we'll be ordering (what else?) the legendary Greenhouse Margarita.
We spoke with Jessica Sanders, co-founder of Backbeat and award-winning Austin gastropub Drink.Well., to get the scoop on exactly what makes the Greenhouse Margarita the perfect way to ring in Cinco de Mayo this year.
Grab the recipe below!
Tell us about this cocktail recipe.
Gardens and greenhouses across the South are bursting with all kinds of fresh vegetables, peppers, fruits, and herbs around Cinco de Mayo. The Greenhouse Margarita balances the sweetness of a rich pineapple syrup and the subtle heat of a green chili liqueur with a refreshing dose of cucumber and lime juice and a bit of fresh basil. The key is to use fresh-squeezed citrus juices—no sugar- and chemical- laden "margarita mix" here!
What makes the margarita distinctly Southern?
Many will tell you that a true Southern woman strikes the right balance of sweet and spice, and that is certainly true for this margarita! Fresh cucumber, lime, and pineapple offer a perky, cooling note to balance the heat and sass from Ancho Verde, a delicious green chili liqueur now available across the country.
And Backbeat?
Like any Southern home, at the heart of the house is a commitment to hospitality… Everyone who comes to Backbeat will always be greeted with a warm smile (sometimes a big hug, depending on the bartender who's working!) and an ice-cold drink. Cocktails and conversation on the porch are a hallmark of Southern living.
What's Backbeat best known for?
Guests often comment on how elegant, air, and well-appointed the bar is. There are lovely feminine touches (think: brass fixtures, fresh flowers, succulents, bright blue colors) set against rich woods, darker blue tones, and romantic, modern lighting. Backbeat has a stunning, vibrant design and gorgeous rooftop terrace with sweeping views of downtown Austin.
Best part of summer in Austin, TX?
If a kayak trip down Lady Bird Lake (which runs right through the middle of downtown Austin) isn't enough to beat the summer heat, just a short drive away are some of the country's most beautiful swimming holes. Hamilton Pool, Krause Springs, and Wimberley's Blue Hole define the culture of an Austin summer. Round up a crew, pack up a picnic basket and a tumbler of your favorite margarita, rosé wine, or cold beer and cool off at some of these hidden gems.
What would you pair with the Greenhouse Margarita?
Southerners certainly don't mind a touch of heat! The balance of sweet and spice make the Greenhouse Margarita an ideal pairing with some of Austin's great tacos, Texas BBQ, or some of the spice-driven world cuisine that the city is quickly becoming known for.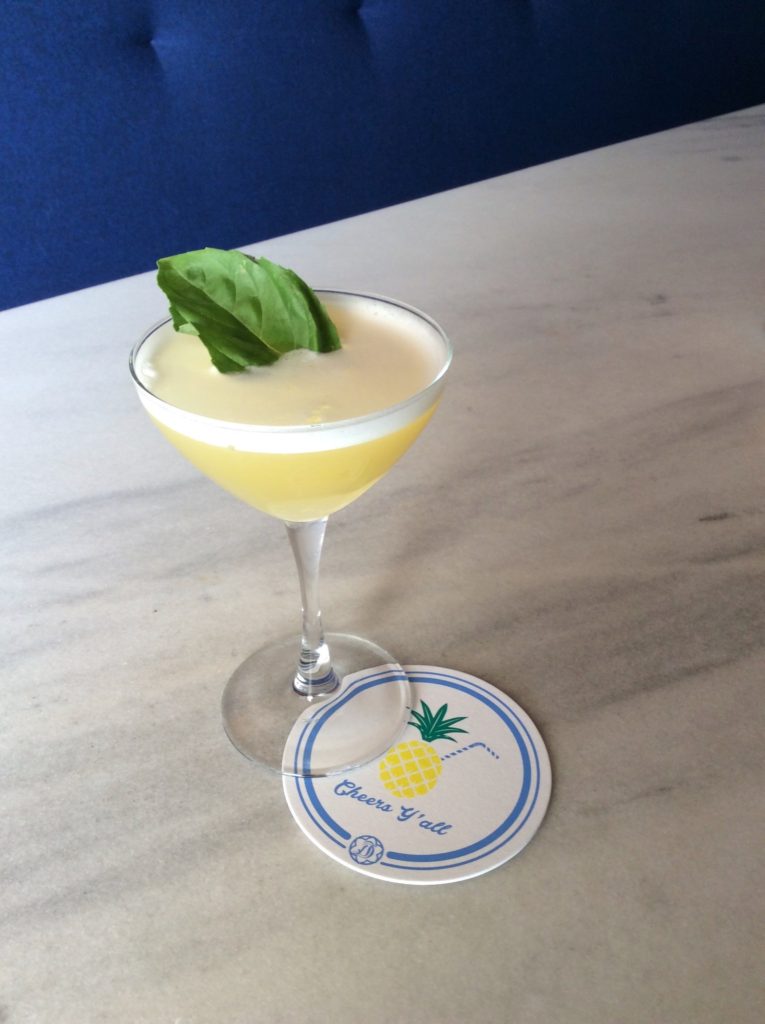 Recipe for Greenhouse Margaritas from Backbeat in Austin, TX
Yields 1
Ingredients
1.5 oz. Roca Patron Silver Tequila
¾ oz. fresh cucumber juice
5 oz Pineapple Syrup (you can make your own or buy one from William-Sonoma or a similar specialty food shop. Brands to consider: Liber & Co. or Small Hands Foods)
½ oz Fresh Lime Juice
¼ oz. Ancho Verde Liqueur
2-3 Fresh basil Leaves
Directions
Gently muddle the basil leaves in the bottom of a cocktail tin with the pineapple syrup. Add the remaining ingredients with ice and shake until the cocktail is chilled. Strain the drink into a cocktail glass. Garnish with a sprig of fresh basil.
Cheers, y'all!
Save
Save