My Modern Cookery's Peach Mint Julep and Bourbon Vanilla Candied Pecans Recipe
If you, like us, are counting down to Kentucky Derby weekend, then surely you're dusting off your fascinator and picking the mint for your juleps. After all, no matter how fast those horses run, it just isn't the Kentucky Derby if you don't get your outfit and cocktails exactly right.
Here with a winning twist on the iconic mint julep—not to mention a bonus bar snack that incorporates classic Kentucky flavors—is Paige Rhodes of My Modern Cookery. A professionally trained chef based in Louisville, Paige whips up dishes that are as pretty to look at as they are good to eat. Her Peach Mint Julep and Bourbon Vanilla Candied Pecans are sure to have you singing "My Old Kentucky Home" along with the crowds at Churchill Downs. View the recipes for both below.
Tell us about this recipe for Peach Mint Juleps.
I adore peach and bourbon together, so it was natural for me to pair the two Southern flavors in this cocktail. Classic mint juleps can be a little strong if you're not a bourbon drinker, and adding the peach makes this version slightly sweeter and easier on the palate.
How about the Bourbon Vanilla Candied Pecans?
Candied pecans remind me of the holidays, and in Louisville, Derby is definitely considered a holiday. Schools are even out for The Oaks! I added a splash of bourbon to my usual candied pecan recipe to give it a little something special and echo the flavors of the Peach Mint Juleps. Plus, if you're hosting a Derby party, these pecans will make your house smell insanely delicious. I'm a big believer in serving bar snacks with booze, and nuts are always a good choice. Since the pecans are sweet and have a light bourbon flavor, I thought they would be perfect for munching alongside the cocktails.
Can you share more about food and drink traditions for Derby?
Aside from the mint julep, which is the official drink of The Kentucky Derby, there's also the Grey Goose Oaks Lily, which is a cranberry- and vodka- based cocktail. You can't go through Derby day without a slice or two of Derby Pie, a very rich chocolate and walnut pie. Bourbon balls are a must, and you'll usually find classic Louisville dishes like the Hot Brown, Benedictine, and burgoo, alongside fried chicken, barbecue, and pimento cheese.
How would you describe "Louisville" cuisine?
Louisville has an amazing food scene, and it's growing and changing constantly. You can definitely see bits of the South sprinkled in a lot of the restaurants, but there's a modern, locally-sourced aspect that's appealing to foodies like me. There's also a great array of authentic ethnic establishments that bring a wonderful worldly feel to the city. Louisville is the melting pot of Kentucky, and it shows in the cuisine. If you've never been to Louisville, I would highly recommend taking a weekend to come experience the exceptional food, cocktails, and coffee that we have to offer.
What are your Derby day plans and traditions?
Derby is the one day of the year that Louisville is inundated with thousands of out-of-towners, which is a great thing! I tend to avoid the madness and watch from home or go to a party. (Us locals tend to hit the tracks during The Oaks or "Thurby," which is the Thursday before Derby.) That being said, if you love people watching, you need to make it a point to go to the Derby at least once to see all of the frantic betting, fun fashion, and celebs. Getting dressed up in a pretty ensemble and unique headwear is the best part, aside from the cocktails and bar snacks, of course! So even if I'm just chilling at home, I'm going all out.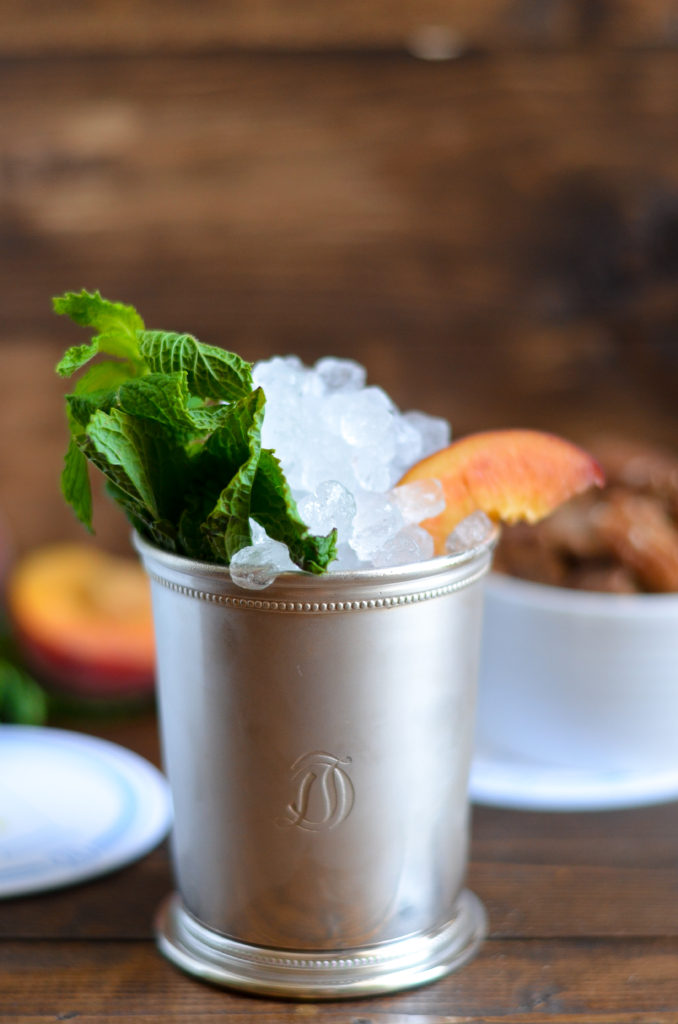 Recipe for Peach Mint Juleps from My Modern Cookery
Yields 1
Ingredients
6 mint leaves
2 Tablespoons ripe peach, diced
1 teaspoon sugar
1½ oz. bourbon
½ teaspoon lemon juice
crushed ice
Directions
Muddle the mint leaves in the shaker until aromatic, then add in the peaches and sugar and muddle further. Pour in bourbon and lemon juice. Fill the shaker halfway with ice, place the lid on, and shake well. Fill the julep cup with crushed ice, then pour over the peach bourbon mixture. Garnish with mint and sliced peach.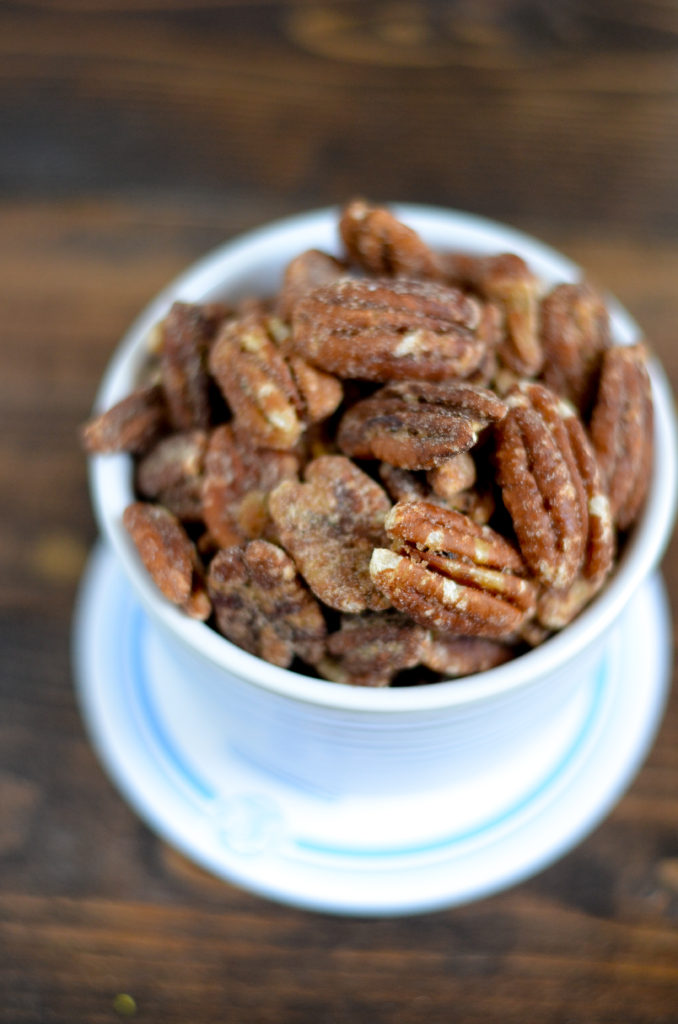 Recipe for Bourbon Vanilla Candied Pecans from My Modern Cookery

Ingredients
½ pound pecan halves
1 Tablespoon bourbon
1 egg white
½ Tablespoon good quality vanilla
½ cup sugar
⅛ cup brown sugar
½ Tablespoon cinnamon
½ teaspoon salt
Directions
Preheat oven to 250ºF and line a baking sheet with foil. In a large bowl, combine the sugar, brown sugar, cinnamon, and salt. Stir and set aside. In another large bowl, combine the egg white, bourbon, and vanilla. Whisk until frothy. Add the pecans and stir to coat. With a slotted spoon, remove pecans from the liquid mixture and add them to sugar mixture, leaving behind the remaining liquid. Pour pecans out onto prepared baking sheet. Bake for 1 hour and 15 minutes, stirring every 20 minutes. The pecans will harden as they cool. Allow to cool completely before serving or storing.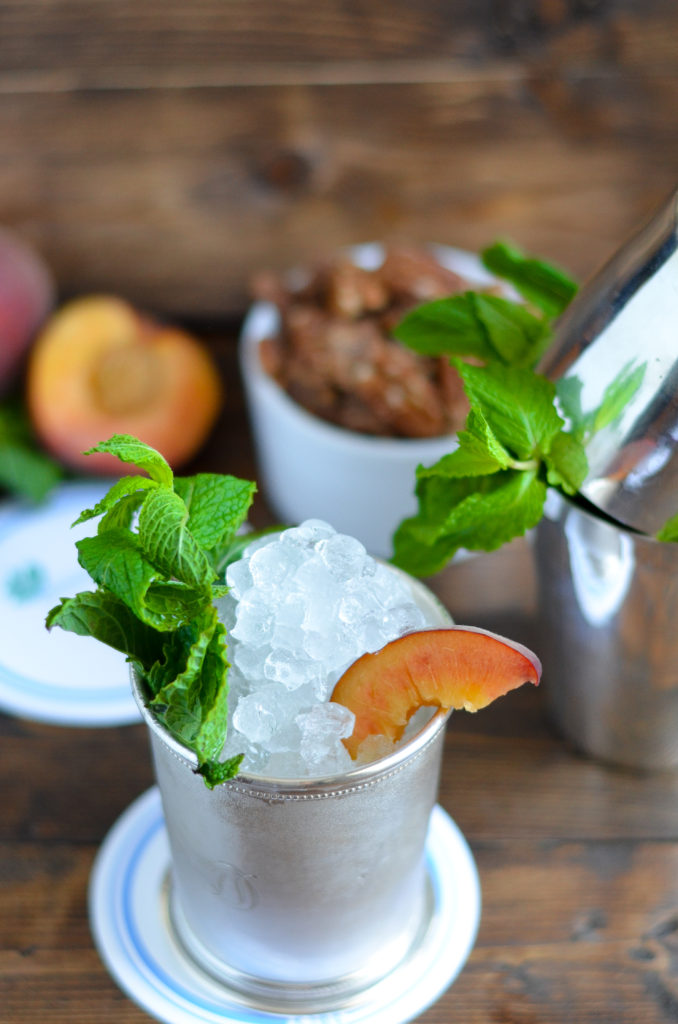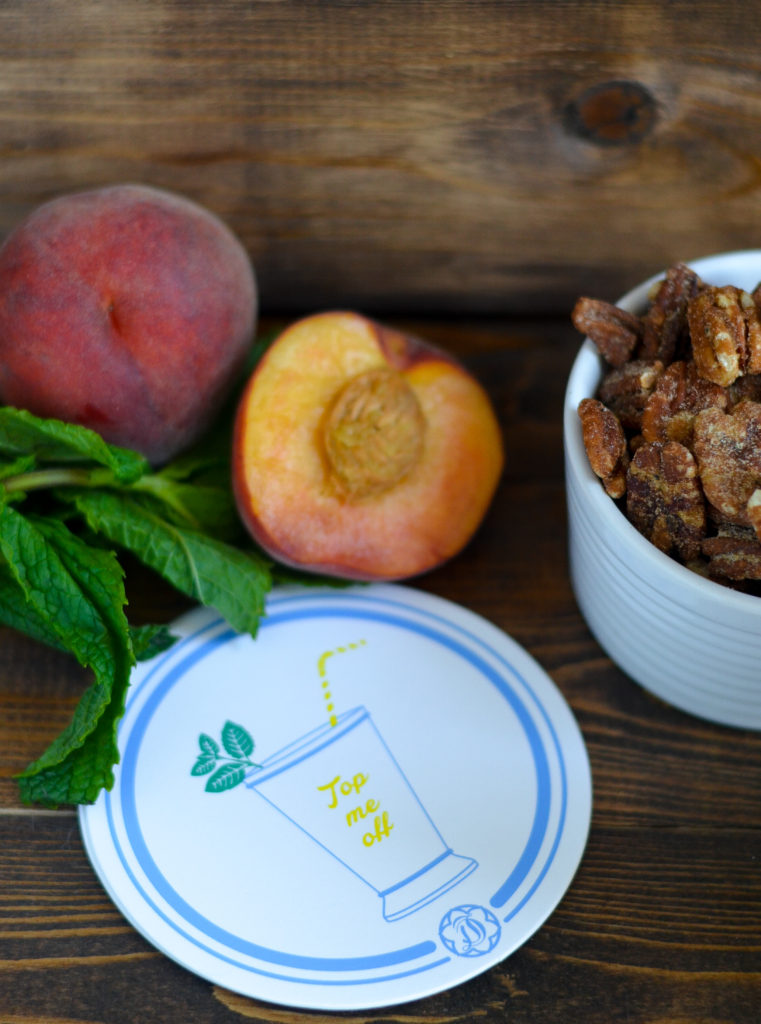 Save
Save
Save
Save
Save
Save
Save
Save
Save
Save