Summer Concert Series: Aubrey Peeples
Actress and singer Aubrey Peeples has a full calling card these days. Not only was she a regular on the hit series Nashville, but she is now also in the midst of shooting a new film. Aubrey took the time to kick off our Draper James in-store concert series with a packed live performance. She also starred in our first Front Porch Chat video series. Click here to see the video, and read on for more from Aubrey.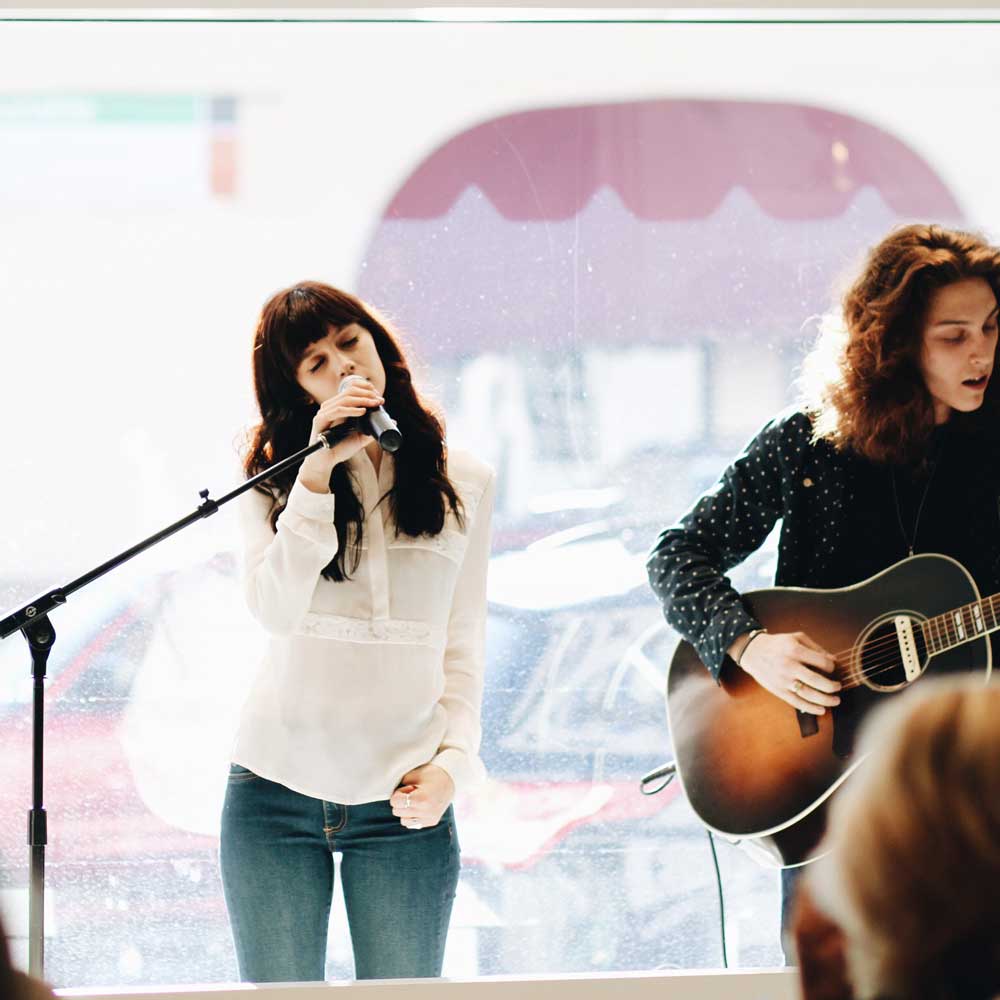 What do you love about living in Nashville?
I love so many things about living in Nashville. But of course, the music is what makes Nashville so special and historic and is what led me to the city in the first place.
Can you share a few favorite local spots?
My favorite restaurants are Far East, Two Ten Jack and Vui's Kitchen. For coffee, I love Crema for the coffee soda and the avocado toast, and for the people watching. For music: The Ryman, 3rd and Lindsley, Mercy Lounge, and The Station Inn.
What's the most exciting thing going on in "Southern" music right now?
The return of soul and the blues! Chris Stapleton, Leon Bridges, Alabama Shakes, the Muddy Magnolias, Gary Clark Jr. . . There are so many artists striving and succeeding right now in bringing some soul back to music. This is of course very exciting for me because I consider myself a blues/soul artist."
How do you choose your concert outfits? What drew you to the Draper James pieces you wore for your in-store performance at our Nashville boutique?
I usually wear all black when I'm performing, and I almost ended up wearing a silky black shirt from Draper James. But my awesome social media gal, Megan Clemens, found the cream lace shirt I wore. It is just a really beautiful top. I am really much more of a casual dresser, so the jeans were a no-brainer. I have discovered that DJ jeans are extremely comfortable and the perfect balance of soft and firm.
What was it like kicking off our Draper James concert series? (We loved having you there!)
It was so lovely! I feel honored to have been the first, and was so excited to see so many people come out. Plus, the Draper James store on 12th South serves its patrons sweet iced tea, so I don't really know what could be any better.
You have so many exciting things going on professionally! If you had to pick, what are you most excited about right now?
I am currently most excited about the film I am shooting right now. Cowboy Drifter is one of the best scripts I've ever read and the most creative set I've ever been on. I can't wait to share it with the world!