June 8, 2018 • RECIPE
DJ Drinks: Eating With Erica's Lemon Basil Champagne Spritzer
Summer in the South is all about attempting to stay cool—whether it's finding your nearest body of water or enjoying the peace and comfort air condition can bring.
For Erica Key of the Atlanta food blog Eating With Erica, it's also about making a refreshing beverage that tastes just as good as it looks.
Her Lemon Basil Champagne Spritzer, which she so kindly prepared for us here, should probably be on every entertaining menu this summer: It's fresh, easy, and oh-so-pretty.
Get Erica's recipe and hear more from her below.
Tell us about this recipe.
In the summer I love using fresh herbs, which inspired the Lemon Basil Champagne Spritzer.
If you have an herb garden or enjoy stopping by your favorite farmers' market in the summer, all you need is fresh basil to take a lemonade spritzer up a notch. And who doesn't love to cool down with champagne?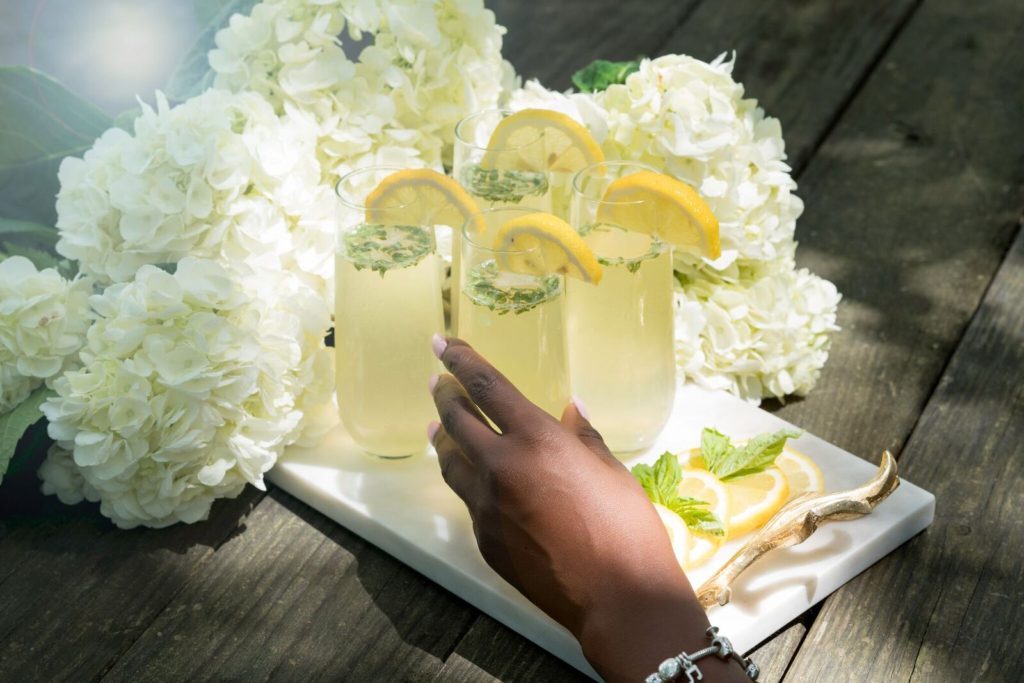 What are some appropriate events or venues where you'd serve this drink?
It's perfect for any summertime event! The lemonade basil combination is very refreshing and will easily be the talk of your next barbecue or lawn party.
Summer is also hosting season, and many people throw wedding and baby showers outside. This drink complements showers perfectly.
You can even customize it to fit your event theme by adding things like blueberries or strawberries for different color combinations.
What drew you to the Flutter Sleeve Maxi Dress?
I'm tall (5'9″), so it can be difficult for me to find dresses that are the right length. Draper James does a great job with maxi dresses for all types of women!
The ruching, full-length, and cap sleeves add a beautiful feminine touch. I can wear this dress for any summer occasion day or night by dressing it up with heels or taking things more casual with flip-flops.
Turquoise is also the perfect color for my summer style.
What's your favorite thing about Atlanta in the summer?
The patio dining—Atlanta restaurants really come alive in warmer weather—and having picnics in some of our amazing parks, like Piedmont Park.
Describe the drink in one word.
Refreshing!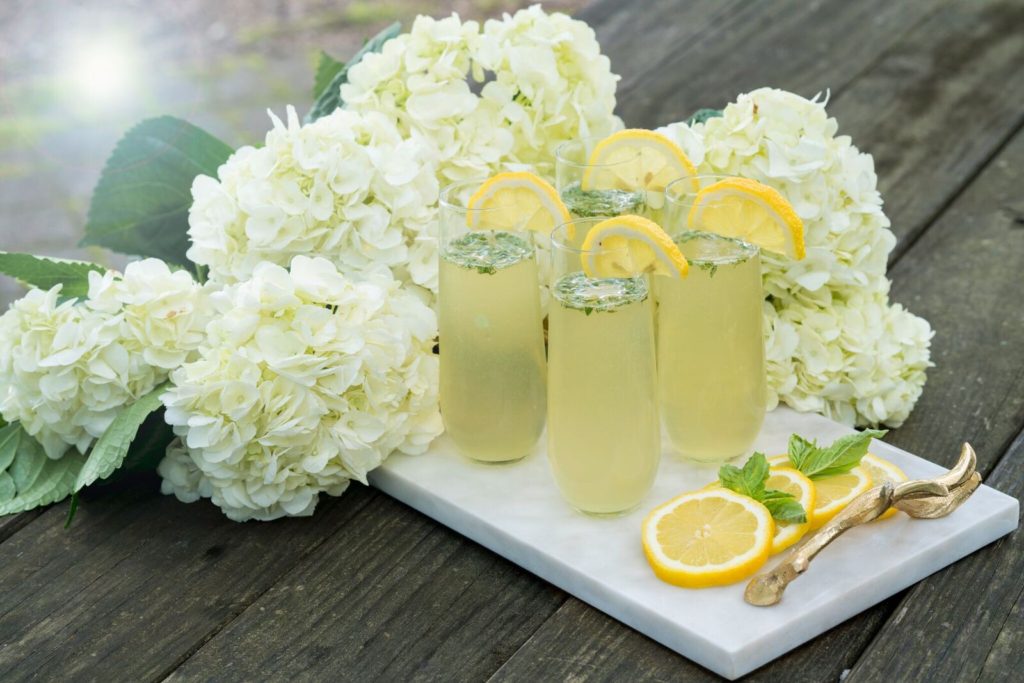 Eating with Erica's Lemon Basil Champagne Spritzer Recipe
Ingredients
1 cup champagne
1/2 cup lemonade
1 tablespoon basil simple syrup
1/4 cup sparkling water
1 lemon (sliced)
1 pack of basil leaves (for garnish)
ice
Directions
Fill the cocktail shaker with ice.
Add the basil syrup and lemonade.
Shake well.
Pour sparkling water into a cocktail shaker.
Strain into a champagne stemless flute.
Top with champagne.
Garnish with basil and lemon slices.
Photos by Kayla Madonna
Food styling by Mark Phillips