Going for Grace Hosts A Picture-Perfect Al Fresco Dinner Party
If you could define the word "summer," what would you say?
Days by the beach, lightning bugs flickering in the backyard, long mornings fueled by coffee and a good book… Summer down South is truly a magical thing. And most days (when the humidity isn't too stifling), we want to be outside to enjoy these fleeting moments.
Lauren of the blog Going for Grace, agrees, saying, "When warm weather comes back around, all I want to do is be outdoors!"
So Lauren, wearing the new Draper James Summer Floral Love Circle Dress, headed outside to host an al fresco dinner party that's equal parts fabulous as it is easy to recreate.
Explore Lauren's al fresco get-together and read more from her below.
What was the inspiration behind this dinner?
The first days of May have always been some of the prettiest days on my family's farm—willow trees turn a bright green, trumpet daffodils begin to bloom, buttercups fill the fields, and the weather is just right.
I wanted to take full advantage of these perfect May days by having as many alfresco dinners as possible!
What drew you to the Summer Floral Love Circle Dress, and how did you choose to style it?
I chose this dress because of the beautiful shade of yellow. As I mentioned, pops of yellow are all over the farm this time of year, so how could I resist?
The love circle dresses have such a flattering silhouette that they, quite honestly, don't need much styling! I chose to pair this one with a navy block heel and a white beaded earring to pick up on the navy and white flowers throughout the dress.
What do you think the hostess should avoid when throwing an al fresco dinner party?
Flexibility is key to anything outdoors because well… it's outdoors.
Weather can be unpredictable, so keep an eye out the week of and always have a backup plan if the date of the party is set in stone. The last thing you want to do is ignore the weather, put your guests outside, and a downpour comes only an hour into your dinner.
Describe the menu and atmosphere you chose for this dinner party.
I wanted this dinner party to feel like a warm, dreamy celebration of the official start to outdoor gathering season! I chose to set the dinner party next to the pond where the water and willows gave an effortless, relaxed feel to the party. Nothing is more relaxing than watching willow trees blow over the water!
I kept the menu fresh and seasonal: homemade honey lemonade, peach pomegranate crostinis with honey whipped goat cheese, fresh summer salad, pasta primavera with a lemon butter sauce, and lemon raspberry bundt cake.
I chose one of my favorite summer color pallets of blue and white for the place settings with a flower arrangement of white snapdragons and blue delphinium. Lemons and ranunculus were the perfect pops of yellow to brighten up the table!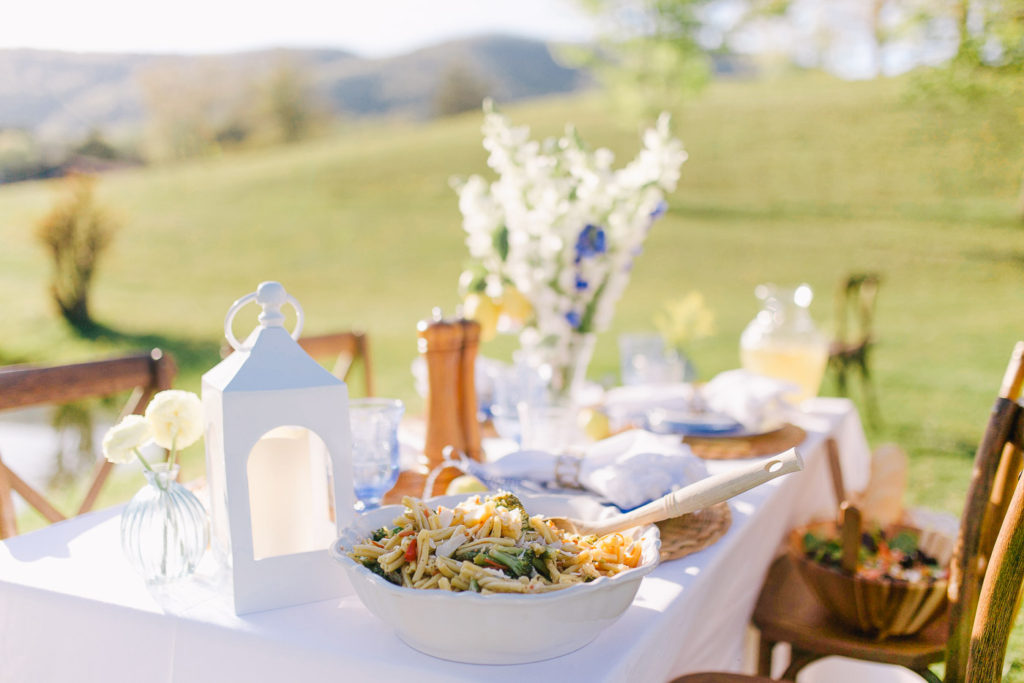 What are your 3 tips on throwing the perfect alfresco dinner party?
1. Keep the menu as seasonal as possible.
There is something magical about eating fresh, seasonal foods in the outdoors!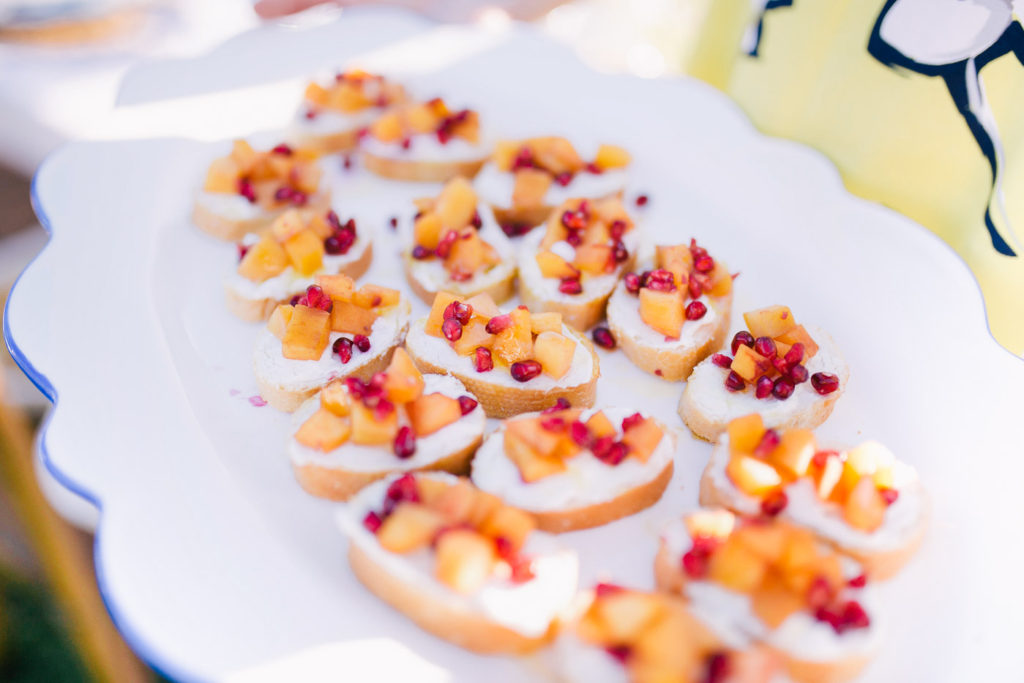 2. Prepare according to your location.
If your table is set a little ways from your kitchen (or nowhere near a kitchen), be sure to have all of your serving utensils, garnishes, and extra napkins packed up and ready to take with you. You don't want to have to leave your guests to run back to get a cake server!
Planning and prepping ahead of time allows you to truly entertain and enjoy your guests in the moment.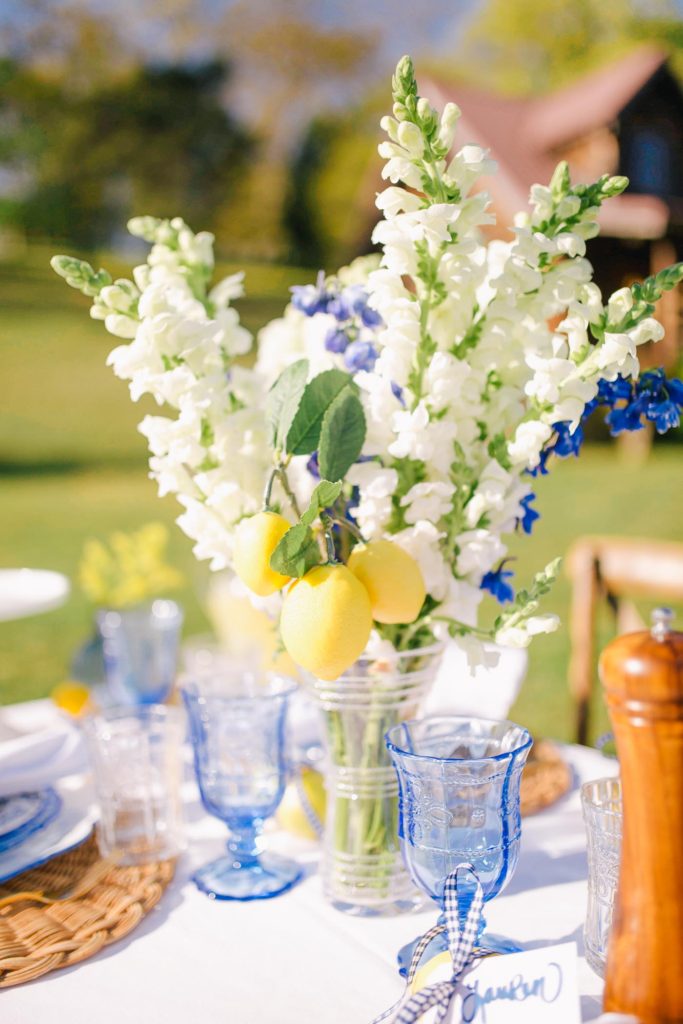 3. Wear something that you feel completely at ease in.
You will be serving, clearing, and entertaining throughout the party, so you don't want to feel insecure about what you are wearing. An easy, cute dress such as this one paired with a comfortable block heel is the perfect entertaining choice—detailed, special, and comfortable.
Plus, if your guest's little one wants to walk to see the cows, you want to be able to walk to see the cows!
Keep scrolling to see more picture-perfect al fresco dinner moments.