Real Women, Real Clothes: Sarah O'Brien of Atlanta's The Little Tart Bakeshop
"Real women, real clothes" is a phrase we've been tossing around at the Draper James headquarters this month.
It epitomizes what we stand for–making clothes that fit into your life.
This month, we're launching a new feature (named for our favorite phrase) in conjunction with International Women's Day; we want to introduce y'all to amazing women from across the South.
Our first feature in the "Real Women, Real Clothes" series is Sarah O'Brien, the owner of Atlanta's The Little Tart Bakeshop, a woman who set out to achieve her dream of baking and "[working] with food every day."
Armed with an MFA and years of living in France–a time, which, Sarah says, "indelibly influenced [her] palate and [her] esprit"–she moved to Georgia and opened The Little Tart Bakeshop.
Read her story below.
Tell us about your background in baking.
I grew up baking alongside the matriarch of our family, my grandma Sophie. Sophie had 11 children whom she fed on my grandfather's millworker salary. She was a phenomenal baker. By the time I got to baking with her, she was over 70, and baking had become a pleasant way to pass the time, rather than a necessity.
When I turned 10, she brought over a rolling pin and told me it was high time I learned to make her apple pie. I still have that rolling pin, and every crust I've made over the years has been guided by those first lessons…
It's kind of a long, meandering story that led me [to Atlanta], but I've been [here] now for eight years, and I'm so glad I landed here. From my first farmers' market sale to the opening of my second (and soon third!) shop, the city has been good to me.
What's the best piece of life advice you've ever received?
My father has a way of distilling a bad situation into something manageable by saying this: "When the sh*t gets deeper, get a bigger shovel."
That little bit of advice has always reminded me that I am capable; that I can face whatever life might throw at me as long as I take a deep breath, evaluate my options, and react thoughtfully.
What's the favorite part of your work day?
There are many moments I love throughout my day, but when I walk into our shop and the energy is good and the pastries look great and the customers are smiling, I'm happy. A busy, bustling bakery creates its own kind of magic, one in which I am very happy to dwell.
I work with an incredibly talented and sweet team who have become like family to me; when we're all working our butts off and smiling too I am the happiest. I honestly love pretty much all parts of my day–just not the parts where the HVAC breaks or the fridge condenser goes out; that stuff is sadly pretty common!
What do you do to give back to your community and people around you?
We try to help in ways big and small. We donate our time, money, and pastry to many small community events, but we also try to find ways to expand our impact by collaborating with other businesses.
For the past two years straight we've raised over $25,000 each year for Planned Parenthood Southeast through partnering with other bakeries to sell a cookie box. It's amazing to see how much we can accomplish when we band together.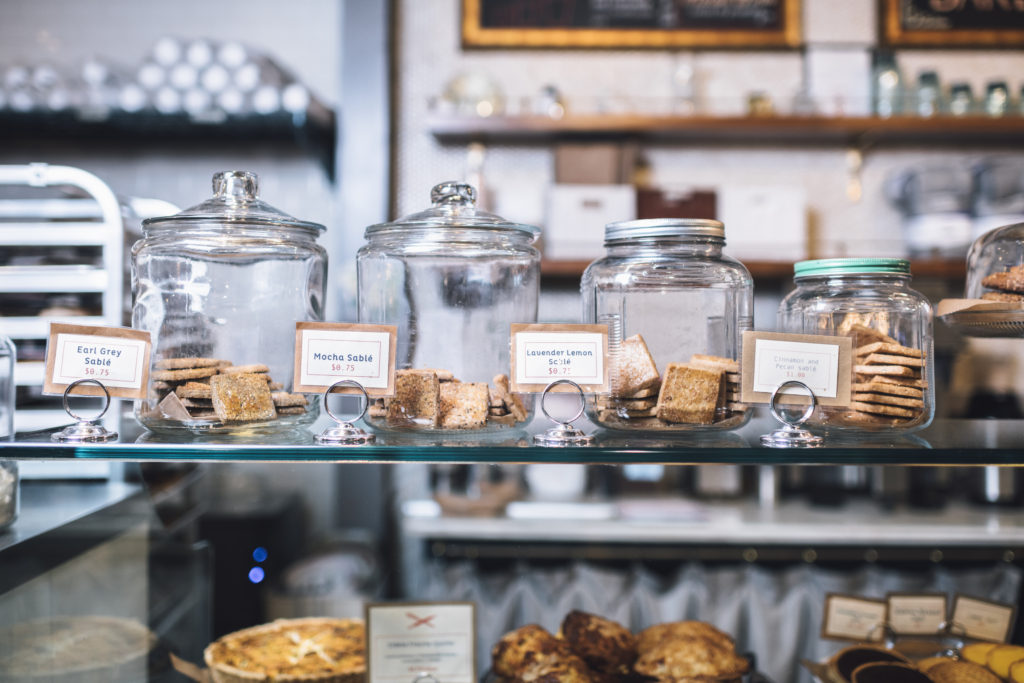 How would you describe your everyday style?
Extreme pattern mixing, happiest in a vintage dress
What drew you to the Draper James Belted Daisy Vine Shirtdress?
I love a good dress that I can work in–and they are rare. This piece was comfortable and light, and I LOVE the print. (See my extreme pattern mixing tendencies above 😉
What's your biggest challenge when it comes to dressing for your vocation?
I am wary of wearing pieces that are "too nice" to work, since I know I'm going to come home covered in flour.
So I try to make sure I wear pieces that are washable and durable. And I need to be able to stretch and bend and reach in an oven comfortably!
What's the one thing you can't live without?
Butter!
Do you have a favorite Southernism?
Is there a better sweet subtle dig than "bless your heart"?
Coming from the Midwest, it took me a while to truly understand the many facets of that saying; I love its elasticity.
And I have firmly converted to saying "y'all"–what a great way to greet a group. And as a popular t-shirt says: "Y'all means all." I love that sentiment.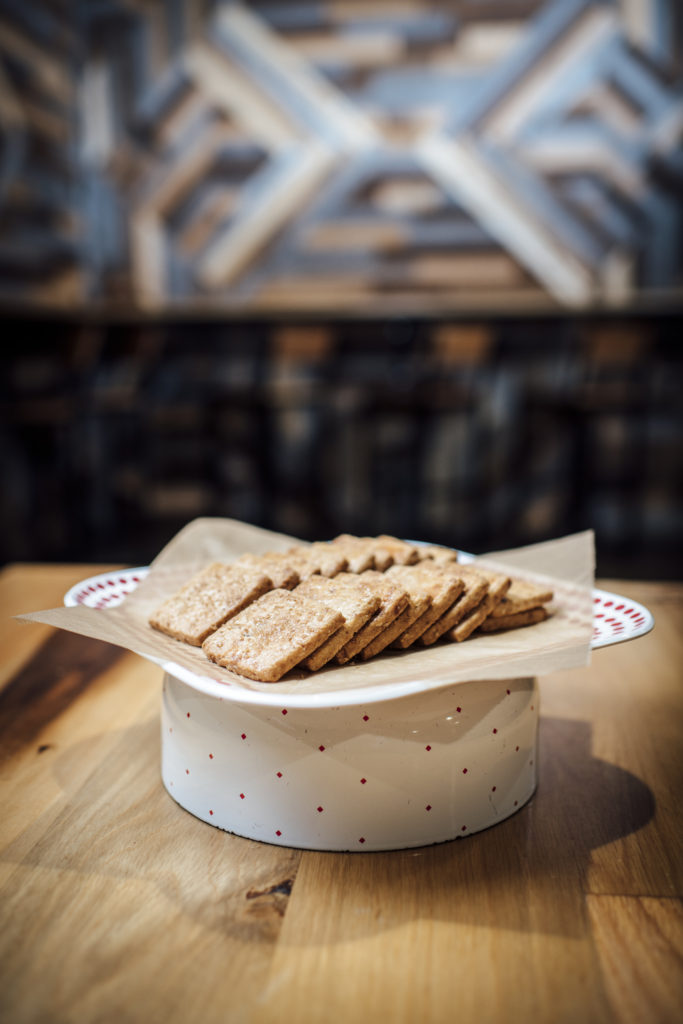 Pecan Cinnamon Sablé Recipe from The Little Tart Bakeshop
Makes about 2 dozen
Original recipe by Sarah O'Brien of Little Tart Bakeshop
3/4 cup pecans
2 cups all-purpose flour
1 teaspoon ground cinnamon
14 tablespoons butter, cut into tablespoon pieces and at room temperature
2/3 cup sugar
2 teaspoons vanilla
1/2 teaspoon Kosher salt
1 large egg
For egg wash
1 egg
1 tbsp. cream
Pinch of salt
Coarse sugar
Directions
Preheat oven to 350 F. Spread the pecans in a layer on a cookie sheet. Roast in oven until fragrant about 8 – 10 minutes. Remove from oven and allow to cool. Add cooled nuts to spice grinder and pulse until finely ground.
In a small bowl, combine ground pecans, flour and cinnamon. Set aside.
Combine butter, sugar, vanilla and salt in the bowl of an electric mixer. Mix with paddle attachment on low to medium until smooth and no visible butter chunks remain, but do not fluff. Scrape bowl several times during mixing. Mixture should be smooth and creamy, but not whipped.
Add egg and mix for about two minutes on a medium speed to combine. Do not over mix.
Add dry ingredients on low speed and mix until just combined.
Turn the mixture out onto a cutting board or counter and form into a log. Cover in plastic wrap and refrigerate dough for a few hours or freeze until ready to bake.
Reduce oven to 325 F.
Prepare egg wash by whisking together egg, cream and salt in a small bowl.
Remove log from refrigerator and cut slices 1/4" thick. Lay cookies out on a parchment-lined cookie sheet with at least ½" room on all sides to spread. Brush egg wash over the cookie tops and sprinkle with course sugar. Place in freezer for 10 minutes to rest before baking.
Bake 10 minutes, rotate cookie sheet, and bake 10 minutes more.
Sablés are done when they are toasted all over – you really want to toast the butter for maximum flavor, so don't be tempted to pull them too early!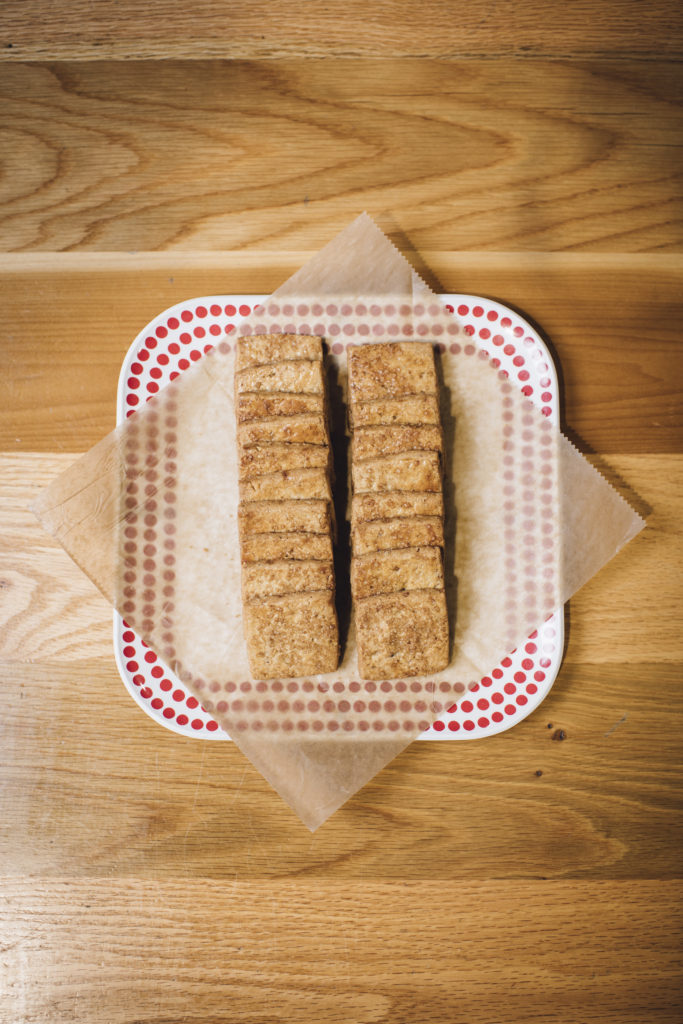 Photo credit: Justin Chan Photography