March 21, 2018 • RECIPE
Hello, Sugar: Reese's Draper James-Inspired Birthday Cake From Sprinkle Bakes
It's a tradition around here to celebrate birthdays in a big way.
Reese's birthday, for instance, is somethin' we like to get excited about. It's a chance to shower our founder and creative director with all kinds of love.
And Heather Baird, the genius behind Sprinkle Bakes, is helping us spread the birthday cheer with the cake to end all cakes.
Just. Look. At. This. Masterpiece.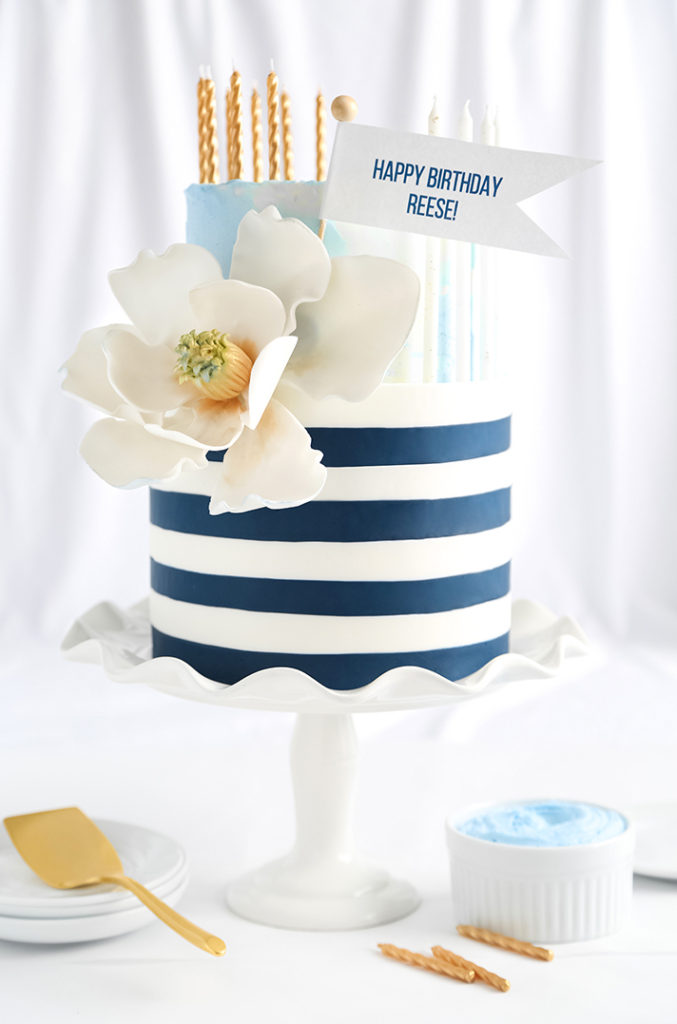 Oh yes, that is Heather's Chocolate-Bourbon Ganache-Filled Birthday Cake she make in honor of Reese's birthday on March 22.
Read more from the baking artist below.
What was your inspiration behind the flavor and decoration for the cake?
The cake recipe is a nostalgic favorite of mine. It tastes like the birthday cakes I had as a kid. I've made it countless times because it's the perfect foundation for all kinds of frostings and fillings – like bourbon-chocolate ganache!
I was inspired to use my favorite Kentucky bourbon for a Southern spin on a classic cake filling. It's so delicious and the spirit gives the chocolate notes of vanilla, oak, and caramel.
The Draper James magnolia print speaks to my Southern heart! It was the primary inspiration for the cake's décor. I also wanted to play on the brand's signature colors and style; the navy stripe just felt right.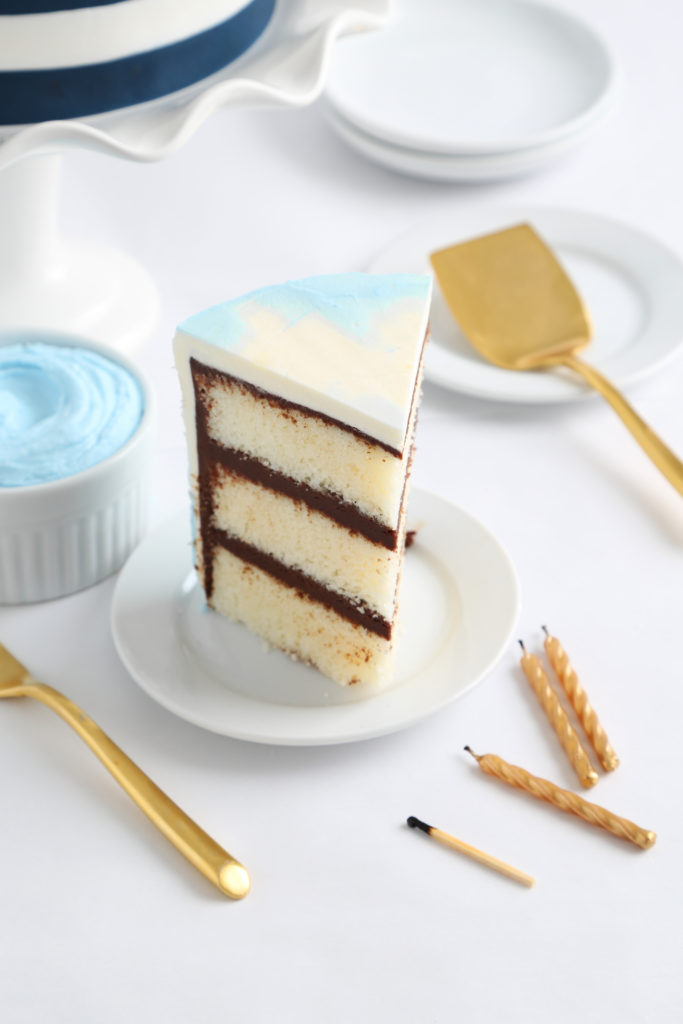 How did you get your start in baking?
Years ago, I was the artist-in-residence at a local gallery, but after I married and moved to a new city I stopped making art and started baking.
I've always loved making sweets. During that time, I discovered that some of my favorite art techniques can be applied to pastry and cakes. A good example of that would be the sugar Magnolia on this cake! Its creation requires a few basic fundamentals of sculpture.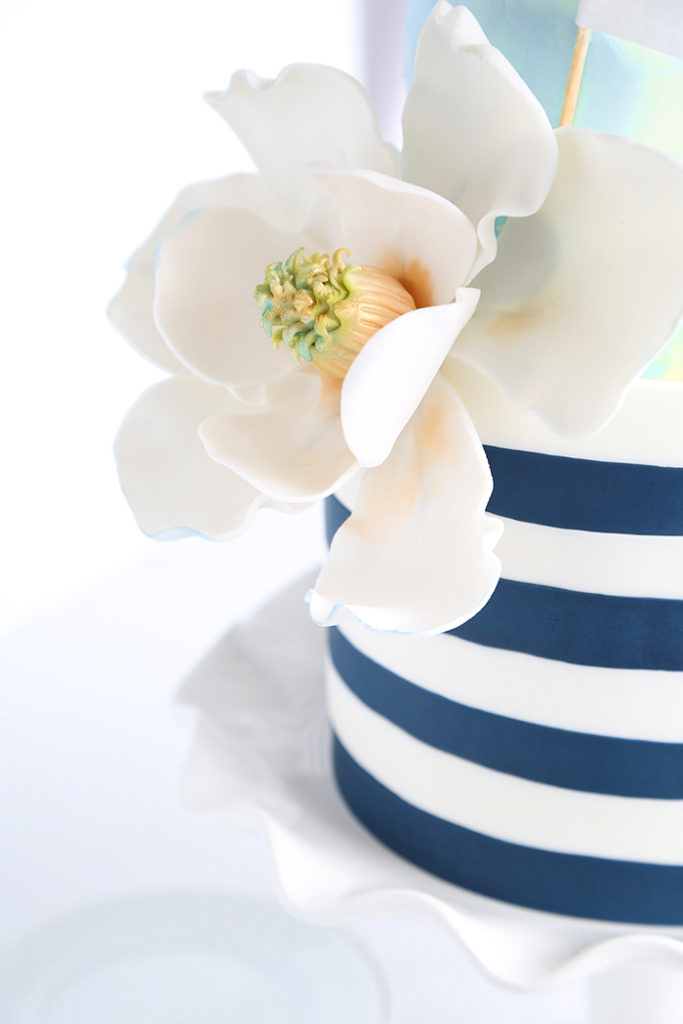 What's your favorite thing about baking cakes?
I love baking birthday cakes in particular, because it brings people together and creates happy memories.  I also love eating cake scraps for breakfast with strong coffee.  That's two things–oops!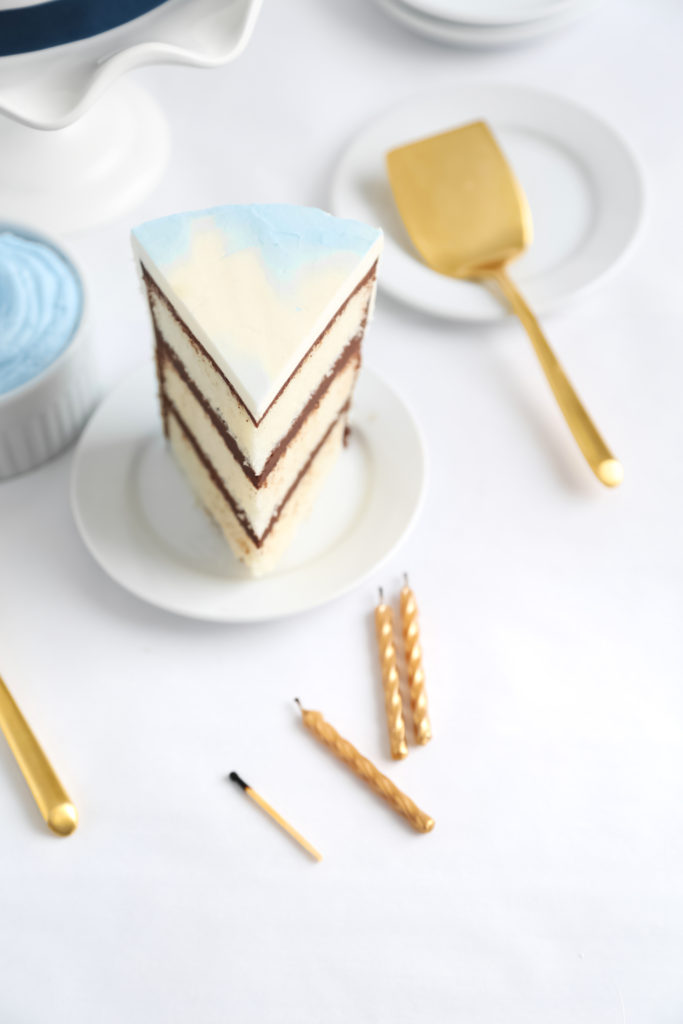 If you could describe this cake in one word, what would it be? 
Delightful!
Reese's Chocolate-Bourbon Ganache-Filled Birthday Cake
Yields 25-30 servings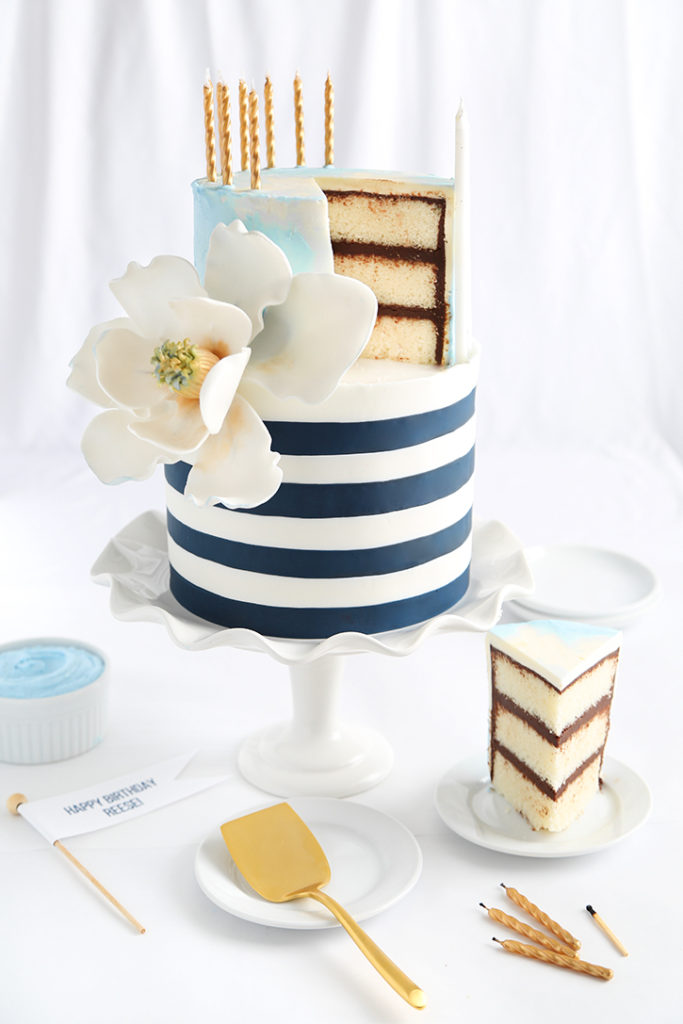 White Cake Layers Ingredients
3 1/2 cups cake flour, sifted
2 1/3 cups granulated sugar
4 teaspoons baking powder
1 teaspoon fine grain sea salt
3/4 cup unsalted butter, cold and cubed
1 1/2 cups whole milk, at room temperature
2 teaspoons vanilla extract
7 lightly beaten egg whites, at room temperature
Directions
For the 8-inch layers: Preheat the oven to 350°F. Grease and flour three 8-inch round cake pans.
Whisk together the flour, sugar, baking powder, and salt in the bowl of an electric mixer fitted with the paddle attachment. Turn the mixer on low speed and add the cold butter one cube at a time.
After all of the butter has been added, let the mixer run on low speed until the flour mixture resembles fine cornmeal, about 5-7 minutes.
With the mixer still running, add half of the milk and the vanilla extract. Increase speed to medium; mixture will be thick.
Add the remaining milk and egg whites. Beat until just combined on medium speed. Stop the mixer and scrape down the edges of the bowl.
Fold batter with a rubber spatula until the mixture is consistent with no streaks or pockets of flour remaining.
Divide batter between prepared pans.  Bake for 22-27 minutes, or until a toothpick tester comes out clean.
Let cool in the pans for 5 minutes before turning onto a wire rack to cool completely.
Level the cakes evenly using a cake leveler or large serrated knife.
For the 6-inch layers: Repeat white cake recipe and divide layers between three greased and floured 6-inch round cake pans. Bake for 30 minutes. You will have a little leftover batter, which I recommend baking in a cupcake tin for 15-17 minutes at 350°F.
Bourbon-Chocolate Ganache Ingredients
5 cups semisweet chocolate, chopped fine (or you may use chips)
2 1/2 cups heavy whipping cream
1/3 cup Kentucky bourbon whiskey
Directions
Place the chocolate in a large bowl. In a saucepan, heat the heavy cream on medium high heat until hot and steaming but not boiling.
Pour the hot cream over the chocolate and whisk until the chocolate is melted and the mixture is smooth. Add the bourbon and stir until combined.
Pour the ganache into a 13×9 pan and refrigerate, stirring intermittently, until thick and spreadable.
Evenly spread ganache over to tops of two 8-inch cake layers and stack them on an 8-inch cake board, finishing with the unfrosted layer on top.
Cover the entire cake with a thin, even layer of the bourbon ganache (crumb-coat). Repeat process with the 6-inch cake layers using a 6-inch cake board. Refrigerate cakes until the ganache is firm, about 40 minutes.
Swiss Buttercream Ingredients
5 egg whites
1 cup sugar
Pinch of salt
1 pound unsalted butter, cubed, at room temperature
2 teaspoons clear vanilla extract
Royal blue gel food color
Directions
Set a saucepan filled 1/3 full of water over medium-high heat and bring to a simmer. Whisk together egg whites, sugar and salt in a large heatproof bowl.
Set over the simmering water and whisk until the mixture is hot to the touch and the sugar has dissolved. Transfer the mixture to the bowl of a standing mixer fit with the whisk attachment. Beat on low speed for 2 minutes.
Increase to medium-high until stiff peaks are formed. Continue beating at medium-high speed until stiff peaks are formed. Continue beating at medium-high speed until the mixture is fluffy and has cooled (the mixing bowl should feel cool to the touch).
Turn the mixer off and switch to the paddle attachment. Turn the mixer on medium-low and add the butter, a few cubes at a time, beating until well incorporated before the next addition.
Beat in the vanilla extract. Keep mixing until the frosting is thick and completely smooth.
Remove 1/4 cup of the frosting and tint with a tiny drop of royal blue food color to create a light blue hue. Cover with plastic wrap and set aside.
Cover the 8-inch cake tier with a thin, even layer of white frosting. Use a cake smoother to even the edges and remove excess frosting.
Refrigerate until firm, about 10 minutes. Cover the 6-inch tier with the remaining frosting, using a cake smoother to create an even surface. Refrigerate until firm, about 10 minutes.
Remove the 6-inch cake from the refrigerator and dot the blue frosting on the white frosting surface using a spatula.
Use a cake smoother to blend the blue frosting into the white frosting to create watercolor effect. Refrigerate cake while you prepare the 8-inch tier.
Fondant Ingredients
White vegetable shortening
1/4 lb. white ready-made fondant
1/4 lb. navy blue ready-made fondant
Waxed paper
Cake dowels or plastic drinking straws
Large sugar paste magnolia
Assorted birthday candles
Directions & Assembly
Lightly cover a work surface with the vegetable shortening. Knead both colors of fondant until soft and pliable. Roll out each color of fondant to 22-inch length and 1/4-inch thickness on the greased work surface. Use a ribbon fondant cutter or pizza wheel to cut four 3/4-inch ribbons from each color. Lay a long sheet of waxed paper on the work surface. Transfer the fondant ribbons to the waxed paper, stacking them edge-to-edge and alternating colors.
Remove the 8-inch cake tier from the refrigerator. Pick up the piece of waxed paper and position with the fondant ribbons toward the buttercream frosting; wrap around the cake evenly and press so that the fondant adheres to the frosting.
Remove waxed paper and cut away excess fondant ribbons.
Place 3-4 cake dowels, cut to size, in the center of the 8-inch cake tier. Center the 6-inch cake on top of the 8-inch cake so that it rests over the cake dowels.
Insert sugar magnolia by the stem to one side of the cake. Decorate with birthday candles and "Happy Birthday" banners.