Hello, Sugar: Amber Wilson of "For the Love of the South" Shares A Blackberry and Honey Ice Cream Recipe
Amber Wilson of the food blog For the Love of the South is now an author!
The brand new cookbook, full of mouthwatering Southern recipes and photos (taken by Amber herself), is one you'll definitely get mileage out of in the kitchen.
Raised in Lake Charles, Louisiana, and now residing in Nashville, Amber is a true Southern gal. Her Southern roots and Cajun heritage are clearly reflected in the traditional masterpieces she makes, including the recipe for blackberry and honey ice cream, which she was sweet enough to share with us.
For our lucky readers living near Nashville or Atlanta, Amber will be signing copies of "For the Love of the South" at two different Draper James locations. Details below.
When: Tuesday, March 20th; 5:30pm 'til 7:30pm
Where: Draper James Nashville, 2608 12th Avenue South
When: Thursday, March 22nd; 5:30pm 'til 7:30pm
Where: Draper James Atlanta, 3400 Around Lenox Road, Suite 214
Even if you can't make it to the signings, you can still get a taste for Amber's delicacies and Southern charm below.
How did you get the idea for your book?
As a young girl, I noticed no one writing down recipes or recording family stories. To me, these were treasures that needed to be preserved. As I grew up, I recognized a need to record these memories and recipes in fear that they may one day be lost forever.
Recipes, stories and family heirlooms are priceless. This idea of preserving the past and leaving a legacy for the future has been both an anchor and a driving force for the book.
What are you most excited for your readers to get from your cookbook?
This book is full of pearls strung together that I'm excited for readers to take hold of.  I hope they feel empowered and encouraged in the kitchen as I talk them through recipes that may have otherwise felt daunting.
I want readers to feel confident to make these recipes their own. I hope they feel inspired to start their own family rituals and pass down their own pearls whether they are in the form of recipes, stories, or a cast iron skillet!
Do you have a favorite Southernisms?
My Southernisms are very Cajun! I always say "gone pecan" and "sha", which means "dear" in Cajun.
If you could describe the cookbook in one word, what would it be?
Southern-elegance; That's one word, right?!
What's your favorite dish to cook?
I feel like the answer would change week by week, but right now I love making homemade candies. There is something very old-fashioned about it that I adore.
Also, whenever I give dinner parties, I love serving homemade candies with coffee and bourbon. It's the perfect amount of sweetness to finish off a meal, and it's something I can make ahead of time!
If you could eat one Southern dish for the rest of your life, what would it be?
A tomato and bacon sandwich. I know this may sound odd because it's so simple, but a really good tomato sandwich slathered with chipotle mayo and crowned with crispy bacon… It's one of the best things in life!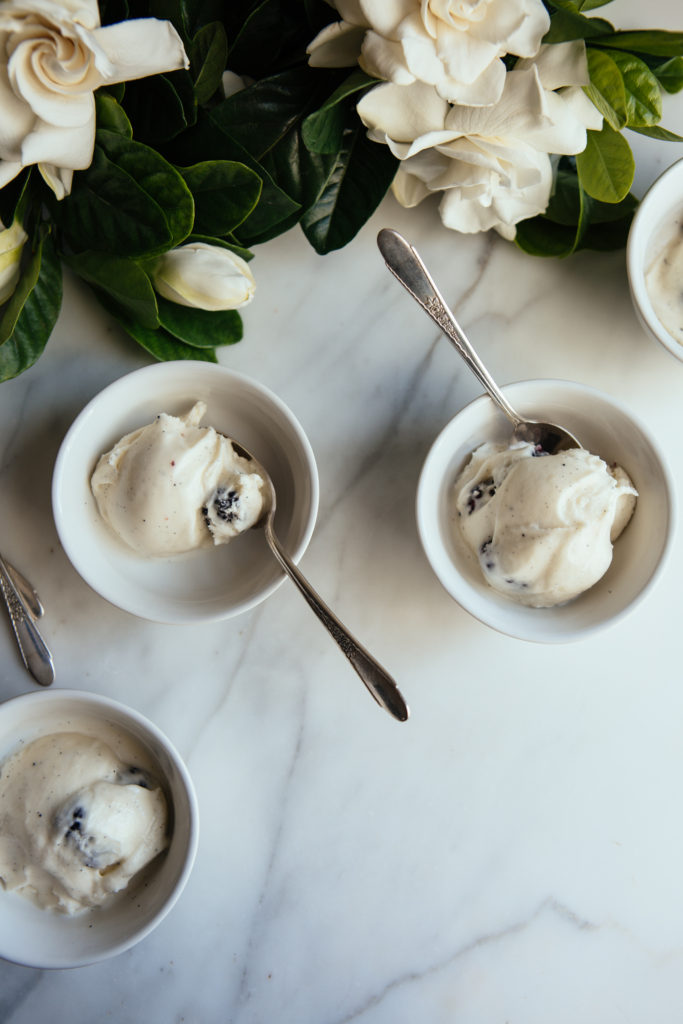 Blackberry and Honey Ice Cream Recipe
Note from Amber: This is a simple ice cream recipe to keep in your back pocket. Blackberry and honey is one of my favorite combinations, but you can substitute strawberries, dark cherries, raspberries, or blueberries for the blackberries, if you prefer.
Serves 6
Ingredients
1 cup whole milk
1 cup sugar
Pinch of kosher salt
1 vanilla bean, split lengthwise
1 cup heaving (whipping) cream
1/2 cup blackberries, larger berries halved
1 tbsp. honey
Directions
In a small saucepan, combine the milk and sugar. Stir over medium heat until the sugar completely dissolves.
Take the saucepan off the heat and add the salt.
Scrape in the vanilla seeds and add the vanilla pod. Let steep in the milk for 10 minutes.
Whisk in the heavy cream.
Transfer to an airtight container and refrigerate for 3 to 4 hours, until the ice cream base is completely chilled.
Discard the vanilla pod and transfer the chilled ice cream base to an ice cream maker. Churn according to the manufacturer's instructions.
Once the mixture thickens, add the blackberries and drizzle in the honey while the ice cream maker churns.
Once the machine has finished churning, scoop the ice cream into a freezerproof container and freeze for at least 2 hours before serving.
All photos: From the book: "For the Love of the South" by Amber Wilson. Copyright © 2018 by Amber Wilson.
Reprinted courtesy of Harper Design, an imprint of HarperCollins Publishers.