August 8, 2017 • RECIPE
Hello, Sugar: Elisabeth & Butter's Soft, Irresistible, and Gooey Chocolate Chip Cookie Recipe
Southern food is equal parts delicious, comforting, and, most of the time, relatively easy to throw together.
Good food doesn't have to mean fancy. And it certainly doesn't mean hard to make.
The perfect example? Homemade chocolate chip cookies.
We knew exactly whom to consult when looking for a delicious and simple chocolate chip cookie recipe: Elisabeth Epperson of Elisabeth & Butter.
After trying her mini blackberry cobber recipe, we were anxious to test out another one of the Alabama baker's heavenly concoctions.
Tell us about this recipe.
I have been making chocolate chip cookies for as long as I can remember. I have made it my mission to find the perfect chocolate chip cookie recipe that combined everything I loved: Slightly crispy on the outside, soft and gooey in the center, bursting with two different types of chocolate and sprinkled with sea salt on top.
The ground oats are the secret ingredient in this recipe, and they make these cookies so special. The best part about this recipe is that you can leave the scooped cookie dough covered in the freezer for up to 2 months so you can whip out some cookies whenever you want!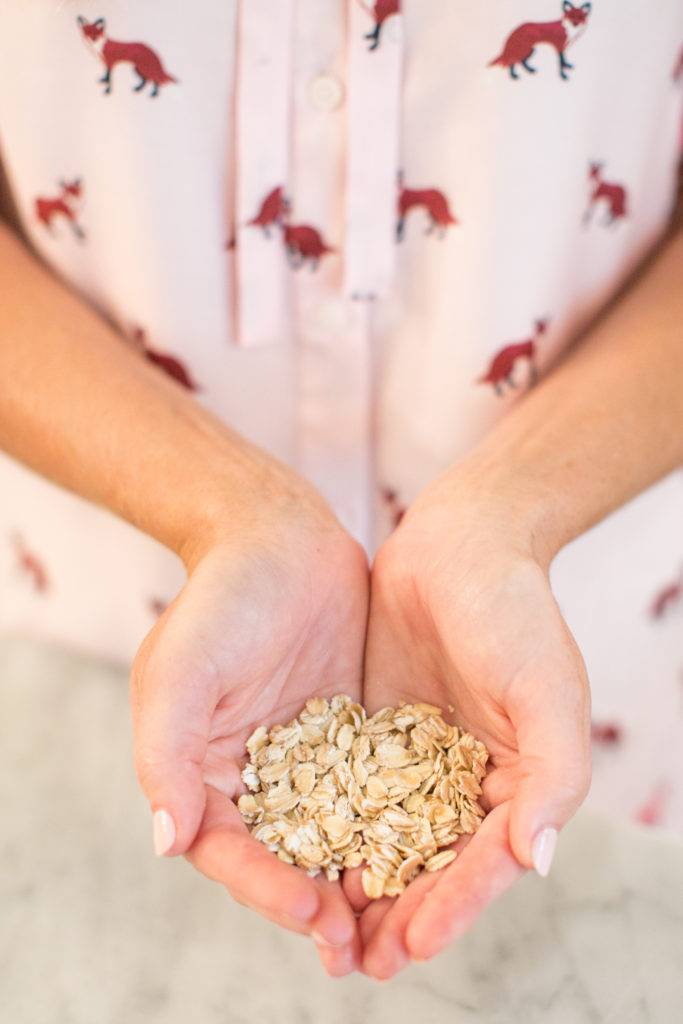 What do you think is the most common mistake people make when baking cookies?
One mistake a lot of people make when baking cookies is over-mixing the dough. You should add the flour and stir just until combined. Over-mixing the dough produces tough, dense cookies.
Another mistake people can make is over-baking the cookies. Every oven bakes differently, so setting your timer for a few minutes less than what the recipe calls for can ensure you don't over-bake the cookies.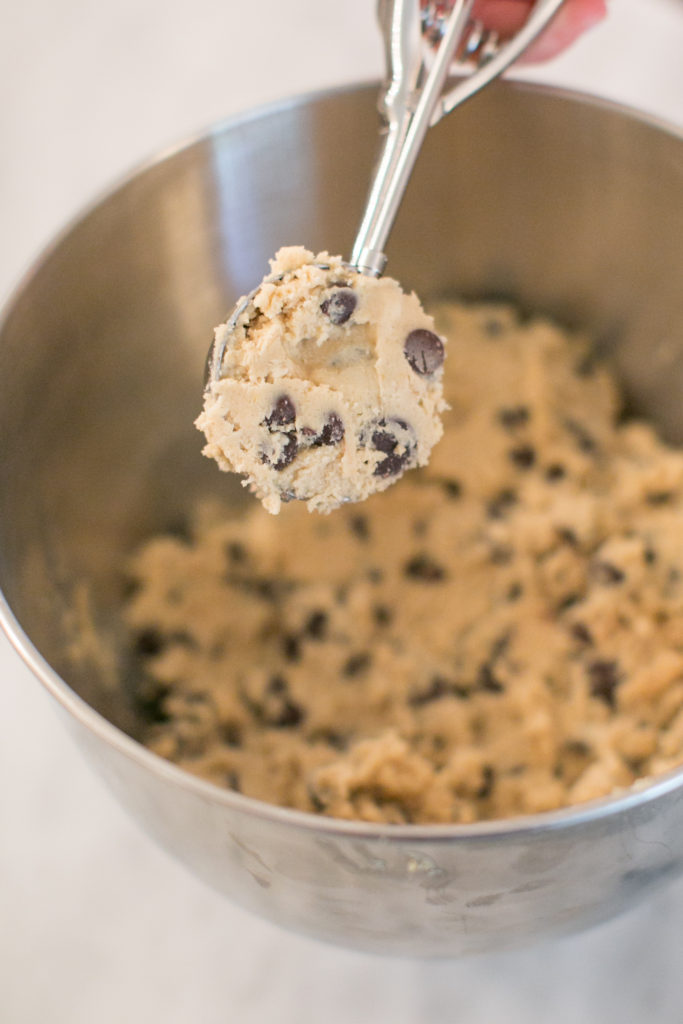 Do chocolate chip cookies bring up in fun, childhood memories for you?
Yes! Chocolate chip cookies are one of the first desserts I learned to bake when I was young, and they bring back so many memories of my siblings and I helping my mom in the kitchen.
My mom was always so patient with us and that is where I learned to love baking.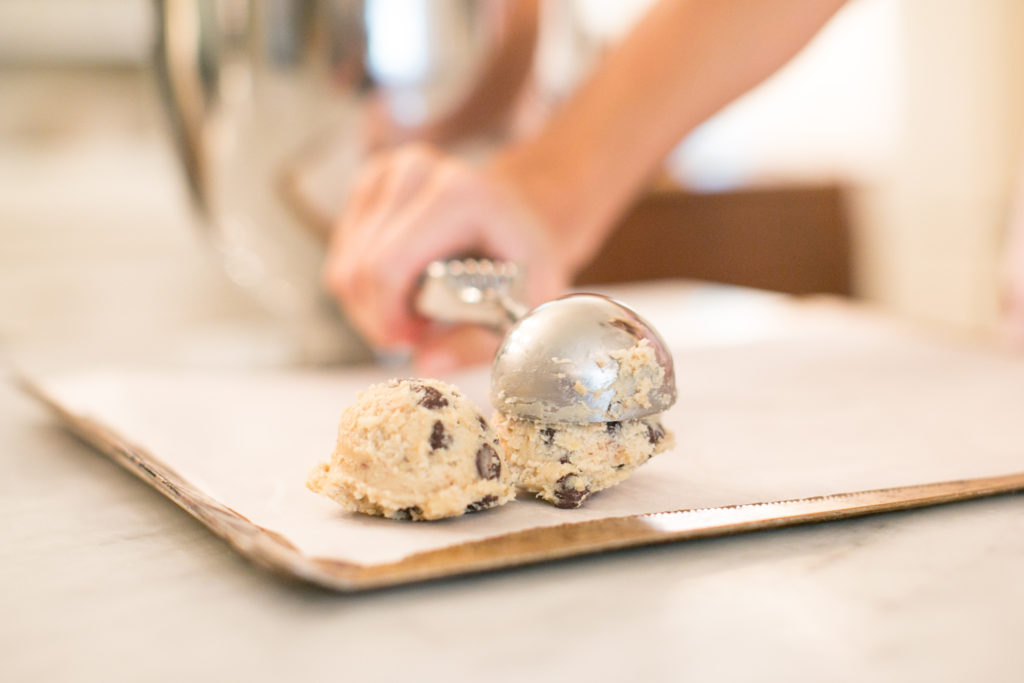 Besides chocolate chip, do you have a favorite cookie?
I don't think I've ever met a cookie I didn't like, but one of my favorites besides these are ginger molasses cookies. We make them around Christmas, and they are so delicious!
If you could describe this recipe in three words, what would they be?
Soft, gooey, and irresistible!
Elisabeth & Butter's Recipe for Perfect Chocolate Chip Cookies
Yields 28-30 large cookies 
Ingredients
1/2 cup rolled oats
2 1/4 cups all-purpose flour
1 1/2 teaspoons baking soda
1 tsp baking powder
1/2 teaspoon salt
1/4 teaspoon ground cinnamon
1 cup salted butter (two sticks), softened
3/4 cup packed light brown sugar
3/4 cup granulated sugar
2 teaspoons pure vanilla extract
2 large eggs
3 cups chocolate chips (I mix semi-sweet with dark chocolate chips)
Maldon sea salt for sprinkling
Directions
Place the rolled oats in a food processor or blender and pulse until fine.
In a small mixing bowl, add the ground oats, flour, baking soda, baking powder, salt, and cinnamon. Stir or whisk to combine.
In a medium-sized mixing bowl with a paddle attachment, add softened butter and both sugars. On medium-high speed, cream together for 2-3 minutes or until light and fluffy. Add vanilla extract and eggs and mix until smooth. Scrape down the sides of the bowl and mix once more to combine.
Add the dry ingredients to the wet ingredients and stir with a spatula, being careful not to over-mix. Stir in both types of chocolate chips and mix until just combined.
Using a large ice cream scoop, scoop cookie dough onto a baking sheet lined with parchment paper.
You are going to freeze this whole baking sheet with the dough so you can place the scoops close together or even touching. Place the baking sheet with the scoops of dough in the freezer for 2-3 hours, overnight, or until ready to bake.
When ready to bake, preheat the oven to 350°F and line a new baking sheet with parchment paper.
Place the frozen dough balls 2 inches apart on the baking sheet, sprinkle with course sea salt and bake for 12-14 minutes. They should be golden brown around the edges but still soft in the middle.
Place cookies on a cooling rack and enjoy with a cold glass of milk!