Style School: Kate Brennan of The Chic Series on Wearing Rompers
Kate Brennan is a self-professed über-fan of rompers.
As readers of her blog, The Chic Series, can attest, the Charlotte, NC-based mother of two can often be found both sporting the all-in-one style (for everything from casual afternoons to date night) and coveting versions from her favorite brands and sites.
Kate was drawn to our Draper James Cherry Orchard Ruffle Romper and paired it with our Stripe Straw Tote in these sweet pics. Read on for more from Kate on how to wear a romper, and click here to take a peek inside her bag.
What drew you to the Draper James Cherry Orchard Ruffle Romper, and how did you style it?
This romper is super flattering. The drawstring helps define your waist, and the off-the-shoulder neckline highlights your collarbone, which is typically the slimmest part of your body.
The cherry print is so fun. I didn't want to add any competing accessories, so I went with my signature bold lip and simple yet classic gold hoops.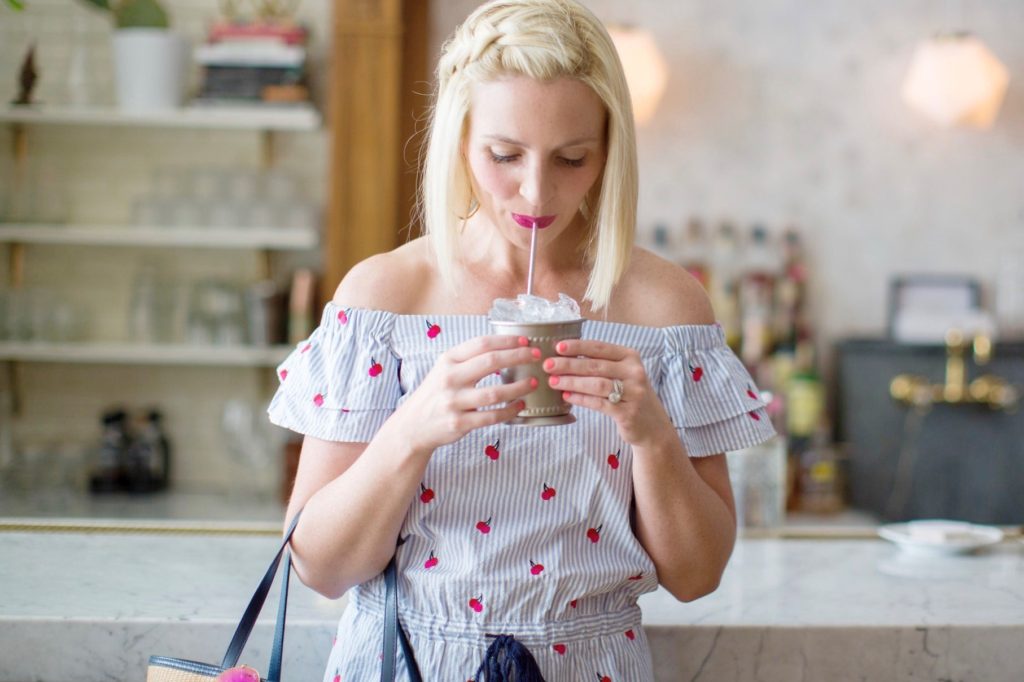 How did you think about pairing the romper and bag together?
They are both effortlessly chic. Both styles also feel perfect for sipping cocktails in the summer.
Any tips for styling or how to wear rompers? Even though they've been in fashion for a while now, they are still intimidating to some people!
Yes! Keep the rest of your look simple.  If you are overwhelmed by the romper style, treat it as a statement piece and keep the rest of your look super simple by sticking to classic accessories.