Style School: Best Friends Day with Palm Beach Lately
Not that there should just be one day to celebrate your best friend… but today, June 8th, is Best Friends Day.
And according to the National Day Calendar, it's "a time to show them how much you appreciate them, how special and important they are to you, and how you cherish their friendship."
When we were looking for some ladies to help us celebrate, Beth and Danielle of the fashion and travel blog Palm Beach Lately stood out as the perfect pair.
These Florida gals are sisters and best friends, so they know a thing or two about friendship, as well as life down South.
We assigned them the task of styling the perfect "best friend" outfits — according to these ladies, "A girl is never too old or too cool to match her bestie!" — and personalizing Draper James totes with our new pins and fobs.
By the looks of these picture-perfect photos, we give them an A+.
Tell us about your friendship.
Danielle: My big sister has been my best friend since the day I was born. I could go on and on about all the ways she has selflessly been there for me throughout my life, but I'm most thankful that we are still the best of friends as adults.
Now that we have families of our own, it's such a blessing to live up the street from each other and share the wild ride of motherhood. Between the blog and raising babies, we spend a LOT of time together!
Why did you guys decide to start a blog together?
Danielle: I've always been interested in the worlds of fashion, home, and travel and have worked in all three areas throughout my life. Back in 2010, I started a blog for my then personal concierge company and thought what a great idea it would be to do a week-long feature on fun things to do in Palm Beach.
What started out as a small project quickly evolved into a whole new blog dedicated to featuring the younger, fresher side of Palm Beach. I knew that combining my sister's and my talents would be the perfect collaboration, and not having a strict plan has been the best plan. We especially love having this creative outlet while we are raising our young children. There is no other opportunity that would be as flexible for our schedules and our talents as blogging has been. Plus, we get to work together which is a lot of fun!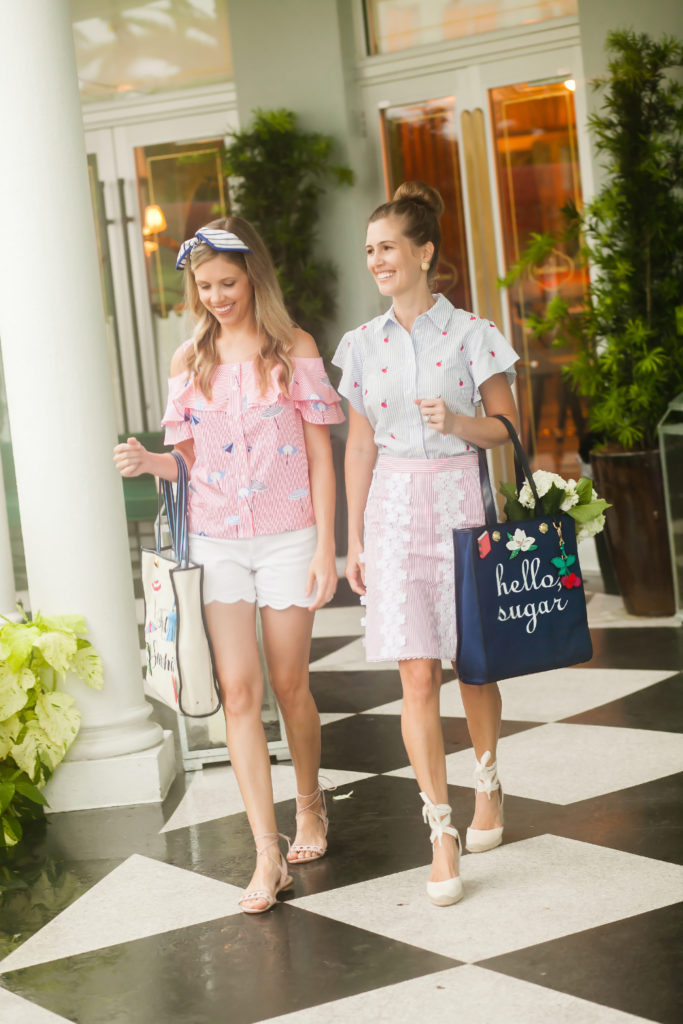 Describe how you chose to style your looks.
Danielle: I'm a big fan of ruffles, and this cute umbrella patterned cold-shoulder top has summer written all over it! It goes well with these white scalloped shorts, a pair of flat or wedge sandals, sunnies, and this "Hello Sunshine" tote. I will definitely be wearing this outfit to barbecues and on vacation this summer!
Beth:  I love the lace detail on this seersucker skirt and paired it with the feminine flutter sleeve top with embroidered cherries. I wore this summery look with my new espadrilles and "Hello Sugar" tote that I will be wearing all season long.
Why did you choose the pins you did?
Danielle: I chose the Heart Leather Pin because life truly is about love… loving God, yourself, your husband, your kids, your family, your friends, and your neighbors. It sounds so simple, yet it takes a lot of conscious effort to nurture these relationships. But at the end of the day, nothing is more rewarding, so it's definitely worth it! And I LOVE giving and receiving flowers, so I also chose the Magnolia Leather Pin.
Beth: My love for reading started back in the days of The Babysitters Club. I still love to get lost in a good book at night before bed and on vacation. Some of my favorite authors are Shauna Niequist, Emily Giffin, Bob and Maria Goff, and Lara Casey.
How are you guys similar? And different?
Danielle: Beth and I are both similar and different. We have the same core beliefs and values, but we are definitely unique. She's very social and great about connecting with a large amount of people all over the place. I'm more of a homebody and love taking care of my family, house, being organized and artistic. She loves to talk; I love to write.
We welcome and celebrate our differences and focus on combining our strengths both at home and for our blog.
What's the one quality you both like to have in a friend?
Beth: The one trait that really stands out to us is loyalty. We still have girlfriends we have been friends with since kindergarten and love keeping in touch.
Do you think Southern women have a special bond? If so, why?
Beth: We find that women in general can have a really special bond, especially when we stop comparing ourselves to each other and start celebrating what makes us special.
We have friends who are from here, as well as friends who have moved here for various reasons, and we love learning and growing by getting to know them for who they are and where they have been.
Favorite Southernism?
Danielle and Beth: We love the newer quote, "Be a pineapple: Stand tall, wear a crown, and be sweet on the inside." It perfectly suits us!
Photo credit: Heather Holt
Location: The Colony Hotel in Palm Beach & Sant Ambroeus