February 19, 2017 • PLACES
An Experts' Guide to Food & Drink in New Orleans
Thanks to its genteel sensibility and unimpeachable hospitality (not to mention its location on the coast of Lake Ponchartrain), New Orleans is an undoubtedly Southern city. But its rich history, iconic music, and multi-faceted culture—not to mention the food!—are all its own. No wonder people flock from all over the world to devour po-boys, beignets, and red beans and rice; sip chicory coffee (and down a Hurricane or two!); take in the sounds at the jazz clubs of Frenchmen Street; experience the decadence of the French Quarter and Bourbon Street; behold the grand homes of the Garden District; wander Audubon Park, and so much more.
Of course New Orleans is known for Mardi Gras—and though Fat Tuesday falls on February 28th this year, the parades began weeks ago. Jazz Fest follows the last weekend in April and the first weekend in May with an impressive lineup of musicians, plus food, crafts, and cultural exhibits. And if you're looking for a little getaway with your love, Reese, for one, thinks New Orleans is the most romantic city in the world.
With some help from some stylish and savvy locals, we've put together this two-part guide to The Big Easy: Below, we cover the food and drink that make NOLA a culinary capital of the world. Here, we provide an overview of everything else—where to listen, shop, stay, and play. Be sure to print everything out as soon as you book your trip.
OUR EXPERTS
Louisiana native Jessica Bride now lives with her family in London's posh Notting Hill, though she makes her way back "home" regularly. The passionate cook and traveler shares her musings and recipes at her lovingly produced blog, Belle Année.
Boasting local ancestors from farther back than they can keep track of, Marcelle Connick's family is as much of a NOLA institution as Robért's Fresh Market, their renowned food store. Marcelle lives in New Orleans with her husband and two small children.
A creative multi-talent (she writes, styles, decorates, and designs), Sara Ruffin Costello moved with her family from downtown Manhattan to New Orleans' Garden District after getting "snagged by the spirit of the town" on a trip through the South. (See our Q&A with her about how to do Mardi Gras right.)
A fourth-generation New Orleanian (at least!), Annie Delaporte has prominent natives on both sides of her family. Her great grandmother on her mother's side, Martha Gilmore Robinson, was a founder of the Louisiana Landmarks Society and president of the Louisiana League of Women Voters. Her father's family owned the original (now closed) Gus Mayer department store on Canal Street.
Andi Eaton is currently traveling the country working on a book called a A Wanderful Life. Yet her heart (and home!) lies in New Orleans. The city gets a starring role in her beautiful blog and Instagram, and it was also the focus of her first book, called New Orleans Style.
https://www.instagram.com/p/BOkYTpYAcWY/?taken-by=ouiwegirl
Krystal Faircloth rocks all sorts of trends on her style blog, a Pinch of Lovely, but she never abandons her Southerner's devotion to color and polish. Krystal is based in nearby Baton Rouge, but visits NOLA often. (See our style feature with Krsytal here.)
Johnice Katz, a New Orleans real estate agent and historic homes specialist, has been lauded for her artful Instagram, a colorful love letter to the architecture and overall splendor of the city.
Juley Le's lifestyle blog, Upperlyne & Co., is a window into living stylishly in New Orleans while embracing both the city's rich history and everything new and inventive NOLA has to offer. As for her Instagram: it was love at first scroll. (See our style feature with Juley here.)
Born and raised in New Orleans, Samantha Sher has a passion for knowing everything about her hometown. She's never missed a Jazzfest and is a rabid Saints fan.
Lauren Soley is the founder of Lovegood Wedding and Event Rentals, where she specializes in providing vintage and eclectic finds for special events across the southeast.
NEIGHBORHOODS
The French Quarter may be best-known for Bourbon Street (and for the quintessential NOLA experience, it's worth stopping at Pat O'Brien's piano bar for a Hurricane), but there is plenty more to experience in this historic neighborhood. From the Quarter, you can take a street car down St. Charles Avenue to the Garden District to see the opulent homes with their luscious gardens. Frenchman Street is right past the Quarter, and it's easy to pop into shows at world-famous music venues. Magazine Street feels like an endless stretch of boutiques and antique shows. And it's easy to get to on the streetcar heading Uptown, where you can see the campus of Tulane University and behold "giant oak trees hanging over the street that are so stunning, they don't look real," says Samantha. The Bywater and Marigny areas are also quite close to the Quarter and are considered the up-and-coming areas for shopping, food, and art.
FOOD—UPSCALE
"It will be hard to find a bad meal in New Orleans," says Samantha Sher, a NOLA native who is like a walking guidebook of her hometown. "You should try to enjoy a combo of classy dining and hole-in-the-wall restaurants to get the full experience. When people think of New Orleans food, they tend to think of  French/Cajun food and seafood, when in reality there is a ton of Italian, Spanish, and Vietnamese influence in the cuisine."
Located inside of the Royal Sonesta Hotel, R'evolution specializes in modern interpretations of classic Creole cuisine. It's the special-occasion favorite of Samantha's, along with Peche, the James Beard award-winning spot by renowned NOLA chef Donald Link. "I think it gets better each time I go," says Samantha. For more fine dining, she also recommends trying any spot by John Besh, the mastermind chef behind restaurants like August, Domenica, and Luke.
While Juley heads to Coquette for inventive versions of classic Southern dishes, Johnice's vote for fine dining goes to Irene's in the French Quarter. "It's the most romantic place with excellent service (ask for Orlando; he's my fave) and to-die-for food. Order the mussels in the homemade marinara," she advises.
Sara loves Herbsaint, a contemporary French-Southern spot where, she says, every dish is like: "Wait, you have to try a bite of this!" But her "personal kitchen-away-from-home" is Lilette, where she always gets the sizzling shrimp and hearts of palm salad and the Nutella dessert.
If you're going for classic New Orleans, the "big three" are Commander's Palace, Galatoire's, and Antoine's.  At Commander's Palace, "request—no, demand!—to sit in the garden room," says Samantha, who notes it's where all the locals get served. The bread pudding and turtle soup are worthy of their hype—and FYI, martinis are 20 cents on Fridays at lunchtime! At Galatoire's (Reese's personal favorite!) order the trout amandine and soufflé potatoes. At Antoine's, get the Cafe Brûlot for the famous flaming finale along with the signature Baked Alaska.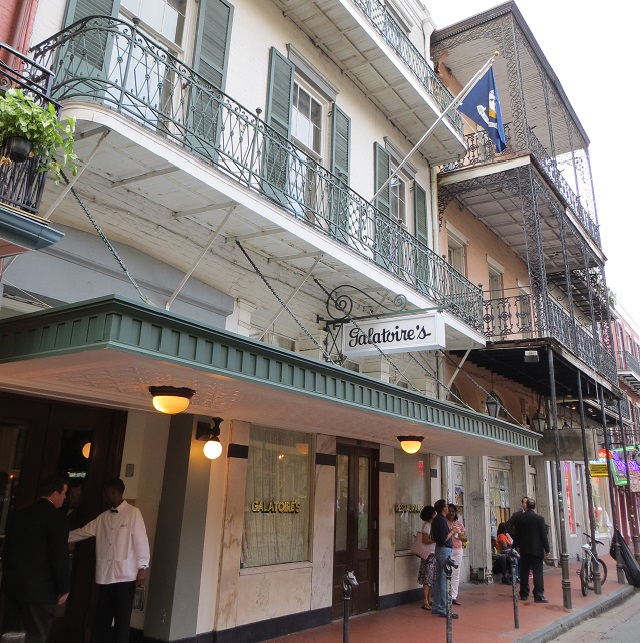 "For a bit more of the New Orleans style and swagger," says Jessica, try Brennan's in the French Quarter and make sure to start off with a Brandy Milk Punch and end your meal with Banana's Foster!"
FOOD—CASUAL AND CLASSIC
For more casual meals, Samantha loves Jacques Imo's. You may have to wait for a table, but, she says: "They crush the basics, like fried chicken and cheddar jalepeño cornbread, but also have things like (savory) alligator cheesecake that you will be hard pressed to find outside of NOLA."
"My favorite place for a po-boy is Domilise's says Samantha. "It is a complete hole-in-the-wall, but there is no place better." Try the oyster or the half oyster, half shrimp. If you like lettuce, tomato, and all the fixings, order your po-boy "dressed."
Dante's Kitchen is beloved for brunch, but it's pretty far from downtown and doesn't take reservations. Elizabeth's in the Bywater or Cake Cafe in the Marigny are also excellent options for a late morning meal.
Johnice adores Horn's in the Marigny for "great coffee, service and breakfast. . .  The vegan bacon (and regular bacon) BLTs with avocado on homemade toast are 'mmmm,' and they also have a lot of NOLA classics on the menu." And speaking of bacon, Juley heads to Wakin' Bakin for the best breakfast sandwiches in town, while Krystal's early AM go-to is The Ruby Slipper, a small Southern chain beloved for its signature Eggs Benedicts.
"I can be found, at least twice weekly, at Juan's Flying Burrito" confesses Jessica. "Juan's has fresh, fast, and tattooed service with killer margaritas, obnoxious rock music, and a cheap ticket price. Try the blackened redfish tacos!" More margaritas can be found at Baru on Magazine Street, a Latin and Caribbean restaurant where Sara says she orders "all the appetizers, plus several several spicy margaritas, which are perfection."
If you're looking for something a little tamer, Jessica says the the "newly famed" N7 is worth the hype. "This romantic French hole-in-the-wall opened in November of 2015, but has come to national fame lately thanks to grabbing the #10 slot in Bon Appétit's 'Top 10 Restaurants in America' in 2016. Expect French wines, outdoor seating, and a lot of food from tins. Also, good luck finding it."
FOOD—BAKERIES, COFFEE SHOPS, & TREATS
Though they are decidedly similar, locals insist snoballs are not snowcones. See for yourself by trying one at Hansen's on Tchoupitoulas or at Plum Street Uptown near Tulane. They're worth the wait.
For pastries, our experts love Willa Jean, a cafe that blends contemporary style with old-fashioned flavors. (If you're feeling virtuous, you can also have a meal there to top off your helping of biscuits.) Marcelle says the Milk Money Latte "is a real treat," while Lauren recommends the Frosé Y'all, a rosé slushie she insists is out of this world.
"When I want to indulge, District Donuts is another must," Annie says (the NOLA classic "Buttermilk Drop" donut is worth every calorie).
Lauren heads to Sucre to satisfy her craving for macarons, chocolate, and shimmery king cakes during Mardi Gras season, while Sarah casts her "best bakery" vote for Boulangerie, where the handcrafted pastries making a lasting impression.
But there are some healthy options in this city, too. "I love Satsuma on Maple Street for eggs and juices," says Annie. "I am also really into the smoothies at Green Fork. They have this lemon alkaline water and I swear it made me glow on my wedding day!"
Of course, you can't take a trip to New Orleans without a stop (or a few) at the world-famous Cafe du Monde for chicory coffee and beignets. Reese, for one, buys the coffee by the can to drink at home. Locals, including Annie and Johnice, also love French Truck Coffee for its super-fresh blends. And Marcelle likes to start her day at Pulp & Grind, a coffee and cold-pressed juice spot where everything is fresh and handcrafted.
And if you're looking to sweeten your buzz, head to Juley's new business: Drip Affogato Bar features gourmet coffee, ice cream, and delicious drinks that artfully blend the two.
FOOD—ALSO TRY…
1000 Figs—Perfect for a casual meal without a tourist in sight.
Casamento's—An almost 100-year-old joint famous for its oyster sandwiches.
Central Grocery—Home of the original Muffuletta, a traditional Italian sandwich loaded with meats, cheeses, and olive salad.
Chasing Wang—Founder and baker Kieu Tran's custom desserts are as stunning as they are delicious.
Cochon Butcher—"Kind of a sandwich shop and hipster bar combo with amazing and really unhealthy food," says Jessica.
Clancy's—Classic New Orleans cuisine ("where the locals go," says Annie); order the lemon icebox pie.
Le Croissant d'Or—Sara loves breakfast at this "can't miss romantic" in the Quarter.
Josephine Estelle—After dinner at this osteria in the Ace Hotel, Sarah says you can you can "simply walk across the lobby to the Three Keys music venue and hear some life-changing music."
Marti's—a legendary '80s spot that recently reopened to rave reviews.
Mr. John's Steakhouse—"In the category of 'Wow, I wouldn't have guessed that!' is the best steak I've had outside of New York City," says Jessica of this haunt that's popular with city politicians.
Mother's—A downtown staple famous for its po-boys; Annie says to try the roast beef version.
Napoleon House—One of the oldest restaurant's in New Orleans, Napoleon House specializes in classics like jambalaya and Muffuletta salad. The bread pudding is Lauren's favorite in town.
Parkway Tavern—The roast beef po-boy "melts like butter in your mouth," says Samantha.
Patois—A neighborhood spot that never misses.
Willie Mae's Scotch House—The fried chicken here has been called the best in the country—and for good reason.
https://www.instagram.com/p/BP0OHtSAe6R/?taken-by=williemaesnola
BARS
The Carousel Bar at the Hotel Monteleone is a classic—and it's Reese's pick for a romantic cocktail. "One time my sister saw Billy Joel just walk out of the audience and play there," says Samantha. (Plus, who can argue with a bar that literally revolves like a carousel?)
The Sazerac Bar at the Roosevelt Hotel is another iconic spot. Order the Sazerac, the High Ball, or a Ramos Gin Fizz for the classic experience at this glamorous historic treasure.
For a glass of wine, Samantha loves The Columns Hotel. "It's this weird old mansion on St. Charles Avenue Uptown with a cool bar inside." Annie heads to Bacchanal down in the Bywater, an outdoor wine bar with live music. "If you go this route," she says, "I would choose dinner at a spot in the Bywater or at Snug Harbor jazz bistro, followed by a music somewhere along Frenchmen Street and a walk on Royal or Chartres Street in the Quarter."
"New Orleans' overall best cocktail bar has got to be Cure on Freret Street," insists Jessica. "This is a place for locals and a handful of visitors who are in-the-know. The cocktails are outstanding—every bit of ice is carefully considered, every extract meticulously sourced.  It is out of the way for most tourists, but if you really want a great cocktail, it is worth the visit."
Johnice recommends Sylvain in the Quarter or Barrel Proof in the Lower Garden District. "Both have great bartenders and cocktails and atmosphere"—the bar trifecta!
Click here to read the rest of our New Orleans guide.
Save
Save
Save
Save