February 10, 2016 • FOOD, RECIPE
Hello, Sugar: Red Velvet Cheesecake Brownie Recipe
What's red and heart-shaped and sweet all over? Our Red Velvet Cheesecake Brownies. These decadent treats are the perfect sweet for Valentine's Day. Bonus: While they're impressive to look at, they're super easy to make. Check out the recipe below.
Red Velvet Brownie Layer
1 stick butter
1 cup sugar
1 tablespoon vanilla
¼ cup unsweetened cocoa powder
½ teaspoon salt
½ tablespoon red food coloring
½ tablespoon white vinegar
2 eggs, beaten
½ cup all-purpose flour
Cream Cheese Layer
12 ounces cream cheese, softened
⅓ cup sugar
1 egg
1 teaspoon vanilla extract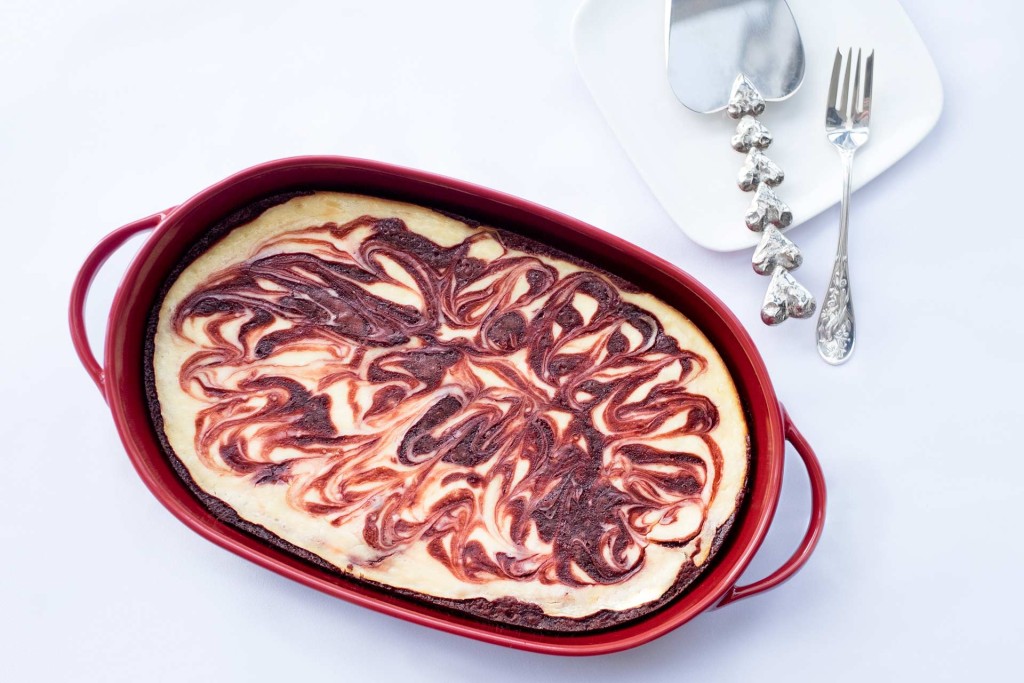 Preheat oven to 350° F. Butter a 13×9 inch baking dish.
In a small saucepan on medium heat, melt the butter. Remove the butter and pour into a large bowl. Add the sugar, vanilla, cocoa powder, salt, red food coloring, and vinegar, in that order. Add a little bit of extra food coloring if you desire a more vibrant color.
Fold in flour in ¼-cup increments until combined. If you would like a more cake-like consistency, add an extra ¼ cup of flour. Pour the batter into the prepared baking dish, saving ¼ cup batter for the top.
Place softened cream cheese in a medium bowl and add sugar, egg, and vanilla. Stir ingredients together and gently layer the cream cheese mixture onto the brownie batter.
Dollop the remaining brownie batter on top of the cream cheese layer and then drag the tip of a knife through the dollops to make a swirl pattern across the surface.
Bake for 50 minutes or until a knife comes out clean from the center of the dish. Allow the batter to cool completely before using heart-shaped cookie cutters to cut.