A Southern Garden Party and a Sweet Lemon Tart Recipe
Lauren Cermak of Going for Grace, Jessica of Frapps and Frills, and Emily of Life with Emily are three Southern women with an eye for the beautiful things in life.
The three recently got together in Greensboro, North Carolina, to throw the sweetest, most beautiful garden party filled with florals, treats, and pretty Draper James dresses, of course.
Lauren also shared her recipe for Summery Lemon Tarts, which you can find below.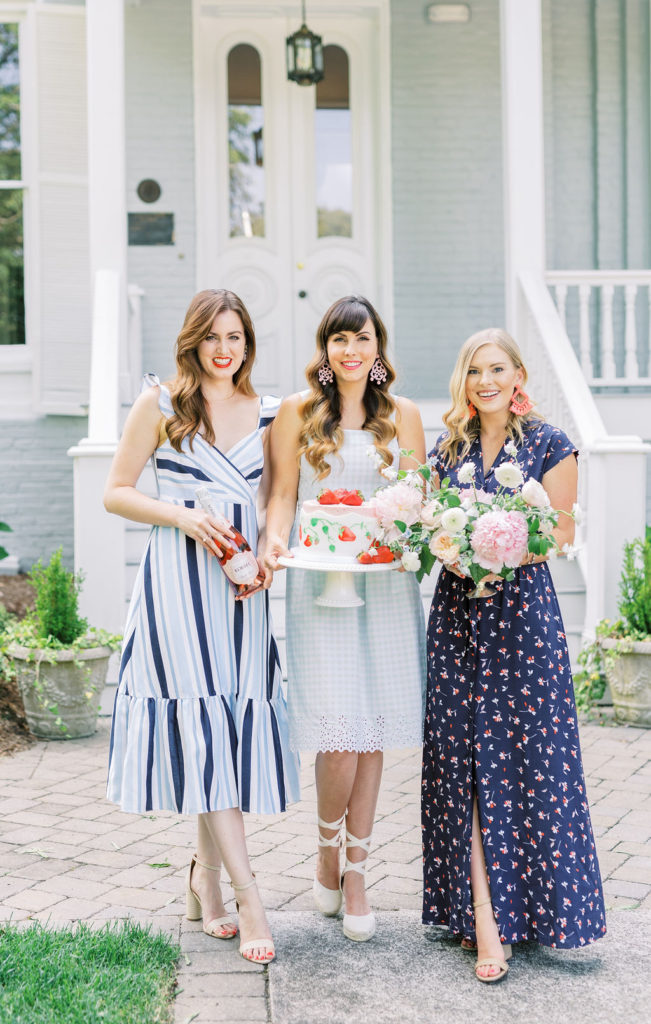 Why did you chose this location?
Jessica: We chose to host this party at he McAlister-Leftwich House, which is a gorgeous and grand historic home, full of Southern charm and hospitality. It is a unique place to be as it was formerly two separate homes restored into one boutique wedding and event venue in the heart of downtown Greensboro, North Carolina.
The home, on the national registry of historic homes, is owned and operated by the talented Kaitlin Holland and family. Full of bright, airy light, it's no wonder this place is somewhere you just want to sit and stay a while!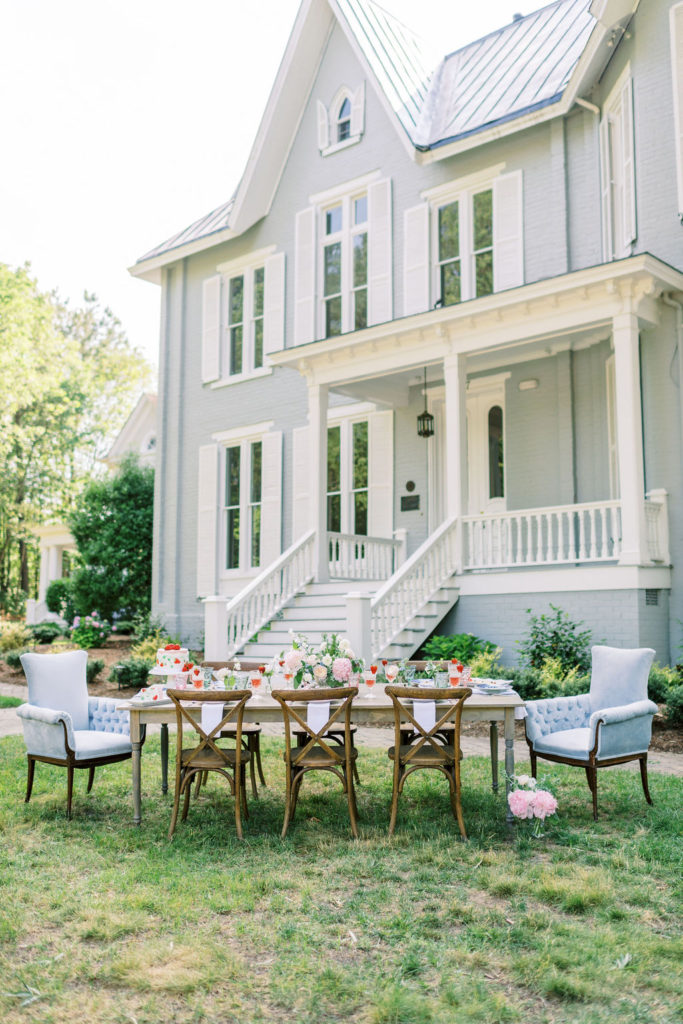 What inspired you to throw this Southern garden party?
Lauren: A few months ago, Jessica and I got on the phone and starting day dreaming about doing a project together. We knew we wanted to put together a "summer supper" that truly embodied the Southern women that we are. We then eagerly asked Emily to join in and knew we wanted to feature some of the best that summer down South has to offer.
From front porch sits to sundresses, you simply cannot beat a Southern summer!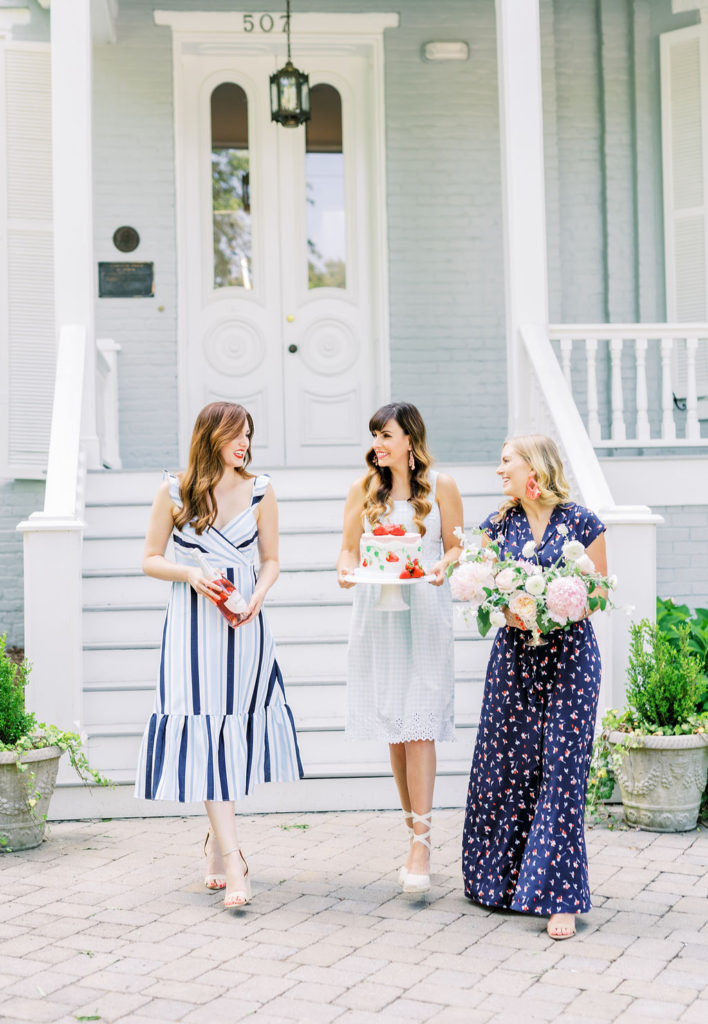 What drew you to your particular Draper James dress?
Lauren: When I first saw the Stripe Midi Dress, I thought it absolutely epitomized my style. This girl loves stripes, ruffles, and any shade of light blue, which this dress has plenty of! I love Draper James dresses because of the feminine details they add to classic styles, like the beautiful ruffle skirt on this midi. I walked around feeling like Southern royalty when this dress moved in the wind!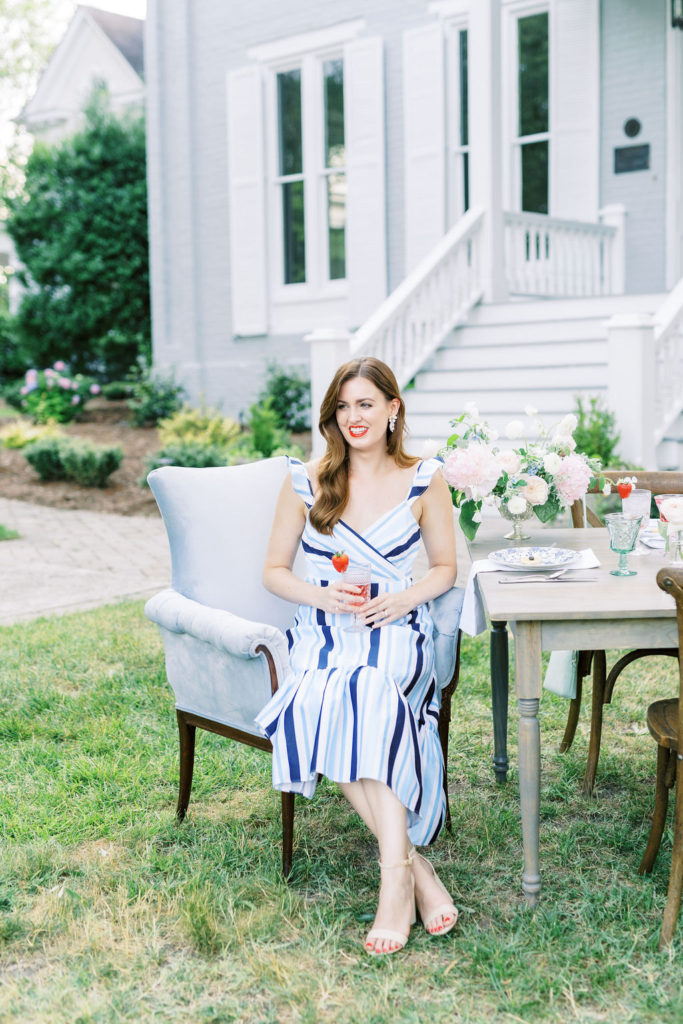 Emily: I was really drawn to the Floral Maxi Shirtdress because it's not only flattering, but it's also lightweight and airy, making it perfect for the humid North Carolina summer!
I love that it can easily be dressed up or down with the simple change of accessories. It also has pockets, and I'm a sucker for a functional dress!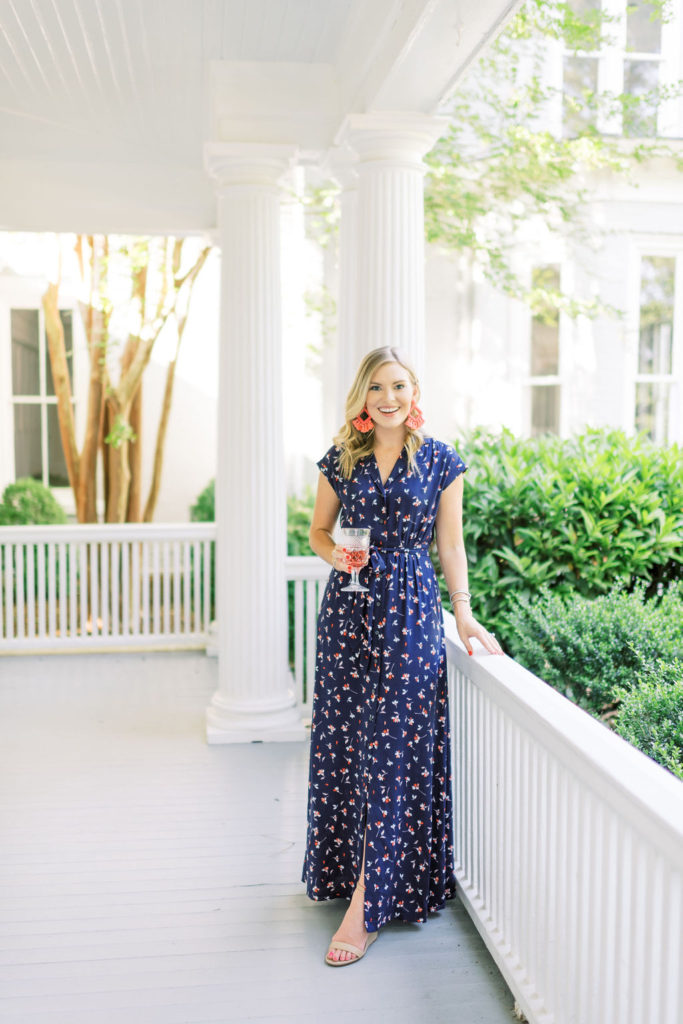 Jessica: Personally, I love a classic gingham print in all varieties of styles and colors. To me, gingham is just so iconic and timeless. I loved that the color of this one was a pastel-mint shade, reminding me of a delicious mint chocolate chip ice cream cone, perfect for a hot summer day! When I realized the hem of the dress was a floral eyelet detailed pattern, that was just the cherry on top! I knew then that I had to have this iconic feminine dress in my closet!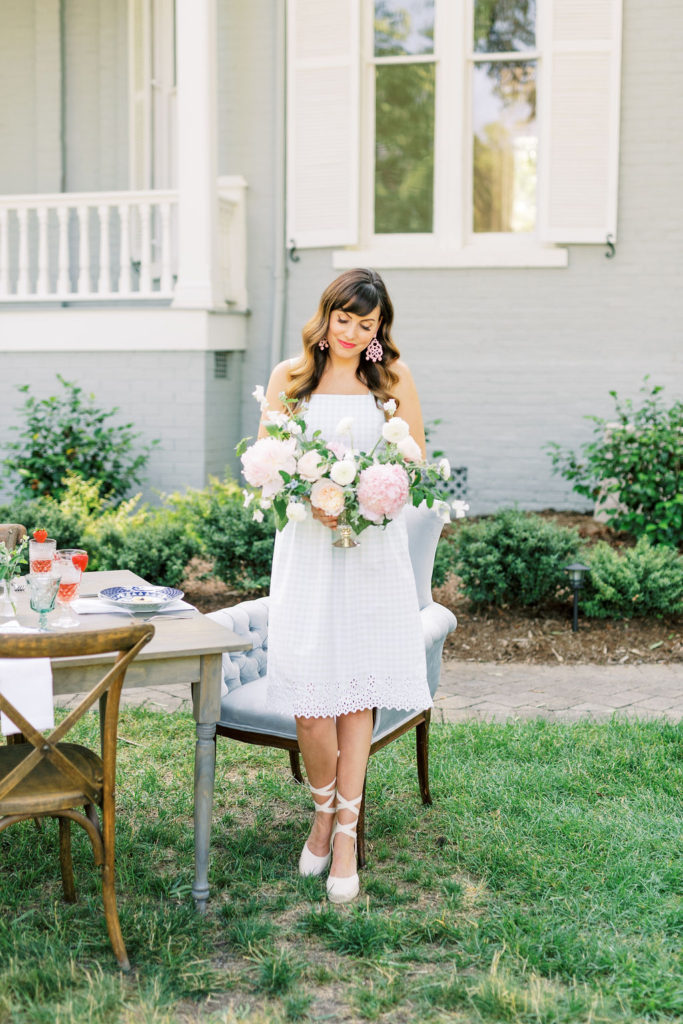 How did the three of you meet?
Lauren: Instagram! Social media can be looked down upon for causing comparison and being a highlight reel, but on the flipside, it's also such a wonderful way to meet new people. Both Emily and Jessica live about five hours away from me in North Carolina, so we actually became friends through Instagram long before we met in person. It is so much fun to be able to connect with people that far away and who knows, you may end up throwing a fabulous party together!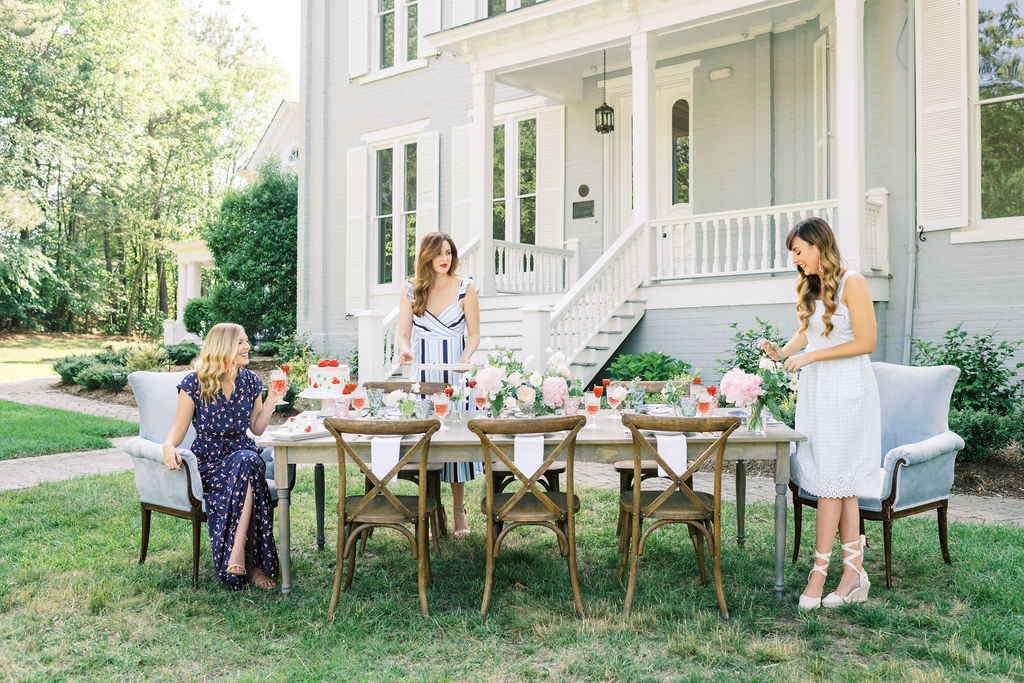 What's your best tip for entertaining during the summer, especially in the South?
Emily: Keep the weather in mind when planning any sort of entertaining! It's typically very humid in the South during the summer months, so make sure to plan accordingly! Be sure to stock up on refreshing bites and sips so your guests are feeling refreshed throughout your party! I also appreciate when an event or party has an indoor-outdoor option; it allows for a quick reprieve from the heat if needed!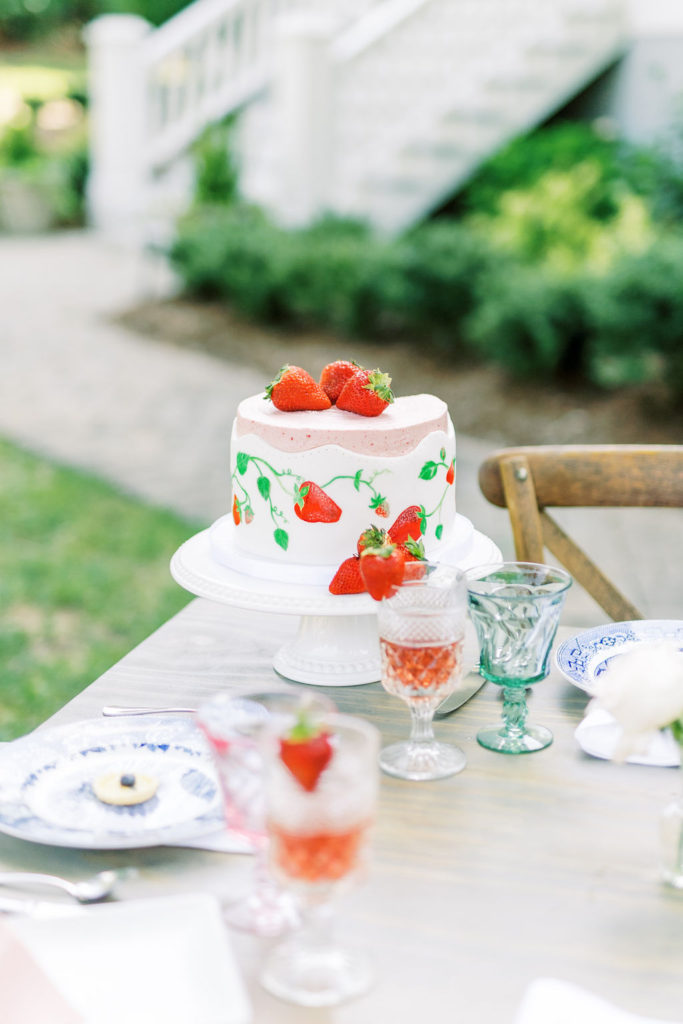 What is your favorite detail from the garden party?
Jessica: I'm such a sucker for anything pretty and pink, so this could easily be a toss up between the bubbles we drank and the beautiful florals used on the table! Every detail from the decor to the gorgeous location was beautiful.
Most of all though, my favorite detail from our day was found in the joy and simplicity of the company we found together at the table. I'll toast to that any day.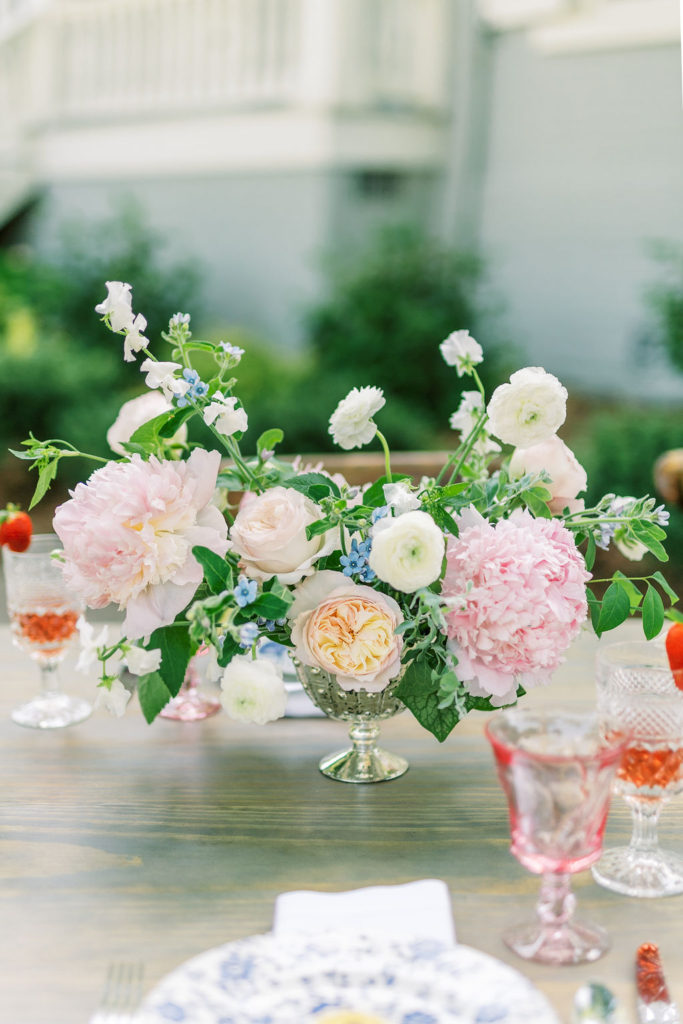 Going for Grace's Recipe for Summery Lemon Tarts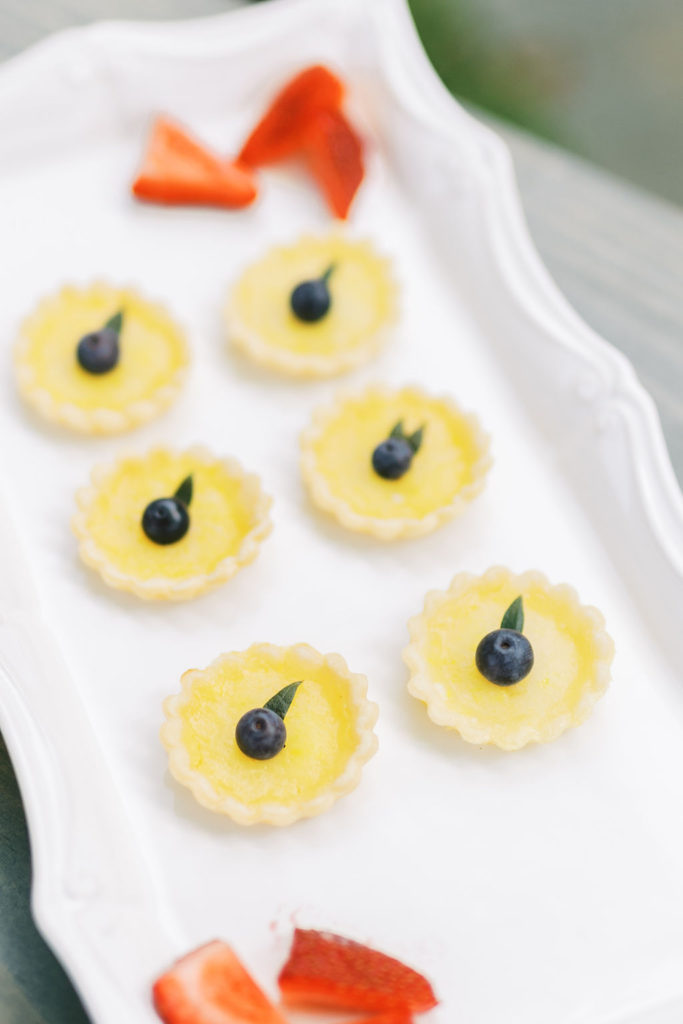 Makes 12-14
Ingredients
2 sheets pre-made pie dough
2 large eggs
1/2 cup sugar
1 teaspoon lemon zest
1/2 cup fresh lemon juice (about 3-4 lemons)
2 tablespoons heavy whipping cream
1/2 cup blueberries for garnish
Directions
Preheat oven to 350 degrees.
On a lightly floured surface, spread out pie dough and begin cutting 3 inch rounds.
Gently press each round into the tartlet pan.
In small bowl, combine eggs, sugar, lemon zest, lemon juice, and heavy whipping cream. Whisk until fully incorporated.
Add mixture to each prepared tartlet, filling the bottom of each cup.
Bake 12-15 minutes, or until the filling is set (doesn't jiggle).
Let cool.
Add blueberry and greenery to garnish.
Can serve immediately, chilled, or placed at a pretty place setting!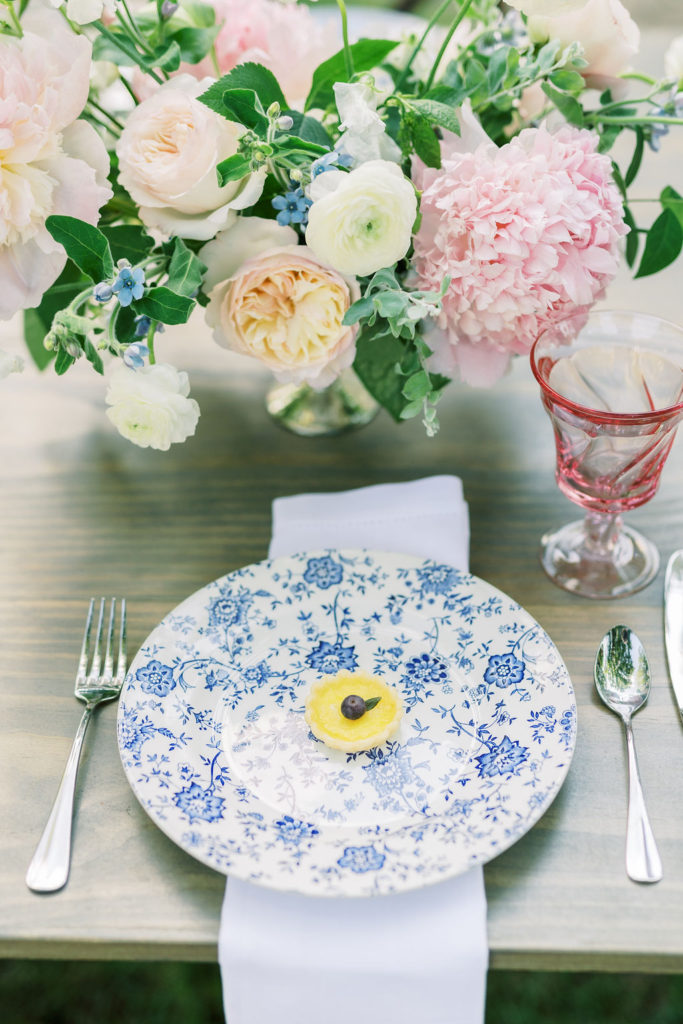 Credits:
Lauren Cermak – Going For Grace
Jessica Frappampina – Frapps and Frills
Emily Wilkinson – Life With Emily
Photographer – Megan Travis Photography
Location – Mcalister-Leftwich House, Greensboro, NC
Flowers – Flora
Table, chairs, tabletop – The Prettiest Pieces
Wooden chairs – Party Makers Event Rental
Cake – Artsy Cakesy