A Mother's Day Strawberry Pie Recipe from Amanda Wilbanks
With Mother's Day falling in the midst of strawberry season, it seems only fitting to incorporate both occasions into one post.
Expecting mother Amanda Wilbanks, the owner of Southern Baked Pie Company and frequent guest on the Love, Reese blog, is sharing her delicious Strawberry Pie recipe, and a few of her favorite Mother's Day traditions, below.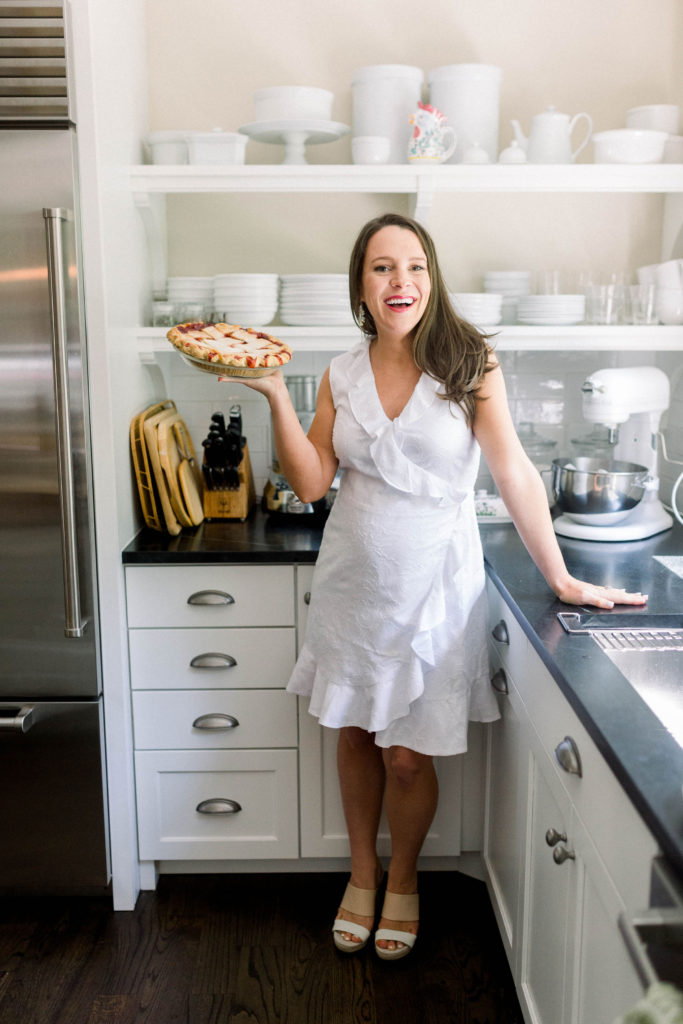 Tell us about this recipe.
My grandmother, Betty, taught me to make cobblers when I was just a little girl. I was probably 5 when I made my first cobbler in her kitchen. She always had some type of fresh fruit in her kitchen, and what better way to use the fruit than to make a cobbler? When I created this recipe for my version of strawberry pie, I thought of her the entire time. I tried to channel her love and care into each strip of lattice I wove across the top of the pie, just as she did when she wove the lattice atop her cobblers.
This is a nostalgic dessert for me. With each bite I'm reminded of my grandmother Betty—her classiness, her poise, and her loving care. Strawberry pie is the perfect introduction to summer and something I think is a must-have for dessert at Southern Sunday gatherings and summer holiday celebrations such as Mother's Day.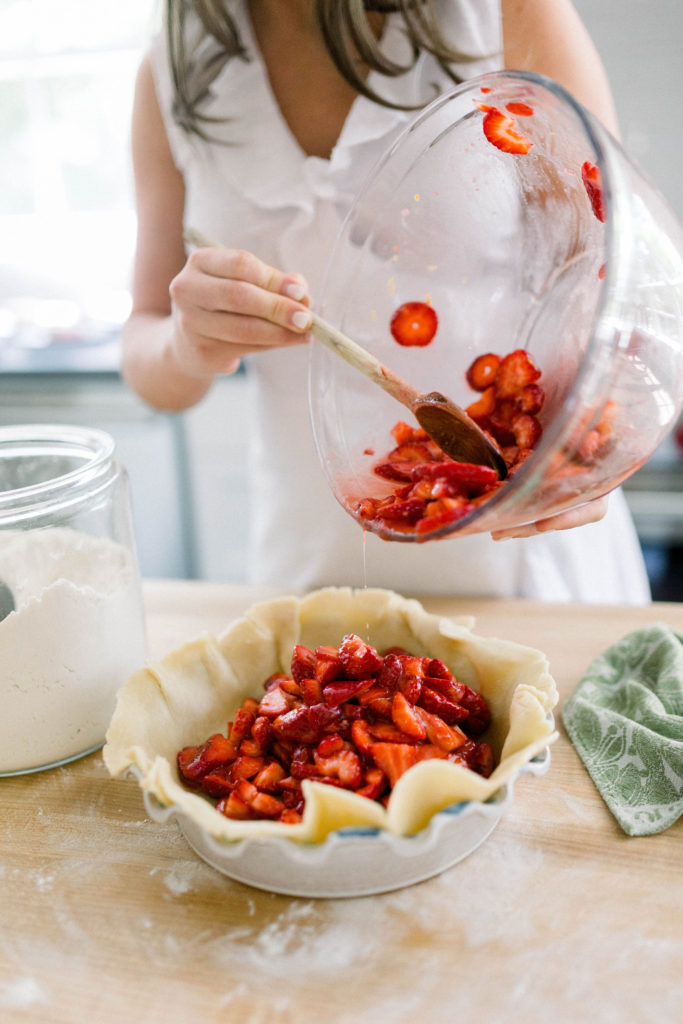 How will you be celebrating Mother's Day this year?
I have two boys—Austin, 9, and Dalton, 3—and a little girl on the way, so I will be taking it a little easier this Mother's Day. Typically, we go to my grandmother's house on Lake Burton, congregate in the kitchen on Sunday after church, and cook everything from fried squash to Strawberry Pie and homemade ice cream.
My husband, Alex, asked me what I wanted to do this year, and I said just sit on the back deck and watch the kids play (maybe get a little wild and break out the water guns ), make homemade vanilla ice cream, and enjoy with a slice of warm Strawberry Pie. Sometimes it's nice to slow down and just enjoy the simpler things in life.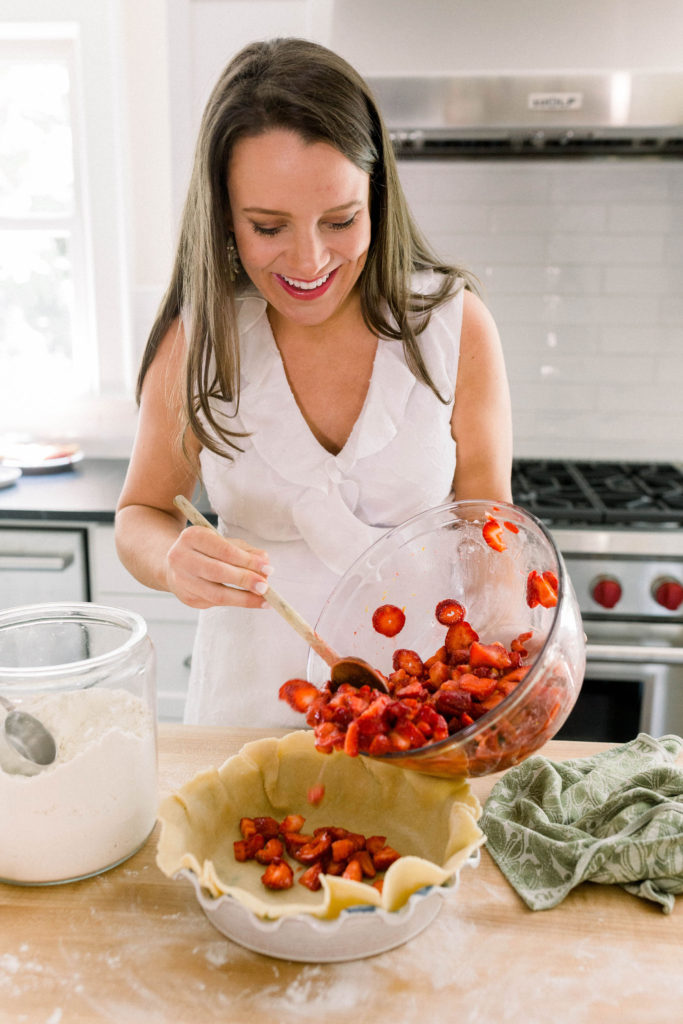 Do you have a favorite Mother's Day tradition?
I have always spent Mother's Day by the water at Lake Burton. My favorite Mother's Day tradition is making fried squash from my cookbook with my mom in the kitchen at the lake. We always stop and pick up fresh grown squash and green tomatoes at Fritchey's Farm Stand. As soon as we get to the lake, we make tomato sandwiches for the entire family for lunch and begin soaking our squash and green tomatoes in buttermilk in preparation for Mother's Day dinner.
What was your favorite thing about this Draper James dress?
Draper James clothing is always classy and Southern. I chose to wear the Ruffle Wrap Jacquard Dress because I loved the lightness of the fabric and the delicate pattern and texture throughout the dress. I always like wearing something fresh, light, and dainty looking on Mother's Day. This dress fit the bill perfectly.
The fact that it fit this 6-month pregnant mom was also a big plus. I felt pretty confident, and most importantly comfortable in this dress since it could be adjusted by the wrap.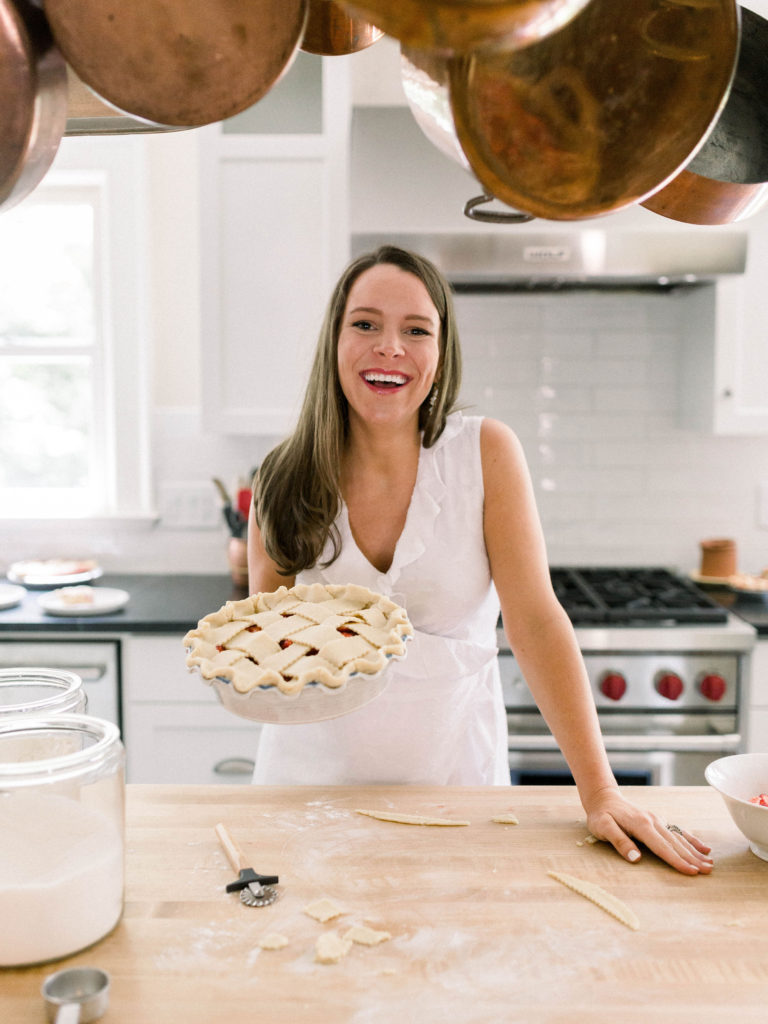 What are you most looking forward to in the coming year?
I'm most looking forward to the birth of my first daughter. The bond that I share with my mother is like no other; she is my best friend and my daily inspiration. She is the epitome of a Southern belle. She is everything I aspire to be as a mother and best friend to my daughter. I have always longed to have a daughter so that I could enjoy a relationship with her like I share with my mother. I literally could burst with excitement each time I talk about little baby girl Wilbanks arrival.
I'm also looking forward to taking some time away from work to focus on my family. I have been engrossed in Southern Baked Pie Company and given it every part of me for the past 7 years. I look forward to focusing a bit more of my energy on my new little girl and my precious family. There is a time for everything in life. And this year, it's the time for my family.
Southern Baked Pie's Strawberry Pie Recipe
Makes 1 pie
Ingredients
1 recipe Southern Baked Pie Dough*
4 cups of strawberries, sliced
1 ¼ cup of sugar plus ¼ cup for dusting top of pie
¼ cup of flour
¼ cup of cornstarch
1 large egg, beaten
1 orange
Directions
Heat oven to 375 degrees.
In a bowl, combine sliced strawberries with the juice from half the orange and 1 tablespoon of orange zest. Add 1 cup of sugar, flour, and cornstarch to strawberry mixture and lightly stir until strawberries are well coated. Set bowl aside.
Roll dough into 2 12-inch circles. Place one of the doughs into a 9-inch pie plate. Fill with strawberry mixture. Cut the other dough into one-inch strips. You should get approximately 8 to 10 strips. Top the strawberry mixture with strips of dough, weaving into a lattice crust.
Brush top of lattice crust with egg, then sprinkle remaining sugar over the top of the crust.
Bake 15 minutes then turn oven down to 325 degrees and bake for 45 minutes or until pie is golden brown and filling is bubbly.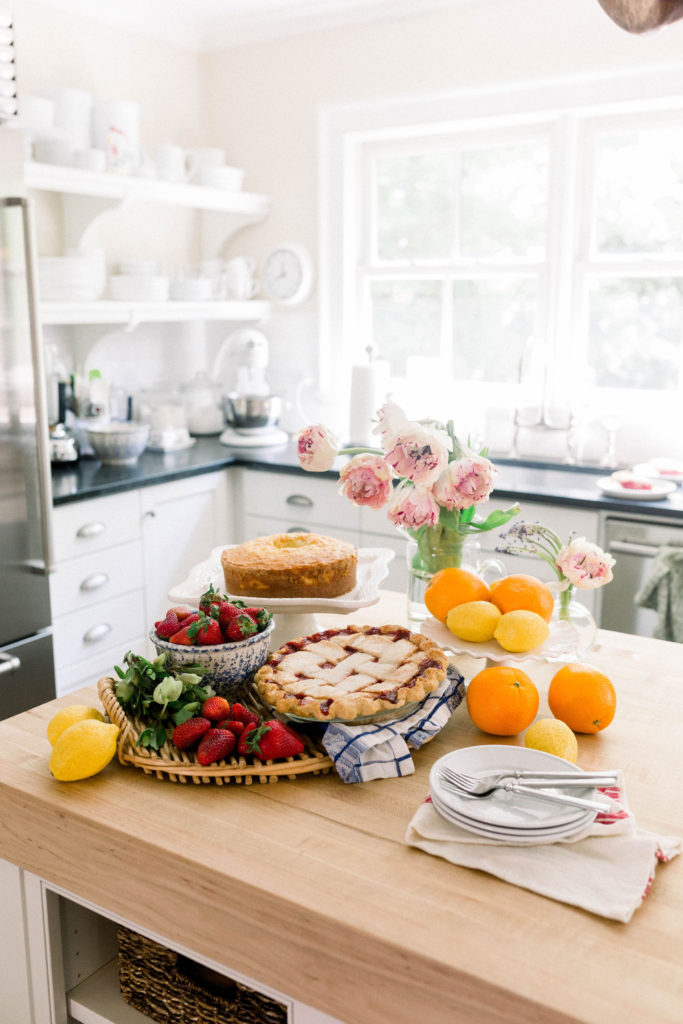 *Recipe for Southern Baked Pie Dough (SB Pie Dough)
Makes dough for 1 single crush 9-inch pie
Ingredients
8 tablespoons (1 stick) unsalted butter
11/4 cups all-purpose flour
1/2 teaspoon salt
1/2 teaspoon granulated sugar
1/4 cup water
Directions
Cut the butter into small cubes.
Combine butter and flour in a mixing bowl. Using a pastry blender, work the butter into the flour.
Add the salt and sugar. Continue to work the butter into the flour until the mixture has a consistency of course-ground cornmeal.
The cubes of butter should now be smaller than the size of a green pea.
Add the water, all at once.
Continue to work the dough until the dough begins to come together.
Form the dough into a ball, wrap with plastic wrap, and press into the shape of a disk.
Place in the refrigerator for 2 hours to chill.
Remove dough from refrigerator and roll out to desired size on a lightly floured surface.
Tip: The trick to making delicious pie dough is using cold ingredients. I even chill my flour, salt, and sugar. Starting with very cold butter and ice cold water will make a world of difference when it comes to the texture of the dough.
Photos by Kelly Berry