How Cloche Designs Styled Our New Cookout Collection
As warm weather is finally upon as, we're excited to share the new Draper James x Crate & Barrel Cookout Collection. It has all the essentials for a picture-perfect picnic—including serving bowls, utensils, and the cutest picnic basket you ever did see.
Laura Nell Burton and Christin Gish, the creative director and COO, respectively, of Cloche Designs were some of the first to get their hands on the festive tablewear and accessories. We knew the ladies behind Cloche Designs, a lifestyle brand specializing in luxury wedding and event design and planning, would set up an unrivaled tablescape. And they certainly did.
Read more from Laura Nell and Christin below, and scroll through to see how they styled the Draper James x Crate & Barrel Cookout Collection.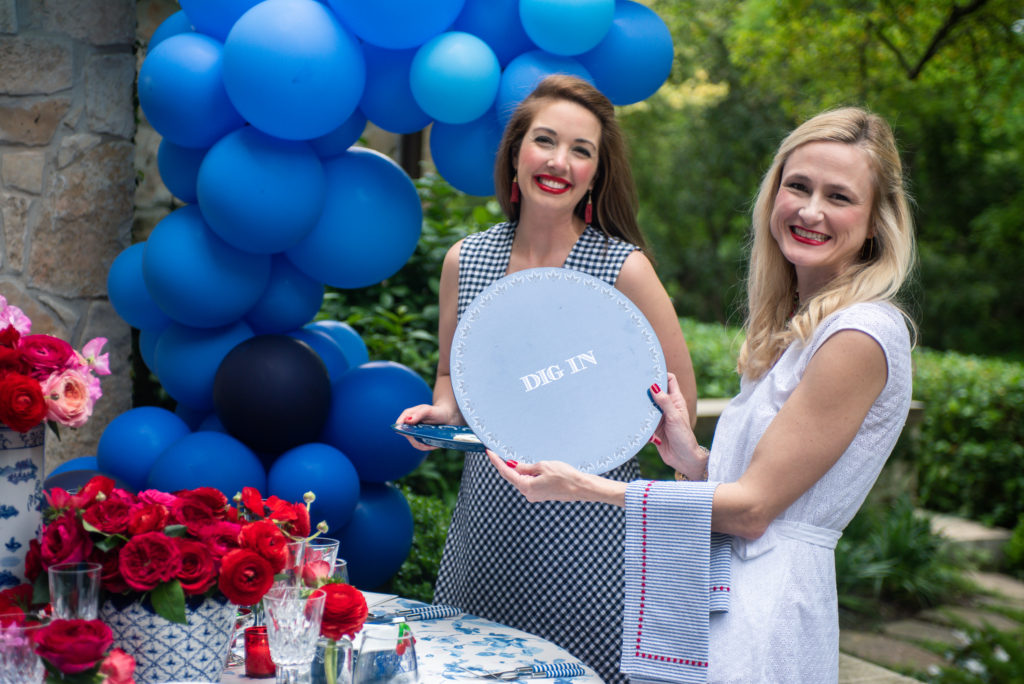 What was the inspiration behind the design of the tablescape?
LNB: We deeply admire Reese in both her professional and personal life and planned this "Reese, White & Blue" soirée with her in mind! We began by using place cards, which we believe in using for any size dinner party! It avoids that awkward moment when everyone timidly looks to the host for where to sit.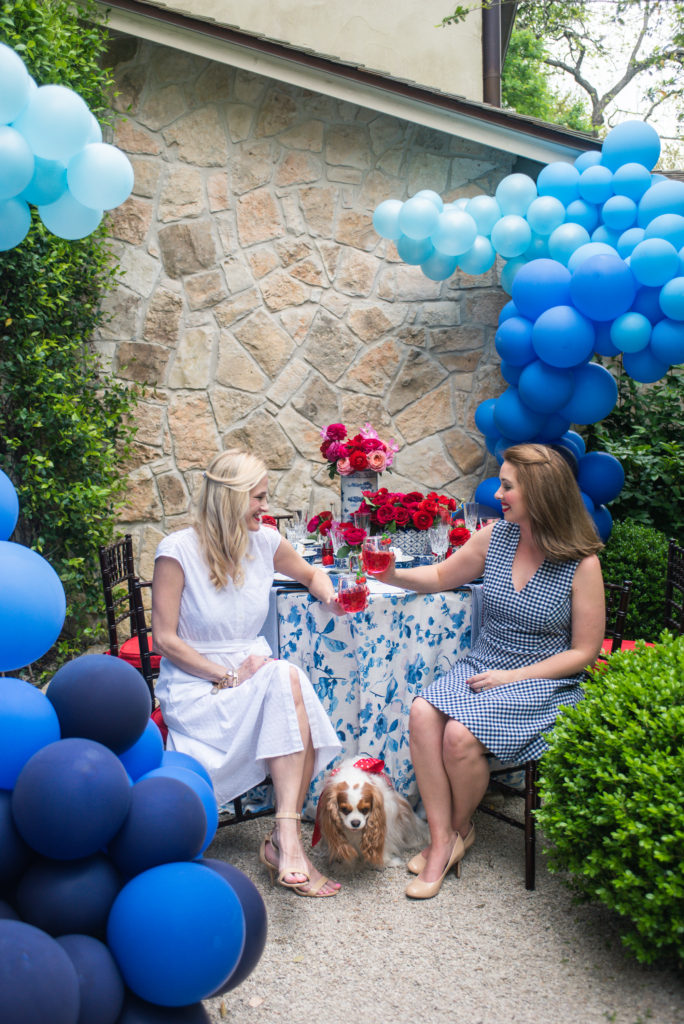 Picking one color and layering lots of pieces in that color when you set a table makes it so easy to mix and match from your china cabinet. We're big believers in using your stuff; your grandmother gave you that vase! It has a soul and it misses her!
We're Southerners, through and through, who can never get enough blue and white, so we used all the pieces from the new Draper James x Crate & Barrel Cookout Collection then mixed in our own blue and white Chinese pottery all atop a complementary linen (a crisp white tablecloth would be beautiful, too).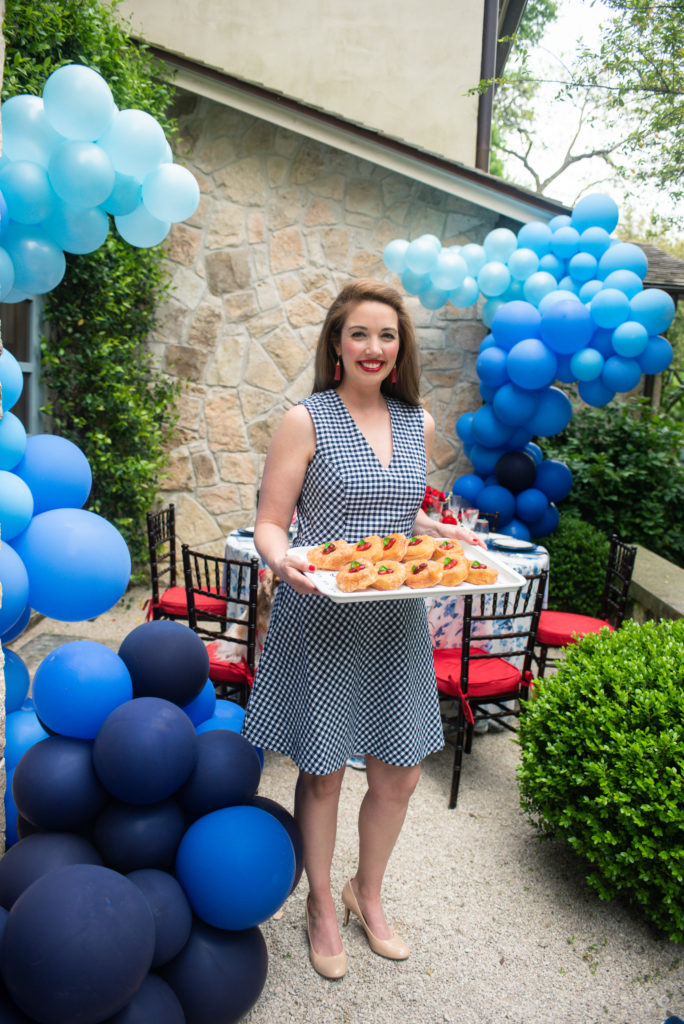 In the end, we always add a few whimsical elements to family tables to cut down on formality, like the cute Baked Goodness cookies that match our paper suite by Dixie Design Collective (illustrated by wonderful artist Willa Heart) and the gummy cherries perched on the rims of the Cheers Y'all Acrylic Wine Glasses.
What was your favorite piece from the Cookout Collection?
LNB: I love the Peterboro Picnic Basket! Let the kiddos pack the picnic lunch for all, then load up the car and head to the park for a day in the sun Draper James style. I also love that the Square Bandana Picnic Blanket is thick with a little cushion for seating and a dark color, so you don't have to worry about stains.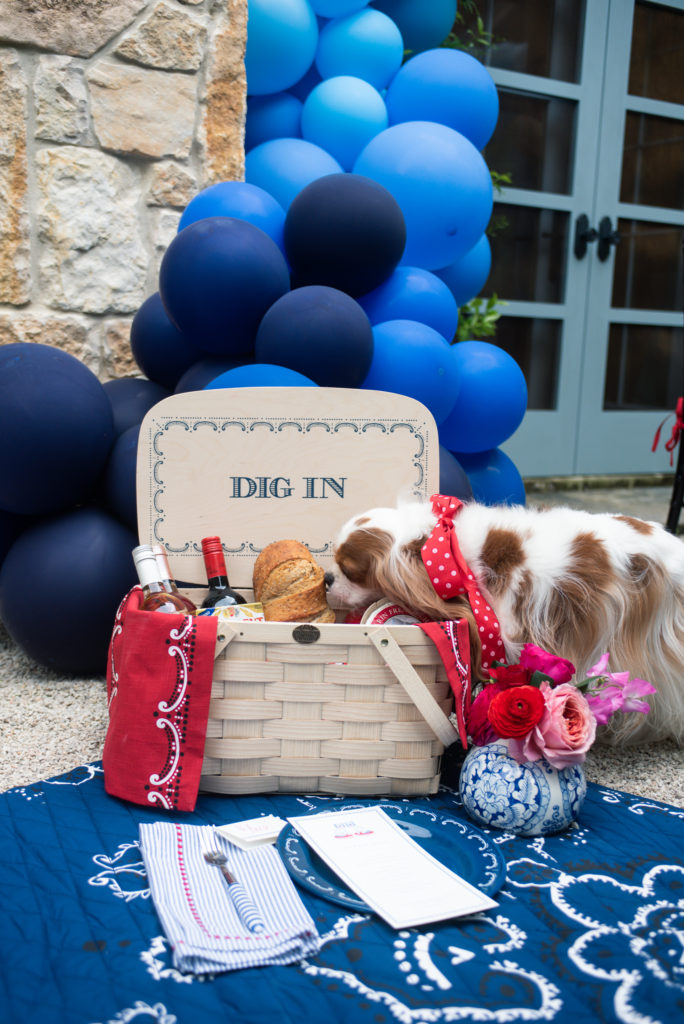 CG: I have always been a sucker for anything seersucker, and the moment I laid eyes on those darling Seersucker Napkins, it was love at first sight. They're the quintessential Southern staple for any spring tablescape, and the red detail along the edge is the cherry on top!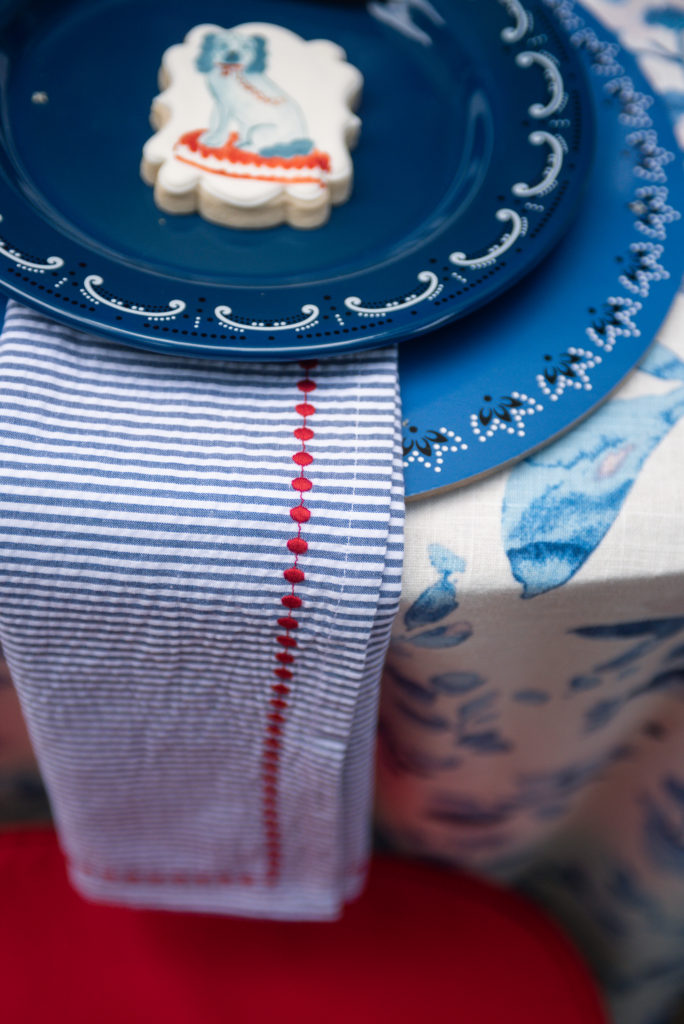 What drew you to these Draper James dresses?
CG: Draper James is my all-time favorite brand, and I chose the Gingham Love Circle Dress. I own several dresses in the same cut that I have bought over the years because it flatters my figure and the length is perfection!
LNB: I love to color block when I dress and so I love that the Collection Eyelet Button Front Dress is white and can be dressed up or down with so many different accessory options. For this shoot I wore neutral heels and layered Draper James-worthy necklaces made of glass strawberries and peaches that belonged to my late mother who was an artist, but I could easily wear it to the pool with fun flip flops and a big straw hat, too!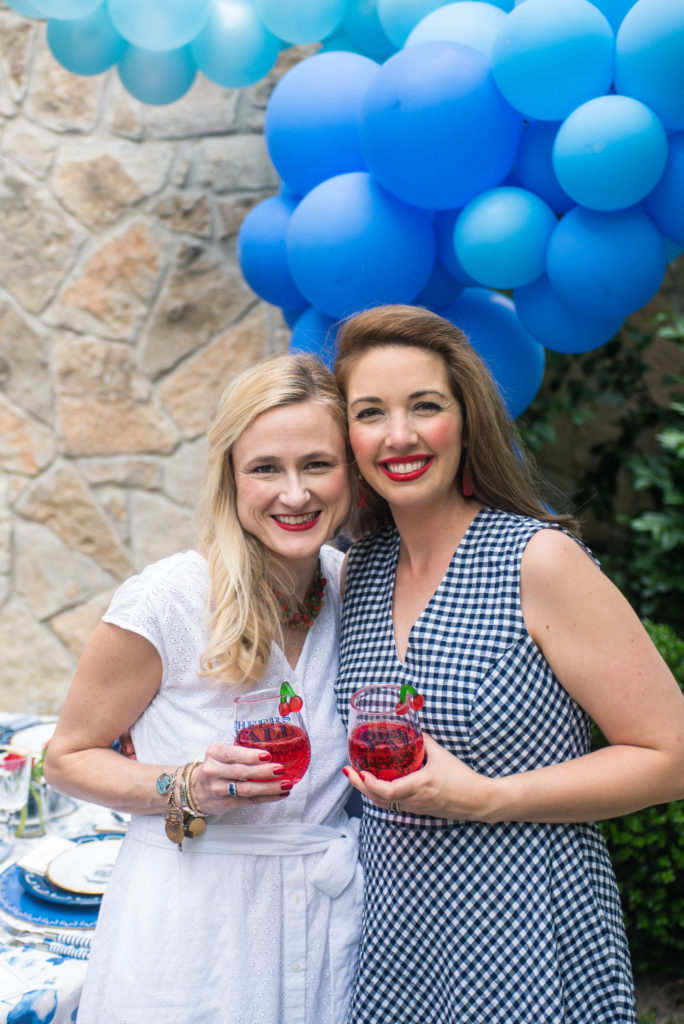 Best piece of advice for entertaining during the warmer spring and summer months?
LNB: Keep it simple with uncomplicated recipes you can make ahead and grill outside. Pick seasonal ingredients bursting with color. Don't be afraid to pick up fried chicken from your favorite fast food chain for the main course. Buy a few bunches of flowers while you're at the grocery store then clip greens from your own garden for your centerpieces.
Also, generally, when it comes to entertaining from your china cabinet, our rule is scrape, rinse, stack, set aside, and leave the scrubbing for the next day. Don't worry about the dishes until tomorrow; enjoy your company until the very last second! Life is short, so don't miss a minute with the ones you love!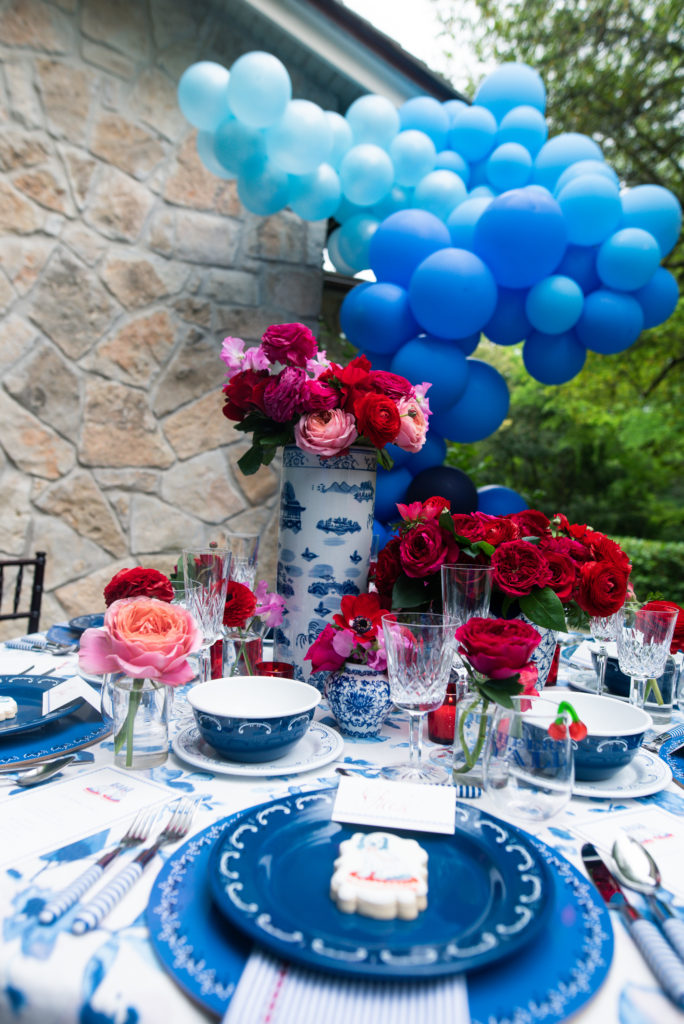 Describe this tablescape in 3 words.
Southern, patriotic, and lovely (also Reese, White & Blue, Y'all!)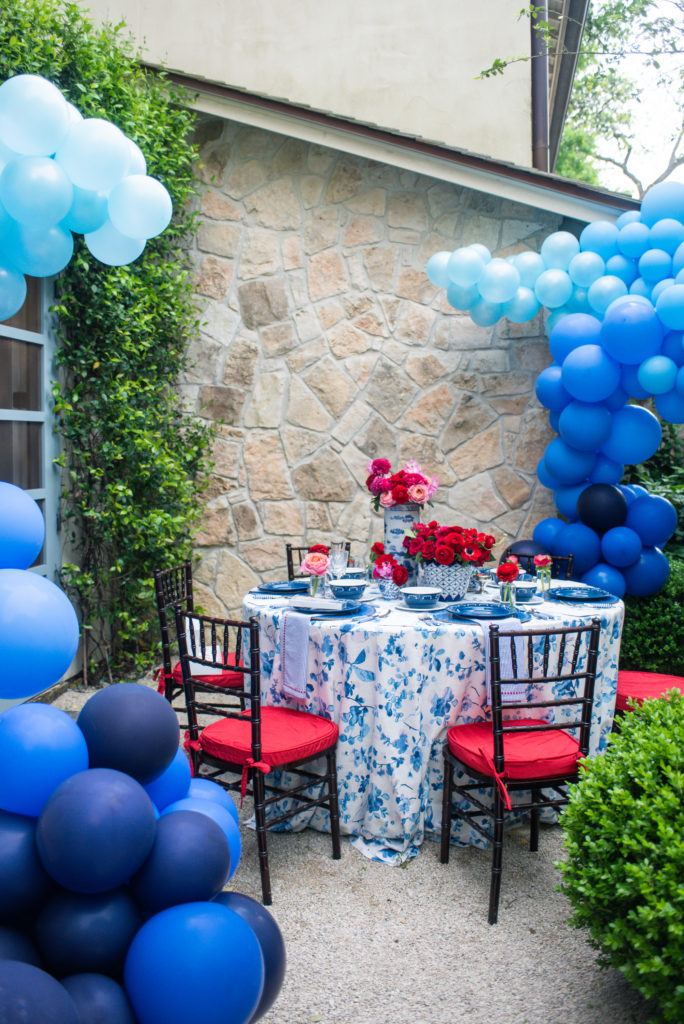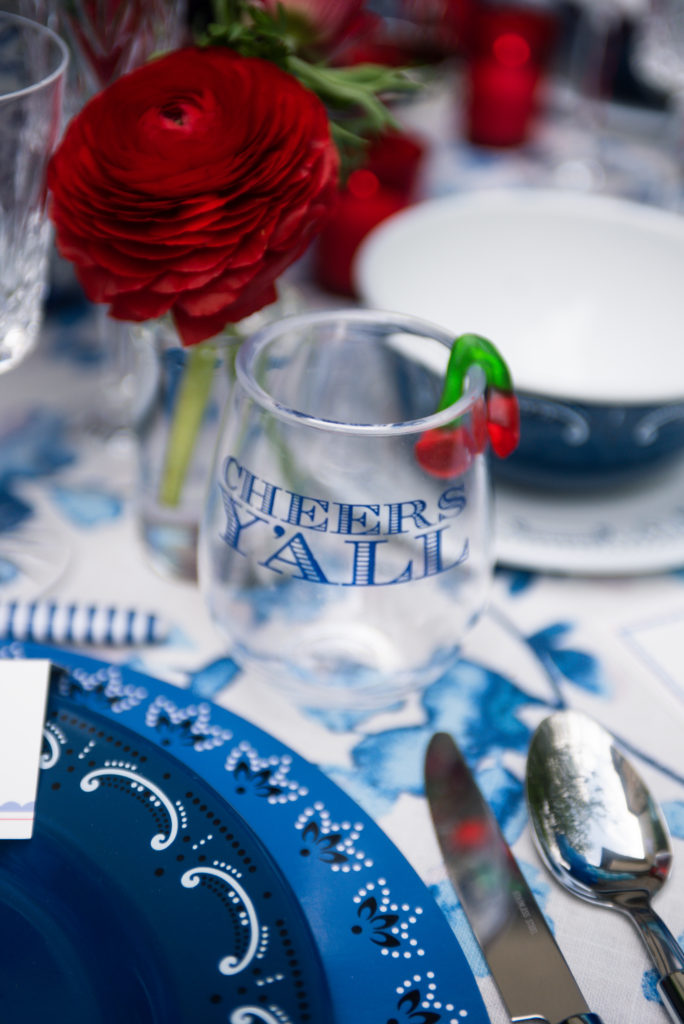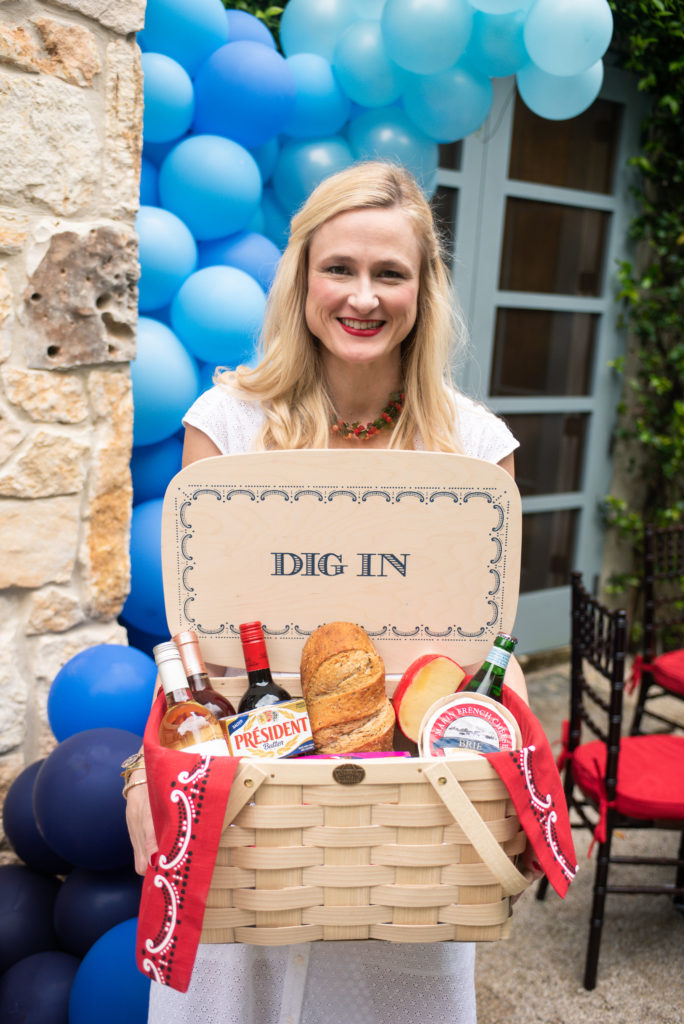 Event Creative Direction & Design: Laura Nell Burton & Christin, Co-Founders, Cloche Designs
Photographer: Parish Photography
Balloons and Floral: Botanical No. 9
Cookies: Baked Goodness
Paper Suite: Dixie Design Collective
Calligraphy: Holly Hollon
Watercolor Art (Dogs): Willa Heart