Reese's Pink Champagne & Strawberry Birthday Cake by For Heaven Bakes
March 22, Reese's birthday, is a special day at Draper James. We love celebrating our founder, and each year, our celebrations include an extra special birthday cake.
This year, however, truly takes the cake—pun definitely intended. Julie McAllister of For Heaven Bakes, a specialty cake company, created a masterpiece. She replicated Reese's Limited Edition Birthday Bag (our gift to Reese this year!) in cake form.
The Pink Champagne Cake & Strawberry Birthday Cake was made to size and even includes a Draper James gift tag with a birthday message for Reese. Did we mention this is all completely edible?
Below, Julie talks to us about the cake-baking process and shares her delectable recipe.
Happy Birthday, Reese!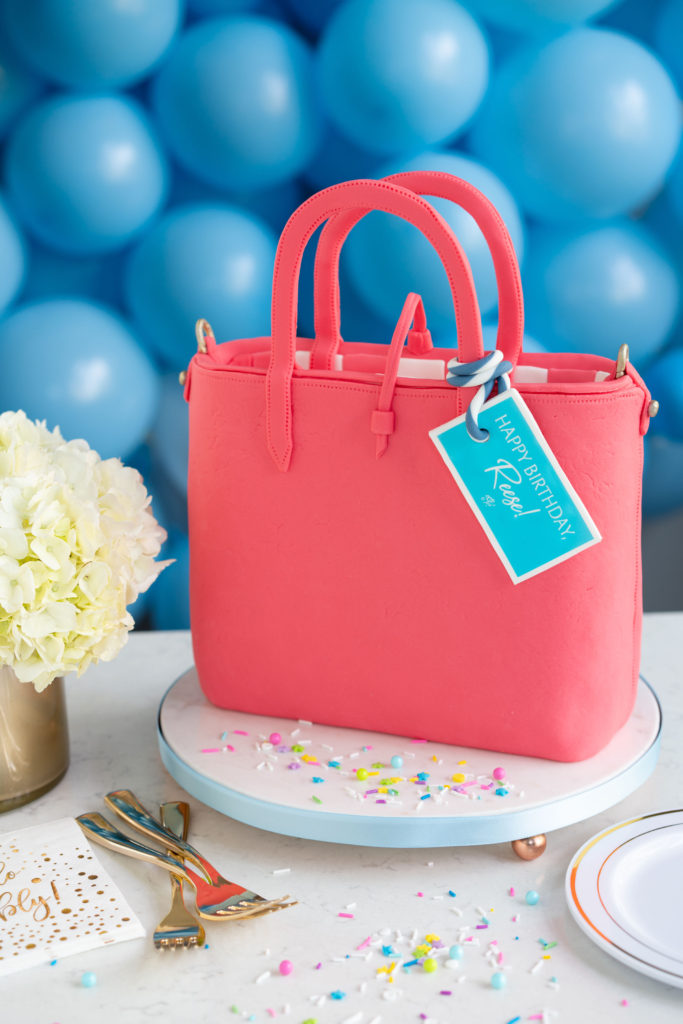 How did you first approach making this handbag cake?
For the design, I always sketch out a cake before doing anything else. I then do a secondary sketch overtop the first to figure out how much cake will be needed to make the shape. When it came time to carve the cake, I set Reese's Limited Edition Birthday Bag on the counter to use as my guide, and then kept carving until I was happy with the shape.
I love making bag cakes—I've done a golf bag and a beach bag, so it was really fun to add an adorable handbag to the list. Picking the cake and frosting flavors was the easy part; since the cake was going to be the pink handbag, I thought a cake made from pink champagne would be perfect! And for the frosting, what goes better with champagne than strawberries?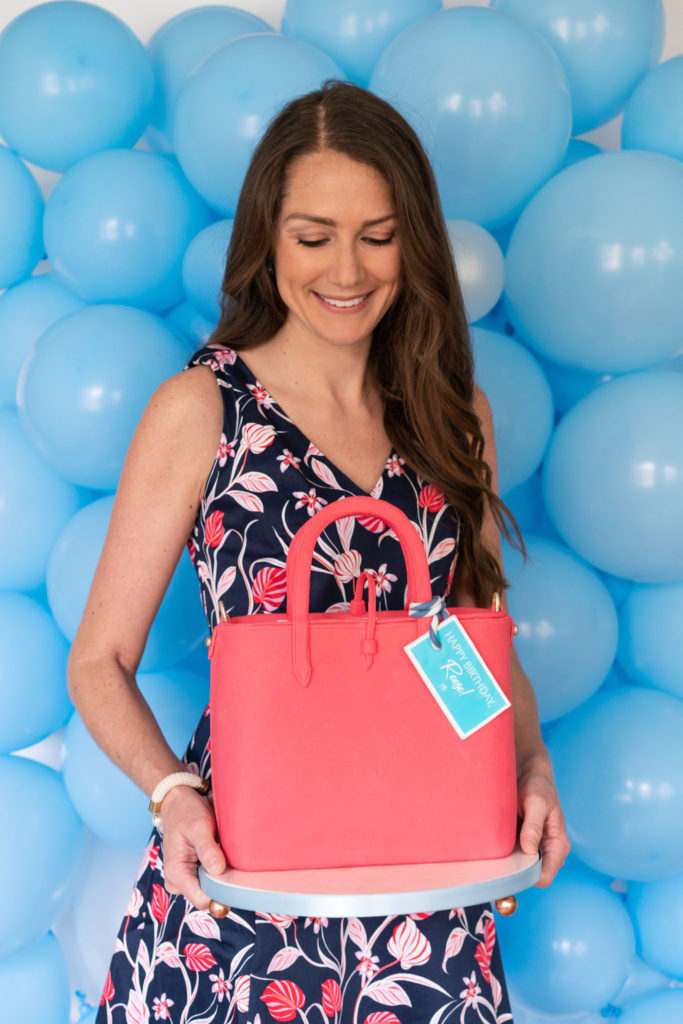 How did you get your start baking and creating masterpieces like this cake?

I have looooved desserts my entire life. I've even been known to politely ask if I can replace the salad with a second dessert at events or dinners serving multiple courses.
And beyond that, I've almost always been a hobby baker. When I was in grad school, I started teaching myself cake decorating as a creative outlet. I kept at it over several years living in DC, taking one-off classes here and there when I could, and also working part-time at a bakery in-between my full-time job.
The more experience I got, the more I realized my favorite desserts to make were sculpted cakes. When I moved to Charleston, I realized how supportive the small business community was here, and the timing felt right to start my own specialty cake business.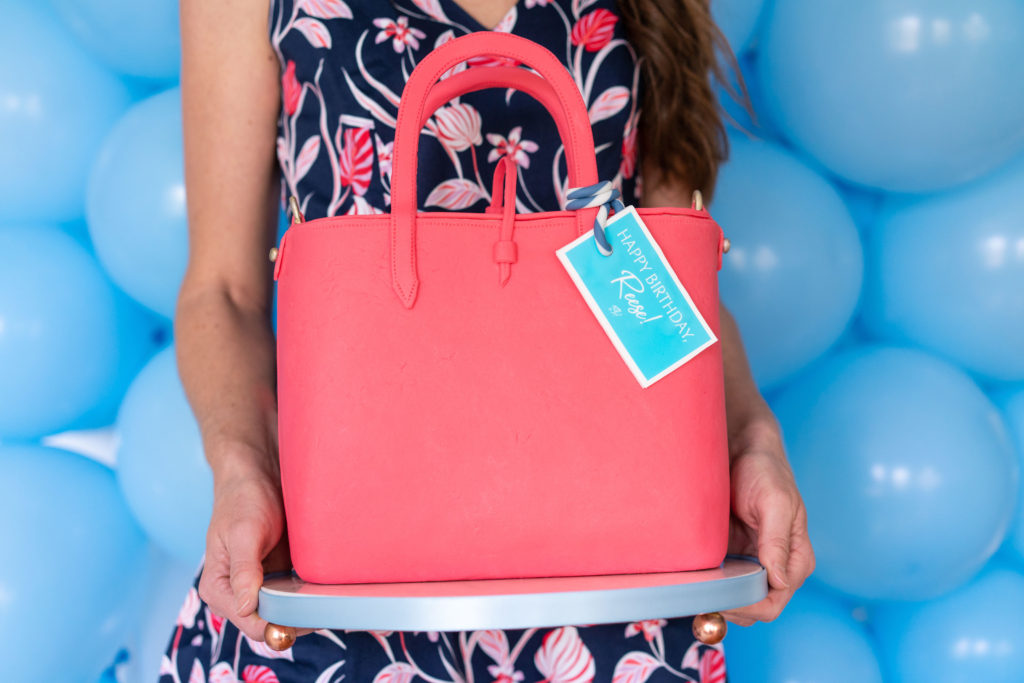 What has been the favorite cake you've ever made?

Reese's birthday cake is definitely near the top of the list. 🙂 It's so hard to pick just one! I recently made a breakfast tray cake that was so fun—the entire thing was edible, down to the orange juice glass, the tray and the napkin—so that's definitely a contender for my favorite so far.
And this isn't one specific cake per say, but every year I pull out all the stops to make my husband's birthday cake, and it's always an elaborate endeavor to try to balance making it and keeping it out of sight from him. The whole thing is so ridiculous and fun, and I look forward to it every year.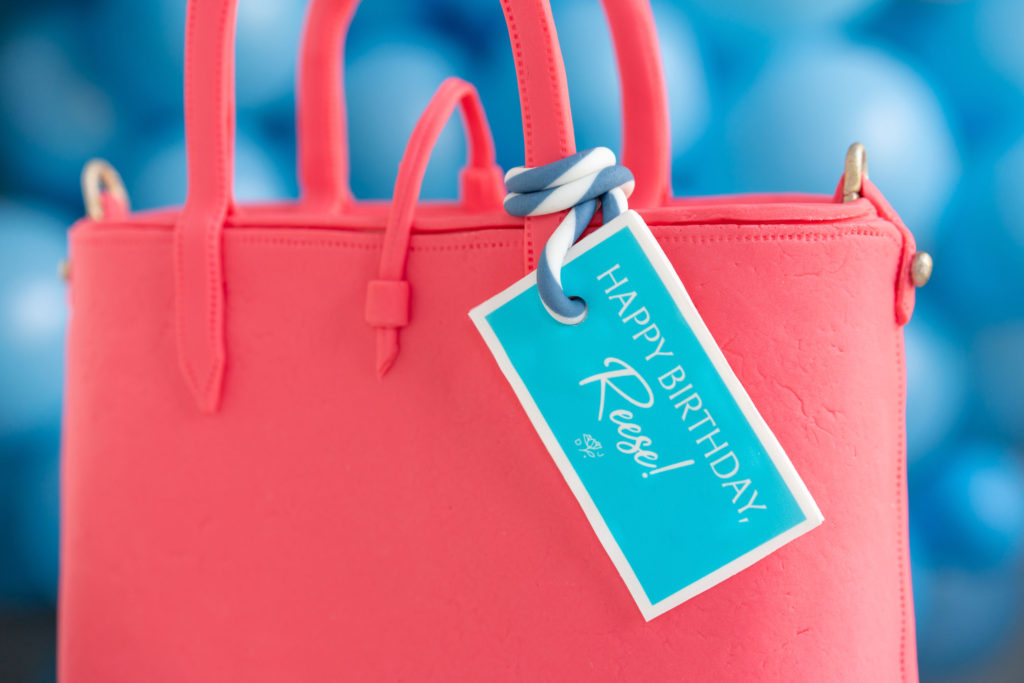 What drew you to the Knot Shoulder Love Circle Dress?
What's not to love about this dress?! The coral print on the navy background is just so pretty, and I love the subtle knot details on the shoulders.
I like having closet staples that work for multiple occasions, and this dress is perfect for everything from a weekend brunch to a spring wedding. I love it!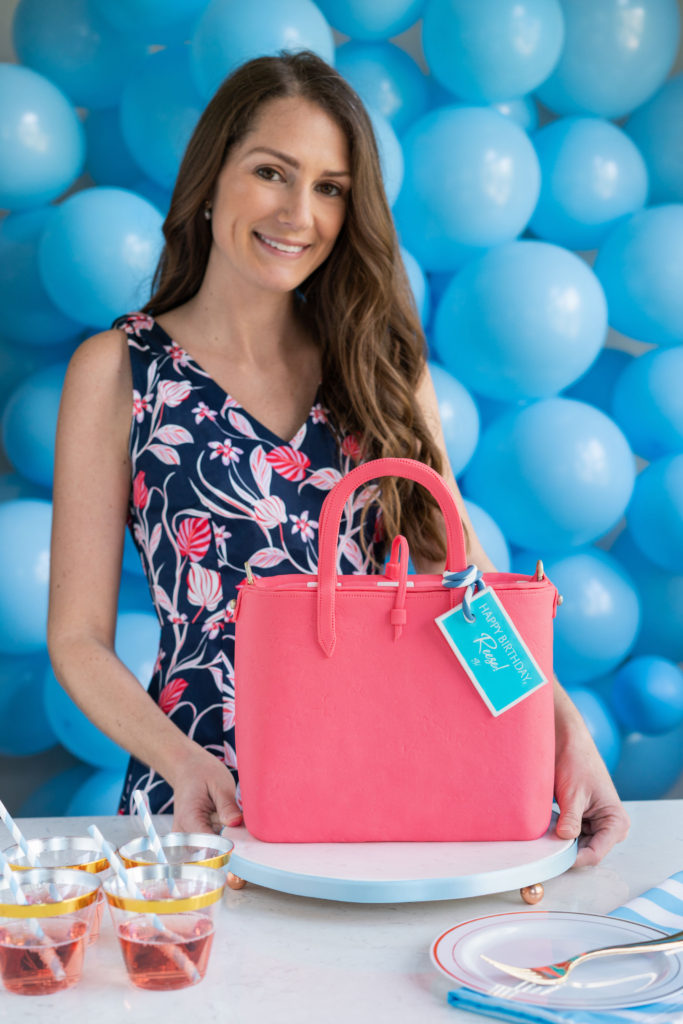 In honor of the birthday girl… What's your favorite Reese movie?
Let's see… "Walk the Line" is such a well-known movie for a reason. I loved Reese's performance so much and thought she was just spectacular.
But I have to say another one is actually "Four Christmases"—she was hilarious! That movie has become such a holiday staple in our household and is still one of only a handful of movies that brings me to tears from laughter every single time I watch it.
Best thing about living in Charleston?

Before I moved here, someone told me that Charleston was the best place you could ever live because it has everything you could ever want. And now that I live here, I have to say that's 100 percent true!
Deep Southern heritage, preserved history, impeccable charm, amazing culinary options, endless natural beauty, multiple beaches, a strong local business community, amazing year-round weather, a small town feel with bigger city touches—I could go on and on about everything I love about Charleston and what it has to offer. And I've never been more proud to call a city my home.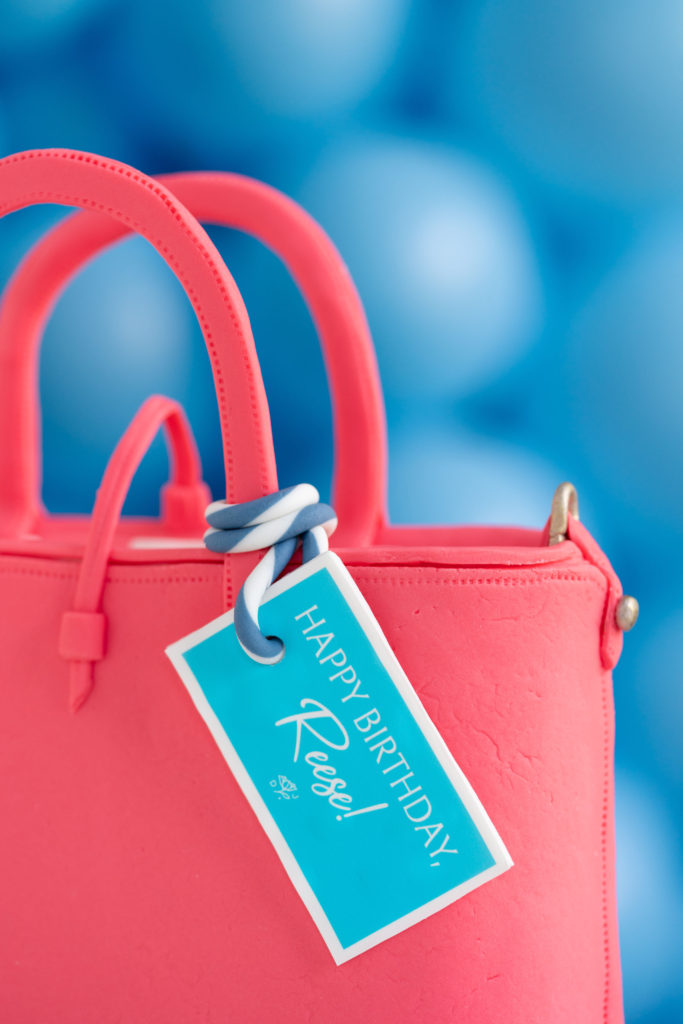 Pink Champagne Cake with Easy Strawberry Buttercream
Yields a two-layer 8" cake or 24 cupcakes
Cake Ingredients
1 ½ cups pink champagne, cooked down to ¾ cup
2 ¾ cup cake flour
2 tsp baking powder
1 tsp baking soda
½ tsp salt
¼ cup vegetable oil
1 ¼ tsp clear vanilla extract
1 cup unsalted butter (2 sticks), room temperature
1 cup plus 2 tablespoons granulated sugar
3 large eggs, room temperature
2 egg whites (fresh, not boxed), room temperature
Optional: pink food coloring (this cake will bake to be a golden color; you can take the "pink" up a level by adding pink food coloring to the batter!)
Buttercream Ingredients
2 cups unsalted butter (4 sticks), room temperature
5 cups powdered sugar, sifted
¼ cup no sugar added strawberry jam or preserves
Directions
Prepare the Champagne:
In a saucepan, bring 1 ½ cups pink champagne to a simmer over medium heat.
Reduce heat and simmer for about 20 minutes, until champagne has cooked down to ¾ cup.
Set aside and let cool slightly to room temperature.
Prepare the Cake Ingredients:
Preheat oven to 350° F.
Grease and flour cake pans.
In a small bowl, sift together cake flour, baking powder, baking soda, and salt. Set aside.
In a large liquid measuring cup, whisk together the reduced champagne, vegetable oil and vanilla extract (and food coloring, if using).
Make the Cake:
In a mixer using a paddle attachment, beat the butter on medium until smooth, about 1-2 minutes.
With the mixer on low, slowly add the sugar.
Cream butter and sugar on medium high until light and fluffy, about 10 minutes.
Add the 3 whole eggs, one at a time, making sure each is fully mixed in before adding the next.
With the mixer on low, alternate adding your flour mixture and liquid mixture in batches, beginning and ending with the flour mixture. Scrape down the sides of the bowl.
In a separate bowl, whip the 2 egg whites until medium peaks form. Using a spatula, fold whipped egg whites into cake batter until incorporated.
Divide batter into two cake pans and bake for 24–28 minutes, or until a toothpick comes out clean.
Make the Frosting:
Using a whisk attachment, whip the butter for 5 minutes then scrape down the bowl.
With the mixer on low–medium low, gradually add the powdered sugar until fully incorporated.
Slowly add the strawberry preserves, then whip on medium high until frosting is light and fluffy, about 3–5 minutes.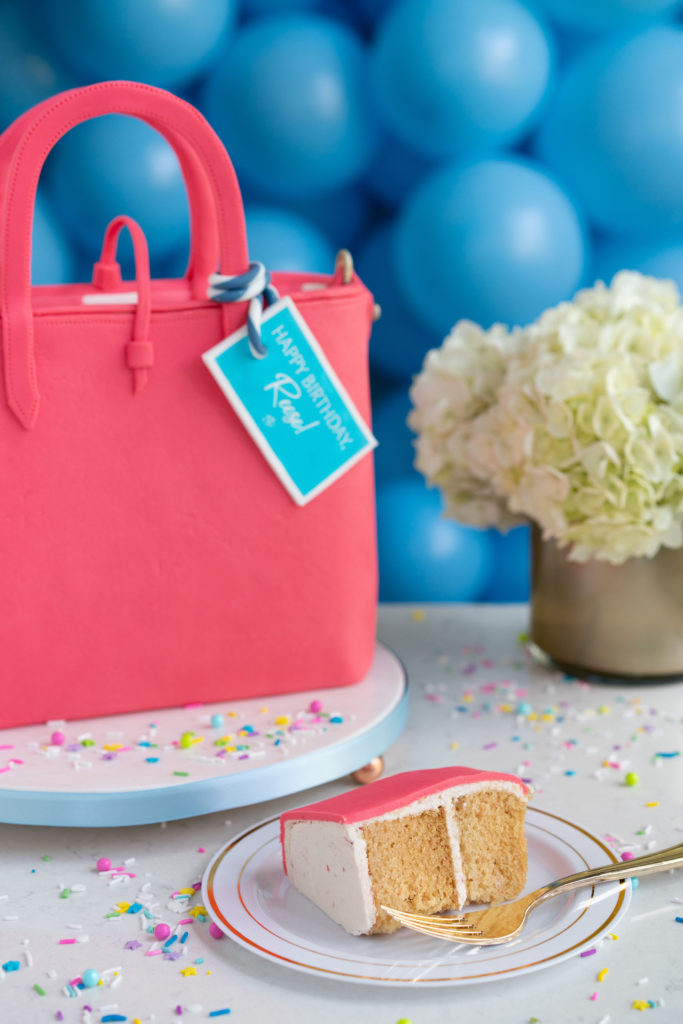 Photography by Abby Murphy