Hello, Sugar: A Recipe to Celebrate National Peach Cobbler Day
It must have been a Southerner who came up with the idea for National Peach Cobbler Day, a "holiday" we'll be celebrating tomorrow with this skillet version of the classic dessert from Beth Branch of Bethcakes, our resident Draper James baker.  (See more of Beth's delish dishes here, including this birthday cake she recently baked for Reese.) You'll find peaches throughout the South—from South Carolina to Georgia to Alabama—along with lots of opinions about the best way to serve them. With its crispy topping that only enhances the sweet nectar of the fruit, cobbler is certainly one of our favorites (especially with a scoop of ice cream on top).
If peaches aren't on farm stands in your area yet, you can still celebrate National Peach Cobbler Day! Beth's recipe is just as delicious with canned fruit.
Tell us about this recipe.

You can make this cobbler in just about any round or square baking dish, but I love baking in cast iron skillets. My cast iron skillet belonged to my grandmother, who was the queen of desserts in my mom's family. She's one of my baking inspirations, and she was well-known for her fruit cobblers and crisps! My grandparents used to have a huge garden in their backyard, and I remember picking fresh fruit on summer days with my grandma when I was a child. Plus, you can never go wrong with a fruity cobbler and a giant scoop of vanilla ice cream.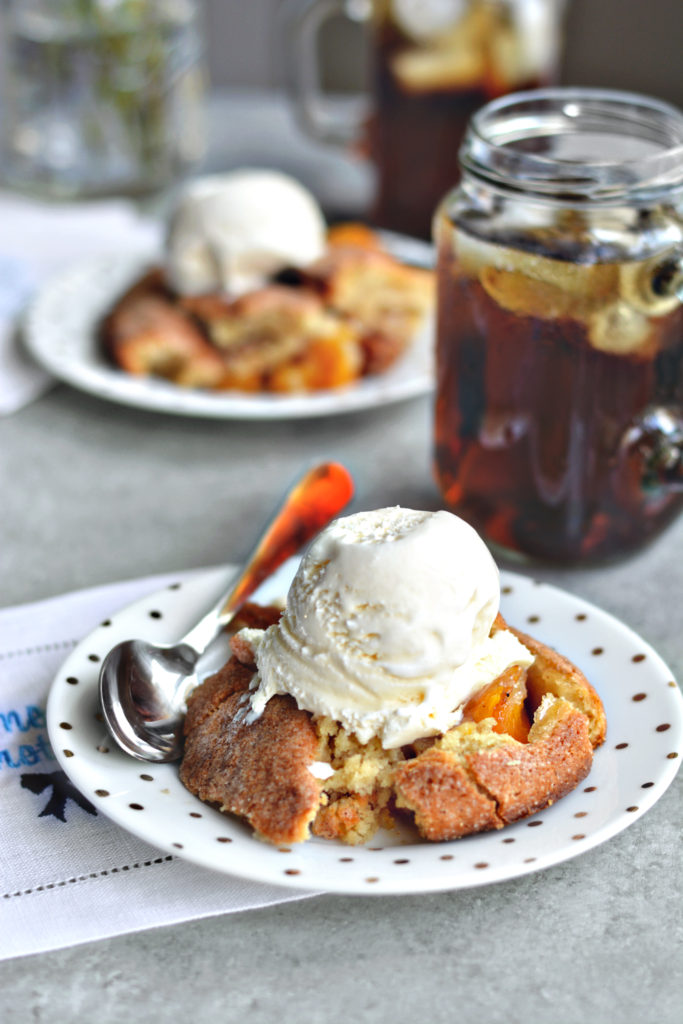 What does peach cobbler make you think of?
Peaches will always remind me of summer in the South. They're the state fruit of Georgia, but in Alabama where I'm from, we have Chilton County peaches. There's even a water tower with a giant peach on the top! Every summer my family goes to the beach, and growing up, we'd always look out for the giant peach when we were about halfway between Birmingham and Montgomery. I also have some fond childhood memories of my grandparents taking me to Peach Park, which has a fresh fruit market, gift shop, the best homemade ice creams, and tons of other baked goods like pies and cobblers. We'd pick out our goodies for the day and sit outside or walk through the park. It was always such a treat!
Cobbler is a great warm weather dessert. What are you most looking forward to about the change of the seasons?
I'm definitely looking forward to spring and summer flavors! There's just so much fresh and flavorful produce this time of the year. Fresh, juicy berries and melons are always summer staples, but I'm looking forward to stone fruits as well. There are so many possibilities when it comes to summer flavors: pies, cobblers, crisps, cakes, ice creams, drinks, milkshakes, etc. I'm so ready for it!
Skillet Peach Cobbler by Beth Branch of Bethcakes
Ingredients for Peach Filling
6 Tablespoons butter
3 cups sliced peaches (see note)
¼ cup granulated sugar
¼ cup packed brown sugar
½ teaspoon ground cinnamon
¼ teaspoon ground nutmeg
1 teaspoon vanilla
2 teaspoons cornstarch
Ingredients for Topping
1 ¼ cups all-purpose flour
¼ cup, plus 2 tablespoons granulated sugar, divided
¼ cup packed brown sugar
1 teaspoon baking powder
½ teaspoon salt
6 Tablespoons butter, cold and cubed
½ cup boiling water
1 teaspoon ground cinnamon
Directions for Filling:
Preheat oven to 425°F. Melt butter in a 9-inch cast iron skillet over medium heat. In a large bowl, combine peaches, both sugars, cinnamon, nutmeg, vanilla, and cornstarch. Toss until peaches are evenly coated. Add peach mixture to the cast iron skillet and bake for 10 minutes. Remove from oven.
Directions for Topping:
Combine flour, ¼ cup granulated sugar, brown sugar, baking powder, salt, and butter in a food processor. Process until mixture is crumbly, but holds its shape when pressed together. Transfer mixture to a large bowl. Add boiling water and stir until blended and a thick dough forms. Drop dough by large spoonfuls over the peach filling in skillet. Spread with a rubber spatula or a spoon until peaches are mostly covered. Stir together 2 tablespoons granulated sugar and 1 teaspoon cinnamon. Sprinkle evenly over topping. Bake 25-28 minutes or until topping is golden brown. Remove from oven and let cobbler cool slightly.
Serve cobbler on plates or in bowls with a scoop of vanilla ice cream.
*Recipe Note: If you can't find fresh peaches, don't hesitate to use canned or frozen peaches. If using canned, make sure to drain, rinse, and pat peaches dry before using. If using frozen, thaw and pat dry before using.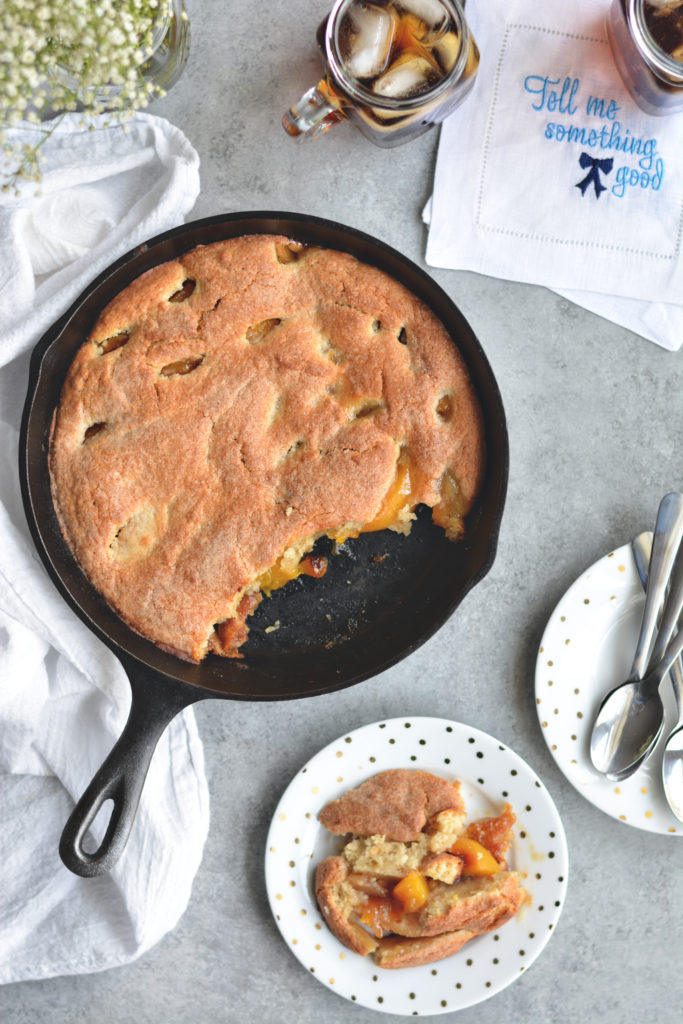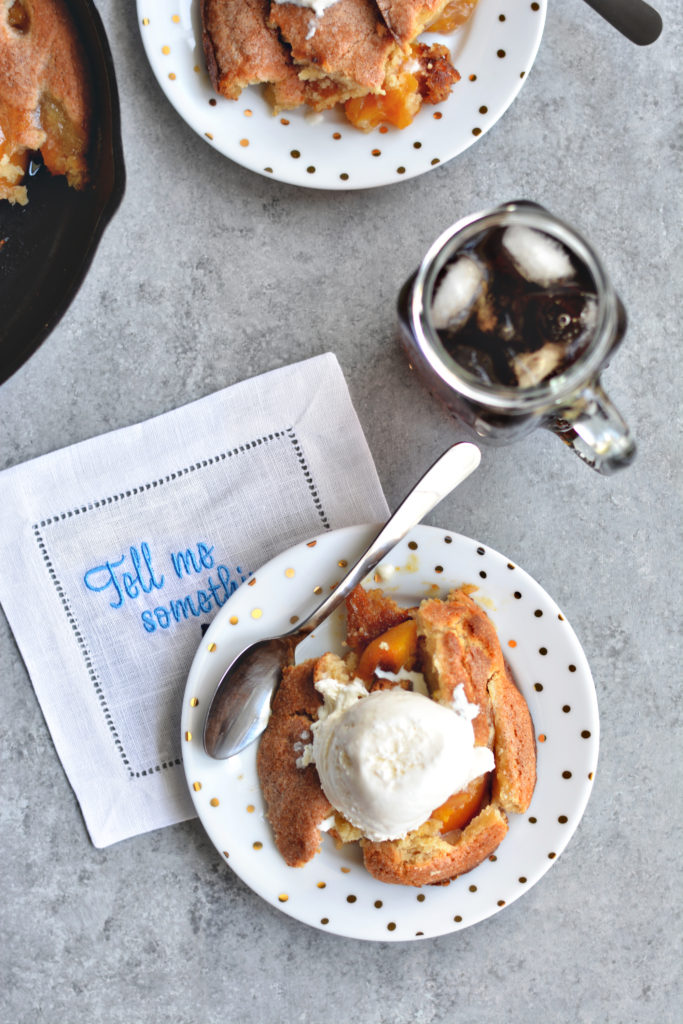 Save
Save
Save
Save
Save
Save