Happy Birthday, Reese! (A Recipe for Reese's Cherry Birthday Cake)
It's Reese's birthday today (happy happy!) and as usual, she'll be having a celebratory lunch with her girlfriends. What's for dessert, you wonder? Birthday cake, of course—and this year, it's a cherry birthday cake inspired by our Draper James cherry print.
"I love this cherry birthday cake because it's a classic yellow cake, but instead of being filled with the usual chocolate frosting, it's got a cherry filling and it's also topped with cherry frosting," says Beth Branch of baking blog Bethcakes, who conjured up this cake in honor of Reese. "I love the Draper James cherry print; it's got a warm-weather vibe that I am so ready for right now. The cake is also easy to make, even if you're a beginner."
Read on for more from Beth and to snag her recipe for cherry birthday cake.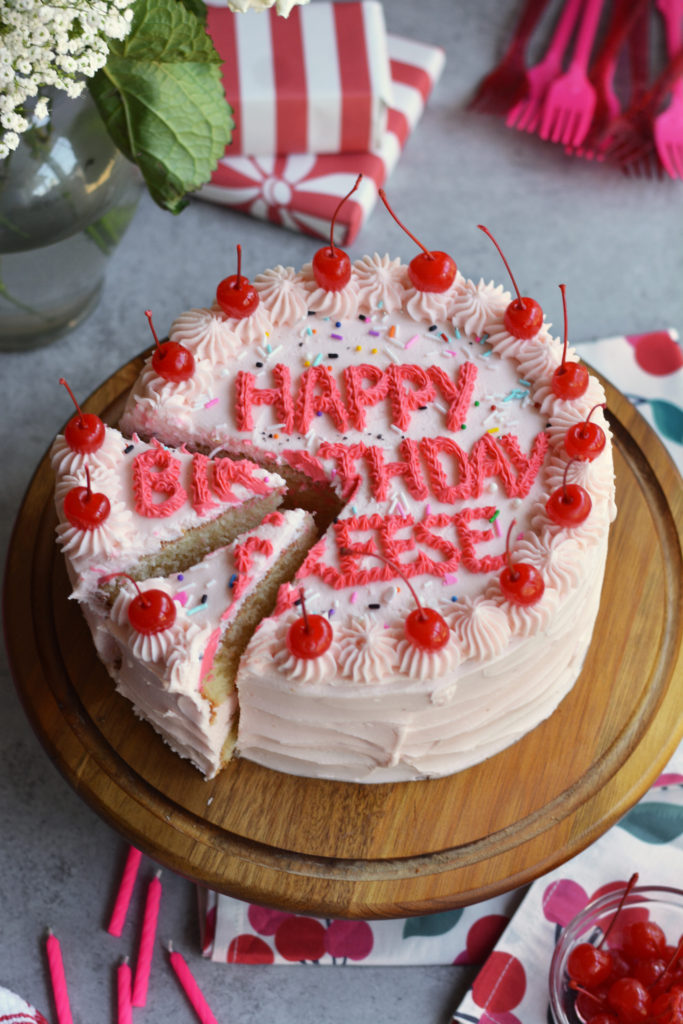 You got your start making birthday cakes for friends… Tell us more!
I first began baking in college and I would bake crazy over-the-top cakes for my friends' birthdays. I love birthdays. I would try to make each cake special and unique to that person and their personality. I started blogging as a way to share the recipes and the pictures. My friends began calling these cakes "bethcakes," so that's where my blog name comes from. It reminds me of all the fun birthdays we celebrated!
What is it about the tradition of birthday cakes that's just so much fun, no matter your age?
I love birthday traditions because I just think you should do something to celebrate on your actual birthday. Cakes are my thing, so I'm always quick to offer one, but it doesn't even have to be cake! I made a friend a birthday pie once, and we still put candles in it and sang happy birthday. I think what I love about the tradition is the actual act of gathering around someone on their day and celebrating them. Everyone deserves that on their birthday!
What are some of your favorite "trends" in birthday cakes right now?
I have seen some ridiculously cute unicorn birthday cakes on Instagram recently, and I'm dying to make one! I still really love the rustic, naked cake trend. It's easy and it's imperfect, which is why I like it. It gives it more of a homemade feel. I used to try so hard to make perfectly frosted cakes, and just never got the hang of getting those perfect edges around the top. Drip cakes have been pretty trendy too, and I still love those! It's fun to pour ganache or caramel over a cake and let it drip down the sides.
Cherry Birthday Cake Recipe by Beth Branch of Bethcakes
Ingredients for Cherry Filling
1 pound fresh cherries, pitted (or frozen, thawed)
⅓ cup sugar
1 teaspoon almond extract
1 Tablespoon water
1 Tablespoon cornstarch
Ingredients for Fluffy Yellow Cake
2¼ cups cake flour (cake flour can be found on the baking aisle of most grocery stores)
1 Tablespoon baking powder
½ teaspoon salt
1 ½ cups sugar
3 large eggs
½ cup vegetable/canola oil
2 teaspoons vanilla extract
1¼ cups milk
Ingredients for Cherry Frosting
1½ cup butter, softened
1 tsp vanilla extract
2 Tablespoons cherry juice, from a jar of maraschino cherries
¼ teaspoon cherry flavoring* (cherry flavoring can be found in the baking section of most craft stores)
4 cups powdered sugar
Ingredients for Garnish
1 (10-oz) jar maraschino cherries, pitted with stems
Sprinkles
Candles
Directions for the Cherry Filling
Place cherries in a blender or food processor and blend until pureed. Combine cherry puree, sugar, and almond extract in a medium saucepan over medium heat. Stir together water and cornstarch, and add to saucepan. Bring mixture to a low boil and stir every so often, making sure to scrape the edges and bottom of the saucepan. Cook until mixture becomes thick and resembles a spreadable jelly or jam, about 10-15 minutes. Remove from heat. Let cherry filling cool completely before using. Filling can be made in advance and stored, covered, in the refrigerator for 1-2 days.
Directions for the Fluffy Yellow Cake:
Preheat oven to 350°F and spray two 8-inch pans, or three 6-inch pans with nonstick spray. (Note that the cake is pictured above made from two 8-inch pans and below from three 6-inch pans.)  Whisk together cake flour, baking powder, and salt. Set aside. Combine sugar, eggs, oil, and vanilla in a large bowl. Mix on medium speed with an electric mixer until just combined. Add half of the flour mixture and half of the milk. Mix until just combined. Repeat with remaining flour and milk. Mix until well blended. Divide batter evenly among cake pans. Bake 23-25 minutes, or until golden brown, center has set, and a toothpick inserted into the center of each cake layer comes out clean. Let cakes cool in pan for 10 minutes, then move to a wire rack to cool completely.
Directions for the Cherry Frosting
Cream butter on medium-high speed with an electric mixer until smooth and creamy. Add vanilla extract, cherry juice, and cherry flavoring, if using. Mix well. Add half of the powdered sugar. Mix on low speed until mostly combined, and then medium-high speed until completely combined. Repeat with the remaining powdered sugar. If frosting is too thick, add 1-2 Tablespoons milk and mix well.
Assembly
Place one cake layer on a cake plate or cake stand. Pipe a border of frosting around the edge of the cake. Fill with cherry filling. (If you're doing a three-layer cake, repeat this process with the second cake layer.) There may be some cherry filling left over. (This is good on pancakes and biscuits!) Top with final cake layer. Spread frosting all over cake and pipe decorations on top, if desired. Decorate with sprinkles, cherries, and birthday candles. Don't forget the presents!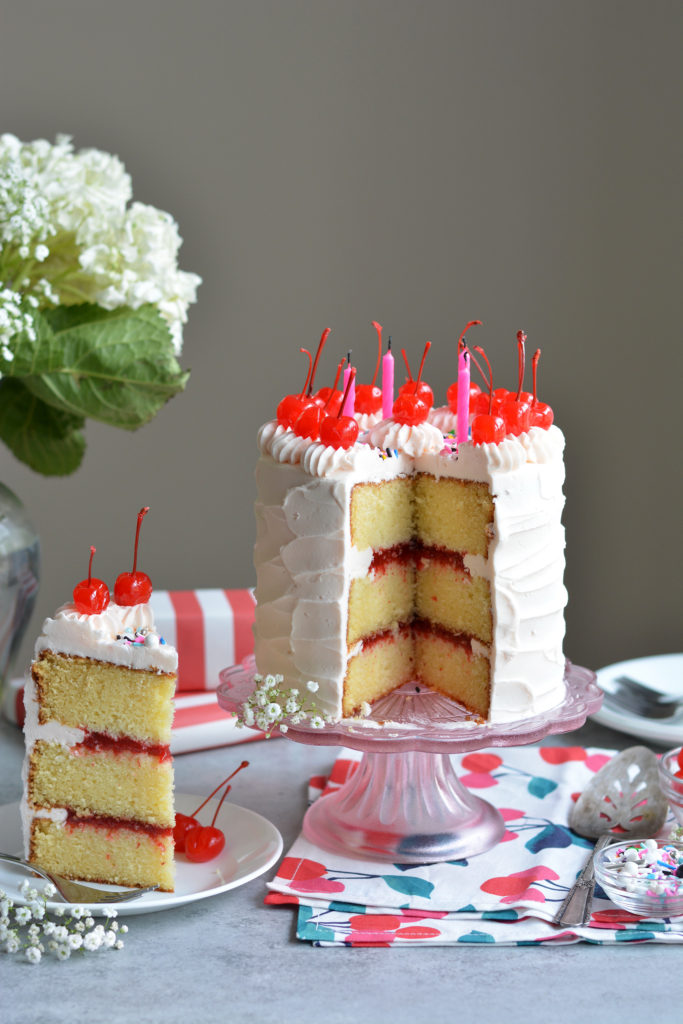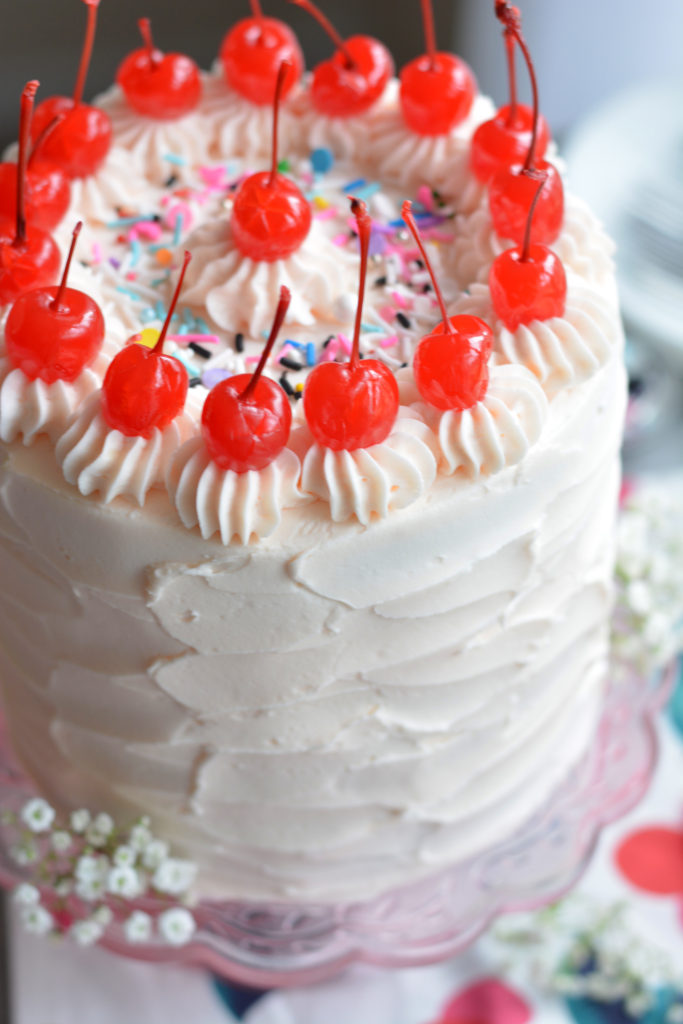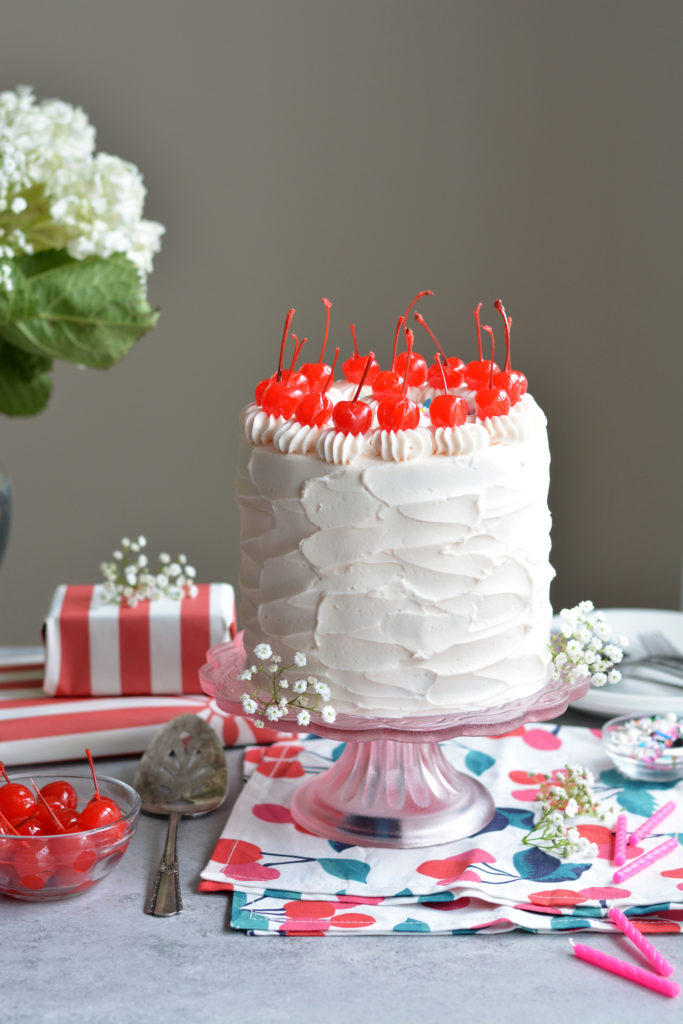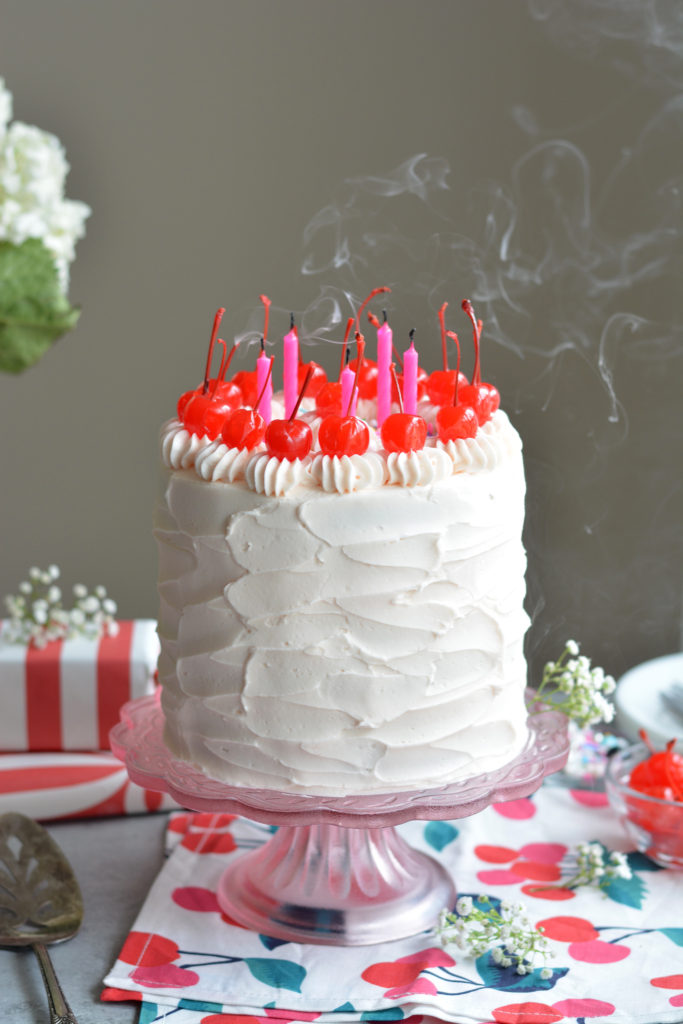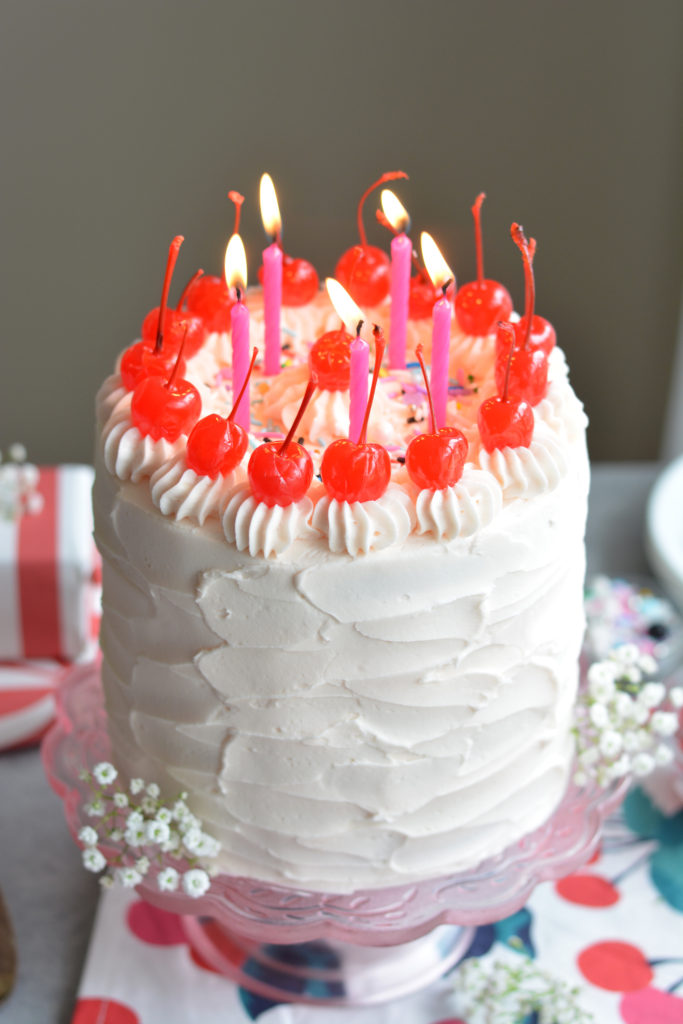 Save
Save
Save
Save
Save
Save
Save