Stylemaker Seven: Carrie Colbert
Style maven Carrie Colbert is not afraid of a pop of color. On her blog Wear + Where + Well, she showcases bright hues in each of her looks – whether she's exploring her hometown of Houston or traveling abroad in Dubai. Her style is refined and elegant, yet casual and approachable – which made her the perfect gal to showcase our favorite dress of the summer. "The gingham pattern and the classic shirtdress shape are perfect for all my summer gatherings," says Carrie, who paired the frock with our Eva Lemon clutch. "Don't you just want to go have a beautiful picnic in the park when you see this outfit?"
Learn more about what makes this Southerner swoon by checking out her Stylemaker Seven below: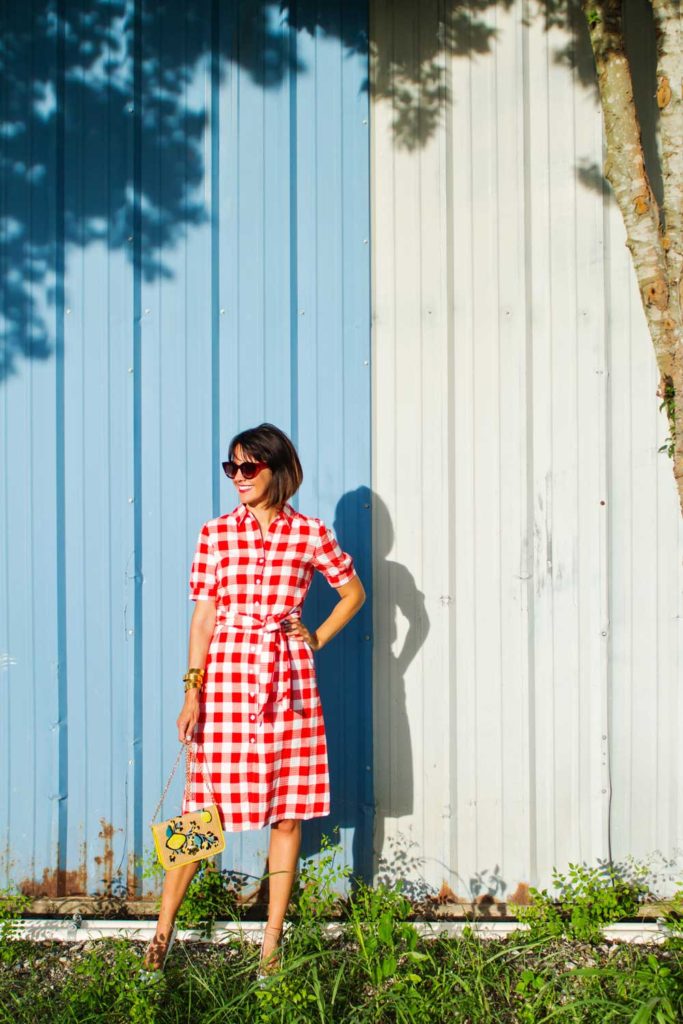 Her favorite…
Home-cooked meal: My boyfriend makes the most delicious and healthy home-cooked meals. We eat a lot of fresh grilled fish and vegetables. Corn on the cob is my favorite summer vegetable, although he makes amazing brussels sprouts, as well.
Restaurant: A relative newcomer to the Houston restaurant scene, 

A State of Grace

 is winning me over with its southern cooking. The enchilada is not to be missed!
Reads: Not surprisingly, I have a stack of fashion magazines on my bedside table. In addition to that, I'm reading Dr. Brene Brown's 

Rising Strong

. She's a fellow Houstonian. I find all of her books so insightful and inspiring!
Southernism: "Bless her heart!"
Dessert: Without a doubt, strawberry shortcake! It's been my favorite since I was a kid.
Cocktail: This summer, we've been on a kick of making fresh watermelon martinis. They are absolutely delicious! So refreshing. Plus, since the cocktails contain fresh fruit, they must be healthy. Right?
State Fair Tradition: The food, of course! At the Texas state fair, you can find a fried version of practically any food — even fried Oreos! I had to draw the line, though, when I saw fried butter. Ha.