DJ Dines, Father's Day Edition, with David Bancroft of Acre Restaurant
At Acre restaurant in Auburn, AL, Executive Chef/partner David Bancroft serves up an innovative, farm-fresh menu that nods in equal parts to regional culinary traditions and contemporary cooking techniques. But it wasn't his modern Southern cuisine that brought us to Chef Bancroft; nor was it the hip, yet upscale vibe that makes his restaurant a favorite in this legendary college town.
In truth, it was his Instagram. Hailed by Garden & Gun as one of "Five Southern Chefs to Follow on Instagram," David uses social media to showcase the locally sourced ingredients that make up his dishes (including many from his restaurant's three on-site gardens) as well as the wholesome (and photogenic) final products. Sprinkled throughout are images of his family: wife, Christin, who oversees marketing at Acre; son, Walker (4.5) and daughter, Kennedy (3).
Who better, we thought, to talk about food and Father's Day—and to model our new collection of bow ties— than this dapper dad?
Mother's Day is often associated with tea or a fancy brunch. What are your thoughts on food and Father's Day?
We men like to think that the rules don't apply on Father's Day—rules such as counting calories! Ribeye steak (gristle and all), Bud heavy, ribs with extra sauce, brownies that are slightly undercooked. These are the things that don't count against us on Dad's Day.
What is Acre doing for Father's Day this year?
We like to focus all of our efforts on Father's Day Brunch and then close for dinner service. I enjoy making the evening available for our team members to spend time with their families.
Three favorite cooking ingredients topping the list of most dads?
Meat. Beer. Nap?
Do you cook with your kids?
Walker and I love to go bass fishing together. I was so excited when he caught his first bass. He turned to me and said: "Can we cook it, Daddy?" I sprinted home to clean the fish before he changed his mind! However, anytime I ask both of them what they would like for me to make, they almost always scream "PANCAKES!"
You and your "mini me" rock a bow tie nicely! How do you style a bow tie?
The first thought that crosses my mind when selecting a bow tie is "How will this look with my game day shirt?" (War Eagle, y'all!) I also love wearing heirloom family coats and jackets. If there is ever an opportunity to pair a stylish bow tie with a vintage piece, I'm all over it.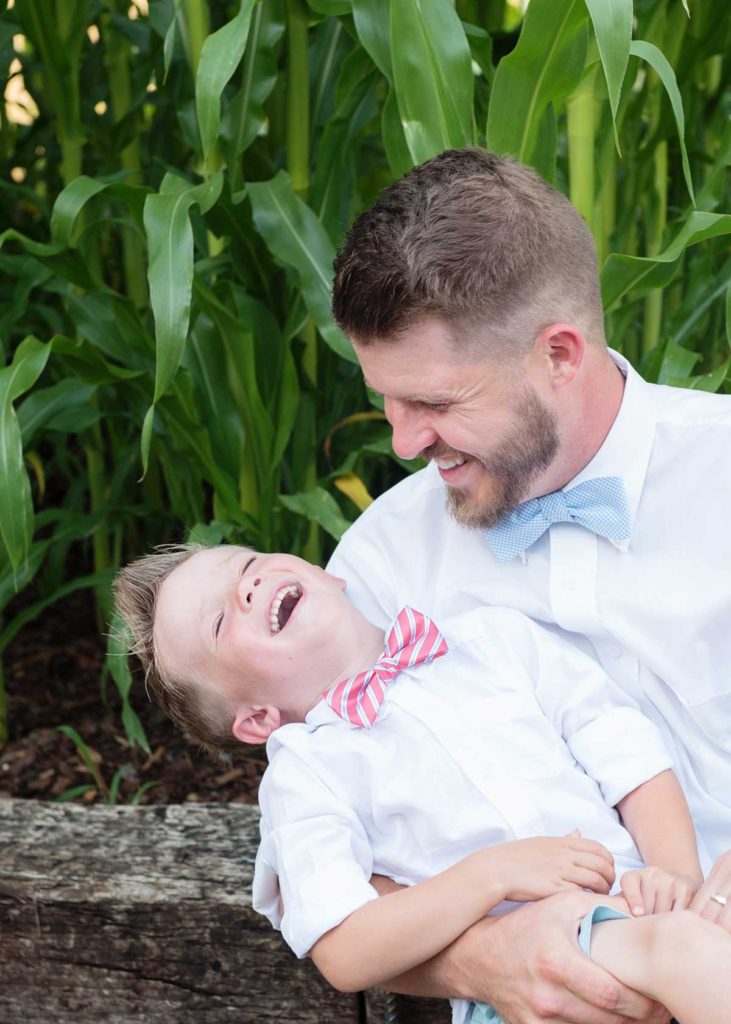 Click here to get Chef Bancroft's recipe for Smoked Chicken Wings with Alabama White BBQ Sauce—the perfect crowd pleaser for your Father's Day brunch.