Home for the Holidays: Amanda Wilbanks' Sweet Potato Praline Casserole Recipe
This season, we're celebrating the traditions of the holidays. And in the South, many of our traditions revolve around food. So over the next few weeks, that's what we're bringing you: recipes from some of our favorite (and inspirational) Southern women.
Amanda Wilbanks, the founder of Southern Baked Pie Company and a familiar face on the Love, Reese blog, is the first up in this series of recipe-sharing. The Georgia resident is treating us to a recipe that comes courtesy of her mother-in-law: Sweet Potato Praline Casserole.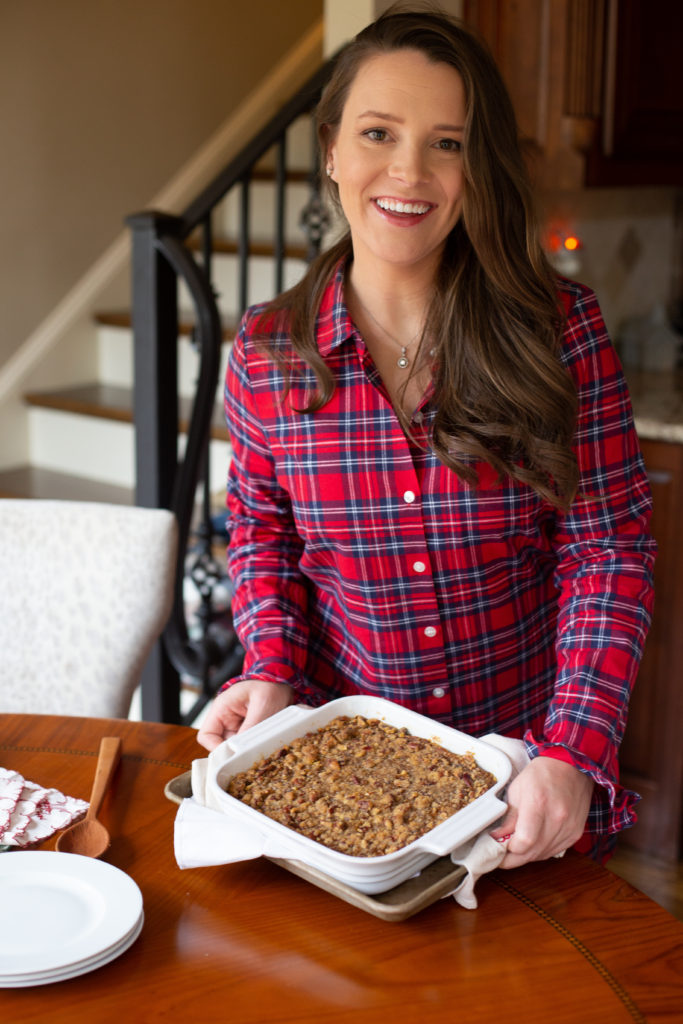 Tell us about this recipe.
This is my mother-in-law Sandy's, recipe; she shared with me how to make it a few years ago. It is my husband Alex's favorite fall side dish. He loves the crunch of the praline pecan topping against the smooth, creamy sweet potato filling.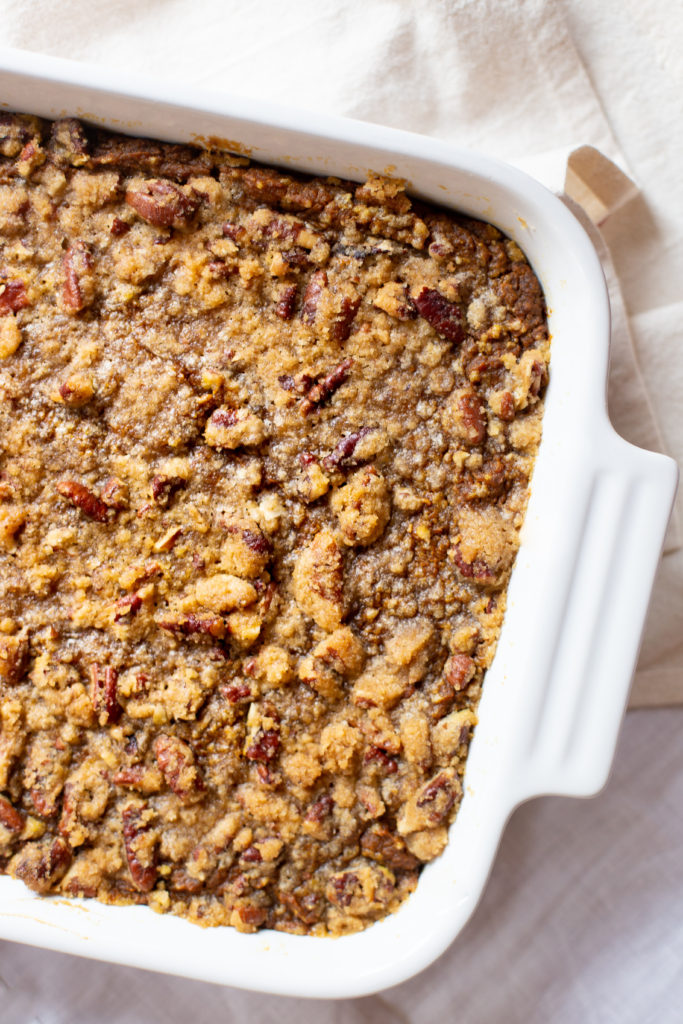 What's your favorite holiday tradition?
I always take off from work the day before Christmas Eve. It's my special little holiday tradition. The pie shops are all buzzing with customers hurrying in to pick up their last -minute pies.
First, I stop by to watch the organized chaos in the pie shops from afar… Watching everyone walk in smiling, wearing their Christmas sweaters, and spreading holiday cheer makes my heart smile. After I leave the pie shops, I rush around town getting my last-minute shopping done. I pop into all my favorite local shops and purchase last minutes unique gifts for my kids and husband.
It's a day where I let go of all the stress of the holiday season and simply enjoy the spirit and joy the holiday season bring. It's my treat to myself and my way of relaxing before the holiday madness begins.
Do you have any special plans for the holidays this year?
This year is an exciting year for our family. We welcomed our daughter, sweet Caroline Grace, into the world this past August. Christmas will be filled with more love than ever before with having three kids under the age of 10 clamoring for gifts under the Christmas tree. My 9-year-old son, Austin, and 4-year-old son, Dalton, love to bake. They've asked if we can make a homemade gingerbread house on Christmas Eve. I'm afraid I have my work cut out for me; it will certainly be an adventure with those two little rascals.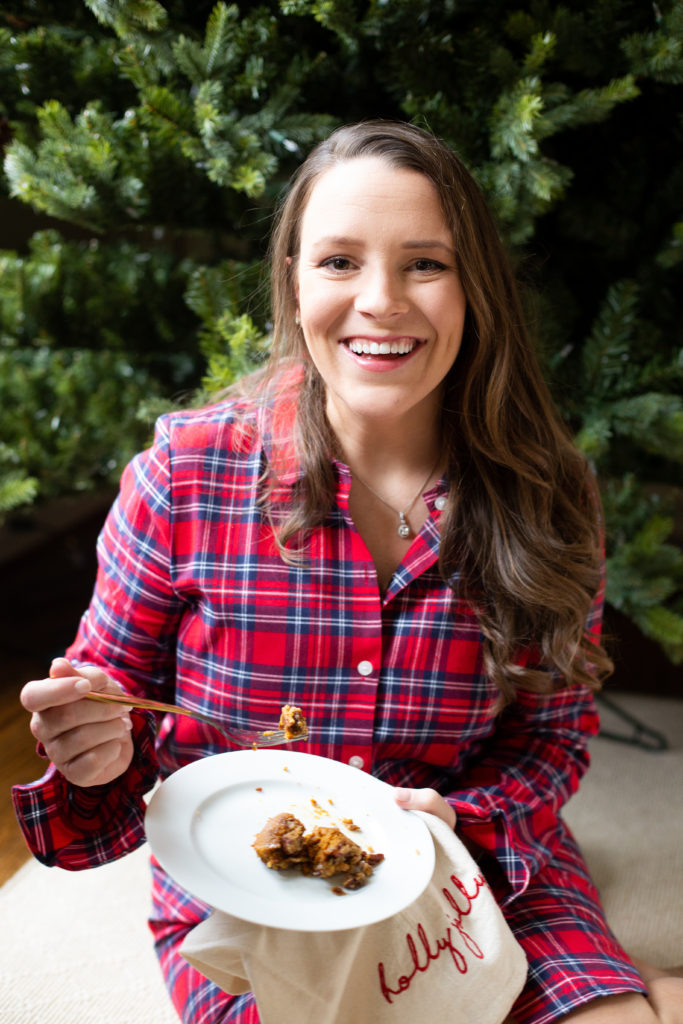 What's the best thing about celebrating holidays in the South?
The FOOD! We love to eat in the South. My family and I always gather in the kitchen on Christmas Eve and bake, cook, and prep for Christmas Day. It's a tradition to make Ritz crackers and peanut butter, and then dip them in chocolate. They put oreos dipped in chocolate to shame. It's my absolute favorite time of year. The more family members that can come the better!
Holidays in the South are filled with love, family, and friendship. It's a time when everyone let's go of work and stress, and simply enjoys each other's company.
Amanda Wilbanks' Sweet Potato Praline Casserole Recipe
Yield: 6 servings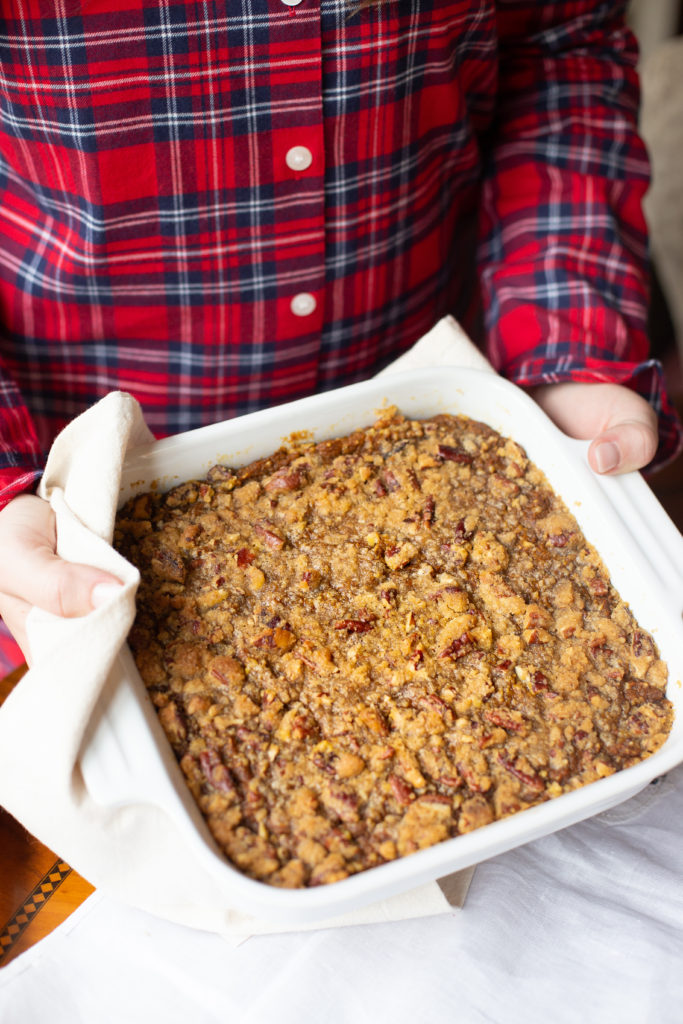 Ingredients for the Casserole Filling
3 cups cooked sweet potatoes (approx. 4 large sweet potatoes)
8 tablespoons melted butter, divided in half
¼ cup heavy cream
1/3 cup dark brown sugar, packed
3 tablespoons melted butter
2 eggs
1 teaspoon cinnamon
½ teaspoon pumpkin pie spice
¼ teaspoon ground cloves
Ingredients for the Praline Topping
½ cup dark brown sugar, packed
1/3 cup all-purpose flour
1/3 cup melted butter
¾ cup chopped pecans
Directions
Peel sweet potatoes. Cut into ¼ inch thick slices. Place slices on a parchment-lined sheet pan.
Brush slices with a mixture of half the melted butter and cream.
Bake slices in a preheated 325-degree oven for approximately 25 minutes or until fork-tender.
Mash slices with a potato masher.
Mix sweet potatoes, brown sugar, reserved 4 tablespoons butter, eggs, cinnamon, pumpkin pie spice, and cloves together in a large mixing bowl. Place mixture in a 10×7 inch glass dish that has been sprayed with nonstick spray.
In a separate bowl, mix praline topping ingredients. Sprinkle mixture over sweet potato casserole.
Bake in a preheated 325-degree oven for 30 – 35 minutes.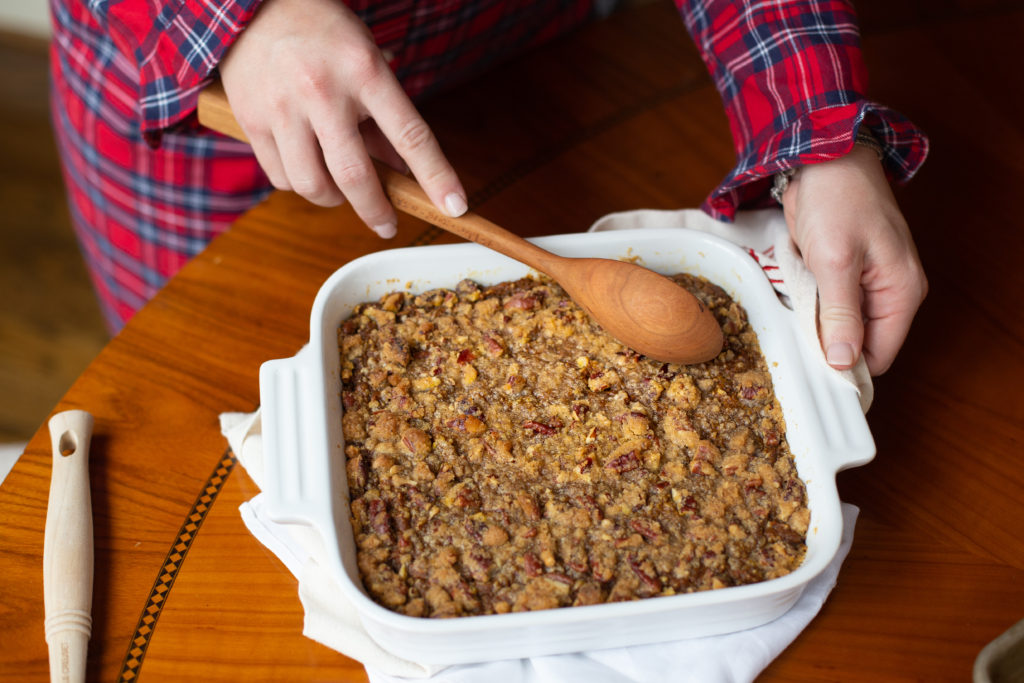 Photos c/o Southern Baked Pie Company