A Derby Pie Recipe and Party Tips from Going for Grace and Mrs. Southern Social
Lauren Cermak of Going for Grace returns to the Love, Reese blog with her fellow Tennessean, Mary Huddleston of Mrs. Southern Social.
The entertaining experts put together two Kentucky Derby-themed tablescapes and shared a Derby Pie recipe (yum!) just in time for the big day at Churchill Downs.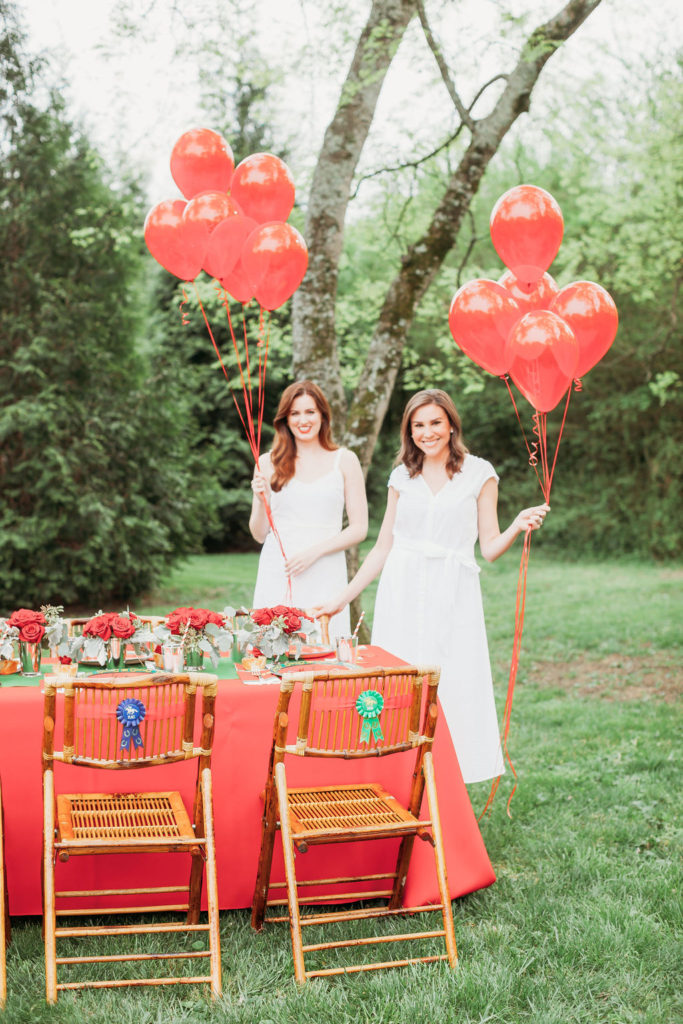 Read Lauren and Mary's tips for throwing a Derby party, creating a memorable tablescape, and dressing for the South's biggest horse race below.
Tell us about this recipe.
Lauren: This recipe is one of my absolute favorites, Derby or no Derby! It is the perfect "make to take" pie, whether you need to treat a friend or make a contribution to the dessert table.
While simple to make, it packs quite the punch when it comes to flavor. My trick? Use both semi sweet and dark chocolate chips!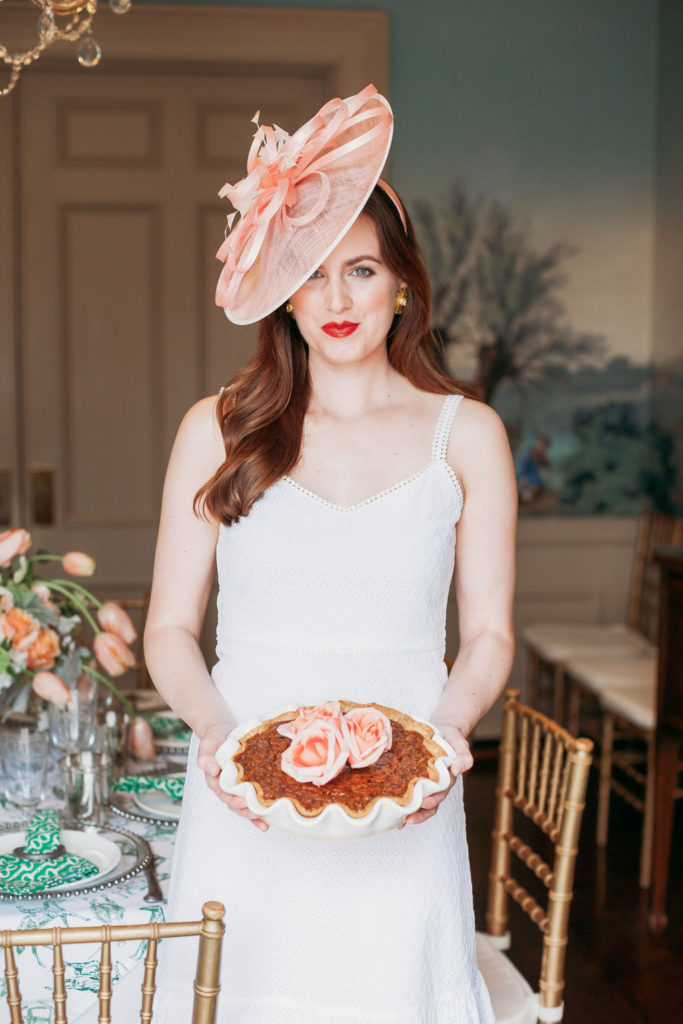 Tell us a bit more about the Derby parties and tablescapes. What was the inspiration?
Mary: For our Derby parties, we wanted to incorporate traditional equestrian-themed décor with a fresh Southern twist. I always like to give two tabletop examples, so for one table we used traditional Derby colors, and we kept the table more casual and set it up outside. Almost everything used was disposable, so that it could easily be set up in a box or tailgate at the races.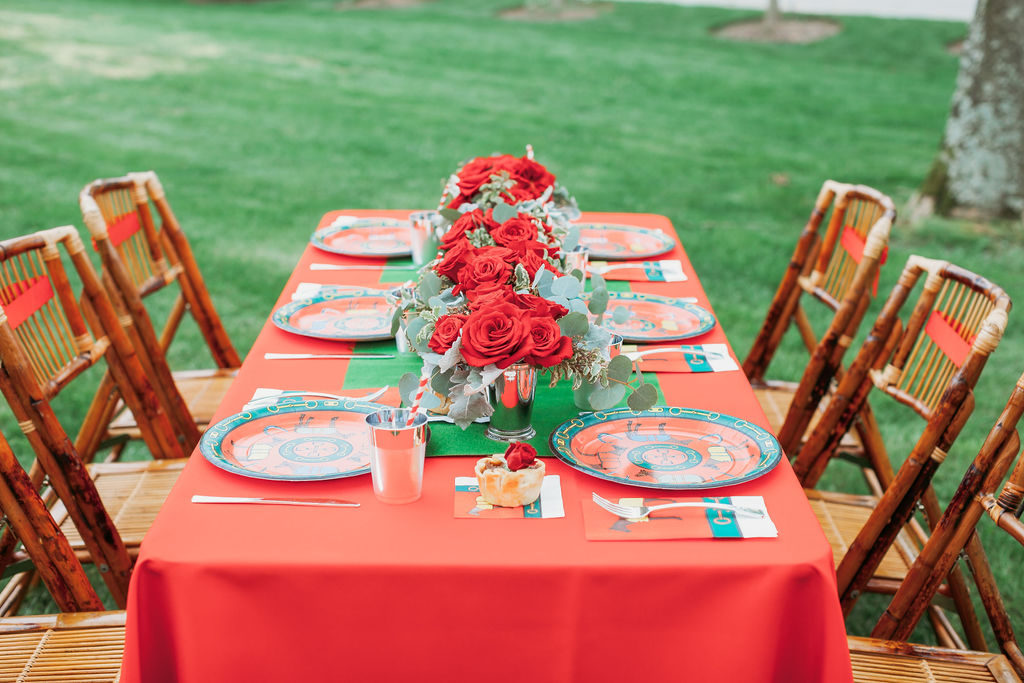 For the second table, we incorporated beautiful equestrian linens, but chose a color palate of green and coral to break a bit from tradition. Lauren chose the color palette for this one, and then we worked together to bring all the details together. We wanted to make these tables beautiful and actually "doable" for others to recreate themselves.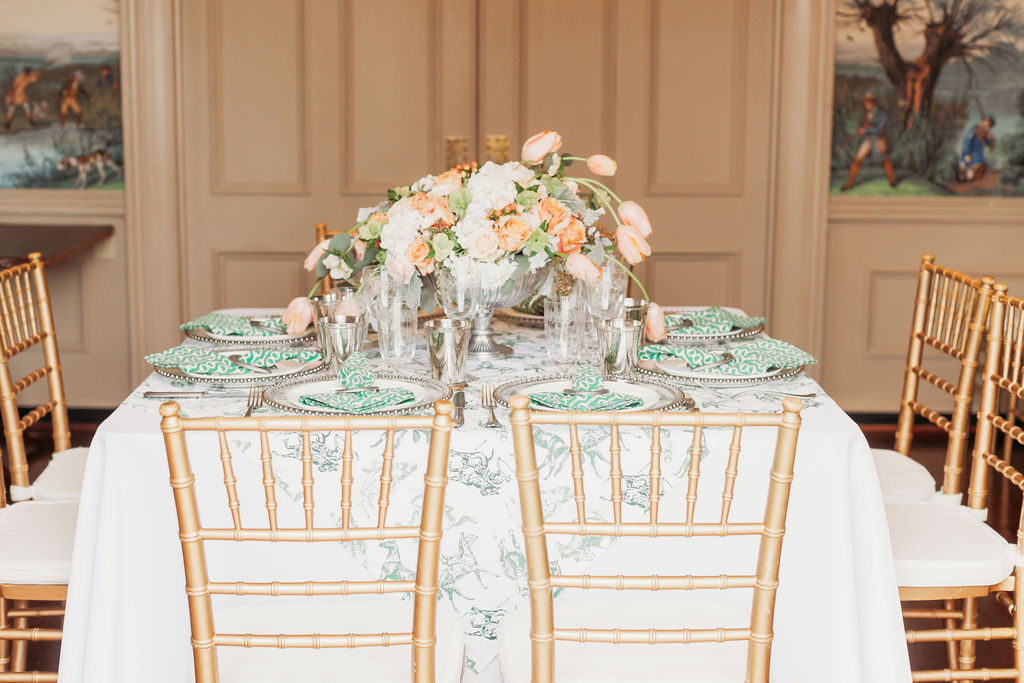 Lauren: The inspiration for both of our Derby parties was what I think of as "equestrian chic." We wanted to hold true to traditional Derby elements such as julep cups, roses, and silver horse shoes, but soften it with a feminine flair. Mary took the lead on the "pack-able party," as it is very fitting for her brand of delegation!
We chose to keep almost everything in this table disposable for an easy cleanup and pack-able enough to take from one place to another. My favorite elements from this table are the mini Derby pies at each place setting and the red roses arranged in julep cups!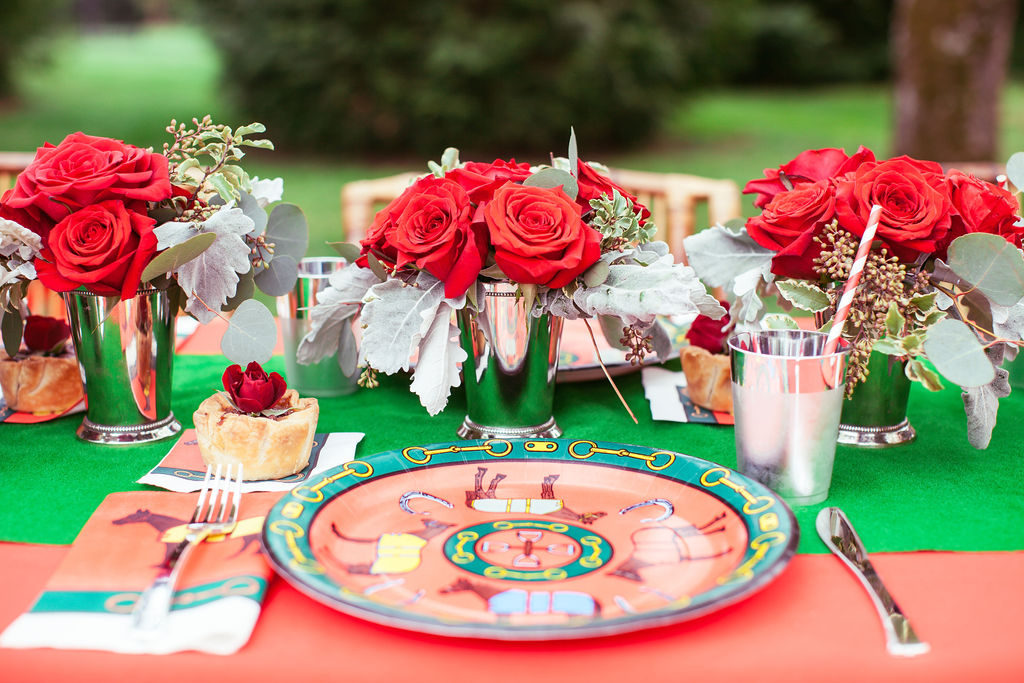 For the more elevated party we chose to vary from the traditional color scheme by replacing the red with a beautiful coral. This table was inspired by the darling equestrian tablecloth and napkins. We then added Derby elements through silver horseshoes, julep cups, and a beautiful floral arrangement in a very Derby style trophy vase.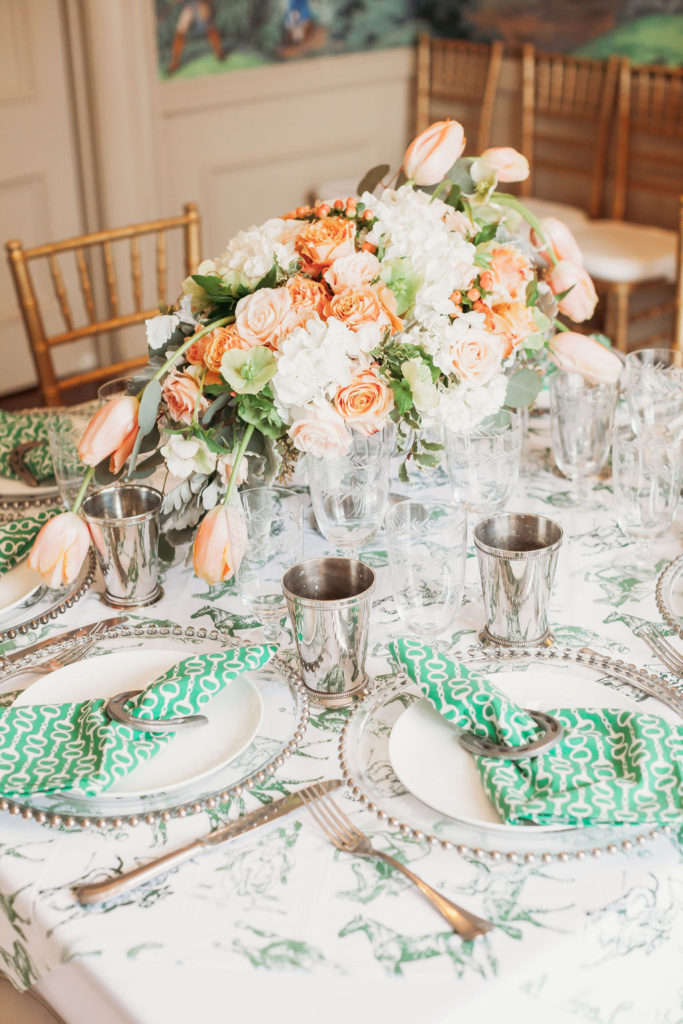 What's the most crucial aspect of a Derby party?
Mary: For a Derby party, the most crucial aspect is the cocktails. When I think about the Derby, I think about Mint Juleps, Southern food (that isn't too heavy or hard to eat) and equestrian-themed décor. It was easy for us to "one-stop shop" with the food at our bar setup, because we brought in "Callie's Cocktail Party" kit, which includes all the small bites and snacks you need. It doesn't get more Southern than with Callie's Biscuits and delicious baked goods (that are pre-made and shipped directly to your door).
We also included Derby Pies in each of our tablescapes, as you can't have a Derby party without Derby Pie. Lauren baked a Derby Pie from scratch, but since I don't bake, I called in Sweetie Pies 'n Baby Cakes to make and deliver mini Derby pies that we put next to each place setting. Whether you like to bake, or are more of a "takeout girl," we incorporated something for everyone!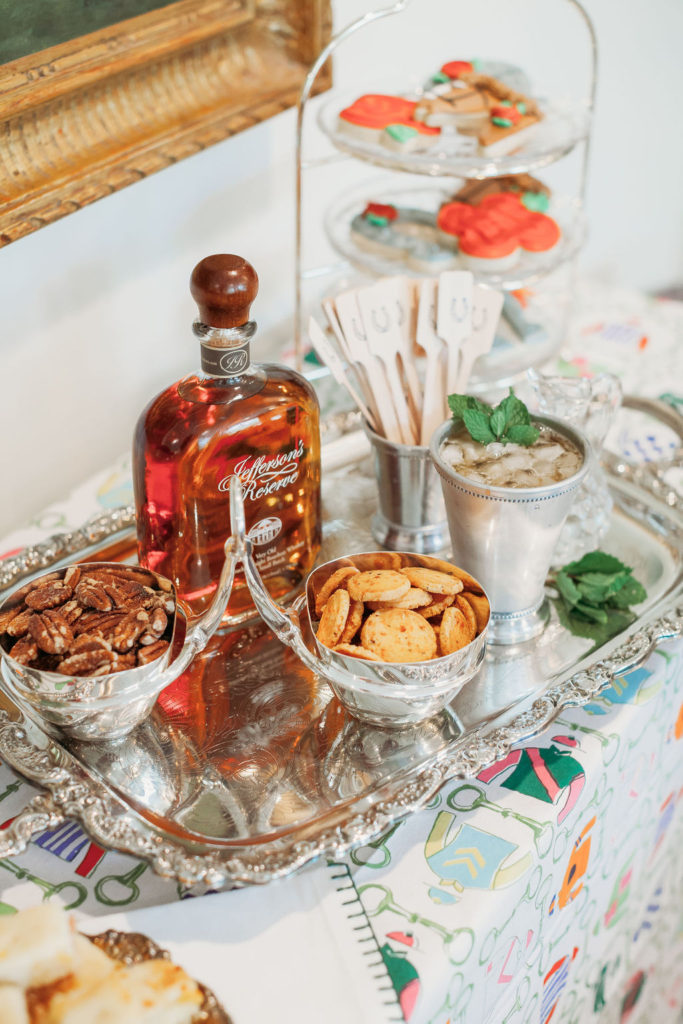 Lauren: The most crucial piece to a Derby party is the details. You don't have to go over the top or spend a lot of money to give your guests a special experience. Some details that you will want to include are mint juleps, derby pies, roses, horses, and hats. Encourage your guests to dress in Derby attire for even more fun!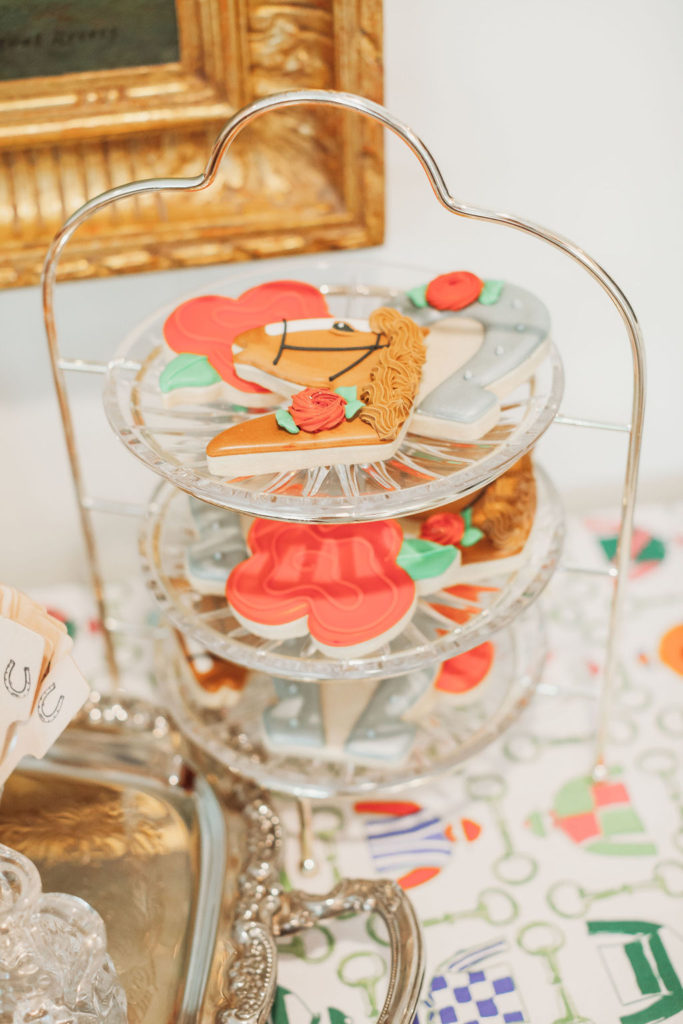 Why did you both choose to style the white eyelet dresses?
Mary: When we swapped pictures of what dresses we wanted to wear for our Derby party, I wasn't surprised to see that we chose almost the same thing. Lauren and I share a similar style, which I guess you could summarize as "Southern classic with a modern twist."
I like the idea of choosing a more subdued dress color (such as white) so that you have more choices for your hat. The dresses are both flattering and very versatile so they work for a Derby party, luncheon, summer cocktails, etc. The white eyelet dresses are also made of cotton and very light, which is important when you're standing out in the sun watching the races!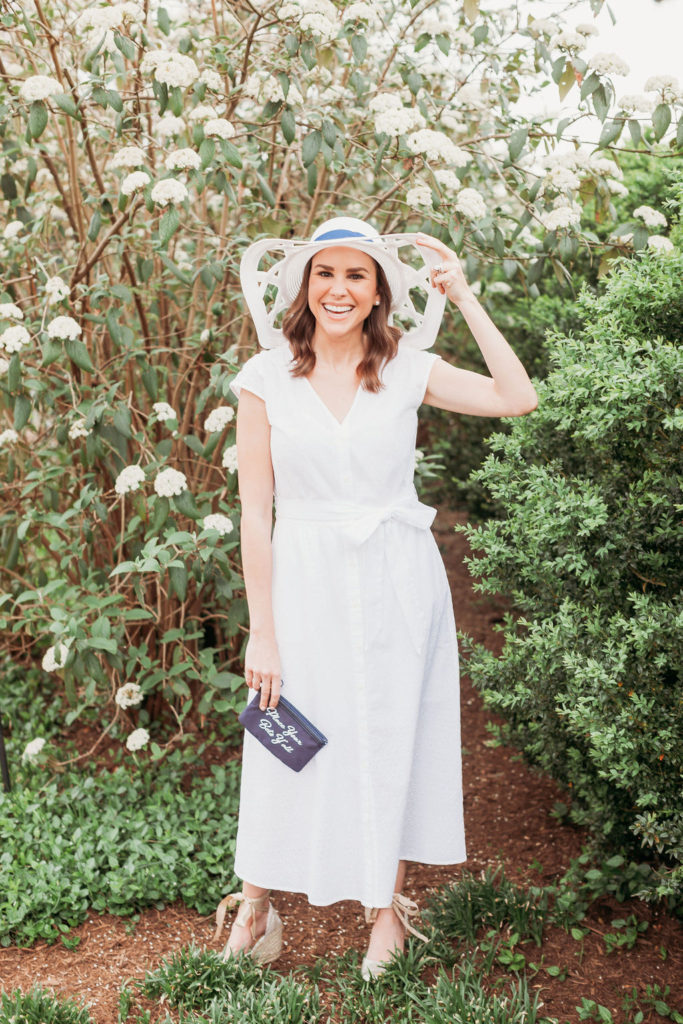 Lauren: White eyelet is such a classic style here in the South, so it didn't surprise me when we saw that it was both our picks. I think we were both drawn to the white eyelet because it has such detailed charm while being the perfect neutral to accessorize with a bag and hat. Being Southern women through and through, we know a good thing when we see it!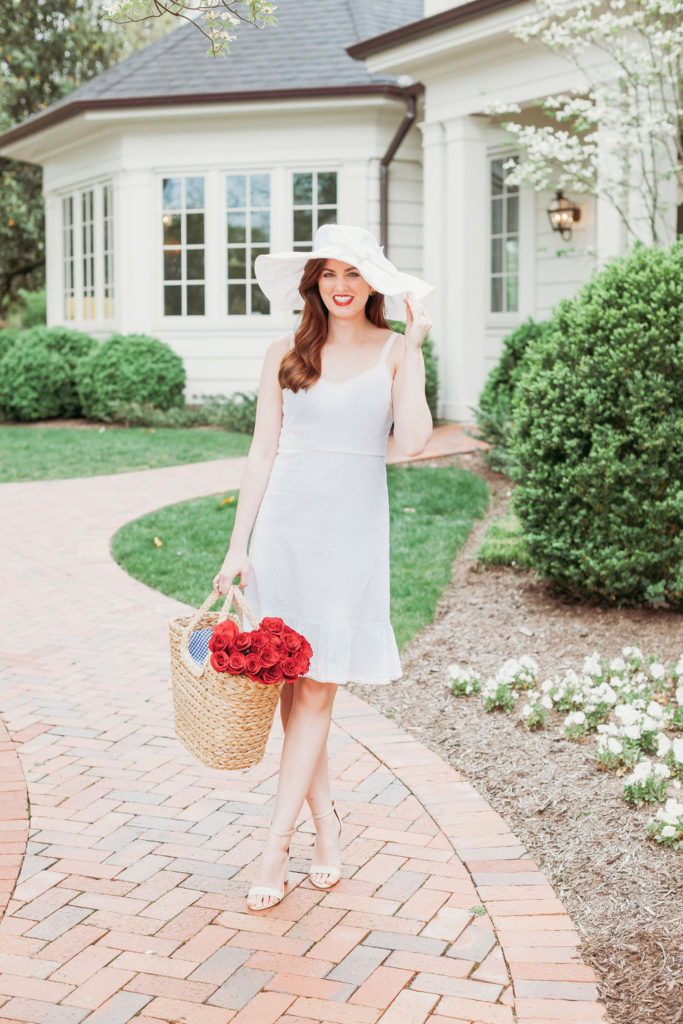 What are your Derby Day essentials?
Mary: For the Derby, you obviously need a fabulous hat and coordinating dress. You also need a good pair of wedges or block-healed shoes for walking on uneven surfaces. Last, you need a great bag or tote to hold your essentials, like hairspray and possibly a small flask of bourbon!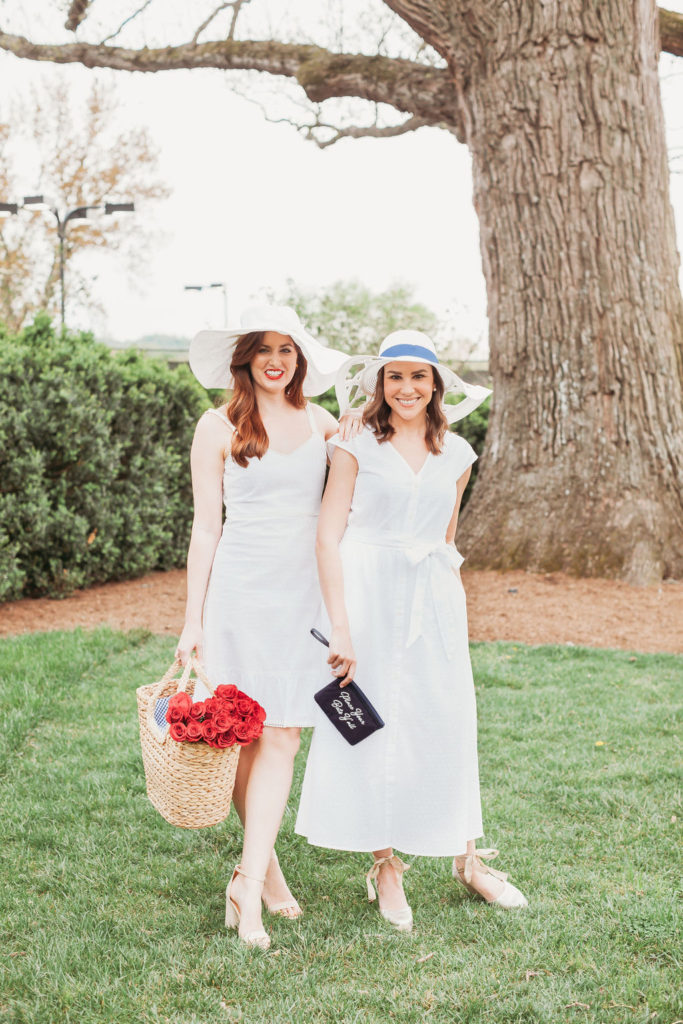 Lauren: My Derby Day essentials consist first of an elegant hat, because any opportunity to wear such a hat should be taken! Followed by a stunning dress, comfortable shoes, easy bag, and a red lip.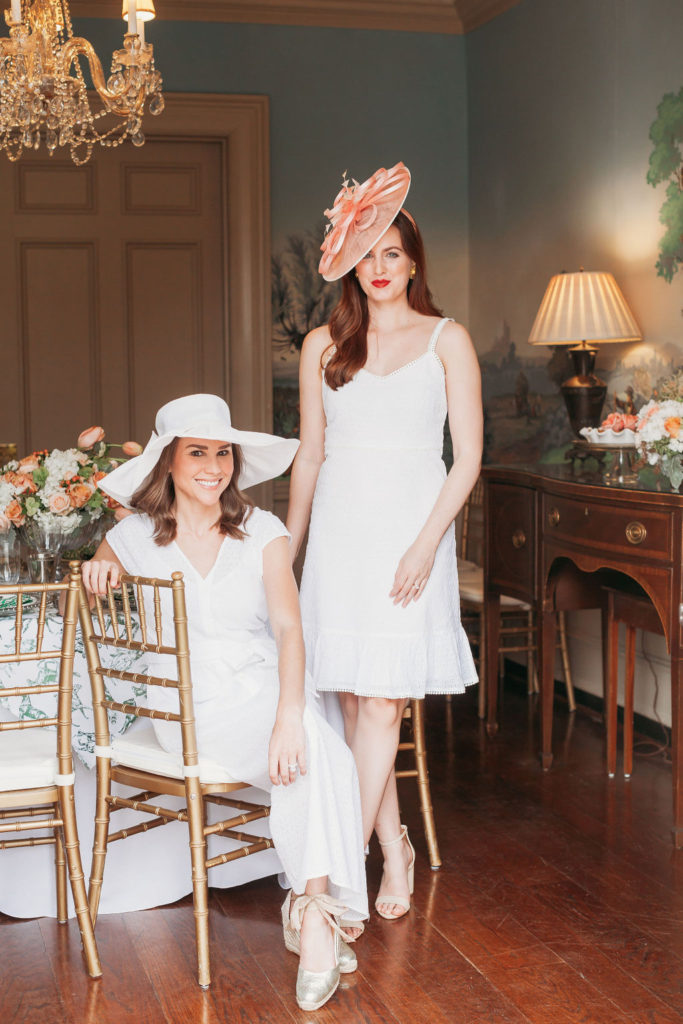 Going for Grace's Derby Pie Recipe
Yields one pie
Ingredients
1 unbaked pie crust
4 large eggs
3/4 cup light brown sugar
1/4 cup granulated sugar
3/4 cup light corn syrup
1/2 cup all-purpose flour
1/2 cup butter, melted
1 tbsp bourbon
1 tsp vanilla
1/2 cup chopped pecans
1/2 cup dark chocolate chips
1/2 cup semi-sweet chocolate chips
Directions
Preheat oven to 350 degrees and prepare pie crust in dish.
Using a stand mixer with the paddle attachment, beat eggs, sugars, corn syrup, flour, melted butter, bourbon, and vanilla about 2 minutes.
Using a spatula gently fold in the chocolate chips and pecans.
Pour the mixture into the prepared pie crust and use spatula to spread the chocolate and pecans evenly.
Bake 45-55 minutes or until the middle in set.*
Serve pie warm or chilled.
*Place aluminum foil around the rim to cover the crust about halfway into the bake time if worried about crust.
Credits:
Photographer: Lele Fain
Flowers: Twigs
Mini Derby Pies from Sweetie Pies 'n Baby Cakes
Bar/Food: Callie's Biscuits
Cookies: Summer's Sweet Shoppe