Hello, Sugar: Elisabeth & Butter's Peppermint Bark Christmas Cookies
Two words: Christmas cookies.
That's what we're talking about with regular blog contributor Elisabeth Farris of Elisabeth & Butter. Last year around this time, we made chewy gingerbread cookies with the Florida resident, and this year we're whipping up another festive treat, Peppermint Bark Cookies.
Not only do these treats look the part, they also "super easy to make and they're the perfect cookie for all your holiday parties," says Elisabeth.
Hear more from Elisabeth and get her recipe below.
Tell us about the recipe.
These are rich and chewy chocolate cookies dipped in melted white chocolate and sprinkled with chopped peppermint and sprinkles. Yum!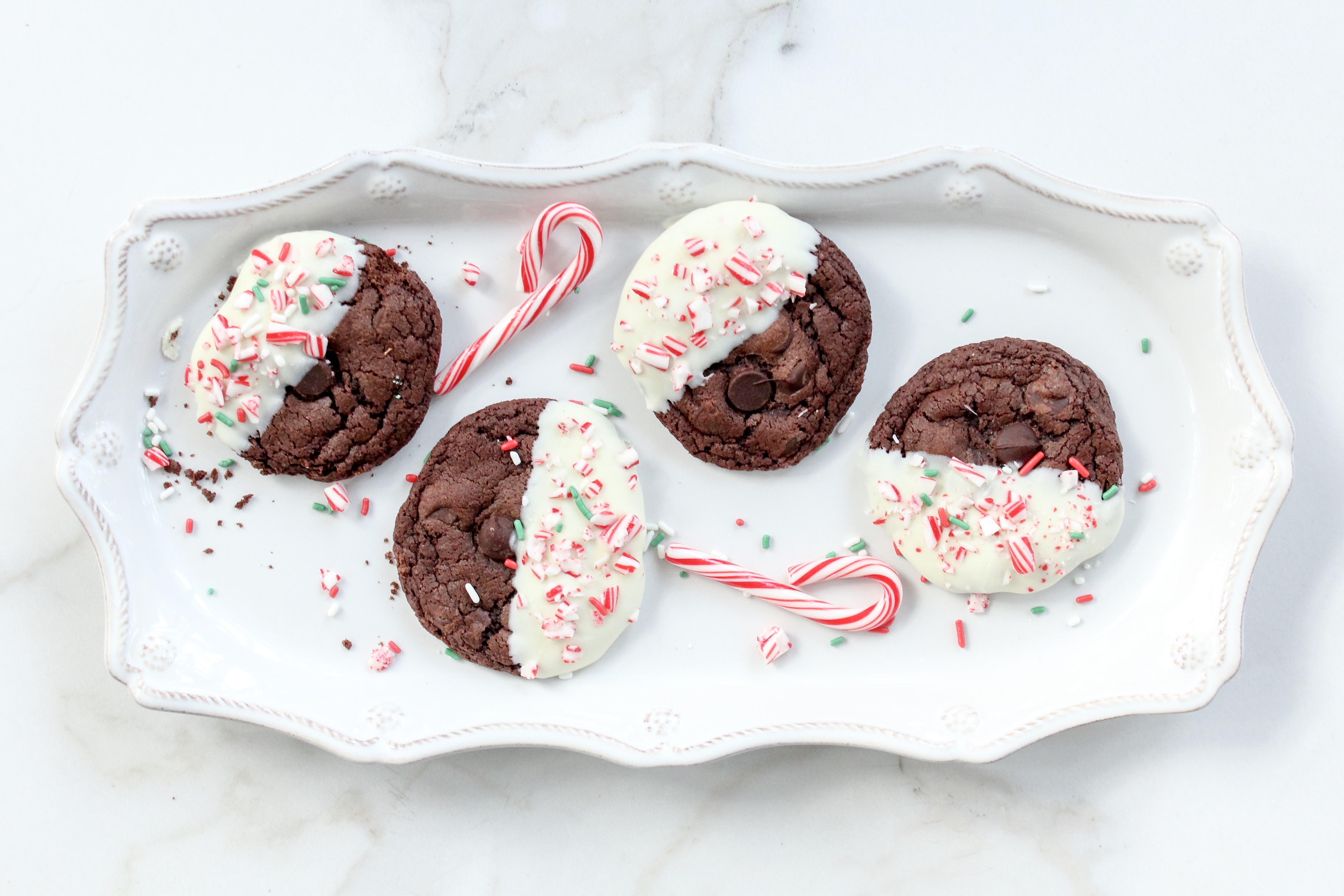 What's your favorite Christmas tradition?
My favorite Christmas tradition is Christmas Eve with my family. We all go to the candlelight service at our church where the most beautiful Christmas songs are played.
After the service, we go home and cook a fancy dinner with beef tenderloin and a Buche de Noel for dessert. We put on our Christmas pajamas and all open one present. Even though all of my siblings are older and have moved away, Christmas Eve makes us feel like kids again!
What about Christmas song and movie?
My favorite Christmas song is "It's Beginning to Look a Lot Like Christmas," and my favorite Christmas movie is "Home Alone."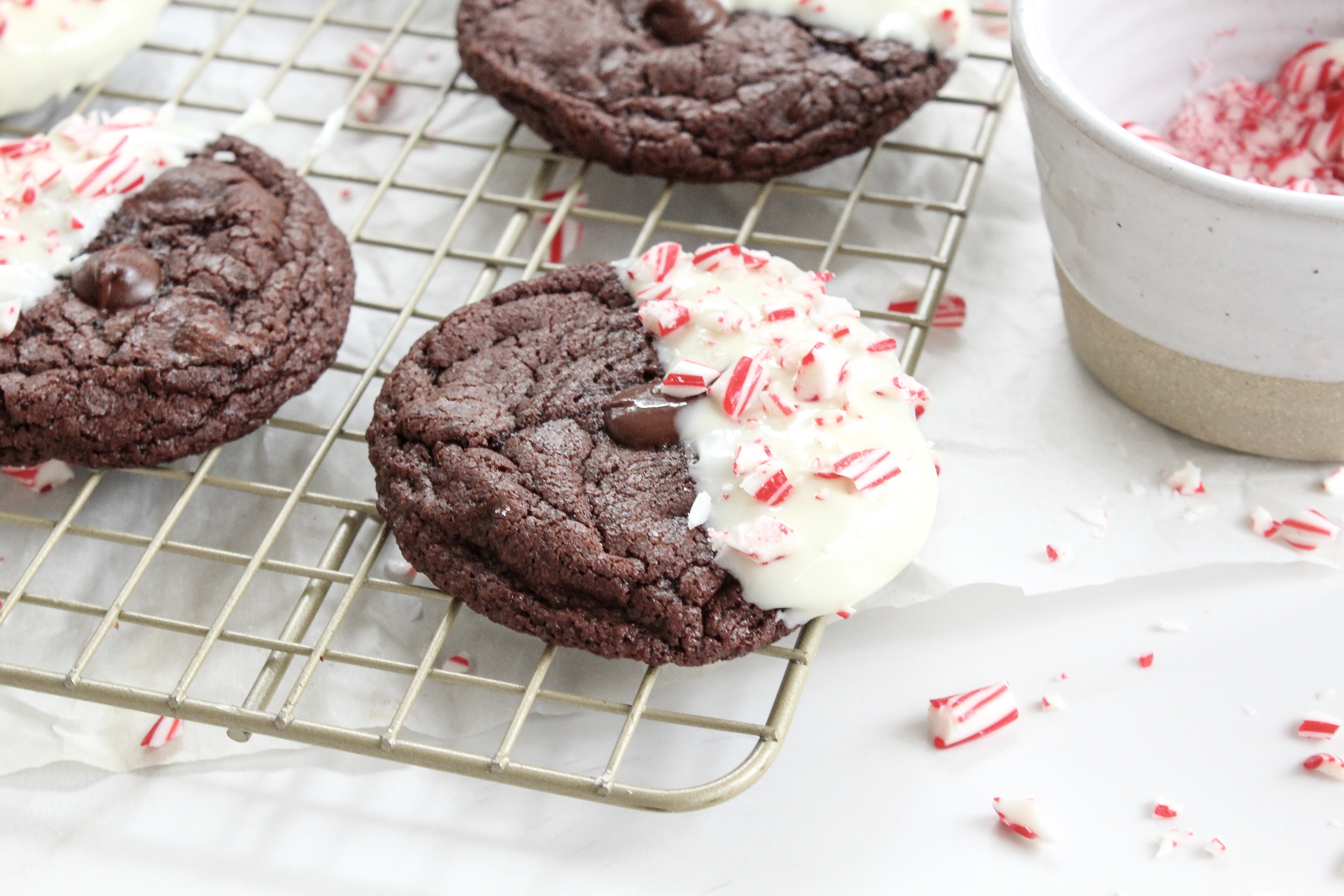 What are you most looking forward during this holiday season?
I'm super excited about all the holiday baking, of course! I have a gingerbread cake coming out soon that I can't wait for everyone to try!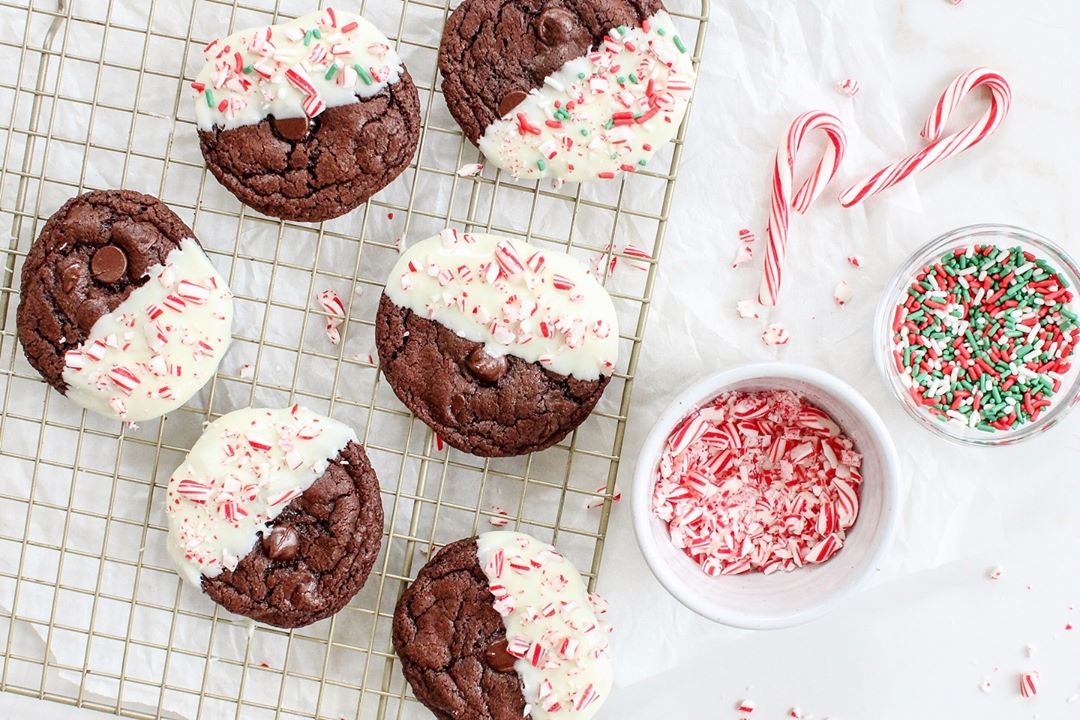 Peppermint Bark Cookies
Yields 24-30 cookies
Ingredients
1 cup all-purpose flour
1/2 cup unsweetened cocoa powder
1/2 teaspoon baking soda
1/4 teaspoon salt
1/2 teaspoon espresso powder
1 stick salted butter
8 ounces semi-sweet chocolate, 4 ounces coarsely chopped, 4 ounces cut into 1/4-inch chunks or chocolate chips
1 1/2 cups sugar
2 large eggs
1 teaspoon vanilla extract
1 teaspoon peppermint extract
1 cup white chocolate chips or chopped white chocolate
Crushed candy cane or peppermints
Sprinkles (optional)
Instructions
Preheat oven to 350 degrees and line 2 baking sheets with parchment paper.
In a medium sized bowl, combine flour, cocoa powder, baking soda, salt, and espresso powder. Set Aside.
In a microwave safe bowl OR over a double boiler, melt butter and 4 oz of chopped chocolate until completely melted (microwave 30 seconds at a time and then stir until all melted).
Add the melted chocolate and butter mixture to a mixing bowl fitted with a paddle attachment, and then add sugar, eggs, vanilla and peppermint extract.
Beat on medium speed for about 1 minute. Reduce speed to low and gradually add the flour mixture until it is almost combined.
Fold in chocolate chips.
Wrap dough in plastic wrap and refrigerate for at least 3 hours or up to a week. This prevents the cookies from spreading.
Once properly chilled, scoop batter using a medium sized ice cream scoop onto baking sheets lined with parchment paper and place cookie dough 2 inches apart.
Bake for 10-12 minutes, or until just starting to crack. The cookies may seem soft but they firm up as they cool. Cool on drying rack.
Melt the white chocolate in a double boiler or carefully in the microwave, microwaving for 15 seconds at a time, stirring after each increment until completely melted.
Dip half of the cooled cookie in the white chocolate and sprinkle with crushed peppermint and sprinkles is desired.
Let set completely on a sheet of parchment paper or on a cooling rack.
You can also place the cookies in the refrigerator to quickly let the white chocolate harden. Enjoy!
Note: You can make these ahead of time by freezing the scooped dough balls in a large Ziploc bag. When ready to bake, take them out of the freezer and bake for 10 minutes. No need to thaw!