Real Women, Real Clothes: Cookbook Author and Food Editor Brooke Bell
Sweet Home Alabama – a movie we all love at Draper James, but also words one could use to describe Brooke Bell. Brooke calls Birmingham, Alabama home and she has made a career out of being a foodie; aside from currently overseeing the test kitchens and editorial departments of six food magazines at Hoffman Media, she also has just published her sixth book: Cake: Layered, Frosted, Sliced & Shared.
With over two hundred pages of beautiful layered, bundt, sheet, and pound cakes the book is perfect for anyone who likes to wield a hand mixer.
Hear more from Brooke below, get her Pecan Pie Cake recipe, and shop both of her Draper James looks here.
Tell us about yourself and your career.
Magazines and books have been an obsession of mine for as long as I can remember, but I didn't put food and journalism together until I spent a month in Italy during college. As I immersed myself in another culture, my relationship with food changed. By removing myself from what was so familiar to me, I came to appreciate what I'd grown up with my entire life in Alabama. My grandparents had a large garden, preserved vegetables at the end of each season, and cooked three meals a day from scratch. My grandmother was a baker. And not just a weekend baker… she baked elaborate cakes for family and friends. My parents were also wonderful cooks and valued being in the kitchen together as a family, listening to music and trying new recipes.
After college, I attended culinary school at night, learned the business of magazine editing as a managing editor of several hunting and fishing publications during the day, and wrote weekly restaurant reviews and food stories for anyone who would pay me (and not pay me!) just to get experience.
I joined Birmingham, Alabama's Hoffman Media as a food editor 11 years ago and have been the editor of multiple food magazines and instrumental in new magazine launches over the last several years. As the Vice President of Culinary and Custom Content at Hoffman Media, I lead our editorial and creative teams to produce outstanding content for our six culinary magazines to inspire home cooks and bakers.
What's the best piece of life advice you've ever received?
Besides the very practical advice of always wearing lipstick, my mother has instilled in me the importance of a hard work ethic and being able to take care of myself.
What's your favorite part of your work day?
I'm an early morning gym person and love starting each day with good music and mental clarity. Exercise allows me to prepare for the day, strategize, and think creatively. My best work is done before lunch, so when I walk into the office each day, I've already checked my meeting schedule for the day, responded to urgent emails, and reviewed my priority list. I like to dive into my day as soon as I sit down at my desk… with a large cup of coffee, of course.
How would you describe your everyday style?
Creative business casual, with a side of classic.
What drew you to these particular Draper James pieces?
Navy is a neutral that I wear year-round so the Pleated Sleeve Blouse is perfect for me, plus it pairs well everything. The sleeves are pretty yet a practical length for being active in the kitchen or office.
I love lace and think everyone should have some in their wardrobe. The brilliant teal color of the Lace Bell Sleeve Dress is ideal for fall and will be stunning for Thanksgiving dinner and holiday parties.
What's the one thing you can't live without? (ex: lipstick, coffee, etc.)
I honestly can't name just one. Sparkling water, an early bedtime, The Lip Slip Lip Balm by Sarah Happ, and an evening cocktail stroll with my husband and our Cavalier King Charles Spaniel, Harry.
What's your biggest challenge when it comes to dressing for your vocation?
I'm always challenged with dressing age appropriate in a professional and creative environment. I need a wardrobe that can go from boardroom to photo shoot to cocktails and everywhere in between. I'm a big fan of pairing a classic white dress shirt with jeans, heels, and pearls.
What's your favorite thing about living in the South?
Besides our incredible food, I love the hospitality and kindness of people in the South. Strangers still speak in line at the grocery store and strike up a conversation with me about what I plan to cook with certain ingredients in my grocery cart. It's beautiful example of how food connects people.
Do you have a favorite "Southernism"?
Bless your heart.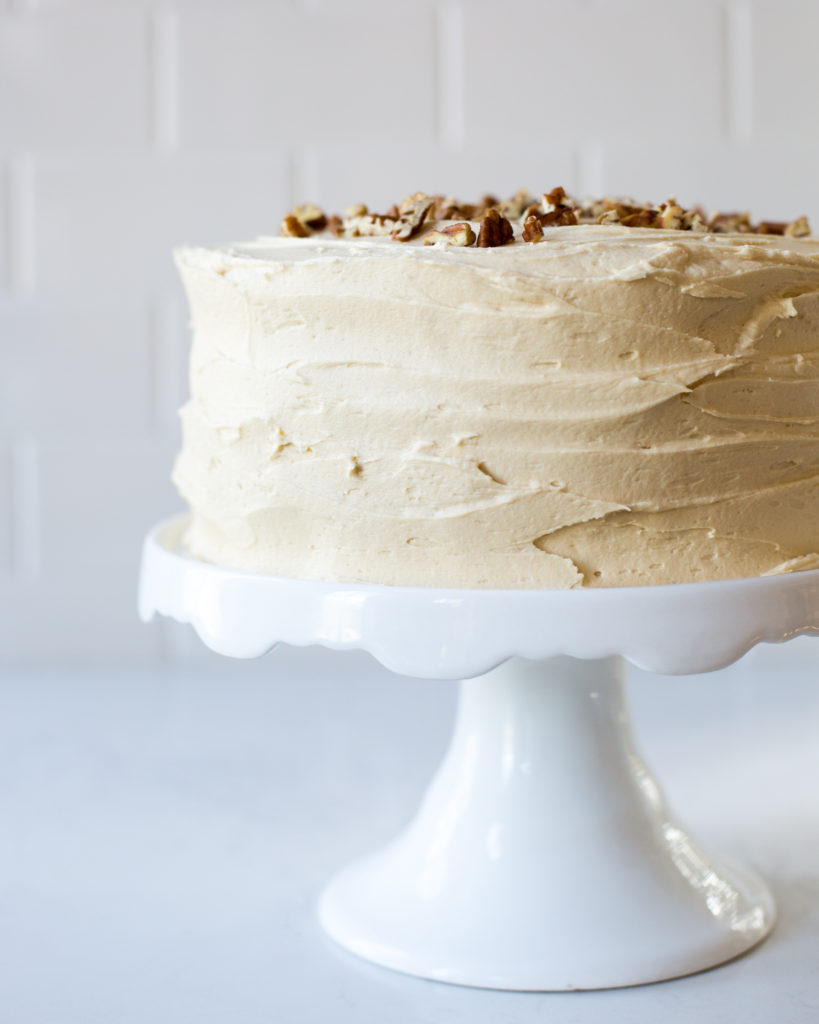 Pecan Pie Cake
Makes 1 (9-inch) cake
­­­
1½ cups toasted pecans, finely chopped and divided
1½ cups unsalted butter, softened
2½ cups firmly packed dark brown sugar
4 large eggs
3 cups all-purpose flour
2 teaspoons baking powder
1 teaspoon kosher salt
1¼ cups whole milk
1 tablespoon vanilla extract
Pecan Pie Filling (recipe follows)
Brown Sugar Frosting (recipe follows)
Garnish: pecan halves, pecan pieces
Preheat oven to 350°. Spray 3 (9-inch) round cake pans with baking spray with flour. Line bottom of pans with parchment paper, and spray pans again. Sprinkle ½ cup pecans in each prepared pan.
In a large bowl, beat butter and brown sugar with a mixer at medium speed until fluffy, 3 to 4 minutes, stopping to scrape sides of bowl. Add eggs, one at a time, beating well after
each addition.
In a medium bowl, whisk together flour, baking powder, and salt. With mixer on low speed, gradually add flour mixture to butter mixture alternately with milk, beginning and ending with flour mixture, beating just until combined after each addition. Beat in vanilla. Divide batter among prepared pans, smoothing tops with an offset spatula.
Bake until a wooden pick inserted in center comes out clean, 20 to 25 minutes. Let cool in pans for 10 minutes. Remove from pans, and let cool completely on wire racks. Spread Pecan Pie Filling (recipe below) between layers. Spread Brown Sugar Frosting (recipe below) on top and sides of cake. Garnish with pecans, if desired.
Pecan Pie Filling
Makes about 2½ cups
1½ cups chopped pecans
1 cup granulated sugar
⅔ cup dark corn syrup
⅓ cup unsalted butter, melted
2 large eggs
1 teaspoon vanilla extract
In a medium saucepan, stir together all ingredients. Bring to a boil over medium-high heat, stirring frequently. Reduce heat to medium-low; simmer, stirring constantly, until thickened, 6 to 8 minutes. Let cool to room temperature before using.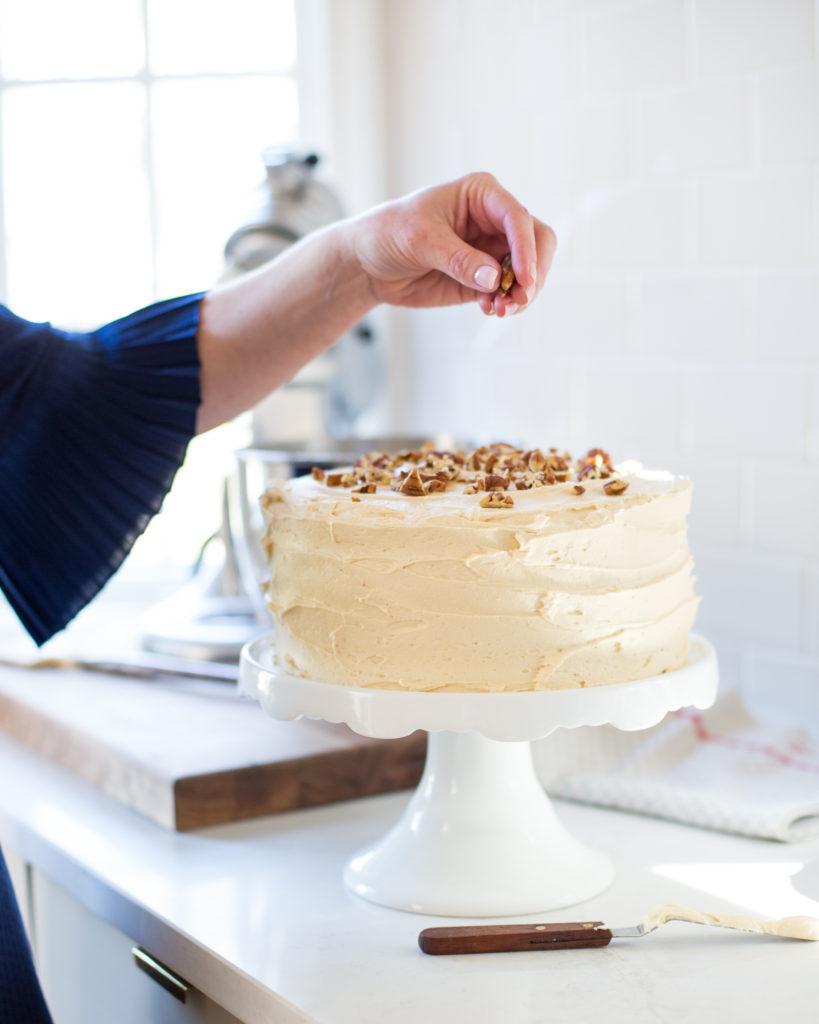 Brown Sugar Frosting
Makes about 6 cups
1 cup firmly packed dark brown sugar
⅓ cup water
½ teaspoon kosher salt
2 cups unsalted butter, softened and divided
7½ cups confectioners' sugar
1 to 3 tablespoons whole milk
In a small saucepan, bring brown sugar, ⅓ cup water, and salt to a boil over medium-high heat. Cook, stirring constantly, until sugar is dissolved, about 2 minutes. Remove from heat; stir in ½ cup butter. Let cool completely.
In a large bowl, beat cooled brown sugar mixture and remaining 1½ cups butter with a mixer at medium speed until creamy. With mixer on low speed, gradually add confectioners' sugar, beating until combined. Add milk, 1 tablespoon at a time, beating until frosting reaches a spreadable consistency.