Please Meet: Elizabeth Heiskell, Author of "What Can I Bring?"
Dallas readers, this one's for y'all.
Southern Living contributor Elizabeth Heiskell will be stoppin' by our store in Highland Park Village to introduce you to her new book, "What Can I Bring?" on Monday, November 6.
Filled with mouthwatering recipes and picture-perfect photos, this cookbook will enhance your palate as well as your bookshelf decor.
Keep reading to hear more from Elizabeth as she shares her inspiration and must-have ingredients.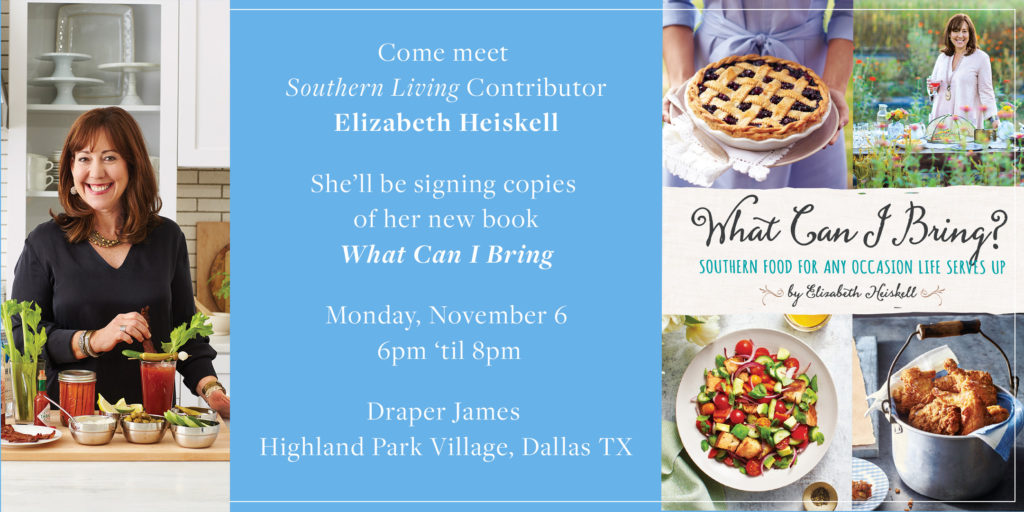 How did you get the idea for "What Can I Bring?"
This book is based on a column in Southern Living. The editor of Southern Living, Katherine Cobb, approached me about doing a book.
It was perfect because the first business I started was called "Instead of Flowers," so instead of sending flowers when the clients had someone [who] was sick, had a baby, or had died instead of sending flowers they could call us and we would take them food.
All these recipes are ones we have used for years; they are ones my mother, grandmother, and friends have brought.
What are the five ingredients you think everyone should have in their kitchen?
This is too hard to narrow to five… please can I have six?
Olive oil
High quality butter
Hellmann's mayonnaise
Kosher salt
Parmesan cheese
Good bacon
What's your favorite recipe from the book, and why?
That's so hard; [it's] like asking which one of my children I love the most. These recipes are all that personal to me. So I guess I can tell you which one I like the most today.
Same with my girls, I love them every day, but some days I like one of them more. So today bacon bites. It's literally three ingredients. The bacon gets caramelized because of the brown sugar, so it has all food groups: sugar, salt, and fat. This is a rock star recipe; when you bring it, people will fall all out over you.
If you could only eat one meal for the rest of your life, what would it be?
Deloris' fried chicken, greens, chicken and dumplings, field peas, rice and cornbread
What are you most excited for readers to get from your book?
I am most excited for the readers to start bringing food to family, friends, and those in need. It is such an important gesture of love and gratitude.
This book is filled with recipes that are super simple; there is no excuse for readers not to take a little time for someone else.
Do you remember the first dish you ever made?
A popover with strawberry butter just like they had at Neiman Marcus!
Favorite "Southernism"?
Hot as the hinges of Hell.