October 4, 2017 • RECIPE
DJ Drinks: A Seasonal Hot Apple Cider Recipe From Eating with Erica
Fall is in full swing!
Erica Key of the blog Eating With Erica, who made her first appearance on the Love, Reese blog with some mouthwatering pimento cheese pigs in a blanket for football season, is back with another seasonal recipe you'll fall in love with.
When the weather temperatures drop, we firmly believe the temperature of your drink should go up. Who doesn't like to snuggle up in a Draper James sweater and a warm, frothy drink?
Erica's Hot Apple Cider recipe is our hot drink of choice this October; we know y'all will love it, too!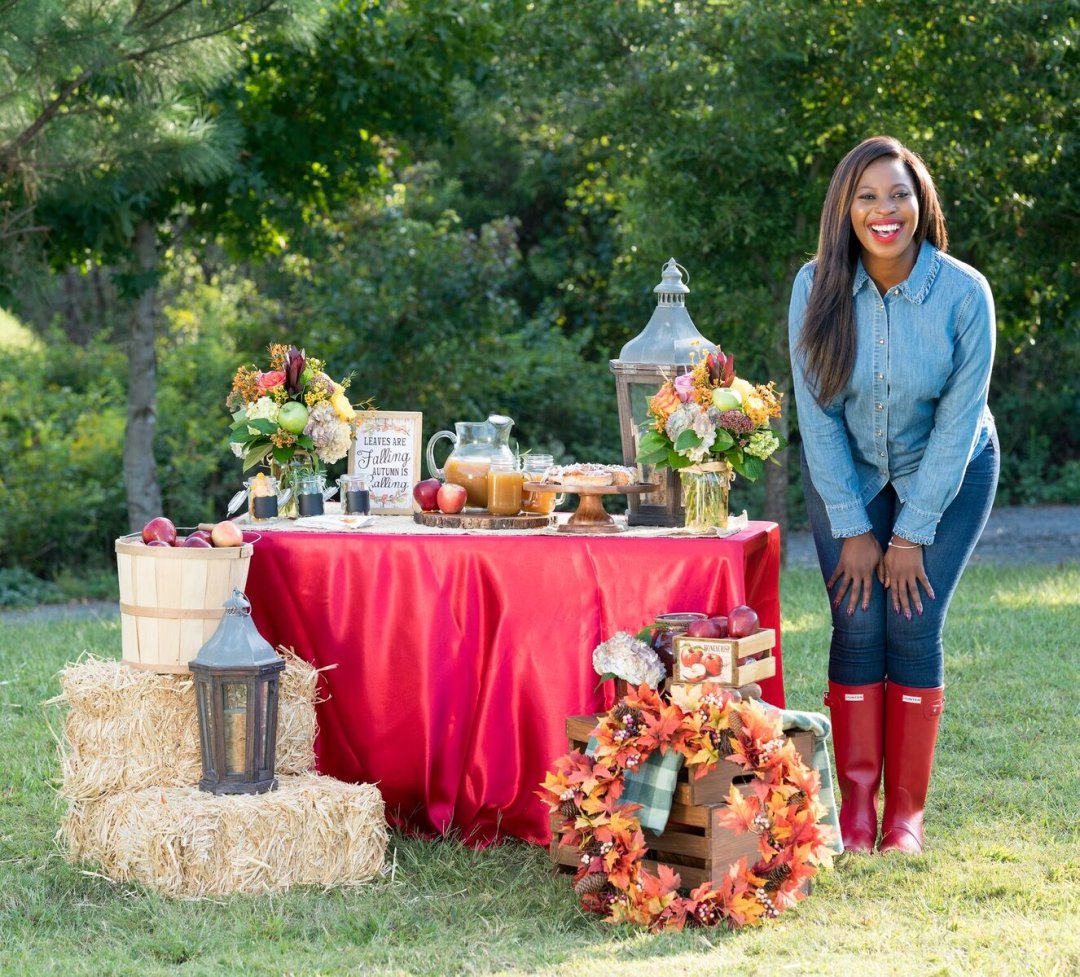 Tell us about this Hot Apple Cider recipe.
I can't think about fall without thinking about apple cider. They go together like mac and cheese, PB&J, and shrimp and grits.
What I like about this recipe is that you have two ways to make it. For the woman on the go, you can purchase it. With a bit more time, you can make this in a slow cooker. Both methods to make apple cider have crowd-favorite results.
If you are entertaining, you can create an apple cider bar with a variety of tasty toppings such as rosemary, dried fruit, and whipped cream. If your guests prefer their apple cider spiked, bourbon is a great option.
What drew you to the Draper James Lexington Chambray Button Down?
I love denim on denim, especially in fall. It's perfect for a casual chic look.
It is a very easy shirt to layer with a vest or sweater, which means you can go causal or you can dress it up. I especially love the small ribbon detail on the cuffs.
What's your favorite fall activity (apple picking, going to a pumpkin patch, baking, etc.)?
Wine tours are the best around Atlanta in the fall.
There is beautiful scenery with mountains in the background. My friends and I love to go from one to another in North Georgia.
Do you have anything fun planned for this fall?
Every year I host a Friendsgiving with all of my close personal friends. It is an event that everyone looks forward to. It's filled with wine, laughter, and gratitude.
My friends are my second family, and fall is the perfect time of year to celebrate.
Eating with Erica's Hot Apple Cider Recipe
2 quarts apple cider
2-3 cinnamon sticks
1 orange peel
1 teaspoon whole cloves
1 teaspoon whole allspice berries
⅓-½ cup of brown sugar
*In this recipe, it's best to use whole spices. They won't settle at the bottom of the slow cooker like ground spices would.*
Add the apple cider to your slow cooker, and whisk in 1/3 cup of brown sugar.
Place the cinnamon sticks, orange peel, cloves, and allspice onto a square of clean cheesecloth and tie to form a secure pouch, and place in the slow cooker.
Heat on Low for 2-3 hours, taste, and add more brown sugar if desired.
Once the cider is your preferred temperature, set slow cooker to Warm.
Note: If you'd prefer to cook this on a stove top, bring to a boil, and reduce to a simmer, covered for around 30 minutes. Transfer to slow cooker to keep warm.
Apple Cider Bar
For the Rims of Glasses
Caramel Syrup
Roasted, Pulverized Bacon (think homemade bacon bits)
Raw or Brown Sugar
Cinnamon Sugar
Toasted, Crushed Nuts
Walnuts
Pecans
Hazelnuts
Add-Ins for the Cider
Rosemary Sprigs
Grated Nutmeg
Citrus Zest
Whole Cloves
Cinnamon Stick
Alcohols
Rum
Bourbon
Applejack
Calvados
Toppings
Whipped Cream
Creme Fraiche
Ground Cinnamon
Caramel Syrup
Pumpkin Spice
Apple Pie Spice
Photography: Kayla Madonna
Florals: Chelsea Floral Designs