Southern Soundcheck: A Fall Playlist From Mary Sarah of "The Voice"
Fans of NBC's "The Voice" will remember this friendly face from her amazing run on the show.
Mary Sarah, a Nashville resident, is originally from Texas; so she's a Southern gal through and through.
She finished Top 5 on Season 10 on "The Voice" on Team Blake. These days, the Southern songstress is celebrating the release of her new single, "Without You."
We recently sat down with Mary Sarah, decked out in the brand new Draper James Southern Fried Tee, and got the lowdown on what's she's up to, as well as what she'll be listening to this fall.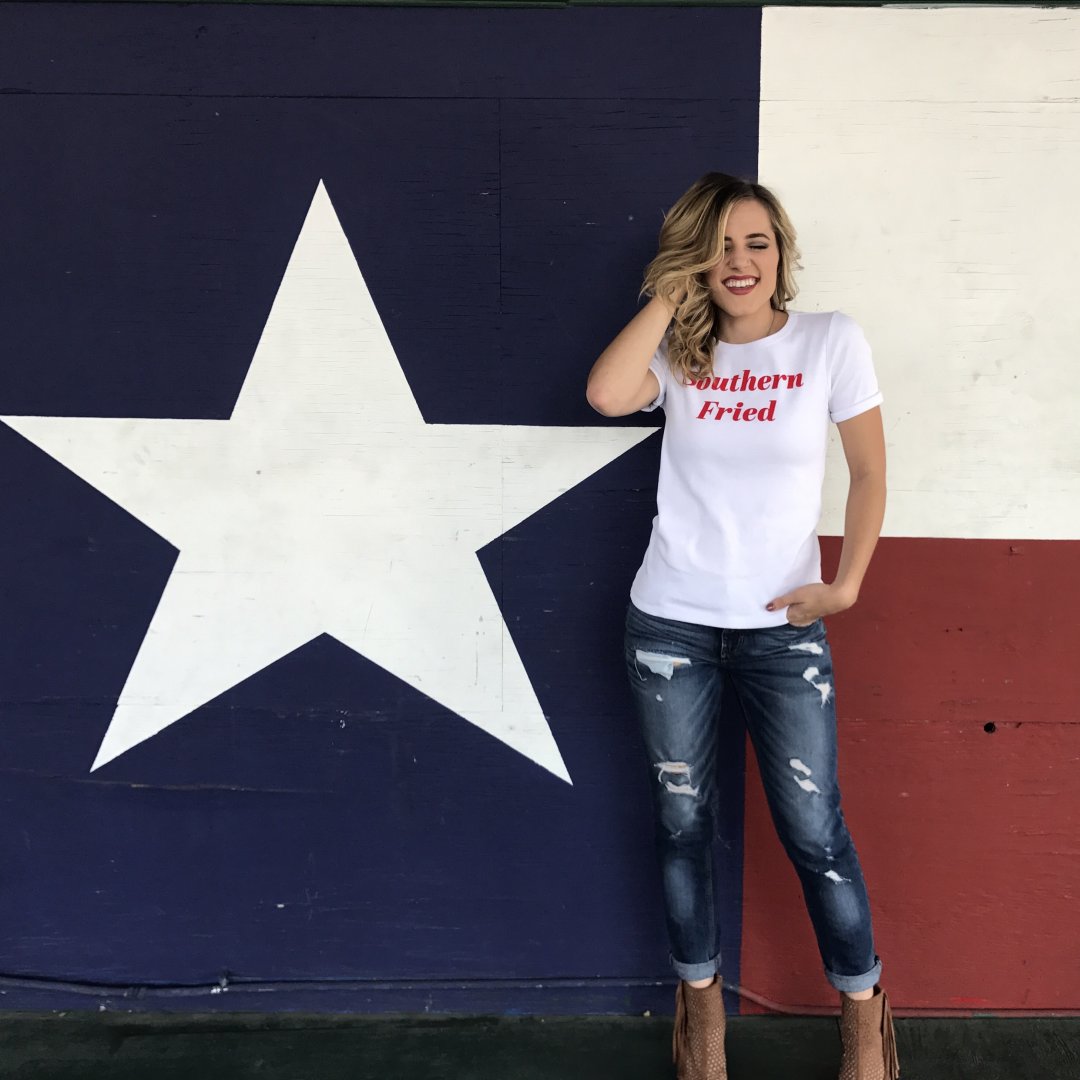 How do you think your Southern background has influenced you as a person? 
I am definitely more of a country girl at heart. I grew up in a small town in Texas, and I feel like that will never leave me.
I live in downtown Nashville now, but I have to admit, I miss the quiet of the country! I used to roam around outside and explore.
What do you think is the best part about the South in the fall? 
I think one thing I absolutely love about Tennessee is the leaves that change in the fall. It's just beautiful.
What drew you to  the "Southern Fried" tee? 
Once a Texas girl, always a Texas girl. Now I think everyone knows that if you're from the South or visiting, there is not a lack of fried food!
Anything big planned for the rest of 2017? 
I have some big things to get ready for for 2018! I have a lot of shows to look forward to and a lot of exciting things that, sadly, I cannot talk about just yet! But, be lookin' out.
I'm also in the process of working on music. I am pretty pumped to finish out this year and take on 2018!
Mary Sarah's Fall Playlist
Listen to it on Spotify here.
1.  Sway- Danielle Bradbery
I am such a huge fan of what Danielle Bradbery is doing right now. I feel like I connect with her because it took her a while to really find her voice!)
2. Just You and I – Tom Walker
I may have a reasoning behind this *Cough* a guy *Cough* 😉
3. Almost Famous – Noah Cyrus
I just recently heard this song and I just love the melody and lyrics!
4. Old Fashioned (Live)- Bruno Major
There is a YouTube video of him singing this song and I was mesmerized!
5. Sorry Not Sorry – Demi Lovato
I think everyone is obsessed with this song, am I right?
6. Deep Water – Alisan Porter
Ali was the winner of my season on The Voice, I just LOVE her voice and this song!
7. The Long Way – Brett Eldridge
I have always loved Brett's voice. His new record is fire!
8. Thunder – Imagine Dragons
The beat on this song is too good. I've always been a fan of Imagine Dragons!