#GoYall: A Duke Grad's Super Simple (and Delicious) Tailgating Recipes
There's no need be on-campus to ring in tailgating season the right way!
A few good friends, easy tailgating recipes, a sunny day, and Draper James are all you could ever need.
Avery Carmichael, a writer, recent Duke University alumna, and former Draper James intern, captures the essence of at-home tailgating with her best friends, Emma Olney and Caroline Powers, with a preseason tailgate to usher in Duke's football season.
---
There's something about the end of summer, as the leaves begin to change and everyone heads back to school, that really gets me excited… about tailgating!
No matter your stage in life, it's never too early, or too late, to pull together a quick, fun viewing party with friends.
In anticipation of my team's season opener, I called on two of my best friends to help put together a super easy, summer-inspired spread.
Decked out in our Draper James tailgating gear, replete with "Let's Go Y'all" pins and all, Emma, Caroline and I prepared some of our favorite tailgating treats. Harkening back to our bygone college days—just a few short months ago—we brought some Southern charm and a dash of alumnae school spirit to a late-summer day.
Whoever said graduates don't know how to tailgate was seriously disturbed! (Thank you, Elle Woods.)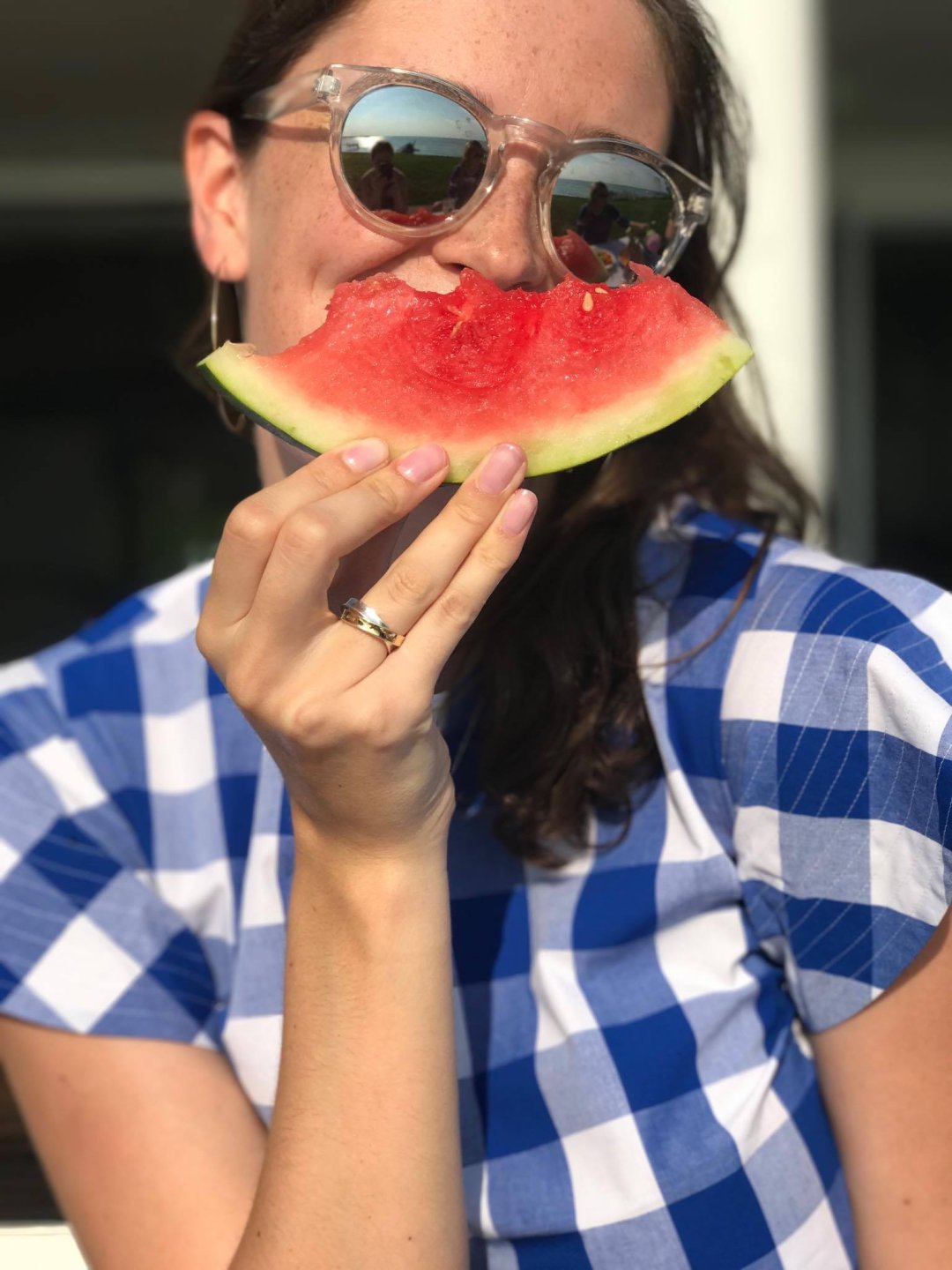 Our top tailgating picks? Strawberry Shortcake Skewers, Cheddar-Horseradish Sliders, and Buffalo Chicken Dip. Covering all our bases, from an appetizer to a dessert, an at-home tailgate is as involved as you make it.
I love emphasizing bright colors in my cooking, so the deep red of the strawberries and the vibrant orange of the dip make for a well-appointed table.
Add a few hydrangeas, summer's signature flower, and a white tablecloth, for an elevated take on traditional tailgating.
The best part about burgers is that they can be stuffed with just about any type of cheese and any sort of vegetable! We went with horseradish, for flavor, and cheese, for that warm, melty wow-factor.
For sliders, we recommend mixing salt, pepper, and a few tablespoons of horseradish with your ground beef. Then, while forming miniature patties, make a thumb-print sized impression in the beef. Sprinkle some cheese, and add an additional layer of meat to your patty. Grill, and serve immediately!
Buff Chick Dip, as it's known in some circles, is the consummate tailgating dip. Plus, switching out a few key ingredients will make it just a bit lighter!
Recipe for Avery's Light(er) Buffalo Chicken Dip
1.5 cups of Greek yogurt
1 cup of chopped red onions
1 cup of chopped celery
1/2 cup of Frank's Hot Sauce
1 rotisserie chicken
1.5 cups of cheddar cheese
Directions
Preheat your oven to 350 degrees Fahrenheit.
Instead of a cream cheese and ranch dressing base, mix 1 1/2 cups of Greek yogurt with 1 cup of chopped red onions and 1 cup of chopped celery. Add 1/2 cup of Frank's Hot Sauce, to taste, stirring as you do so.
In a separate bowl, shred your rotisserie chicken—using up every last bit of meat!
Mix in with your Greek yogurt base, and pour into a baking dish.
Generously sprinkle 1 1/2 cups of cheddar cheese across the top, and bake until bubbly—about 10-15 minutes.
Recipe for Avery's Strawberry Shortcake Skewers
1 Angel Food Cake
Strawberries
1/2 cup coconut
2 cups heavy cream
4 tablespoons sugar
1 1/2 teaspoons vanilla
Directions
On a skewer, alternate cubed slices of Angel Food Cake and halved strawberries.
Sprinkle in a half cup of coconut for a more textured and flavorful cake.
Should you like to prepare fresh whipping cream, whisk together  heavy cream, sugar and vanilla.
Enjoy, and go, y'all!