Reese's Favorite Easter Side Dish from Dudley's on Short in Lexington, KY
Reese has got her Easter outfit ready. As for Easter dinner, she loves: "Honey baked ham and biscuits. And carrots, of course!" Here's a recipe for her favorite biscuits, along with a clever take on ham. And for Reese's must-have side dish (the Easter Bunny's too), we've got a gorgeous carrot recipe from Dudley's on Short.
Located in downtown Lexington, KY, Dudley's is a culinary stalwart in the heart of the town where we'll be opening our next Draper James boutique later this month. A Kentucky native, Dudley's Chef Mark Richardson has worked throughout the United States as well as in Paris. So perhaps it's no surprise that his farmers-market-inspired menu boasts an appeal that is global and yet distinctly Southern.
He shares a recipe for Harissa & Smoked Maple Roasted Carrots, Cardamom, Pistachio & Ash with us here. The dish's unique flavors and presentation are sure to blow your Easter bonnet away! 
Tell us about this recipe.
I wanted an interesting and unconventional take on some classic Easter ingredients—carrots and eggs. [Egg whites are an ingredient in the cardamon meringues, pictured above.] I love each component in the recipe on its own, and they all work towards showcasing the carrots. Slight spice from the harissa, airy richness from the meringue, and depth from the sweet potato ash.
Why do you love it for Easter?
Versatility. With its interesting combination of flavors, the dish can actually work very well on its own as vegetarian main course, and it obviously goes great alongside ham or lamb.
Carrots, in general, are an Easter tradition—and a favorite of Reese's. What makes them so great for rounding out an Easter meal?
While carrots are a root vegetable, they have a really bright flavor that definitely reminds you of spring. Their beautiful color doesn't hurt either. Their natural sweetness means that everyone around the Easter table is going to be happy eating them—even the kids.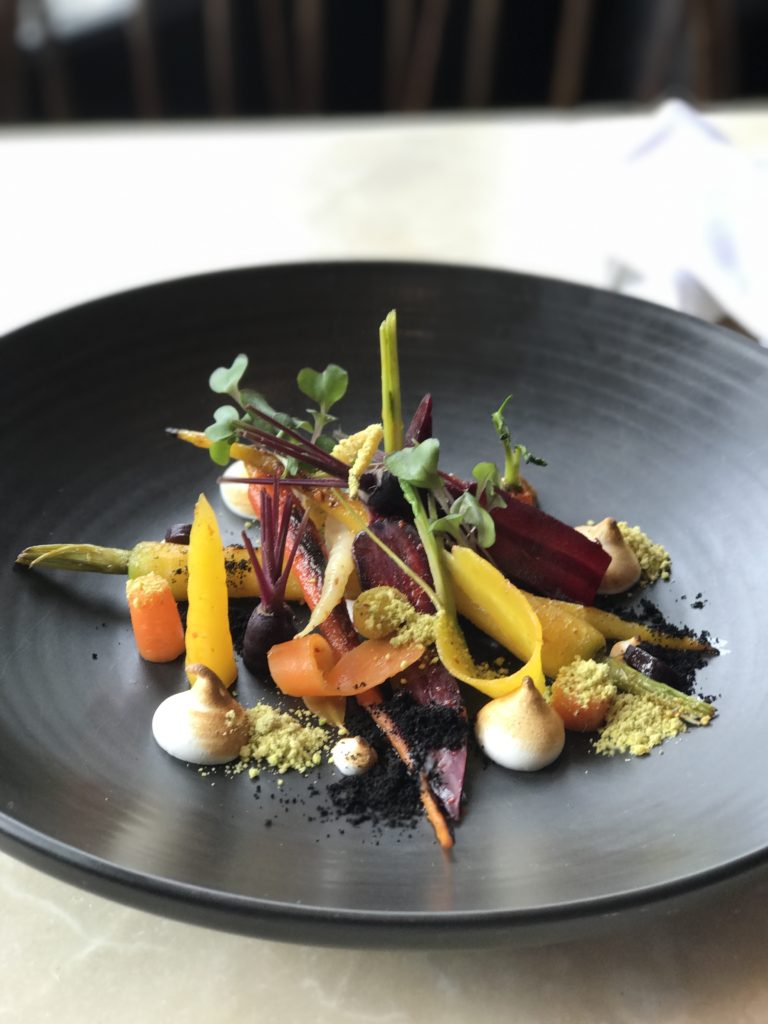 What's on tap for Easter at Dudley's? 
Easter is a big day for us, and we love that so many families choose to dine here on the holiday. We'll be serving a 4-course menu that nods to traditional Easter foods—like carrots—and also keeps things interesting with some unexpected flavors and preparations. As always, we'll focus on seasonal, local produce, and meat wherever we can.
What's exciting about the restaurant scene in Lexington right now?
The restaurant scene in Lexington is the best it's ever been, and it looks like it will only continue to get better. There's an ever-growing interest in cuisine here, and as a chef, you aren't so tied to traditional Southern dishes anymore. I feel like I can step outside the box a little, and diners are open to that.
What's exciting about Dudley's right now??
We're right across the street from the Lexington Farmer's Market, so this time of year we're always excited to start seeing the spring produce rolling in as it means we can start our spring menu—which we just did. We were thrilled to recently be honored by Southern Living as a "South's Best" award winner for Kentucky. We look forward to enjoying our very own Private Select Maker's Mark bourbon that we created with their distillery team. It's currently being finished in the barrel and should be ready in April or May.
Name three places you love to eat besides Dudley's?
Oasis Mediterranean restaurant, I eat there once a week and get my fill of amazing Middle Eastern foods. Josie's for Sunday brunch. I have two kids under 2, so we've become a breakfast crew and Josie's does it right! Lastly, Graze. Chef Craig de Villiers is doing a fantastic job!
Any Easter plans?
I am almost always at work on Easter, but I love being a part of helping other families create great Easter memories by providing a delicious meal and good experience. As my kids get older, I look forward to seeing them get more excited about all the traditions around the holiday.
Favorite Southernism?
Something my grandmother always said, and now both my mother and sister say: "You can't keep a good woman down!"
Recipe for Harissa & Smoked Maple Roasted Carrots, Cardamom, Pistachio & Ash
Ingredients
1 pound baby heirloom carrots, washed and trimmed
1 tablespoon extra virgin olive oil
1 tablespoon harissa paste
Kosher salt to taste
¼ cup pure maple syrup (smoked or plain)
2 ounces pistachio, minced fine
½ tablespoon fresh cardamom, picked and ground fine
3 egg whites
¼ teaspoon cream of tartar
¾ cup sugar
1 each small sweet potato
Directions
For the carrots: Mix olive oil and harissa. Toss with the carrots and roast in a pre-heated 425⁰F oven on a sheet tray for 15 minutes. Season with kosher salt. Rest
For the meringue: In a mixing bowl beat the egg whites, cream of tartar, and cardamom until foamy. Gradually add sugar and mix until soft peaks form. Place in a piping bag with a medium flat tip.
For the ash: Peel and dice the sweet potato. Toss with enough vegetable oil to coat and bake in a 375⁰F oven on a cookie sheet for 45 minutes, tuning every 10 minutes, or until the pieces have started drying out and browning. Let cool and place in a spice grinder. Grind to a powder. Reserve.
To plate
Arrange the carrots in the center of the plate. Drizzle carrots with smoked or plain maple syrup and sprinkle with pistachios and vegetable ash. With the piping bag, randomly place a few of the cardamom meringues around the plate and on the carrots. Burn with a blow torch or broil lightly in the oven till the meringues are golden brown.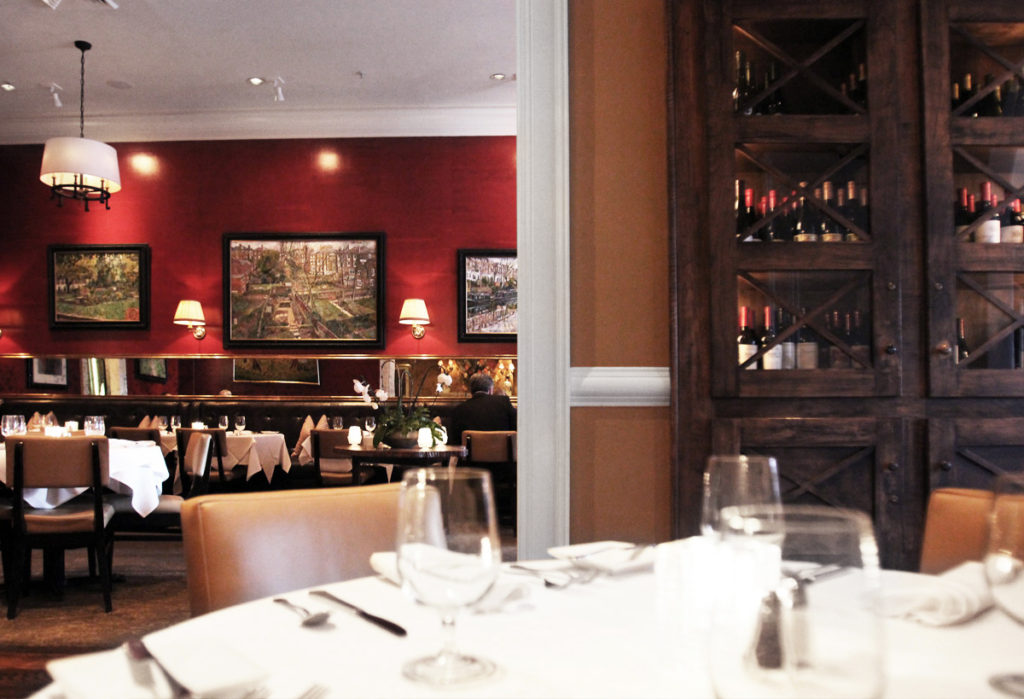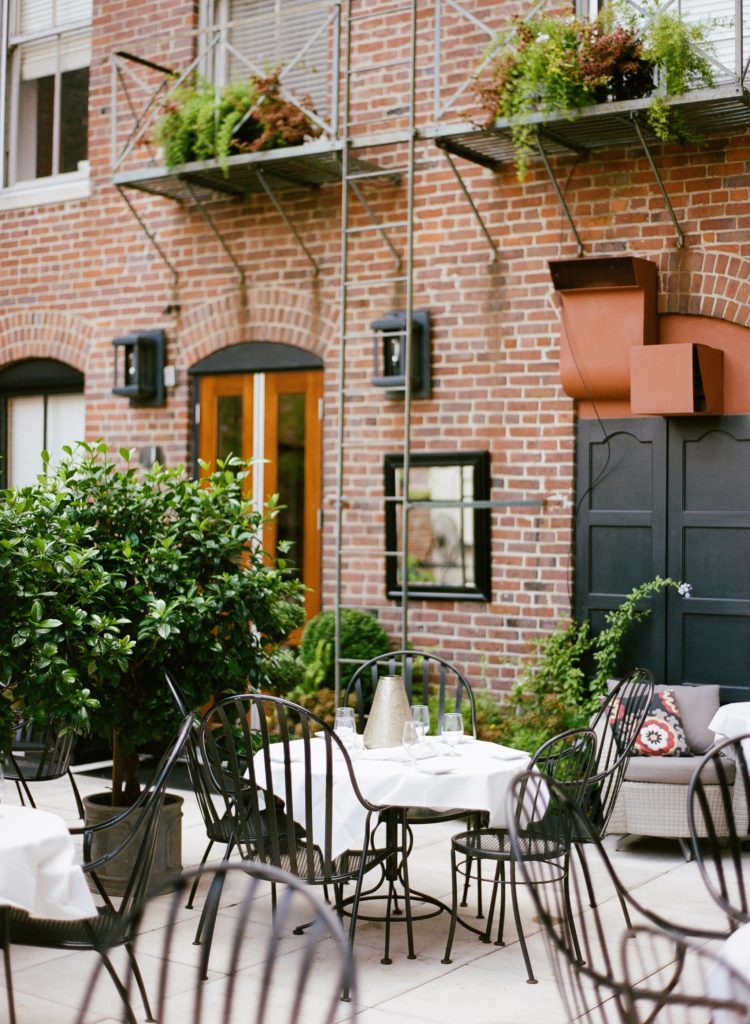 Save
Save
Save
Save